The high-profile "Belt and Road" Forum recently held in Beijing from May 14 to 15, attended by 29 national leaders and the representatives of 28 other countries, captured the world's attention with Chinese President Xi Jinping pledging to splash the cash to help revive ancient trade routes and build infrastructure across the region.
The amount of investment planned so far for the initiative is massive - over US$1 trillion.
Even more trade and investment plans - US$113 billion-worth - was announced at the forum on top of previous commitments. It is no wonder that, China's growing political and economic dominance coupled with the scope of "Belt and Road" has sparked concerns of possible debt-trap diplomacy among countries that have benefited or will benefit from China's ambitious regional agenda.
Pomp and tributary?
Judging from what we see in the opening ceremony video below, you can't blame some people for thinking that China is building a modern day tributary system to match its colossal ambitions.
(Skip to 47'00) See particpants lined up and walked for a distance across a room in The Great Hall of the People to shake Xi and First Lady Peng Liyuan's hands before the welcome dinner.
Singapore-China relations
Amid the mind-boggling potential Chinese investment numbers that have been announced, Singapore Prime Minister Lee Hsien Loong's conspicuous absence at the summit has given rise to the impression of cooling bilateral ties and concerns that Singapore may be missing out on the Chinese gravy train. National Development Minister Lawrence Wong attended instead.
While it is true that the bilateral relationship between Singapore and China had experienced difficulties last year due to the Terrex incident and South China Sea issues, relations have gotten back more or less on an even keel after the top level forum for bilateral cooperation — The Joint Council for Bilateral Cooperation (JCBC) meeting that had been postponed last year - was held in Beijing in February。
While it can sell a few more newspapers or garner more website clicks by painting a bleak picture of Singapore-China relations following Lee's absence at the forum, this development should not be viewed in a vacuum.
One has to look at the sum of initiatives and interactions Singapore has with China to get a better pulse of the relationship:
1. Unqiue bilateral exchange platforms
Besides the JCBC, the Singapore-China Leadership Forum is another unique platform where high-level exchanges take place.
Described as "a strategic platform for political leaders and senior officials of Singapore and China to discuss and exchange experiences on common challenges related to leadership development", the inaugural meeting was held in 2009.
Co-chaired by Deputy Prime Minister Teo Chee Hean and then Head of China's Central Organisation Department (COD) Li Yuanchao, it has since been held regularly, alternating between Singapore and China.
Teo co-hosted the Sixth Forum in Singapore on May 16, which is a clear sign that the relationship between the two countries remain close.

2. Many ongoing projects with China
At the Government-to-Government (G-G) level, there are three high-level projects: The Suzhou Industrial Park, Tianjin Eco-City and Chongqing Connectivity Initiative.
At the Chinese provincial level, there are 7 provincial business councils, that are co-chaired by our Ministers and political office holders, together with their Chinese counterparts.
For example, Singapore's representative at the Belt and Road forum - National Development Minister Lawrence Wong co-chairs the Joint Steering Council of Tianjin Eco-City and Singapore-Tianjin Economic and Trade Council.
In a sign that there is scope to broaden cooperation, Wong signed an MOU with the Chairman of China's National Development and Reform Commission (NDRC) He Lifeng to enhance bilateral cooperation on the Belt and Road initiative.
In fact, Singapore is well-placed to be a key node of the Belt and Road initiatives. It has a strong cluster of companies involved in various parts of infrastructure development, and is also a leading business centre with many financial institutions and project specialists.
3. Participation in other China initiatives
Singapore is a founding member of the Asian Infrastructure Investment Bank (AIIB), another China-led multilateral initiative that started operations last year.
Joining a multilateral development bank that does not include the US, is an example of Singapore acting independently based on its own interests. Singapore is set to contribute US$250 million to the institution and could potentially benefit from regional infrastructural developments.
Beside promoting overall regional development, the AIIB as a body is also helping China to bolster its One Belt One Road (OBOR) policy through the financing of a network of new ports, railways and roads.
4. Engagement with the next generation of Chinese leaders
The bilateral relationship with China is one of Singapore's most important diplomatic relationships, hence it is important for Singapore to continue cultivating the next generation of top Chinese leaders.
Communist Party of China (CPC) Politburo member Zhao Leji who co-chaired the bilateral Leadership Forum is not any run-of-the-mill politician but a potential high flyer Singapore has been engaging over the years.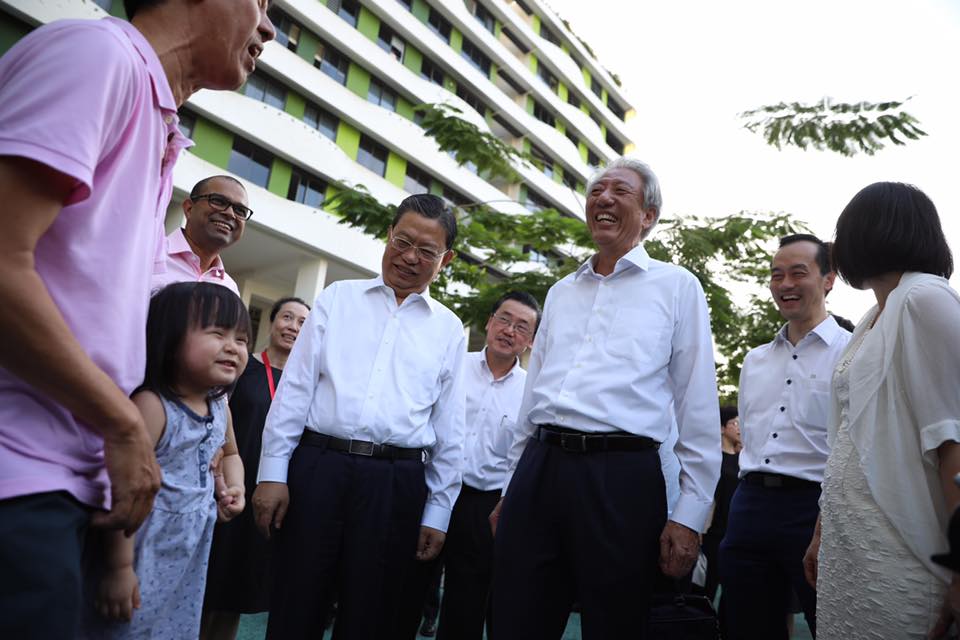 He had co-chaired the Leadership Forum with Teo twice in 2013 and 2015, and is familiar with Singapore and its leaders.
While in Singapore, Zhao also called on Prime Minister Lee Hsien Loong and was hosted to lunch by Emeritus Senior Minister and Chairman of the Lee Kuan Yew School of Public Policy (LKYSPP) Goh Chok Tong.
According to a statement from the Prime Minister's Office (PMO), Zhao had affirmed the "strong and substantial relationship" between Singapore and China. He also expressed appreciation for Singapore's participation at the "Belt and Road" Forum.
As the head of the CCP's powerful Central Organisation Department, and part of its Central Committee Secretariat, Zhao is widely seen as a key supporter of President Xi Jinping and regarded by some as a strong contender for the party's top decision-making body - The Politburo Standing Committee, ahead of the 19th Party Congress later this year.
Hasty conclusion
Looking back in time at the height of the Terrex incident, many people then were anxious that the bilateral relationship had been permanently damaged, in the face of the overwhelming negative narrative spun by the Chinese media.
However, the issue was resolved amicably eventually, which is a testament of the resilience of the relationship between the two countries.
With that, given the intertwining or intersecting interests between Singapore and China, and the depth of relationship over many years, it could well be a little hasty for people to conclude that Singapore and China's relationship is over based on one missed forum.
Related articles:
An important China-S'pore event didn't take place for the 1st time since 2004
S'pore-China's top level meeting, held annually from 2004-2015, will finally take place in Feb 2017
S'pore-China's top level meeting will be held in Beijing on Feb 27.
Singapore's delegation to China for top gov meeting reveals much about our future political leadership
Top government meeting in China shows that S'pore & China are (still) good friends
Here are totally unrelated but equally interesting articles:
These are the things that will stand the test of time and grow in value
If you are a millennial, you should probably stay away from MNCs
Top photo from Getty Images
If you like what you read, follow us on Facebook and Twitter to get the latest updates.
If you like what you read, follow us on Facebook, Instagram, Twitter and Telegram to get the latest updates.