After nearly two months spent in Hong Kong, Singapore's nine Terrex infantry carrier vehicles will be returned to us.
This according to Defence Minister Ng Eng Hen in an update to Facebook: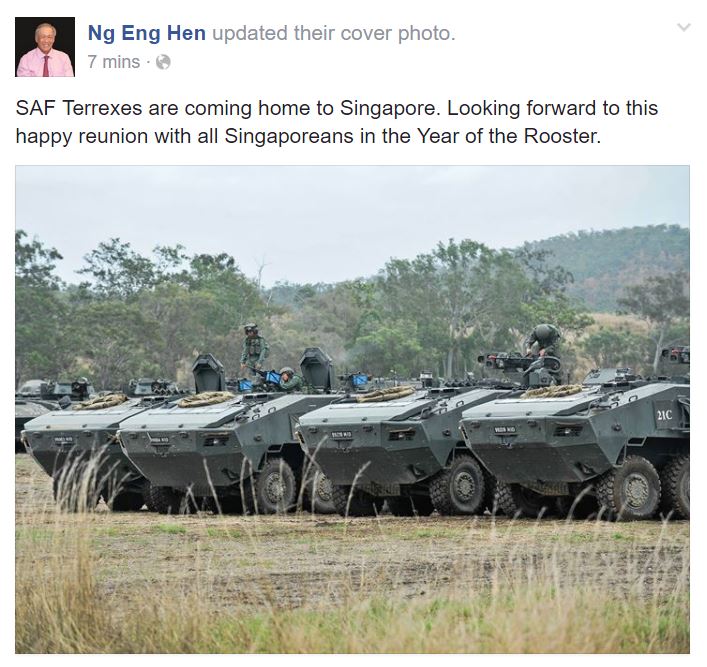 The Ministry of Foreign Affairs also released the following statement:
On 24 January 2017, Chief Executive of Hong Kong Special Administrative Region Leung Chun-ying replied to Prime Minister Lee Hsien Loong's earlier letter to inform him that the Hong Kong authorities have completed their investigations, and will be releasing the SAF Terrex Infantry Carrier Vehicles and other equipment to the Singapore Government through the carrier. This is a positive outcome. Prime Minister Lee has replied to Chief Executive Leung to thank him for Hong Kong's cooperation in resolving this matter.
Resolution after two months
The nine Terrexes were seized by Hong Kong's authorities on November 23, 2016.
Three meetings between the SAF-contracted shipping line APL and the Hong Kong Customs did not yield any new information. No formal reasons were proffered for the detention of the ICVs.
The Joint Council for Bilateral Cooperation (JCBC) — the highest-level forum between Singapore and China — will meet next month in Chongqing, after the annual meeting was postponed last year.
Political observers had previously believed that the announcement of the meeting time indicated that the Terrexes will be returned to Singapore.
Top photo from Mindef
Related articles:
S'pore-China's top level meeting, held annually from 2004-2015, will finally take place in Feb 2017
This article helps you do a good deed this holiday season: Here's how you can give $8.88 ang pows to drivers who are driving you to reunion dinner this CNY's eve
If you like what you read, follow us on Facebook and Twitter to get the latest updates.
If you like what you read, follow us on Facebook, Instagram, Twitter and Telegram to get the latest updates.