Chinese New Year eve, which falls on Jan. 27 this year, is usually a hectic day.
Many of us are busy rushing to reunion dinners. Some of us are busy rushing out to meet our friends (yass public holiday).
The point being that it's a long night out for Singaporeans.
And while we are enjoying the festivities or partying our heart out because it's a public holiday, there are a bunch of people who are still working.
Their jobs? To get you where you need to be. And to get you home after all the festivities. 
You have the folks over at Go-Ahead and SMRT, who have kindly extended the last bus and train timings for our benefit.
You also have the guys from private hire car companies like Grab who bring us to point A to point B in comfort and style by working late into the night.
But again, that's not new. Remember one of the biggest Grab stories of 2016 -- the driver who trawled the entire 9km stretch of Bukit Timah road to locate her downcast rider who had no idea where he was?
Yep. That heartrending meeting occurred at 5:46am.
If you've taken a ride at night, you'd also probably have met considerate drivers who try to make the ride as comfortable as possible -- who understand that late-night riders might be in varying states of sobriety, providing everything from plastic bags to tissues and even mints for you to get your act together.
And then there are the drivers who, upon your entrance into the car, shower you with so much concern that you end up blushing in embarrassment.
Some even offer drinks and biscuits as breakfast.
Stories like these help us continue to believe that kindness exists, even if life in Singapore gets a little cutthroat sometimes.
And that, boys and girls, is why this CNY campaign doesn't come at a better time. As you commute between places this CNY eve, you can gift your driver who takes time to greet you warmly and makes sure you get to the destination safely.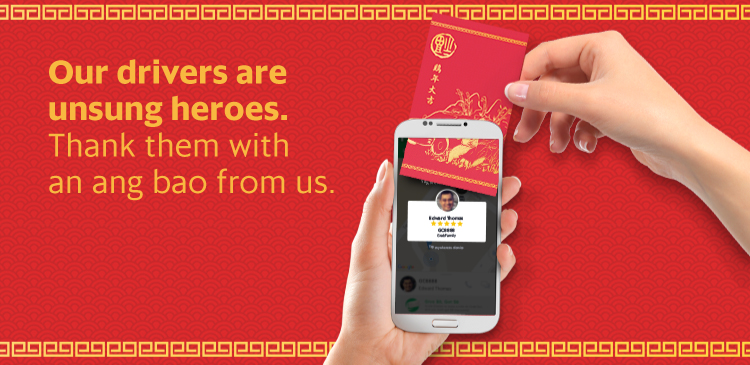 Because believe it or not, Grab is more than ready to distribute $88,000 worth of ang pows to its drivers. And the power lies in your hand.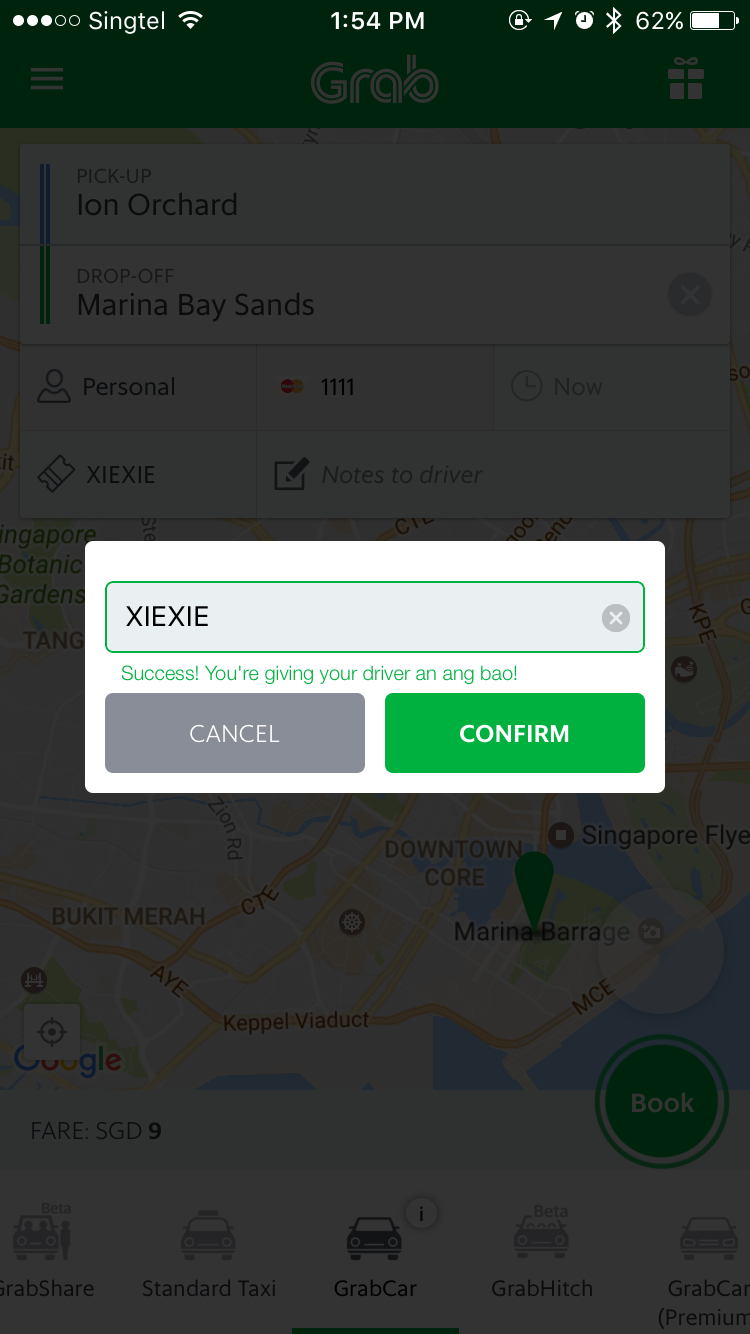 All you need to do is enter the promo code "XIEXIE" before you book your ride and Grab will thank them on your behalf -- with a $8.88 angpao so that they can huat huat huat.
And unless you'd like to hand them an angpao of your own, the least you could do other than keying in the promo code is to leave your driver a greeting or thank-you note for the awesome ride.
Sounds great to us. That's almost no price to pay (except your ride fare) to make them feel appreciated. They're the ones missing out on the celebrations so that we can make it to ours.
So as you commute to wherever you need to be this CNY's eve, remember to greet your Grab driver with a smile and take time to make their day/ night by sending them some well-deserved moolah.
-------------------
Enter promo code "XIEXIE" from 26-27 Jan. 2017 to gift your Grab driver with an angpao worth $8.88 from Grab.
Top image from Getty Images.
This sponsored post allows Mothership's writers to take the occasional Grab ride and have a chance to say "XIEXIE" too.
If you like what you read, follow us on Facebook, Instagram, Twitter and Telegram to get the latest updates.