It's been just over a month since Mar. 24, when the first community isolation facility (CIF) at D'Resort Pasir Ris opened up and started to house mild Covid-19 patients, in order to help conserve the limited resources in hospitals.
In that short time, there have been three CIFs set up at D'Resort, Singapore EXPO, and the latest, Changi Exhibition Centre (CEC), which will start receiving its first patients soon — if it hasn't already.
Initially intended for recovering Covid-19 patients, CIFs later started to accommodate "early patients" who tested positive for Covid-19, but were well and did not need treatment, Health Minister Gan Kim Yong said at an Apr. 9 press conference.
Altogether, the three current facilities have an estimated maximum capacity of around 8,050, based on available information.
A fourth CIF is also reportedly on the way, at the site of Tanjong Pagar Terminal.
Existing facilities and their capacity
D'Resort
D'Resort has a capacity of about 500. Formerly a government quarantine facility for close contacts of confirmed cases, it was converted into the first CIF, housing patients from Mar. 24.
Changi Exhibition Centre
The CIF at Changi Exhibition Centre took just over 10 days to be set up, and can house up to 2,800 patients, according to the Ministry of Defence on Apr. 16.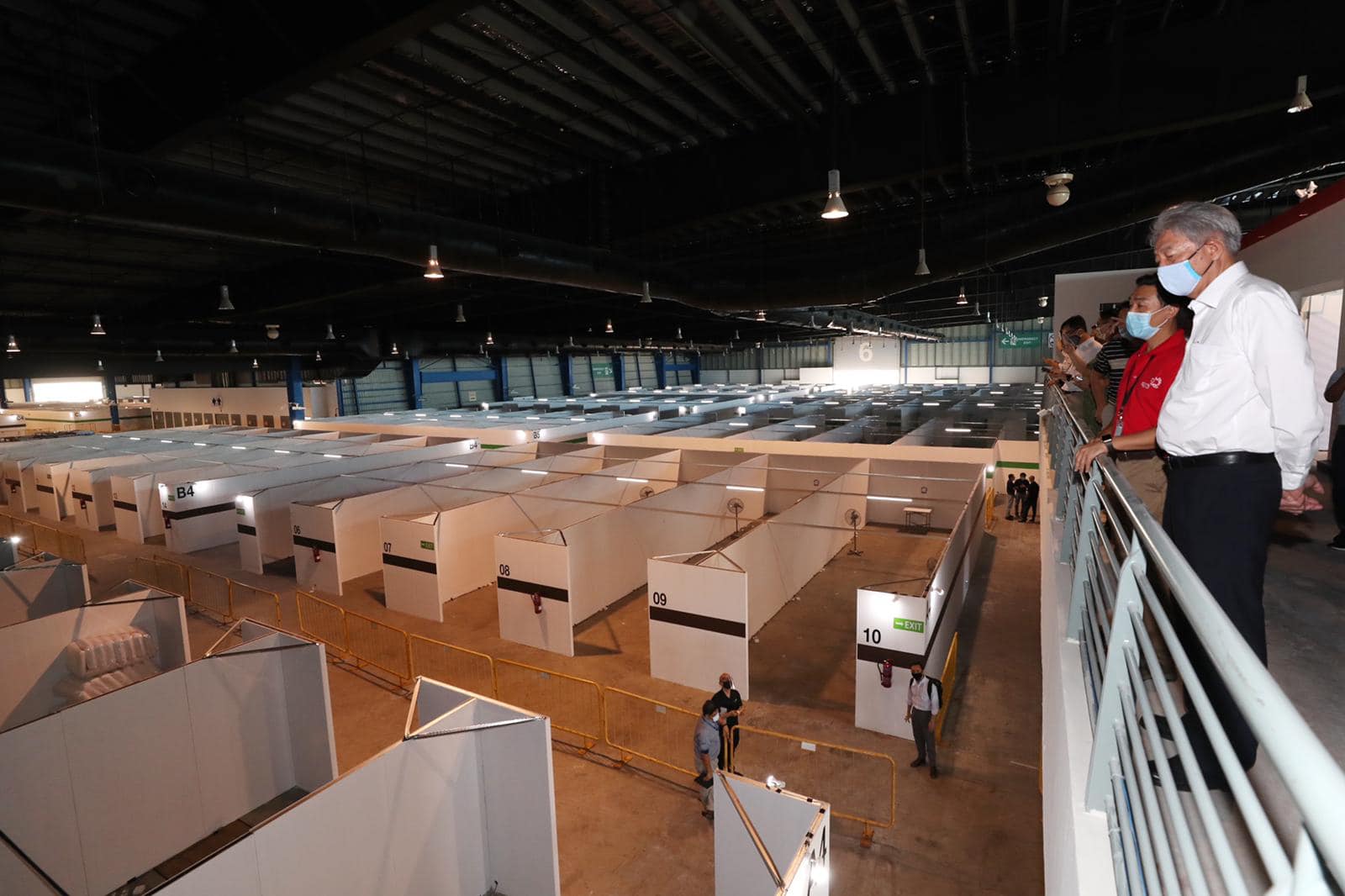 Singapore EXPO
The capacity of the CIF at EXPO currently stands at 1,800.
However, if all of its
10 halls
were converted to CIFs, a conservative estimate of the maximum capacity would be roughly 4,750.
This is based on a count of 950 beds set up in two halls, according to reporting from ST.
The total estimated capacity of the three facilities would therefore be approximately 8,050.
Possible fourth CIF at Tanjong Pagar
What could soon be the fourth CIF is also now being built:
The facility at the Tanjong Pagar Terminal site will reportedly have the capacity for 15,000 patients, according to The Straits Times (ST).
A spokesperson from the Ministry of National Development (MND) has said that the Tanjong Pagar site could be used for "various reasons".
However, if its estimated capacity of 15,000 is fully realised as a CIF, the total capacity of the four CIFs would be well over 20,000.
Mothership has reached out to the Ministry of Health (MOH) for confirmation of these figures, and whether additional CIFs are being prepared.
Why is there a need for so many CIFs?
Simply, CIFs help to reduce the strain on hospitals.
Singapore had a total of 11,321 acute hospital beds — in both private and public hospitals — at the end of last year, according to ST.
At the present moment, the number of confirmed cases from dormitory residents alone stands at 10,525, as of Apr. 25.
This would likely overwhelm the hospitals entirely, given that at least some beds would be needed for critical, non-Covid-19 patients.
The need for all this capacity in CIFs is all the more important in light of the sudden increase in locally-transmitted infections in Singapore, driven mainly by those detected in migrant worker dormitories.
Cases among dormitory residents
Among dormitory residents, there were over 500 new cases daily for the past 10 days since Apr. 16.
This has escalated to an average of more than 1,000 new cases daily in the earlier part of this week, and only saw a drop from more than 800 each day to 597 new cases diagnosed on Saturday (Apr. 25).
The majority of these are being sent into isolation, instead of to hospitals.
This is due to the fact that most are in fact early cases, discovered only because of "a very aggressive sweep of the workers inside the dorms even when they are not sick, even when they have no symptoms," co-chair of the Multi-Ministry Task Force on Covid-19 Lawrence Wong explained in an Apr. 21 press conference.
"Hidden reservoir" in the community
Besides the very high number of cases from the dormitories, there is also the issue of local unlinked cases.
Over the last two weeks, the number of unlinked cases in the community has decreased, from an average of 21 cases per day in the week before, to an average of 15 per day in the past week.
However, the presence of unlinked cases indicates that there is a "hidden reservoir of Covid-19 cases in the community" despite the circuit breaker measures that were implemented since Apr. 7.
This was mentioned by Prime Minister Lee Hsien Loong in his fifth address to the nation on Apr. 21.
Isolation facilities in dormitories are a thing
For now, however, we have learned that the majority of new dormitory residents who test positive for Covid-19 seem to be held at designated isolation facilities within the dormitory campuses themselves.
These were mentioned by PM Lee, in his address on Apr. 21:
"We will house the mild cases either on site, in a separate facility within the dorm, or in community care facilities elsewhere. And we will make sure that those who need more active treatment receive immediate attention, and can be sent promptly to the hospital to help them recover.

We will also pay special attention to the older workers, who are more vulnerable. We are pre-emptively moving them to a separate dorm, where they can be monitored more closely. (emphasis ours)"
In addition to the CIFs and dormitory isolation facilities, private hospitals and community hospitals are also being used as isolation facilities.
However, these now house "a small number of patients," according to MOH's Director of Medical Services Kenneth Mak, speaking at the Apr. 21 press conference.
If the CIFs reach capacity, what's next?
More existing government quarantine facilities could be converted to CIFs, as was the case for D'Resort.
Some of the alternative accommodations for foreign workers (which currently accommodate around 10,000 essential workers) could also be converted to CIFs, such as SAF camps, floating hotels, vacant HDB void decks and car parks, sports halls, and also HDB flats, just to name a few.
But healthcare frontliners are being stretched thin already
Bear in mind, though, that while the number and capacity of CIFs can continue to expand further in theory, each will require a number of frontline workers, such as cleaners, nurses and doctors, which, at the EXPO CIF, already seem to be stretched thin.
To support the crew at the EXPO CIF, 100 medical personnel from the SAF Medical Corps were deployed there since Apr. 22.
But manpower isn't the only constraint.
Will we have enough protective gear and facilities for treatment of waste and laundry?
Staff who attend to patients at CIFs need special protective gear, while the waste and laundry of patients will also require special treatment, according to this explanation of how these isolation facilities are run.
Thus, the continued expansion of CIFs will ultimately be limited by the available resources in our healthcare system.
At some point down the line, there is a possibility that the authorities may "encourage those who only have mild symptoms to see their family GP and rest at home instead of going to the hospital," as PM Lee explained back in February.
This is a potential future circumstance in which Covid-19 is considered widespread in Singapore, where the approach taken by authorities shifts from containment to mitigation.
Such an arrangement would allow hospitals and healthcare workers to allocate limited resources for the most vulnerable confirmed patients — the elderly, and those with preexisting medical issues.
While we are not there yet, it's important to remember that we could be, sooner than anyone might expect.
Related stories:
---
Mothership Explains is a series where we dig deep into the important, interesting, and confusing going-ons in our world and try to, well, explain them.
This series aims to provide in-depth, easy-to-understand explanations to keep our readers up to date on not just what is going on in the world, but also the "why's".
---
Top photo via Teo Chee Hean's Facebook page
If you like what you read, follow us on Facebook, Instagram, Twitter and Telegram to get the latest updates.