Update on Apr. 18, 6.08pm: The article was updated with MOH's response. 
---
It's been a week since the Singapore EXPO & MAX Atria at 1 Expo Drive started operations as Singapore's second Community Isolation Facility in a bid to free up more space in public hospitals on April 10.
Community Isolation Facilities, said MOH, are modelled after existing Government Quarantine Facilities, and will be managed with a higher baseline level of infection control by staff.
These facilities (the other of which is D'Resort in Pasir Ris) house recovering Covid-19 patients as well as those who do not require significant medical care.
According to MOH, these patients can actually be discharged from medical care, but they have to remain isolated because they continue to test positive for the virus.
One of these patients is Felix Tay.
Thinks he caught coronavirus on the plane
Tay thinks he might be Case 1669.
Case 1669, which was reported on Apr. 9, matches all of Tay's personal details: 36 years old, a male Singaporean Chinese, and apparently, one of the three imported cases reported that day.
"I think I got it on the plane back from the States," he muses, "maybe someone on the plane."
Tay, who works as a scientist, returned to Singapore on the morning of Mar. 20, narrowly missing being issued a Stay-Home Notice (it was only made mandatory for all returning travellers effective Mar. 21).
Speaking to Mothership on Apr. 13, Tay said he initially developed a mild fever after his return. He went to SGH on Mar. 31 and was tested for Covid-19, but his swab turned up a negative result.
The hospital sent him back home with a five-day MC. Thankfully, his fever went away.
Then on Apr. 7, the suspicious symptoms returned with a vengeance: a high fever, a cough, and runny nose.
The next day, Tay went back to Singapore General Hospital (SGH) where a second swab ("It's actually quite painful," he recalls) finally confirmed his Covid-19 diagnosis.
Put in a 5-bed ward for first 4 days
"They brought me to an isolation suite, but they realised that the suites were full then they brought me down to a five-bedder instead," said Tay, who was told by the hospital that they were running out of beds and so he would have to be roomed with other Covid-19 patients.
And so from April 8 to 11, his first four days as a Covid-19 patient, Tay shared a room with four migrant workers who were also Covid-19-positive.
He admits he was surprised, given his impression that infected patients would be isolated individually — especially in light of recent reports that there are at least three different variants of the coronavirus that causes Covid-19.
"Different locations can have different variants. So, like, if I were to just look at where the viruses come from, I might have a different variant from people who are infected locally. Even if I might recover from the one I got in the U.S., I might get the one that is from Singapore."
At SGH, Tay had his temperature and blood pressure taken by the nurses regularly. Doctors would come in to check on the patients at least once a day too, he added.
Transferred to Singapore Expo Hall 4
Tay's fever subsided while at SGH and by Apr. 10, he was informed that he would be transferred to Hall 4 at The Singapore Expo.
The Community Isolation Facility at Expo is no hotel, but it definitely meets all of one's basic needs and then some.
Each patient at the facility has their own partitioned room with a curtain for privacy. There's a shared toilet with shower facilities, four washing machines and four dryers for laundry, as well as WiFi.
Tay shows us his room — simply furnished with a bed, a table, a chair, a little cupboard, and a lamp: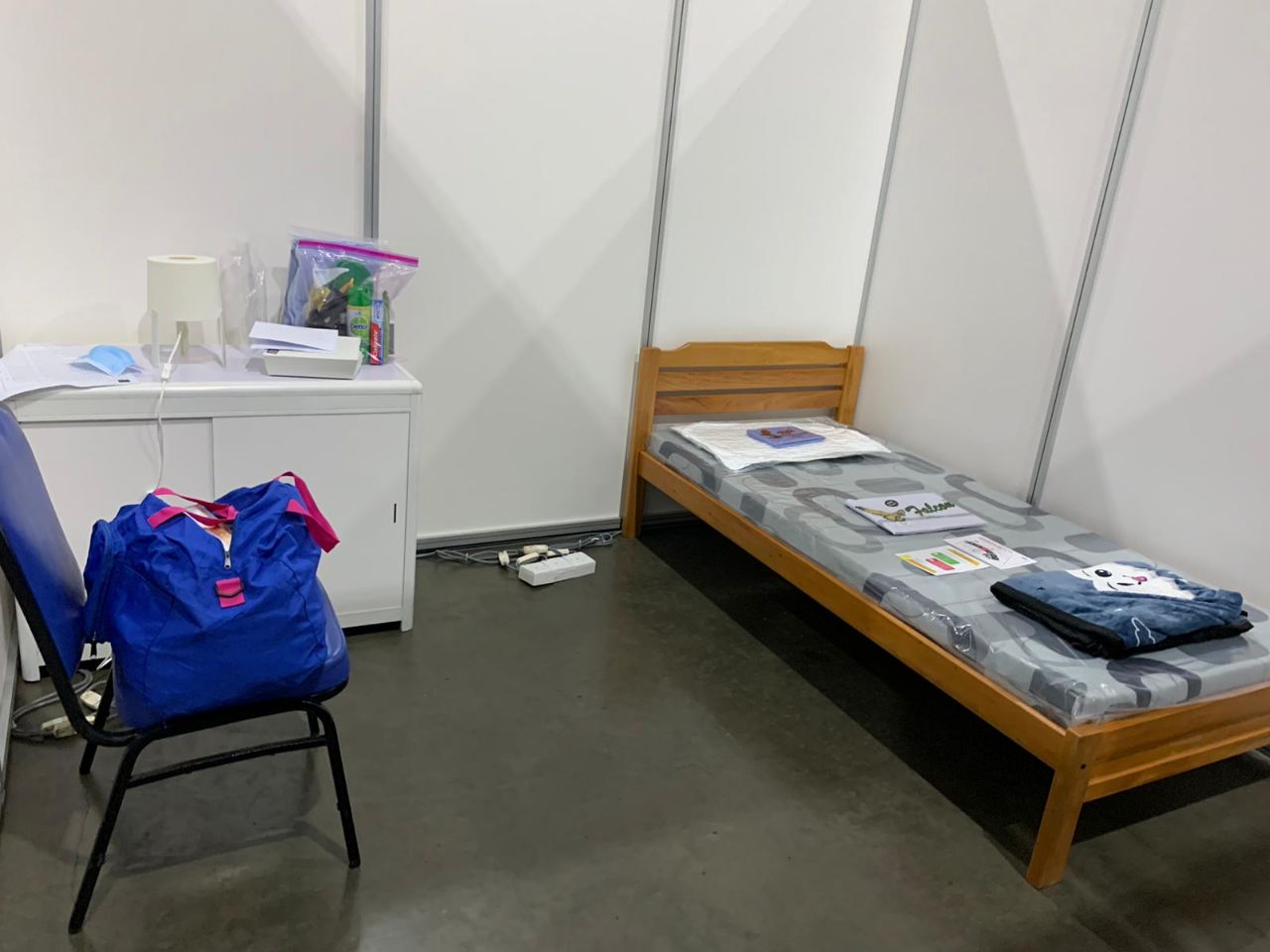 Patients collect their catered meals — prepared by Resorts World Sentosa, no less — three times a day from a designated collection point.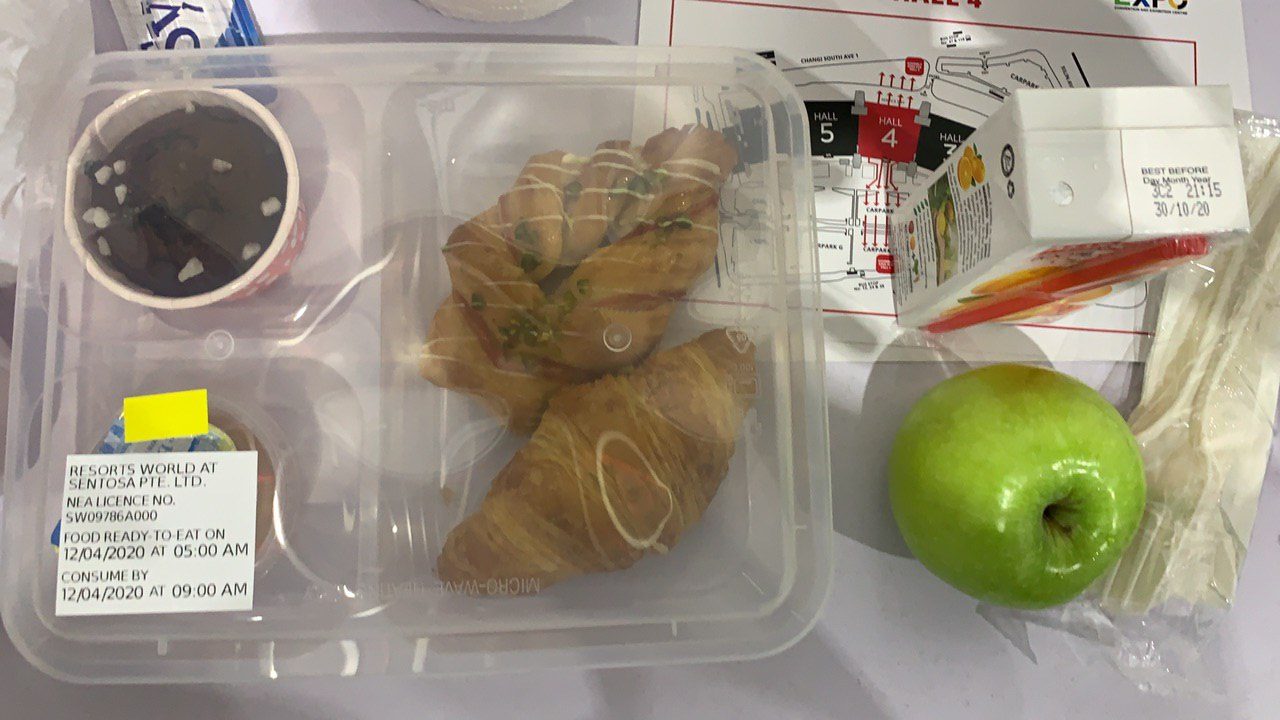 Food-wise, there are hits and misses, says Tay:
"Sometimes I find it good, sometimes it's really quite bad. I think the Western ones are not too bad. Sometimes the fried stuff are overdone. The stir-fried ones are too dry.
Patients at the isolation facility can also call a hotline if their symptoms deteriorate.
"They gave us a hotline to call in case we get too ill, then we can call that number. Or if we're running out of toiletries or, like, bedlinen, then we can ask them to replenish it for us."
The hall was also fitted with a medical station, which operates for two hours daily (10am to noon).
Officers from MOH would also call three times a day to check on the patients and record their temperature.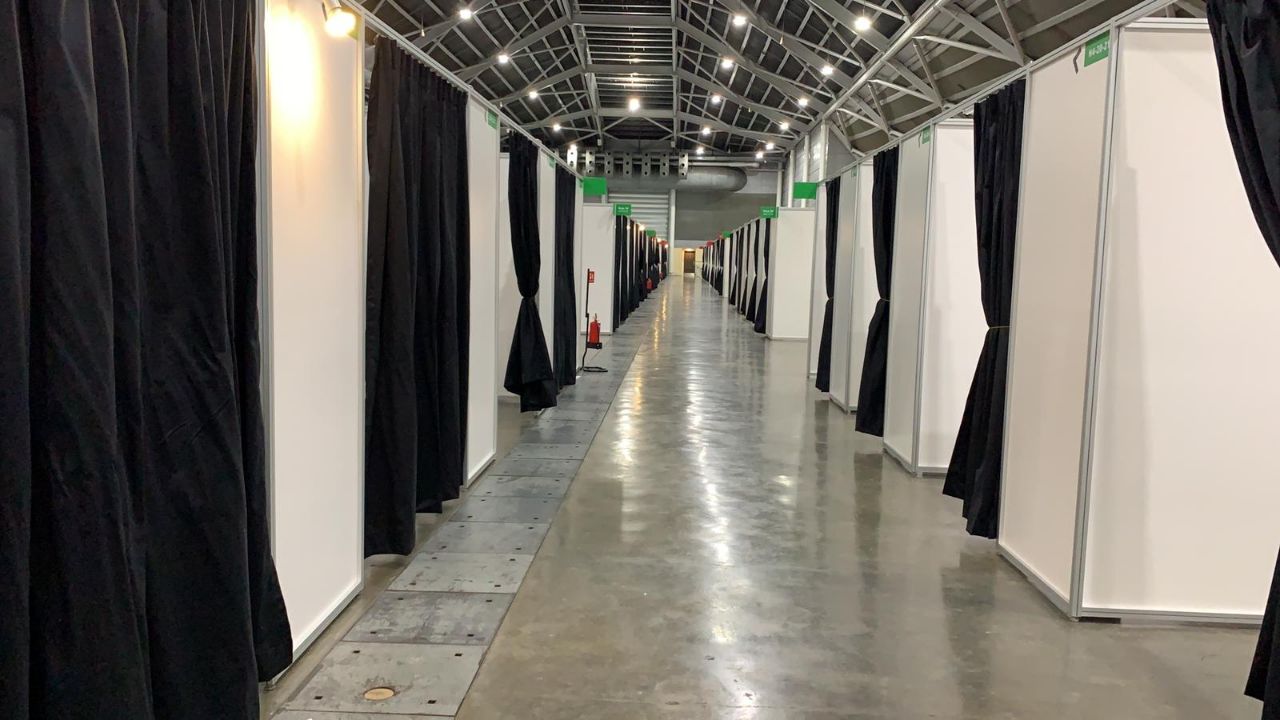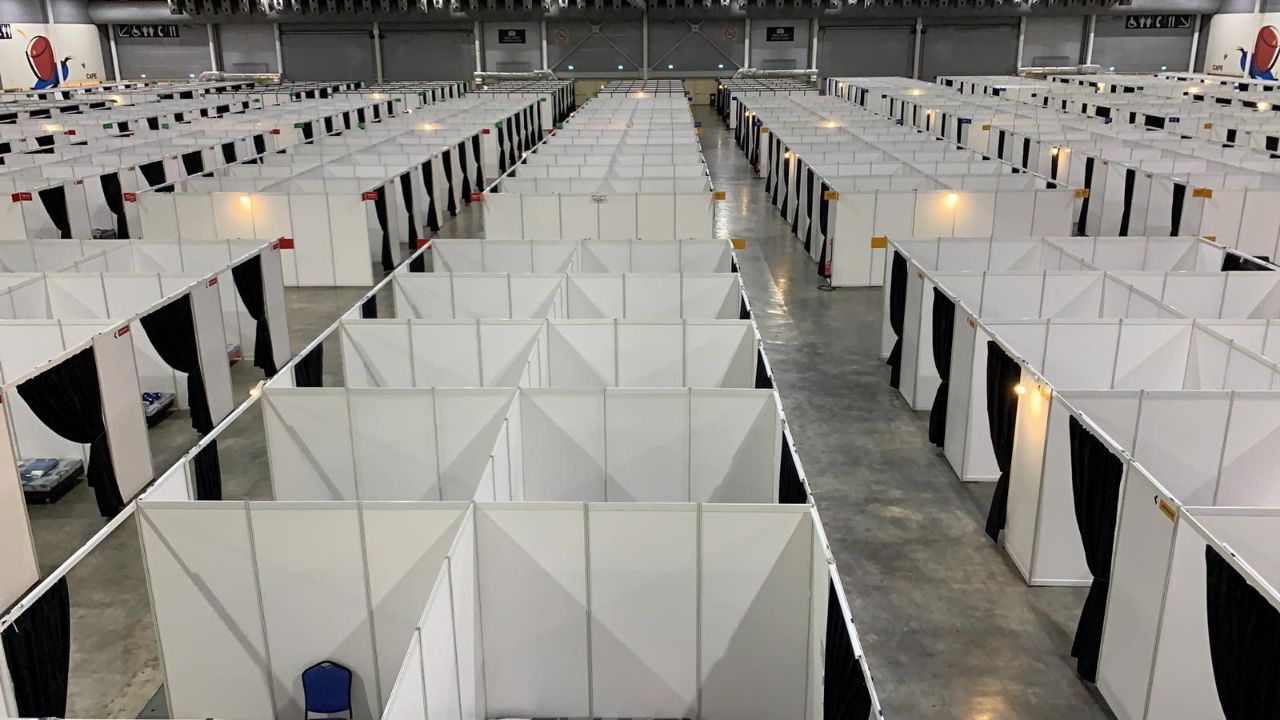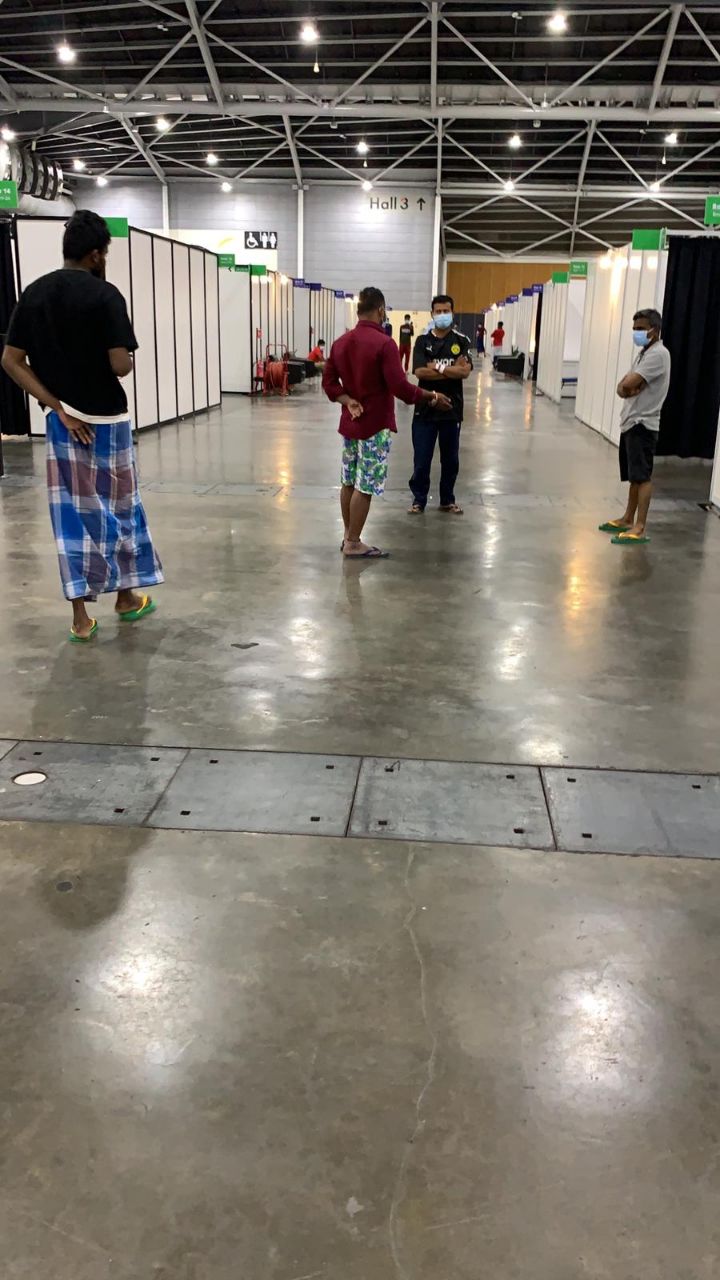 One has to be quite self-reliant at this Community Isolation Facility, said Tay.
"You're on your own... No one will really come and check on you unless you actually call people to come."
There is little one can do in an isolation facility. Tay's day would start at 7am when the hall lights are turned on. Breakfast is collected between 7:30 and 9am.
Then it would be back to his cubicle for a short rest. Tay then spends the rest of his day catching up on scientific journals, playing games, and surfing the Internet.
"You can just walk around the hall as much as you want but you cannot go outdoors. You can't see the sun."
From noon to 2pm, lunch is available for collection, and dinner from 6:30pm to 8:30pm.
Frustrated with lack of medical staff
While Tay says he has had a reasonably uneventful stay at the facility thus far, he admits that he has been slightly frustrated by a lack of healthcare provided to those of them who do come down with symptoms.
On Apr. 12, for instance, at around 9pm, Tay's fever returned.
"I took my temperature and it was 38.8°C."
He called the hotline and was told to take Paracetemol and wait for a doctor to tend to him the next day.
An MOH officer then called to check in and record his temperature, and advised him to look for the medical team that was based at Expo.
So a feverish Tay wandered around Hall 4 looking for someone to help him. He did manage to find someone dressed in personal protective equipment who unfortunately wasn't medical personnel.
"The person said that you've got to call the hotline again, they're not the medical staff, the medical staff is not in this hall," he said.
So he called the hotline again, and three hours later, a doctor came and took his blood pressure and temperature, which by then had subsided.
Since the fever was gone and Tay was not feeling breathless, the doctor advised him to go back to his room to rest.
The next day, Tay could not find any healthcare professionals manning the medical station, even at the time it was supposed to be open.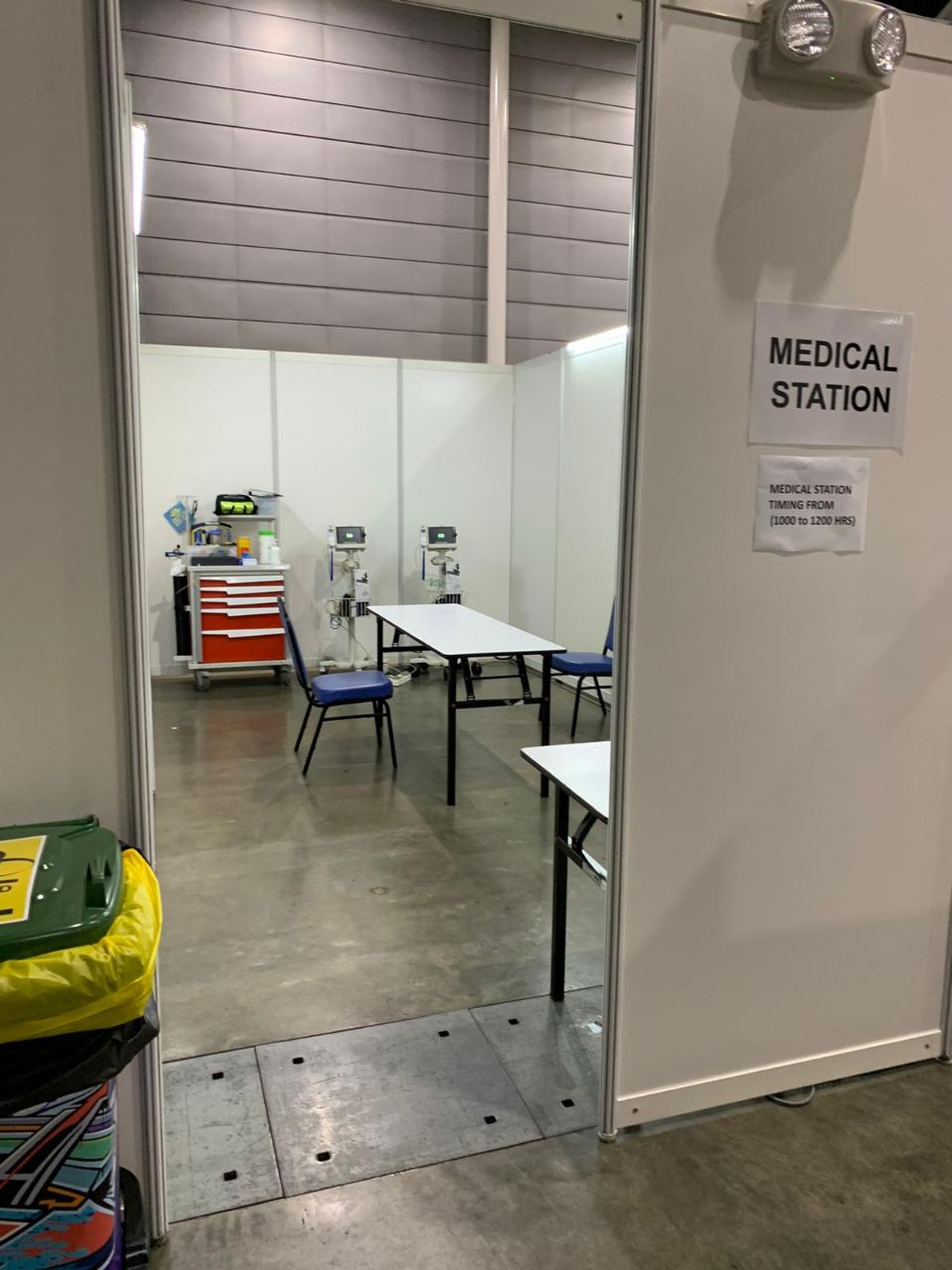 "In a hospital, at least people monitor your vital signs periodically in the day. Down here, no one is doing it.

Even trying to get a medical team here is so difficult. I haven't seen a medical staff today. Since 10am, I've been trying to get a nurse to come down and check on me. I even went to the medical station but no one is [manning] the station at all. Then why even set up a medical station if no one is inside?"
Even getting a fresh face mask was difficult. Staff at the facility told Tay that he should approach the medical team for face masks.
"But the medical team is non-existent so who can I ask, right?"
About two hours after our conversation, though, Tay informed us that he was being transferred back to SGH.
Felix, [13 Apr 2020 at 7:08PM]:

I'm actually being sent back to SGH now

Me, [13 Apr 2020 at 7:09PM]:

Oh?

Your condition worsened?

Felix, [13 Apr 2020 at 7:09PM]:

No idea

Felix, [13 Apr 2020 at 7:09PM]:

I was just told to pack and bags. The ambulance will pick me up

Pack my bags

The volunteers dunno anything. Just relying information

Me, [13 Apr 2020 at 7:11PM]:

Is it because you told MOH about your fever?

Felix, [13 Apr 2020 at 7:16PM]:

Perhaps
Finally, in SGH, Tay was put in an individual isolation ward for the night ("They want to do more tests on me"). He was moved to a 4-bed ward the next day because his X-ray scans came back clear and he did not need to be isolated individually.
"[I just want to] go back to a normal life. Even if I get discharged, I can't go anywhere but at least I get to see the outside world."
Separately, healthcare experts that The Straits Times spoke to agreed that Singapore's healthcare system is being stretched with the rapidly increasing number of Covid-19 cases being reported.
Associate Professor Alex Cook, the vice-dean of research at NUS Saw Swee Hock School of Public Health said that the practice of moving less serious cases to community isolation facilities might not be sustainable for long.
MOH response
Mothership reached out to MOH on Apr. 13 for their comment. This is the ministry's response on Apr. 18:
"Confirmed cases of Covid-19 infection may be warded together as they do not carry the risk of transmitting the virus to one another.

Patients who are more severely ill and require additional clinical care, including oxygen support or intensive care, will continue to be treated in acute hospitals. Other patients who no longer require acute hospitalisation may be transferred to private or community hospitals to continue their recovery if they require some medical support, or transferred to the Community Isolation Facilities (CIFs) if they are clinically well but still test positive for Covid-19. Newly confirmed cases with mild symptoms who do not require extensive medical treatment may also be cared for at the CIFs.

Patients at the CIF will receive meals and medical care as assessed to be clinically appropriate. For patients who are recovering from Covid-19, the medical team, which is stationed on location every day from 10am to 12pm daily (including on 13 April), will also attend to requests for medical assistance. Beyond these hours, patients can make requests by calling the designated hotline, and the personnel stationed at the CIF will activate the medical team as needed."
Top image courtesy of Felix Tay. 
If you like what you read, follow us on Facebook, Instagram, Twitter and Telegram to get the latest updates.