A 31-year-old man died in Orchard Towers on Tuesday morning, July 2, 2019.
Six men and one woman were charged on Thursday, July 4 with his murder.
The accused are:
Tan Sen Yang, 27,
Loo Boon Chong, 25,
Tan Hong Seng, 22,
Joel Tan Yun Sheng, 26,
Chan Jia Xing, 26,
Ang Da Yuan, 26, and
Natalie Siow Yu Zhen, 22.
Charge sheets described the seven accused persons as members of an unlawful assembly.
All seven face one charge of committing murder as members of an unlawful assembly in the prosecution of the common object of the assembly.
If convicted, they could face the death penalty.
All of them remained expressionless when their names were called in court.
Youngest of the lot
The youngest out of the seven is Natalie Siow, who is only 22.
Widespread interest
News coverage of the case and the group's subsequent arrests have so far been met with widespread interest in Singapore.
This is despite Orchard Towers' notoriety for recurring vice and criminal activities over the years.
But public interest in this case can be attributed to the relatively young ages of the seven accused persons.
Traction of coverage
Over the course of less than 12 hours, the CNA and Today articles out on July 4 about the accused persons being charged were liked and shared thousands of times.
CNA: Liked and shared close to 12,000 times.
Today: Liked and shared close to 2,800 times.
A CNA video of the van ferrying the accused persons chalked up 50,000 views on YouTube within 11 hours.
Google surge
Starting from July 4, after 6.30am, which was after news coverage of the murder and the arrests broke, Natalie Siow's name saw an uptick in Google searches.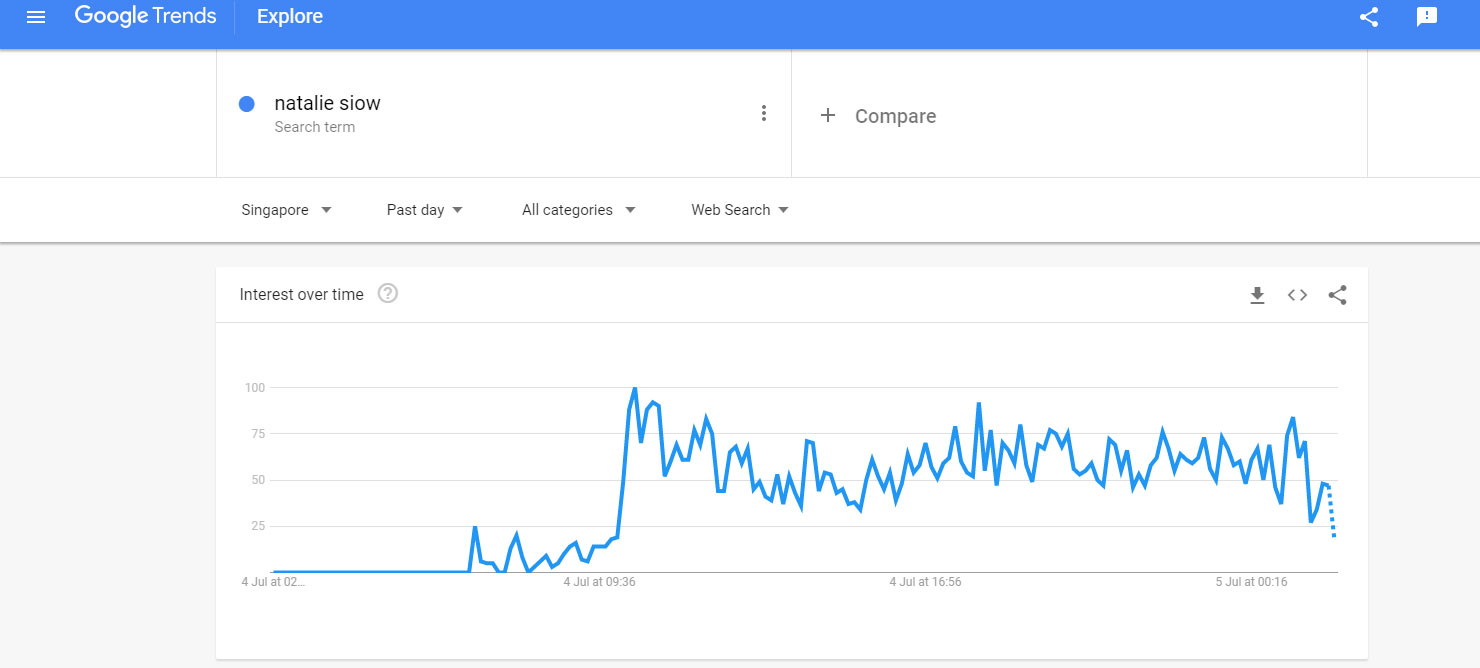 The full name of Natalie Siow was also picked up by Google Trends, which showed other similar queries for her social media profiles: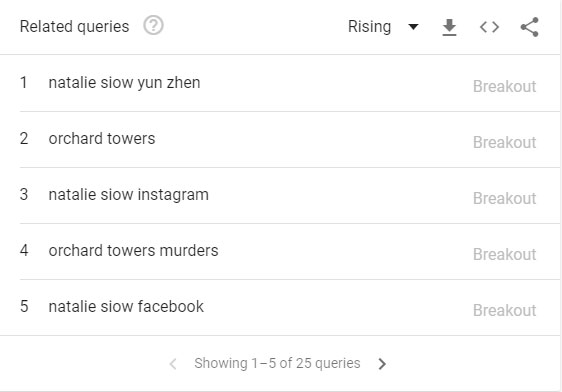 Google search in Singapore now automatically completes the search query by suggesting "natalie siow" (even in incognito mode):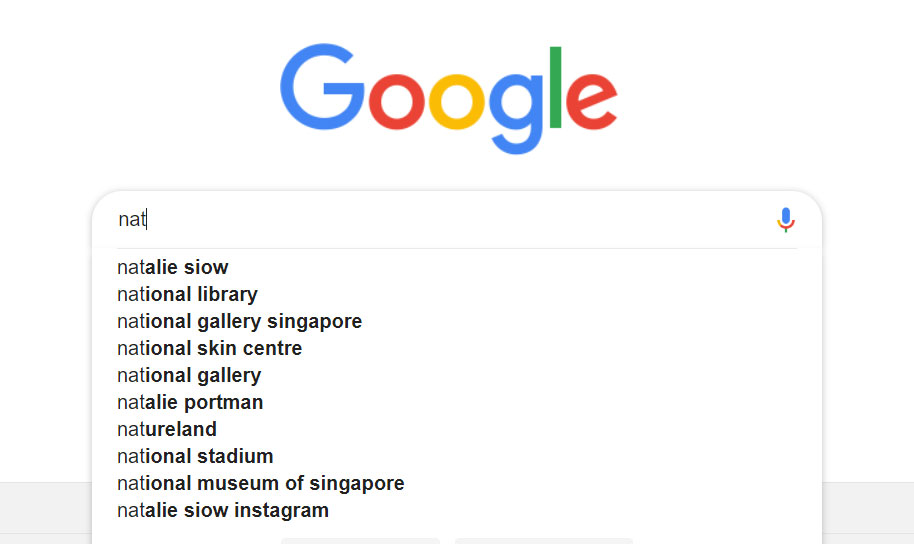 Forum interest
On the Hardwarezone forum, a thread about starting a Natalie Siow fan club has sprung up.
The thread is called, "[OFFICIAL] NATALIE SIOW YU ZHEN FAN CLUB".
Within a day it received more than 220,000 views and 500 replies.

A Hardwarezone forum thread typically receives a few hundred to a few thousand views a day.
The thread starter uploaded a photo of Siow to kick off the discussion.
Types of Hardwarezone forum comments
The quality of the comments posted are typical of the platform.
They include the usual in-group misogynistic comments, as well as stock reaction phrases such as
• expressing sarcasm (SPF: "it's an honest mistake, let's move on"),
• expressing schadenfreude ("She choose to hang out with those people and she choose this life, so she just have to accept this kind of **** might happen")
• engaging in sheer speculation ("her family is rich, no need crowdfund")
• making lewd requests ("any close up shot of her boobs")
Other information openly shared, regardless of its accuracy, included her education background, her health, and even the level of her culpability.
Photos purportedly found on Siow's Facebook page have also been openly shared on the forum.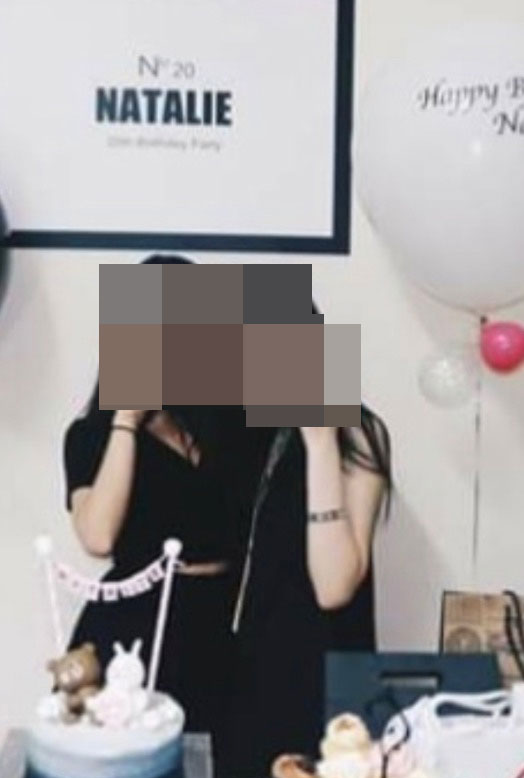 And a gif of Siow allegedly caught on camera in Orchard Towers was also made, shared and openly critiqued: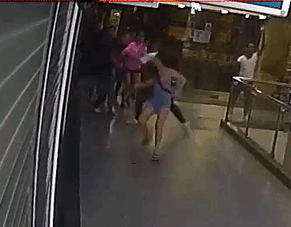 Siow's social media activity was also tracked down: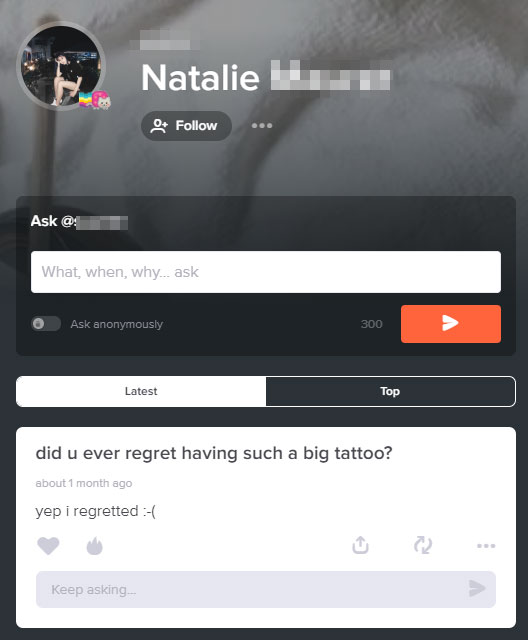 About the case
The seven accused persons allegedly killed Satheesh Noel Gobidass, whose throat was slit.
He collapsed near an escalator in the building and was found lying motionless in a pool of blood.
Members of the public attended to his injuries.
The police were alerted at 6.25am.
The victim was sent to Tan Tock Seng Hospital unconscious and pronounced dead an hour later.
Eight suspects were arrested within 12 hours after the incident, the police said.
Of the seven, only Chan was represented by a lawyer, John Koh of Populus Law Corporation.
The hearing on July 4 was attended by 20 of the accused persons' family members and friends.
All seven accused persons will be remanded at the Central Police Division until investigations are over.
They will undergo a three-week psychiatric evaluation at the Complex Medical Centre in Changi Prison, where they will not be able to speak to other people.
All seven will be remanded at Changi Prison after that.
No bail is allowed as all seven are facing a capital charge.
Family members and Chan's lawyer were not allowed to speak to the accused persons at the dock in court.
They will return to court on July 11.
An eight person, a woman who was arrested with the seven, is still assisting the police with investigations.

Content that keeps Mothership.sg going
---
?️?
Want to go JAPAN this year or not??
??
How long do you take to get to work? Very shag hor.
??
PMDs be lit when they don't catch fire. That's where UL2272 comes in.
??
Here's an activity idea over the weekend! Free one, don't need sign package.
?
This is why everybody deserves a second chance.
If you like what you read, follow us on Facebook, Instagram, Twitter and Telegram to get the latest updates.