[Update: As of August 5, 2019, the deadline for PMD users to switch to a UL2272 certified device has been brought forward to July 1, 2020. The relevant dates in this article have been updated to reflect that.]
If you own a personal mobility device (PMD), chances are you don't want to wake up to this grisly view: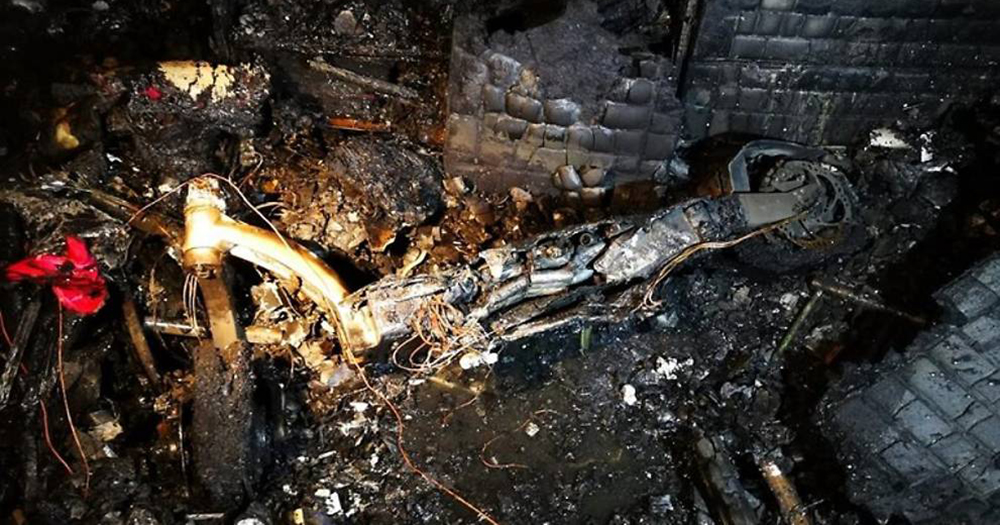 We're telling you about this because the number of fires involving e-scooters, power assisted bicycles, and other motorised PMDs has been rising.
Statistics from the Singapore Civil Defence Force (SCDF) show that incidents of fire involving these were up by more than 50 per cent in 2018, compared with 2017.
What causes PMD fires, you ask?
Most PMD fires are caused by electrical issues with the circuitry or batteries. These typically result from factors such as manufacturing defects and improper PMD usage.
Improper PMD usage includes overcharging of rechargeable batteries, and use of an unsuitable charger or battery.
To improve public safety and minimise the risk of fire incidents, it is important for PMD riders to make sure their devices have UL2272 — a type of safety standard — certification.
The UL2272 standard was adopted by the Land Transport Authority (LTA) as it covers the electrical system of the whole device to help reduce risk of PMD fires.
What does it mean to be UL2272 certified?
Getting a PMD certified to the UL2272 standard means that PMDs are put through a series of comprehensive and stringent tests to ensure that they can withstand various stresses.
Examples of such tests include over-charging of batteries, repeated exposure to water, and exposure to varying temperatures: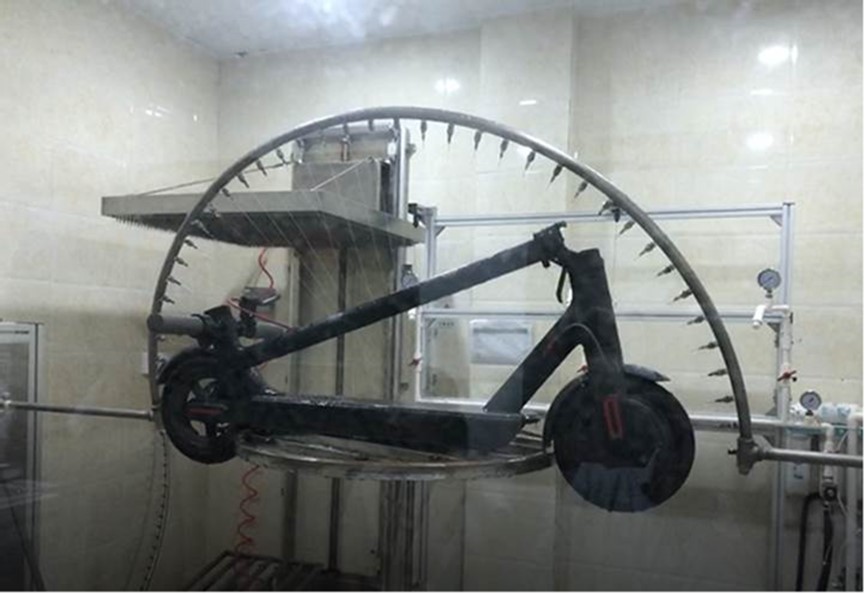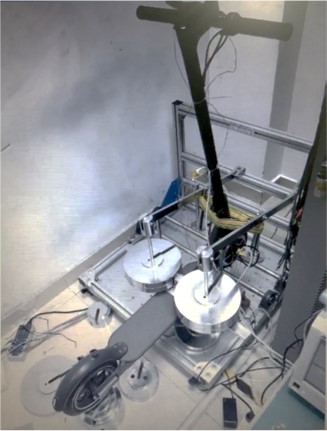 More information on the UL2272 standard can be found here.
How do I know my PMD is UL2272 certified?
Easy. Just look out for any one of these certification marks:
| | |
| --- | --- |
| Underwriters Laboratories Inc. (UL) | |
| CSA Group | |
| Intertek Testing Services | |
| Intertek Testing Services (Singapore) Pte Ltd            | |
| SGS Testing & Control Services | |
| TÜV Rheinland | |
| TÜV SÜD PSB | |
These marks are usually found underneath the footboard of the certified device, along with the model number, and are issued by accredited certification bodies.
For devices without a footboard (such as unicycles), the mark may be found underneath the footrest or on the side of the device.
Devices which do not carry the recognised certification marks are likely not certified to the UL2272 standard.
The list of UL2272 certified PMDs available in Singapore can be found here. Even if your device can be found on the list, it must still carry a recognised certification mark.
So if one model of a brand's PMD is certified, all of them should also be right?
Not at all.
The UL2272 certification is awarded to production batches.
PMD models that have been awarded UL2272 certification must undergo and pass regular inspections at the factories where they were manufactured, to ensure that the device's production aspects continue to comply with the necessary safety requirements.
This means it is entirely possible that Brand X's model of a PMD last year might not be UL2272 certified, even though it is this year. Or who knows, vice versa. You should always check your PMD for one of the certification marks above.
So can I anyhow charge and mishandle my PMD since it's UL2272 certified?
Having UL2272 certification doesn't mean that your PMD will never catch fire.
You should always practise proper and safe handling.
For example, avoid charging an already-full battery and always check your batteries for damage or deformity. The SCDF has some pretty good safety tips for avoiding battery fires.
Having said that, the UL2272 certification greatly reduces the risk of fire, thus giving you peace of mind. That's something money cannot buy.
This brings us to two very important things for you to note, if you're a current PMD user or looking to purchase one soon.
1) Sale of non-UL2272 certified PMDs from July 1, 2019 are prohibited
From July 1, 2019, it will be illegal to sell motorised PMDs that are not certified to the UL2272 standard in Singapore.
This means you, a PMD owner or prospective one, should only buy PMDs that are UL2272 certified from July 1, 2019, if you intend to use the PMD on public paths in Singapore.
If a retailer tries to sell you a non-UL2272 certified one from that date, they're breaking the law. You can (and should) alert them of it, and if they refuse to stop selling them, report them to LTA.
But what if I've already bought a non-UL2272 certified PMD?
That's ok. You don't need to throw it away.
Non-UL2272 certified PMDs can still be used on public paths as long as you buy it before July 1, 2019.
If the PMD is an e-scooter (i.e. it has an electric motor and a handlebar), register it with LTA (more on this below).
You should also keep your proof of purchase to prove that your non-UL2272 certified e-scooter was bought before July 1.
However, you can only use your non-UL2272 certified e-scooter until June 30, 2020, after which they will be automatically deregistered and not allowed to be used on public paths.
In other words, that's the time you are given to upgrade yourself to a UL2272 certified PMD which is safer for you and the people around you.
2) Register your e-scooter by June 30, 2019
Speaking of deregistration, you will first need to register your e-scooter with LTA by June 30, 2019 if you want to continue using it on public paths.
After that date (that's the end of this month, by the way), you will face penalties if you are caught riding an unregistered e-scooter.
Here's a quick guide on how to do this:
And here's a nifty flowchart to help you make sense of all this: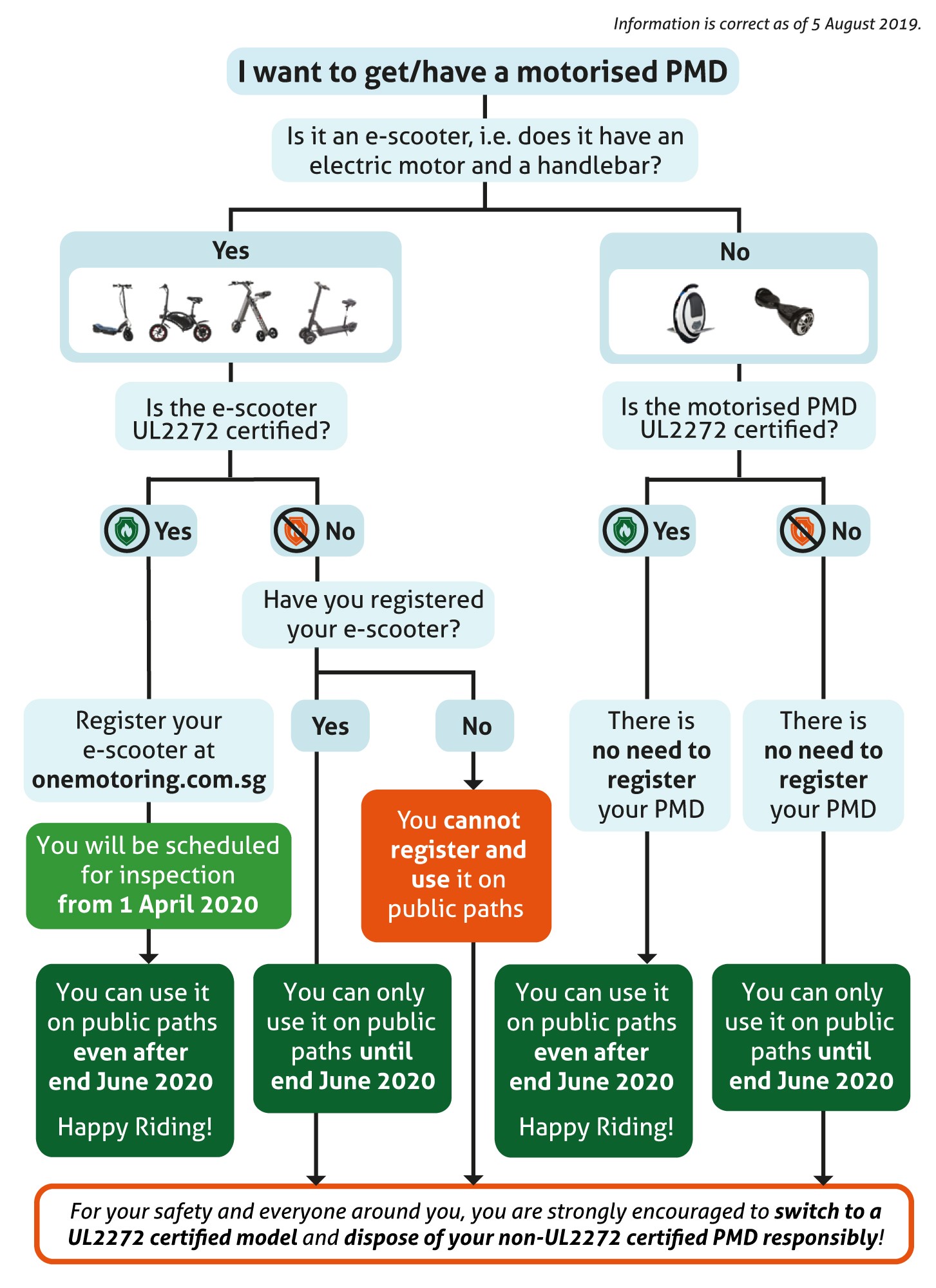 This sponsored article by LTA is certified useful. Top image via SCDF Facebook page.
If you like what you read, follow us on Facebook, Instagram, Twitter and Telegram to get the latest updates.