Follow us on Telegram for the latest updates: https://t.me/mothershipsg
When she was younger, friends would ask Yeo Welwei if she lived in a temple due to the overwhelming number of religious statues in her house.
Apart from friends, some of Yeo's exes reportedly struggled with playing the role of a supportive partner, as they felt uneasy, even scared, accompanying her to witness rituals involving spirit possessions.
Family temple business in Geylang
The 25-year-old Singaporean is a second-generation owner of a family-run temple business, Ji Zheng Gong Temple and Jin Yin Memorial, both located right at the end of a small road at 15 Lorong 21A Geylang.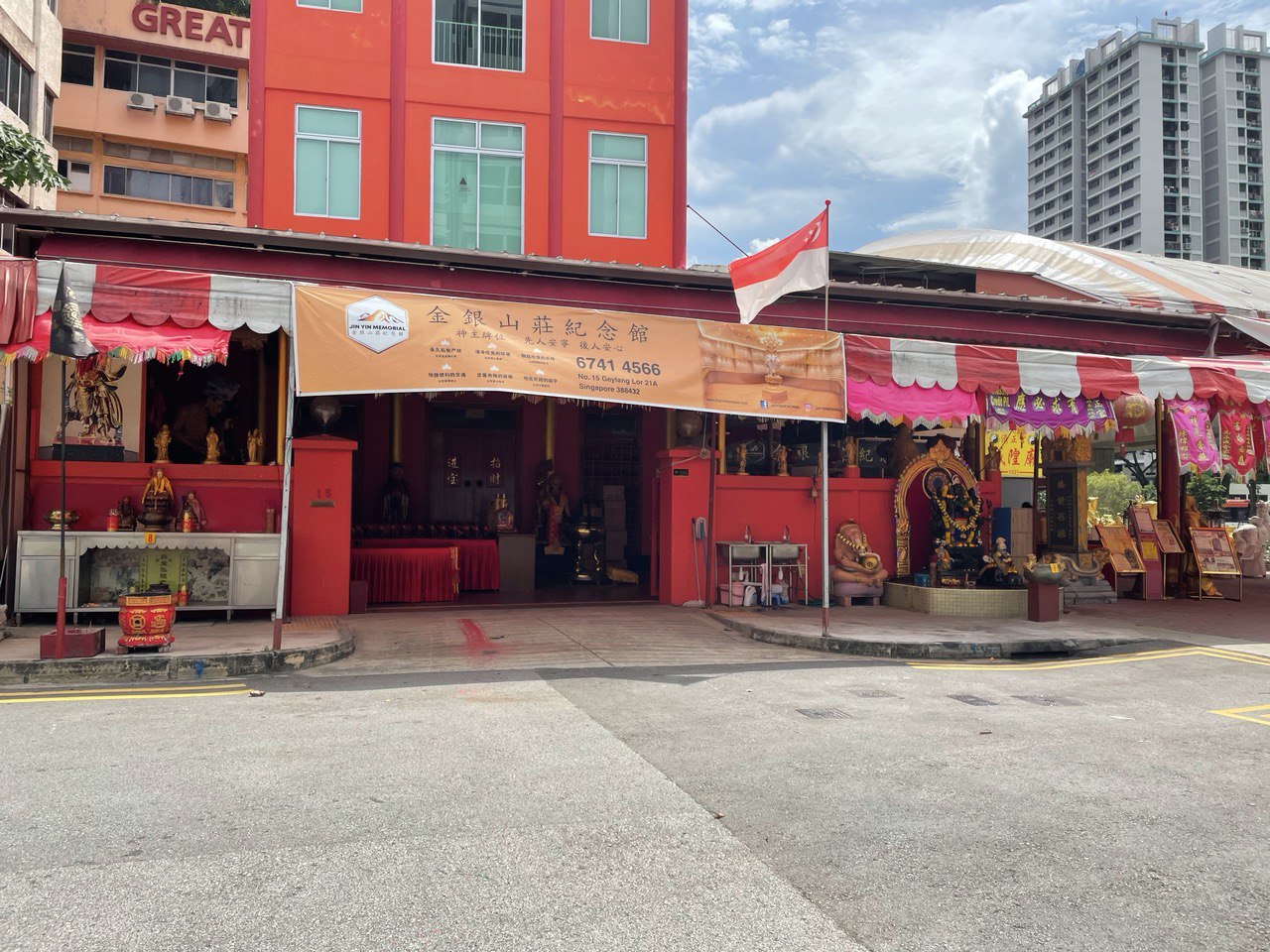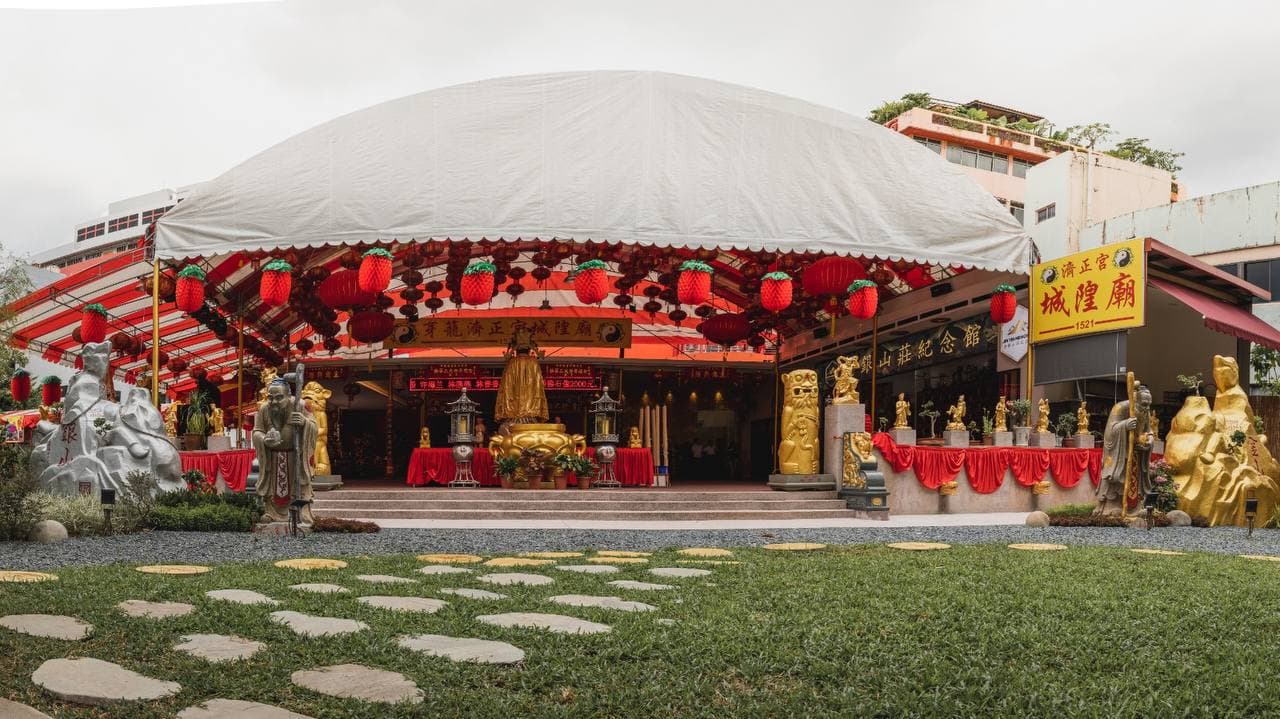 The temple houses a variety of deity statues such as Ji Gong, God of Wealth, Confucius, the God and Goddess of Marriage, and Hindu deity, Ganesha.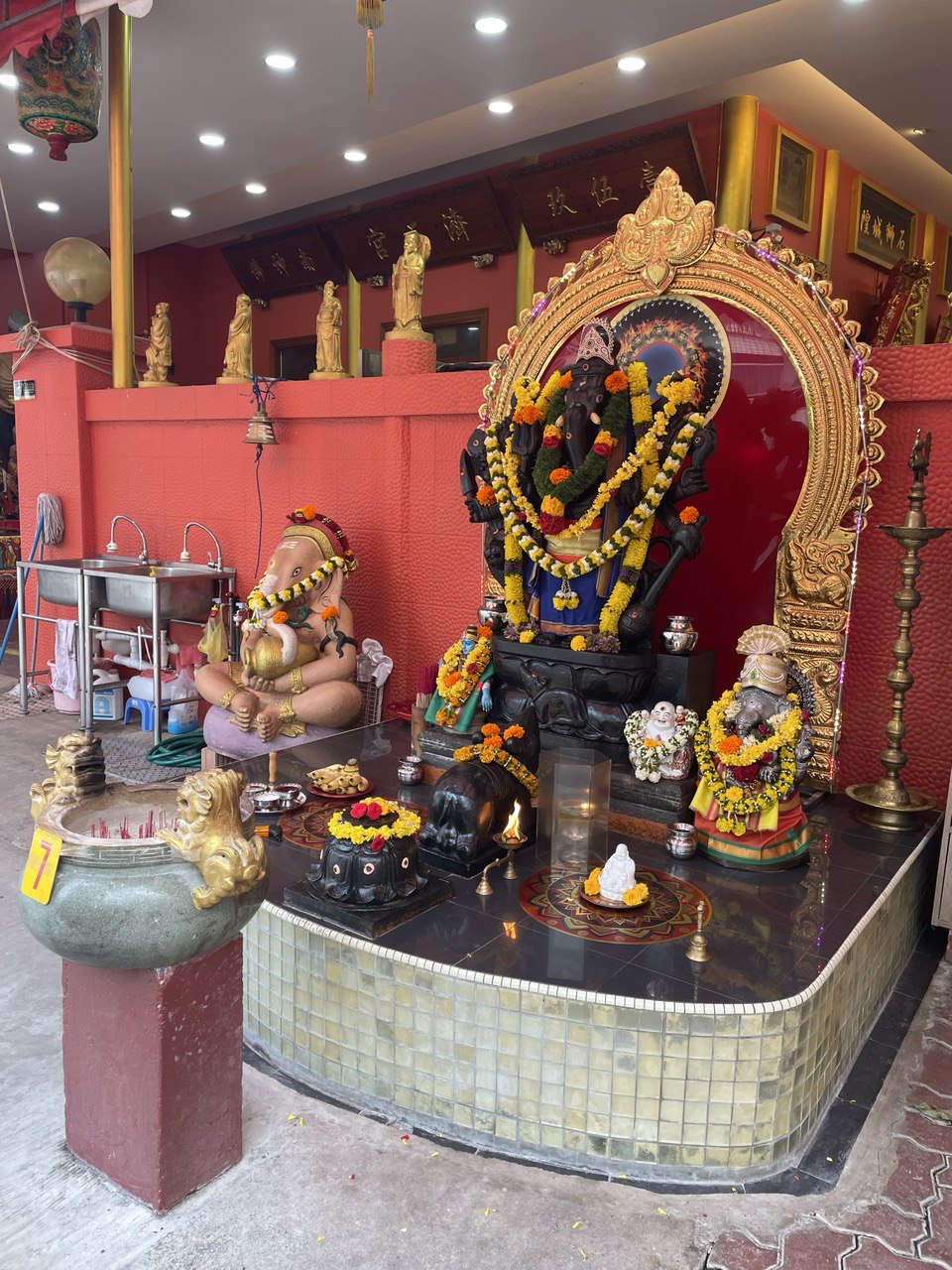 Second-generation family business owner
After watching from the sidelines during her childhood, Yeo officially became involved in the family business from her secondary school days.
She started with basic duties that included administrative work before slowly branching out to help out in other areas at the shop on weekends and public holidays.
The self-professed fan of horror shared that her interest in spiritual affairs and working in business began at a young age.
Besides not wanting to work for anyone else, her passion for keeping Taoism traditions alive fuelled her decision to join the family business.
After graduating from Republic Polytechnic with a diploma in social enterprise management, Yeo forwent a graduation trip, and instead focused on learning the ropes of the business.
Her oldest sister also works in the family business, while her youngest sister helps out when they have events.
Questioned her choice of vocation
Having a renowned figure in the Taoism afterlife industry as a father indeed amplifies the pressure of having big shoes to fill, Yeo admitted.
Her father is 58-year-old Yeo Chin Nam, a Taoist priest, Fengshui master, and spirit medium.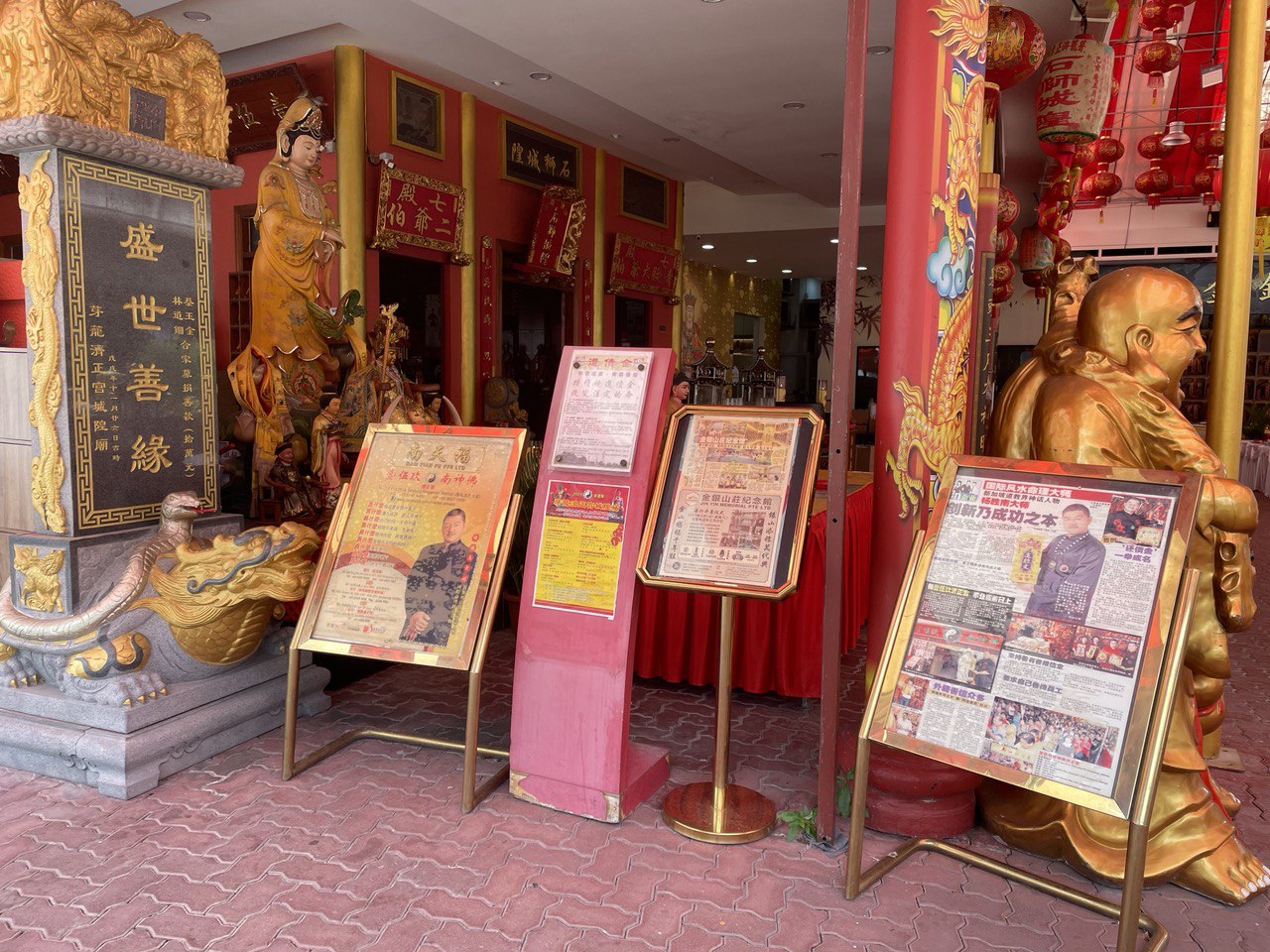 Known as "tang ki" in dialect, spirit mediums allow spirits and deities to possess their bodies to facilitate communication with devotees.
Although Yeo was drawn to spirituality from a young age, she confirmed that she does not possess "the gift of sight," also known as the third eye, unlike her father.
Instead, her spiritual abilities are mostly confined to her dreams, which is a platform where deceased loved ones and/or spirits can communicate with her. She can also hear and sense the presence of spirits around her.
When she first started experiencing it at around the age of 12 to 13, she found it "very hard to control" as she was younger and much more emotional.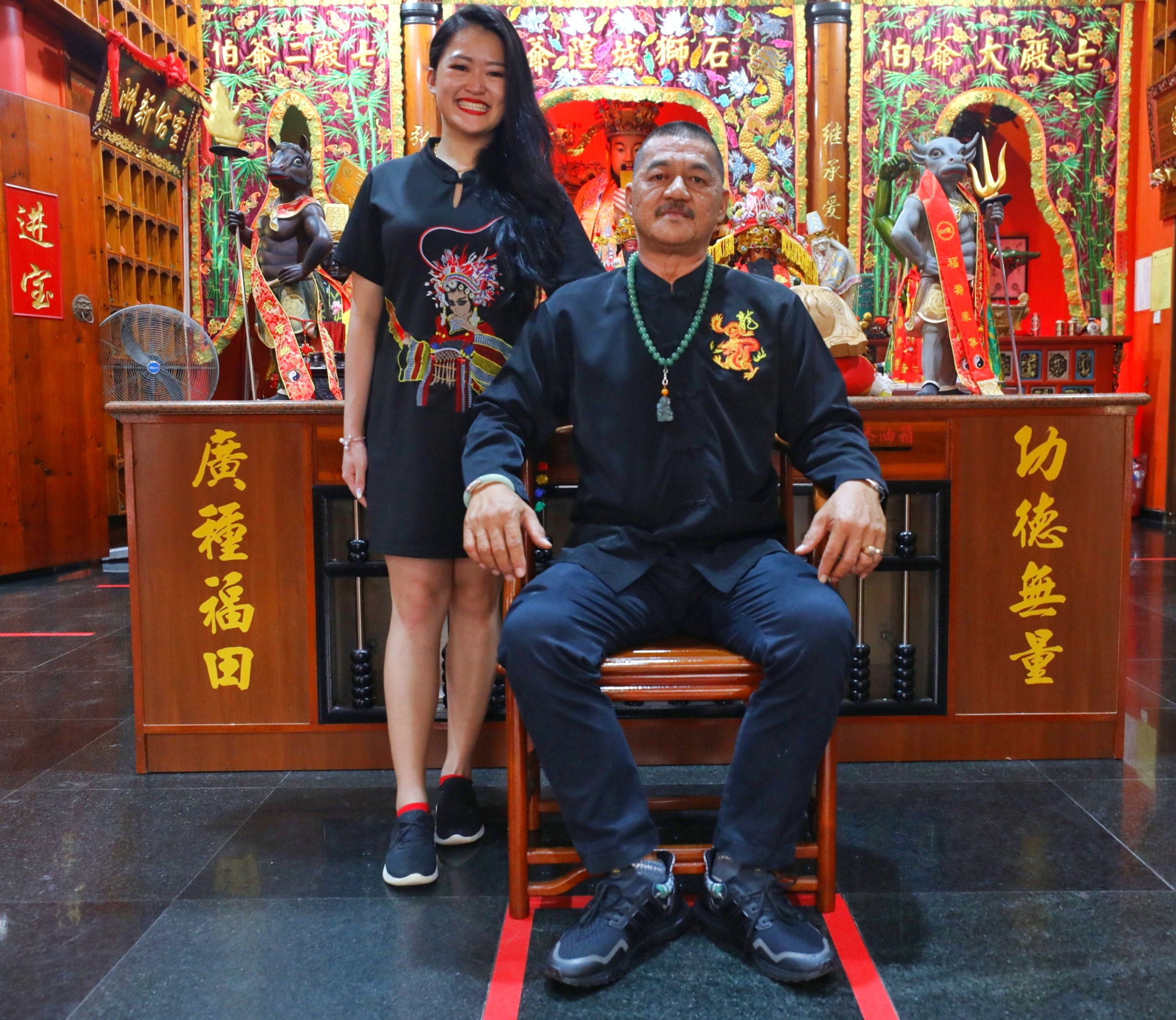 The discrepancy between her spiritual abilities and her father's caused her to question if she was "on the right spiritual path" as she felt less qualified without her ability to "see" in her line of work.
However, Yeo was reassured when she confided her concerns in a friend, who is also a medium like her father.
The friend had encouraged her to continue on her chosen path, and pointed out that that perhaps she was not gifted with such abilities as they were not needed for her work.
Har Paw Villa and friendships
While she is friends with others within the same industry, Yeo is also supported by a network of friends from different backgrounds who respect her chosen vocation.
For friends who do not feel comfortable visiting a temple but have questions about the subject, Yeo would suggest taking a trip to Haw Par Villa together.
Its position as a tourist attraction offers neutral ground that promotes conversation about religious and cultural topics with far less pressure and intimidation while enjoying a casual day out with friends.
To Yeo, Haw Par Villa is a "very big temple," and her enthusiasm for the venue was visible as she gushed about the recent upgrading of the Chinese cultural theme park.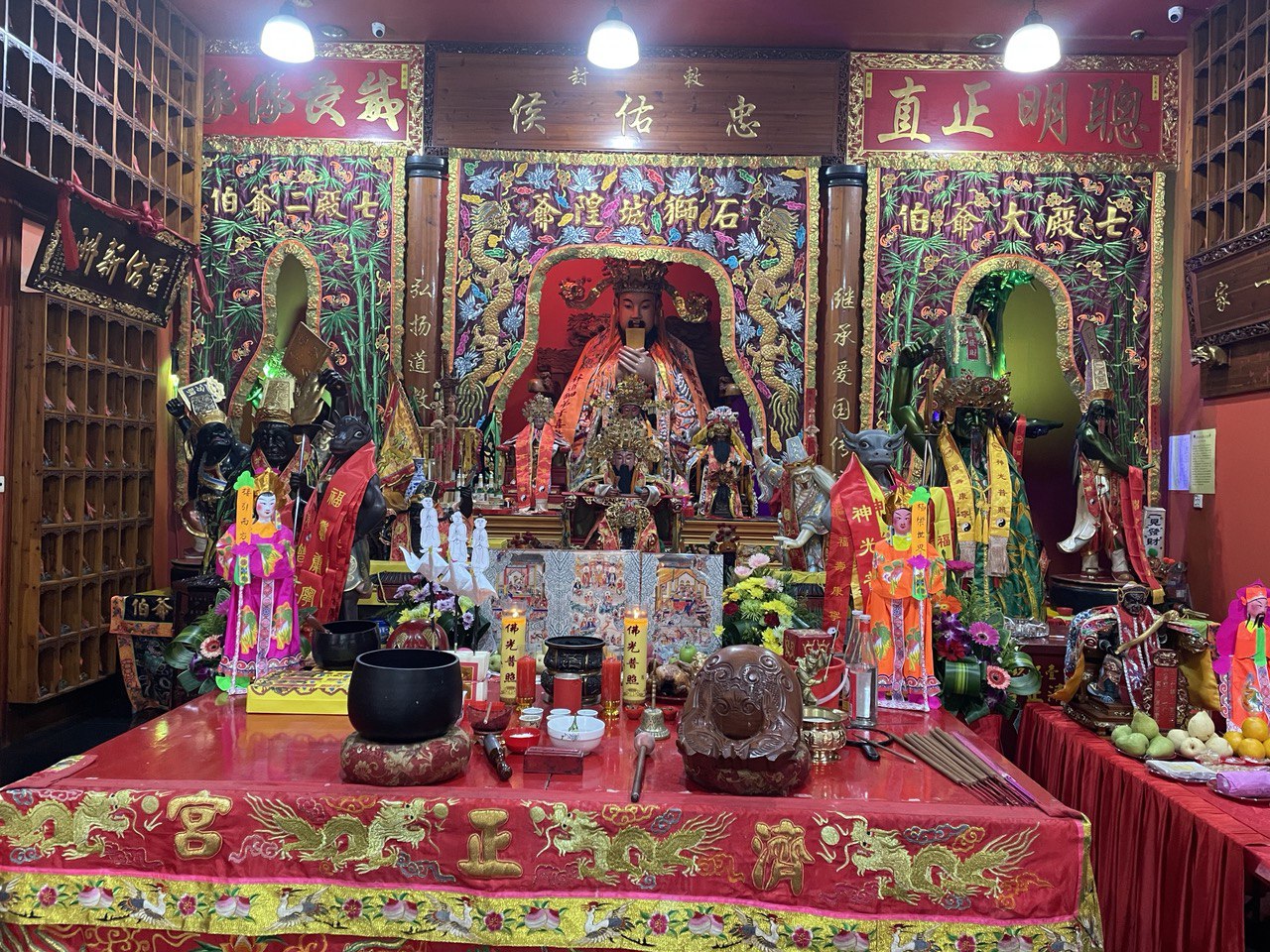 Even before she took me on a post-interview tour around Ji Zheng Gong Temple, I was given a preview of Yeo's wealth of knowledge as she rattled off about who the statues represent, their stories, and which ones are featured at her family's temple.
Despite her passion for her work and beliefs, she is not out to convert or convince anyone and remains respectful of others' religious and spiritual beliefs.
For instance, Yeo has a friend who used to be in the same dance team in her secondary school and now works in a church near the temple.
They still talk and hang out with each other, Weiwei added.
Although her friend is "very passionate about Christianity," neither of them sees that as a point of friction between them.
Yeo believes their jobs are similar in the sense that they both serve deities or God, as well as their respective religious communities.
Popular trends and ghost stories
The recent buzz surrounding witchcraft, tarot cards, crystals, and ghost stories has offered more opportunity for conversation about spiritual matters.
While Yeo remained unfazed about the alleged documentation of apparitions ("They're just there."), she emphasised the need for such conversation in order to ensure traditions and stories continue to be passed down to future generations.
In fact, her friends have been sending her relevant videos, articles, and memes that they come across on the internet, and asking her about them.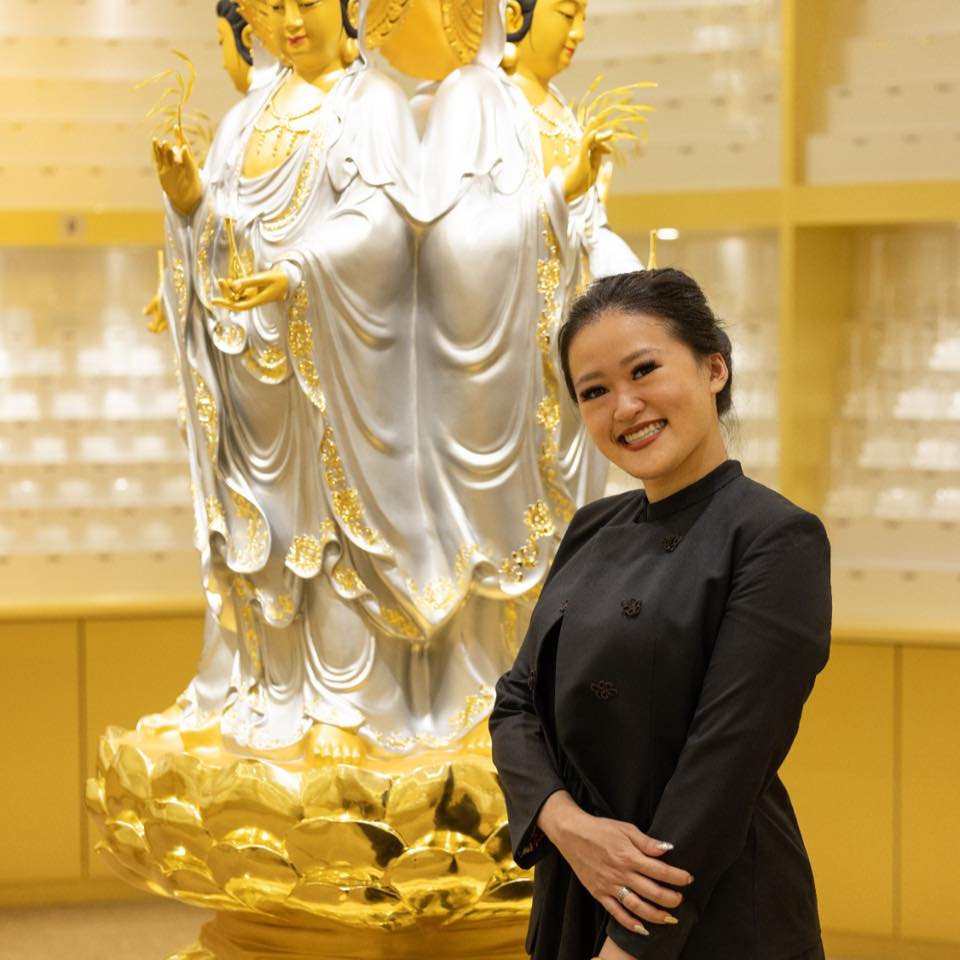 Even if it is not directly related to Taoism, Yeo said she welcomes any discussion about the spiritual world.
Such curiosity and pursuit for knowledge contradict the constant nagging of parents at their children to just do as they were told without asking any questions, especially during religious events and rituals.
However, Yeo noted that such shutting down of conversations contributes to the increasing number of people who know little to nothing about their religious practices, and further aggravates the worry that some elderly folks have about the younger generation not knowing how to continue the religious practices after they pass.
She recounted an incident involving a man in his 20s who visited the temple with his mother.
"He asked me, 'What is this? What is [its] meaning? Why should I pray this?' and the mum kept telling him, 'Don't ask so much.' I said, 'No, you must allow him to ask because he's the next generation.'"
Adapting to a modern (and Covid-19) generation
Yeo acknowledged the work that many temples do to maintain these places of worship for devotees to pray at. However, she also noticed that many temples in Singapore are "not evolving as a business."
Hence, she became driven to "do more" to cater to the needs of the modern generation through innovative products, such as their modern joss paper product as well as reaching out to the younger ones.
Their modern joss paper is a prayer service for both the living and the deceased, where temple staff prepare and burn the offerings specific to each individual's prayer objective on their behalf.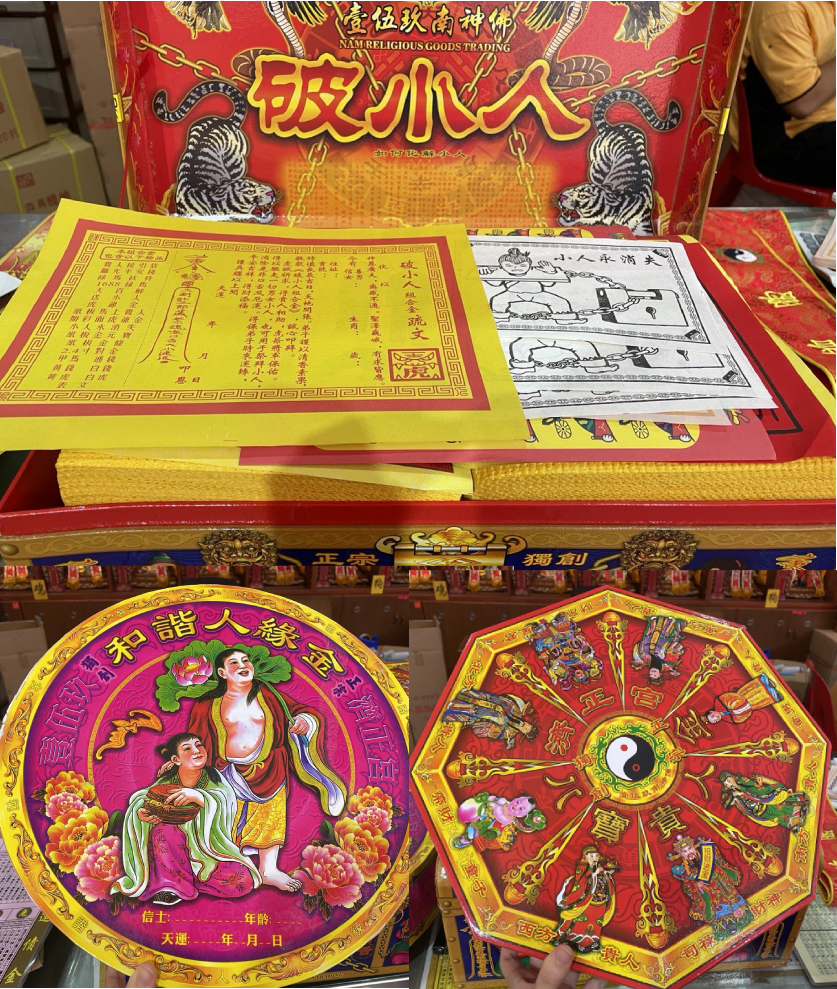 Such a service eliminates the struggle of figuring out which joss products to purchase, carrying them around and looking for a space to burn them individually, as well as circumvent other factors that can impede one's prayer schedule, such as bad weather, busy lifestyles, and one's location abroad or in quarantine.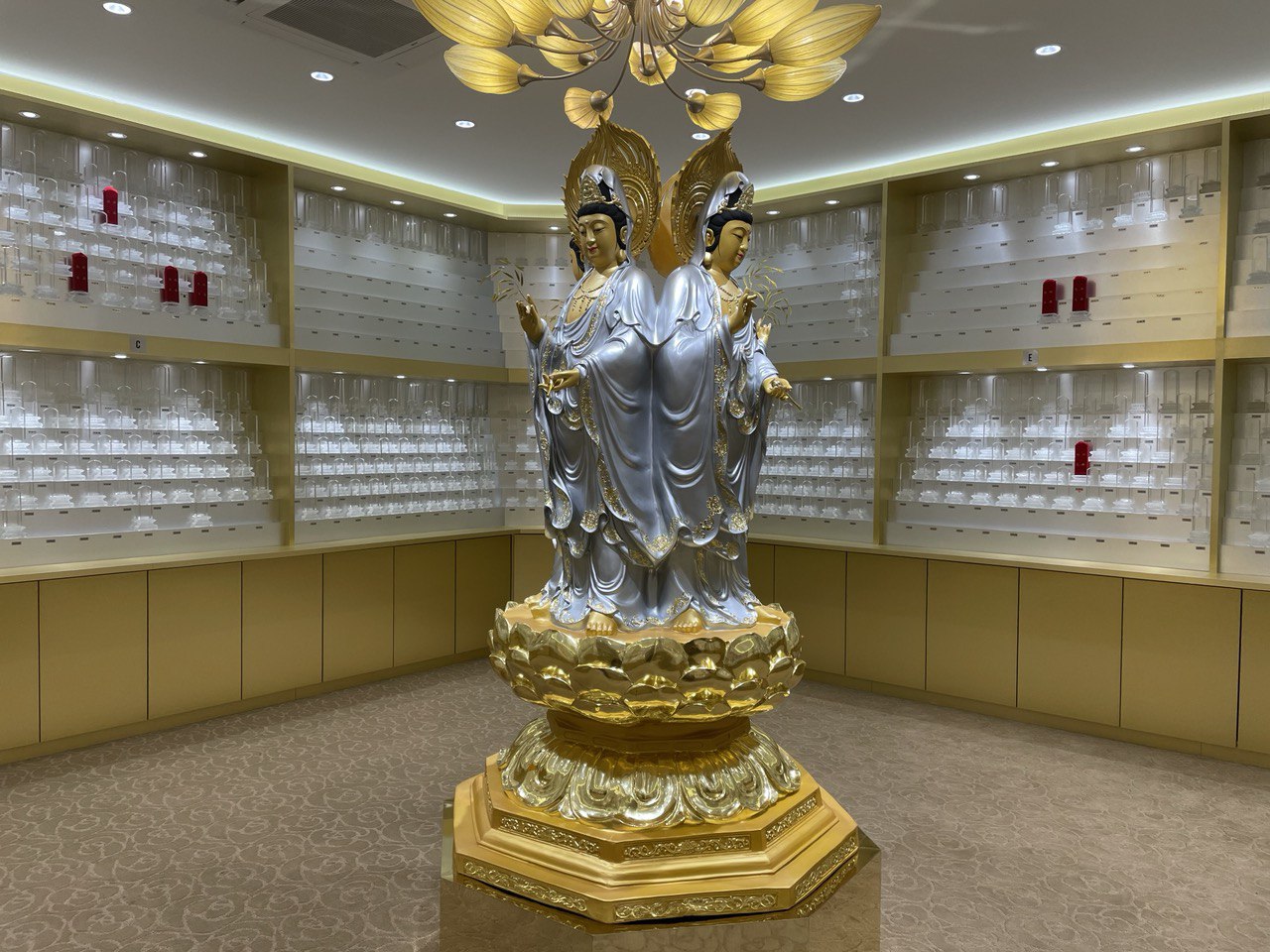 Memorial halls such as Jin Yin Memorial also offer families a venue to house their ancestral altar and/or tablet that is accessible daily.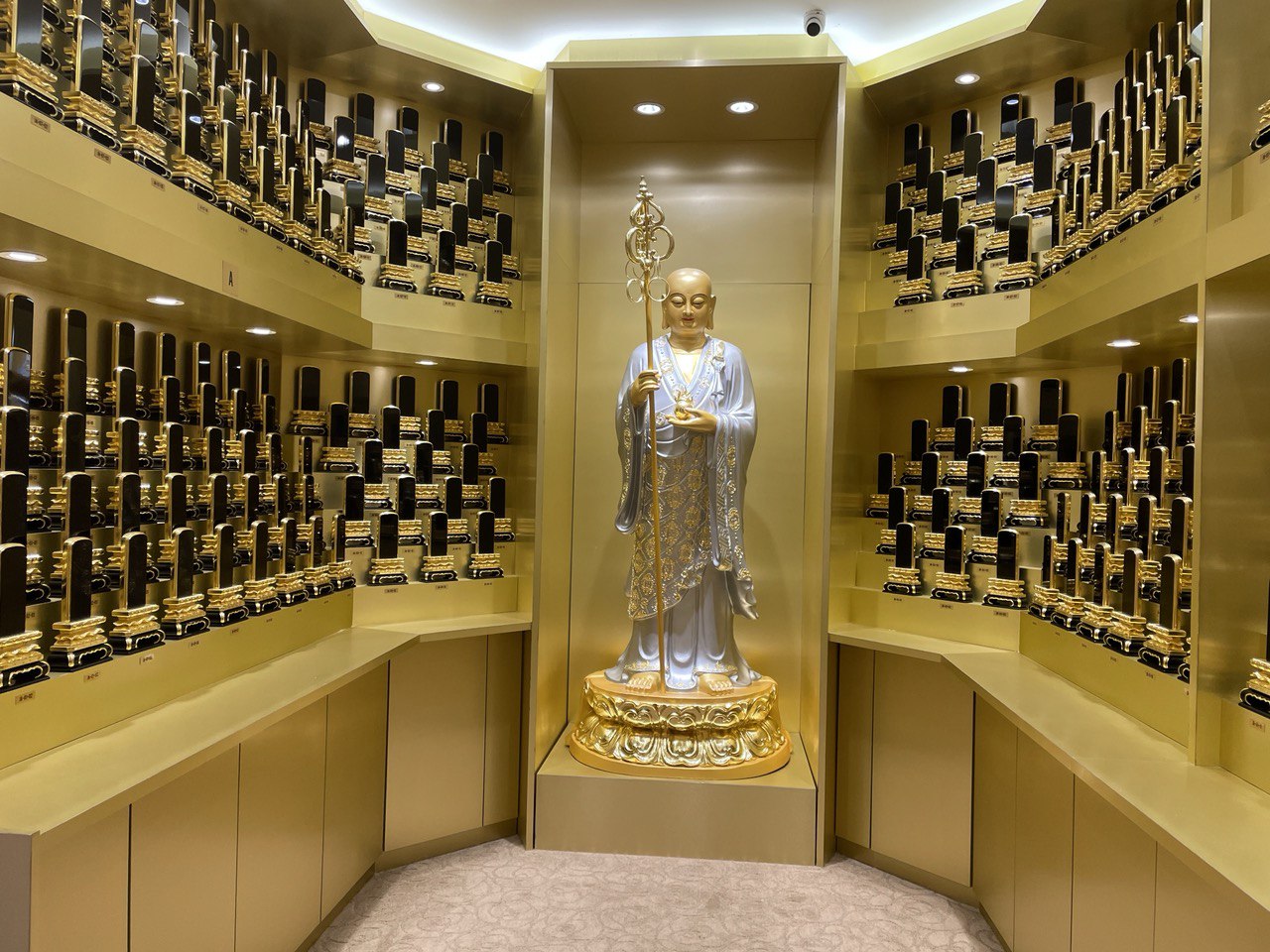 Yeo said that they also notify customers of important praying dates such as Qing Ming Festival and Hungry Ghost Festival, lest they lose track of when to pray.
Peak periods for them are at the end of the year, Chinese New Year, Qing Ming Festival, and the seventh lunar month.
Surprisingly, they've had more customers approaching them during the pandemic, especially those who are unable to travel abroad to countries such as China, Malaysia, Indonesia, and Vietnam, to visit family during festive periods.
"For the past 10 years, we always don't have much people during the first day of Chinese New Year... The trend was that people would go visiting first and wait until the fifth or sixth day to pray. Due to Covid, we experienced a long line from the first day all the way outside the [Bugis] shop."
However, Yeo admitted that their big celebrations were affected: "Now that we cannot have getai, . . . we have to innovate [with] LED screens in front of the temple that play Chinese shows."
While the seventh lunar month may have a negative reputation, Yeo views it as a "celebration" as there would be a flurry of activity in the community, such as praying and burning joss paper together, as well as reminding each other not to stay out too late and other dos and don'ts of the period.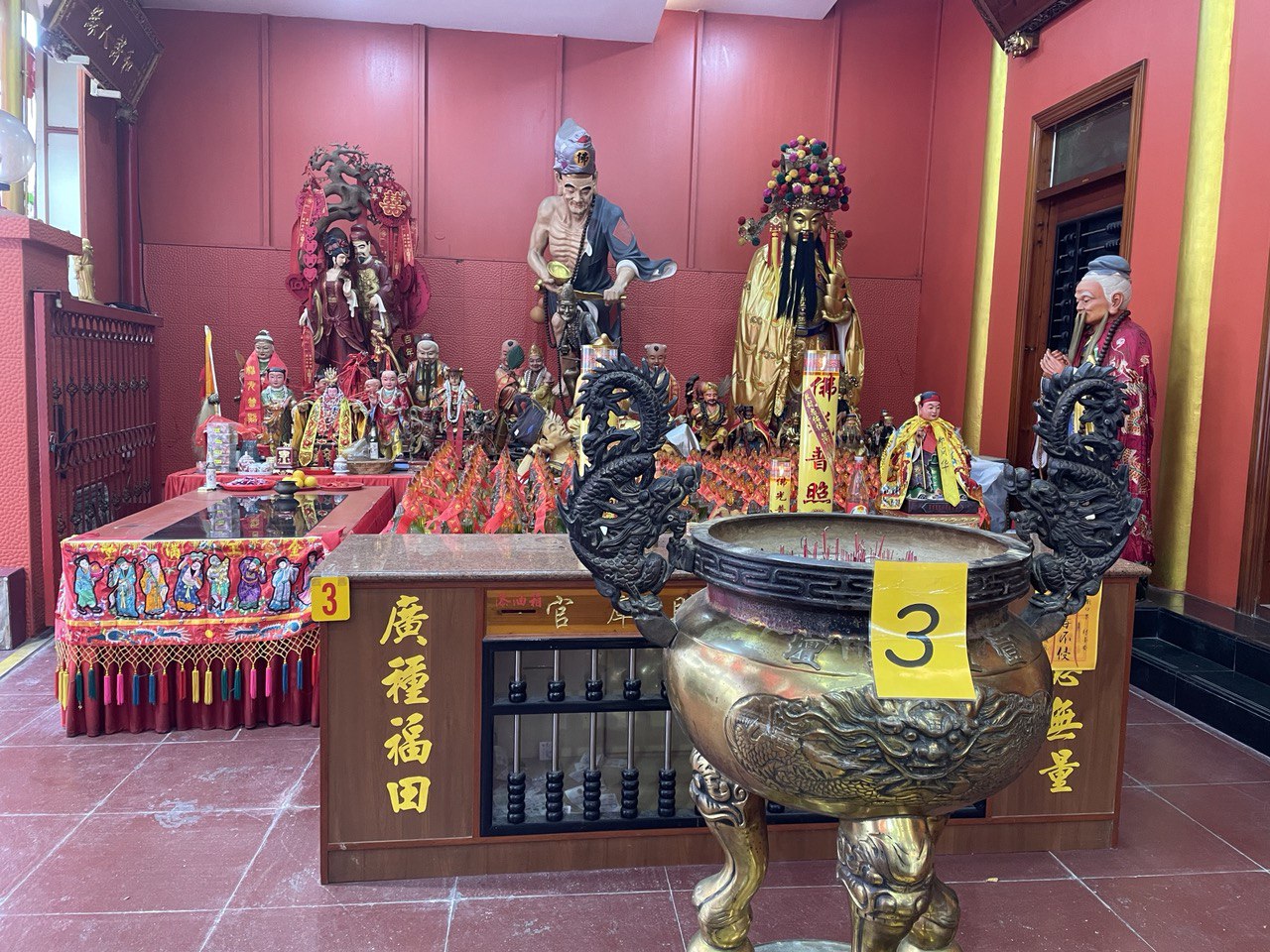 For peace of mind
When her home used to look like a temple, many people assumed Yeo as someone who would close herself from the world and focus on Taoism alone.
The second-generation owner of a temple business maintained that she views religion as a lifestyle choice and that she "prays to everything," including the grave of Mother Mary in Turkey.
When asked about whether the deceased can hear their prayers, Yeo replied that praying is for the benefit of the living and that they need not worry about the deceased who have already passed on to the afterlife.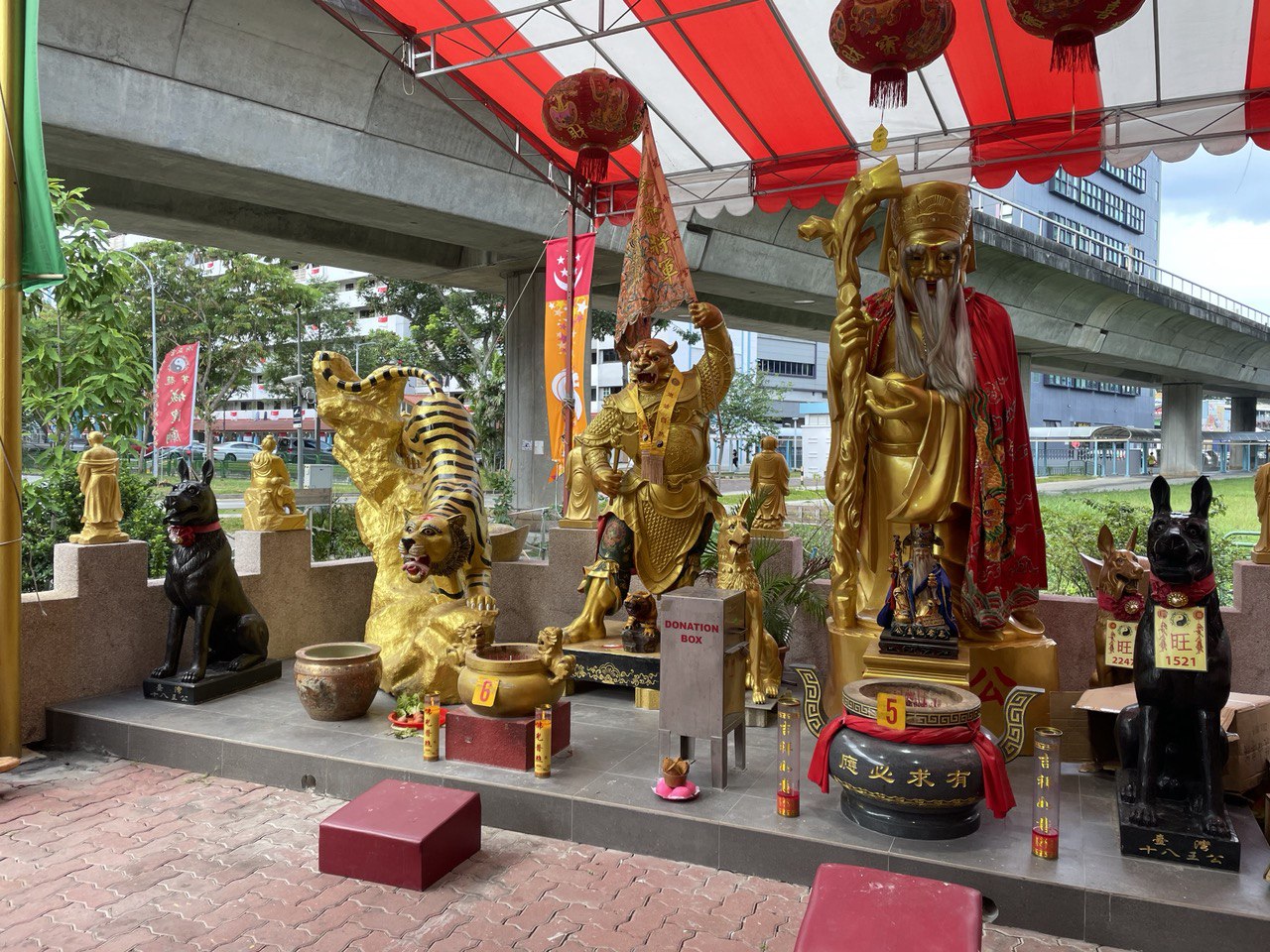 "When you pray, it's how you feel that is most important," she said, adding that praying should help one feel at ease and comfortable.
Yeo does not discriminate against those who believe in other religions or none at all and insists that it is a personal lifestyle choice that one is free to make.
"That's okay, you don't have to believe in anything... As long as you are happy, it's fine."
For her own peace of mind, Yeo disclosed that she personally avoid seeking out paranormal experiences, especially going to chalets due to the "very heavy energy."
"You don't like it when people go into your house and irritate you, right? Then, don't do it at supposedly 'haunted places' for a paranormal experience. This does not apply to only the specific month."
Ji Zheng Gong and Jin Yin Memorial
Address: 15 Lorong 21A Geylang, Singapore 388432
Opening hours: 9am to 9pm, daily
Read more
Follow and listen to our podcast here
Top images courtesy of Yeo Welwei and Karen Lui.
If you like what you read, follow us on Facebook, Instagram, Twitter and Telegram to get the latest updates.