Follow us on Telegram for the latest updates: https://t.me/mothershipsg
Three people in Singapore who went to Bukit Brown Cemetery late one night a few years ago proved that three's a company -- and an extra hand.
A selfie photo taken by the small group ended up showing their ghostly encounter.
The shot, which had its lighting turned up to show what was going on at that exact moment, was only recently shared to the Supernatural Confessions Facebook page on May 4, 2021.
Joey Tay, the person who shared the photo, wrote:
This was taken quite a few years back at Bukit Brown Cemetery just before it was cordoned off for works. We went exploring and drove slowly into the cemetery area before reversing out again in the dark because it was just too spooky. Then we stopped at the side road next to the cemetery and took some selfies before calling it a night.

The next day my friend sent us this because she said as she was going through the photos, something caught her eyes and she turned up the brightness before sending it to us.

The old, wrinkled hand on her shoulder.

Note that there were only 3 of us and no one else when the photo was taken. And definitely no camera app.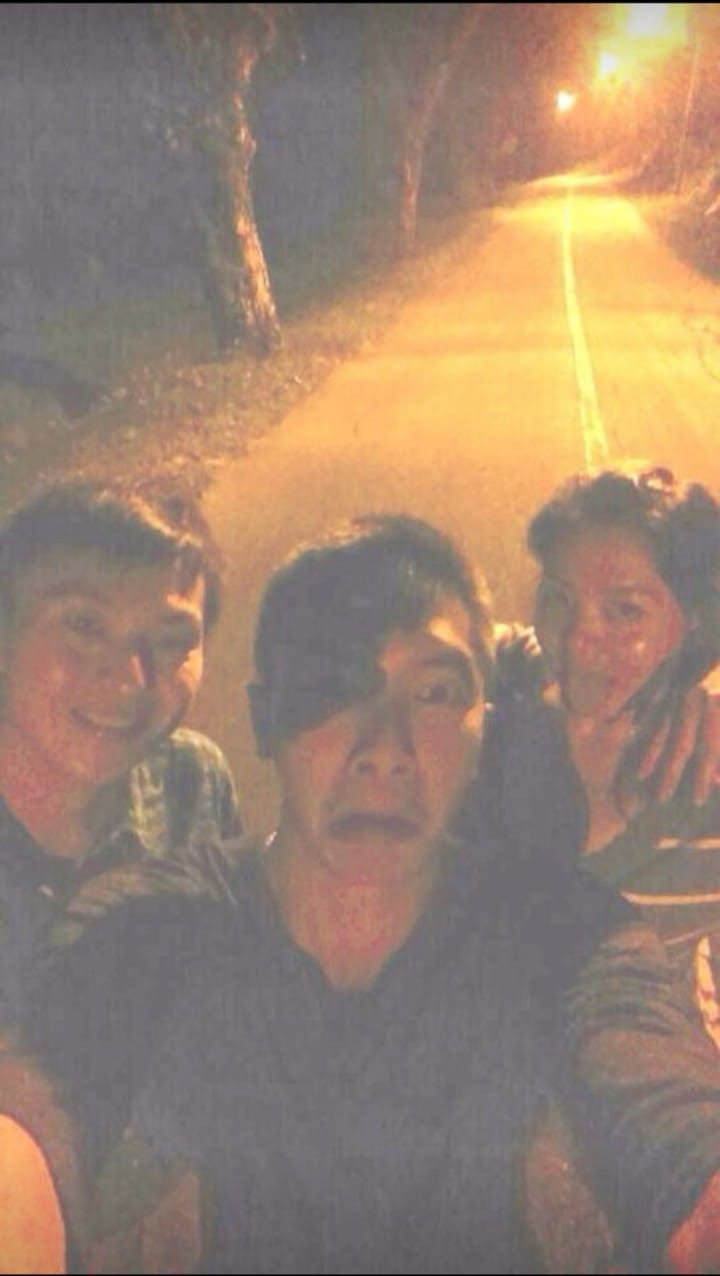 Responses
In the comments section of the post, Tay also responded to queries posted.
In response to the Supernatural Confessions' question if anything happened to the woman after the incident, Tay wrote:
Yes! The morning she sent us the photo, she was telling us she had a bruise where the hand was on the shoulder the other night. She showed us a photo of the bruise but decided to delete it as she didn't want any creepy things to happen after that.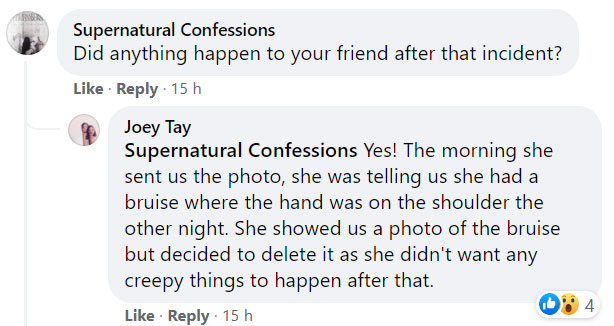 Tay also responded to another comment that speculated if the photo was a prank and that the friends should not have gone out as an odd-numbered group.
Tay wrote: "no pranks on my side that's for sure. Maybe it's the other side that's pranking us."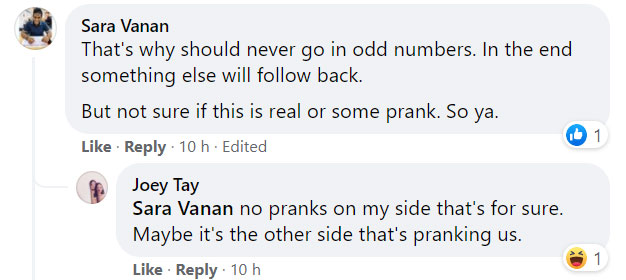 A third comment that spelled out what could be seen in the photo -- a shoulder and a hand on either side of the woman's face -- was met with an earnest reply.
Tay wrote:
yeah.. well I really wish I can say it was a hoax. But there were really just the 3 of us and no one else.
And in a follow-up response about always going out to explore as an even-numbered group, Tay wrote:
yeah on hindsight we shouldn't have went in odd number. Hahah but well at least we managed to get a 'good' souvenir as keepsake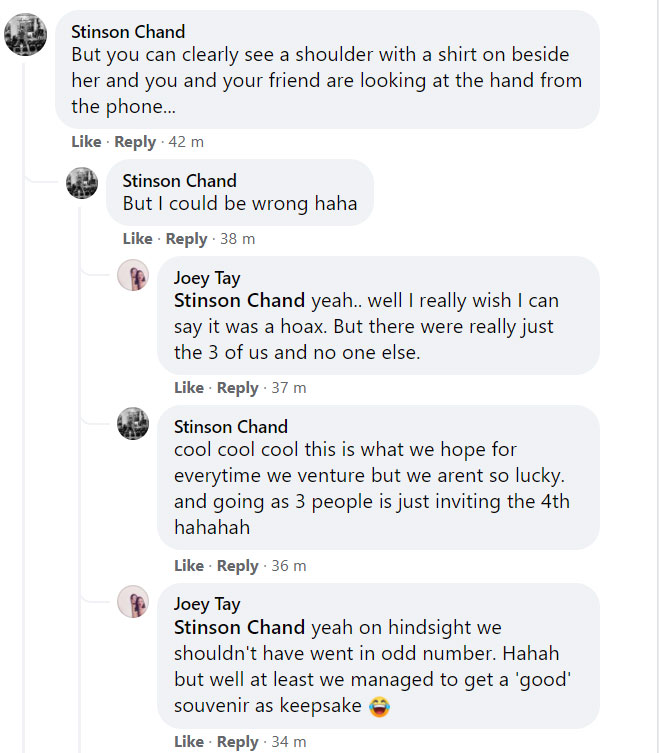 In response to Mothership's queries about the authenticity of the photo, Tay said:
Yeah it is a genuine photo definitely and my other two friends can vouch for this as well. There were only three of us on that trip and we took that photo and a series of others. But it was on this one my female friend saw something weird and she enhanced it and showed it to us. Together with a photo of a bruise on the same shoulder. But she has deleted that photo already.
The other two friends of Tay's are tagged in the Facebook post.
Background
Estimated to house 100,000 tombs on a substantial 0.86 sq km of land, Bukit Brown Cemetery has been left on its own since its closure in 1973.
But urban explorers have been trying to catch a glimpse of the vast area in recent years on the back of news the cemetery will be redeveloped.
Opened in Jan. 1, 1922, it was the default burial ground for the local Chinese community.
It is now being redeveloped into a highway.
If you like what you read, follow us on Facebook, Instagram, Twitter and Telegram to get the latest updates.