Public transport fare is always a contentious subject.
Commuters demand cheaper and affordable public transport, while public transport operators want to increase fare to cover costs and turn a profit.
In July 2019, Coordinating Minister for Infrastructure and Minister for Transport Khaw Boon Wan said in Parliament that the current level of revenue from public transport fare is not able to offset the higher cost of operating and maintaining Singapore's rail network.
Fare revenue not catching up with cost
Between 2016 and 2017, the total cost of running the rail network increased by around S$270 million, according to Khaw.
The government also pumped S$1.9 billion into taking over the ownership of all of Singapore's rail operating assets under the Rail Financing Framework.
Fares, on the other hand, did not keep up. In fact, it went down by 8.3 per cent between 2015 and 2017.
Fares only went up in 2018 -- by a maximum of 10 cents -- after the fare formula was tweaked.
According to the Ministry of Transport (MOT), the rail division from SMRT and SBS Transit have been making losses:
"In the financial year ending on March 31, 2018, SMRT Trains reported a loss of $86 million, while SMRT Corp a loss of around $70 million.

SBS Transit's Downtown Line has similarly registered losses of $125 million over the past three years, while its train division as a whole also lost tens of millions of dollars."
This, warned MOT, cannot be sustained without performance degradation in the long run.
Is public transport affordable?
According to the Public Transport Council (PTC), households have been spending proportionately less of their monthly income over the past years.
Data tracked by the PTC suggests that the average public transport commuter household (indicated by the red line in the graph) spends about 1.9 per cent of their monthly household income on public transport in 2017.
Lower-income public transport commuter households (blue line) spend about 2.7 per cent of their monthly household income on public transport in 2017.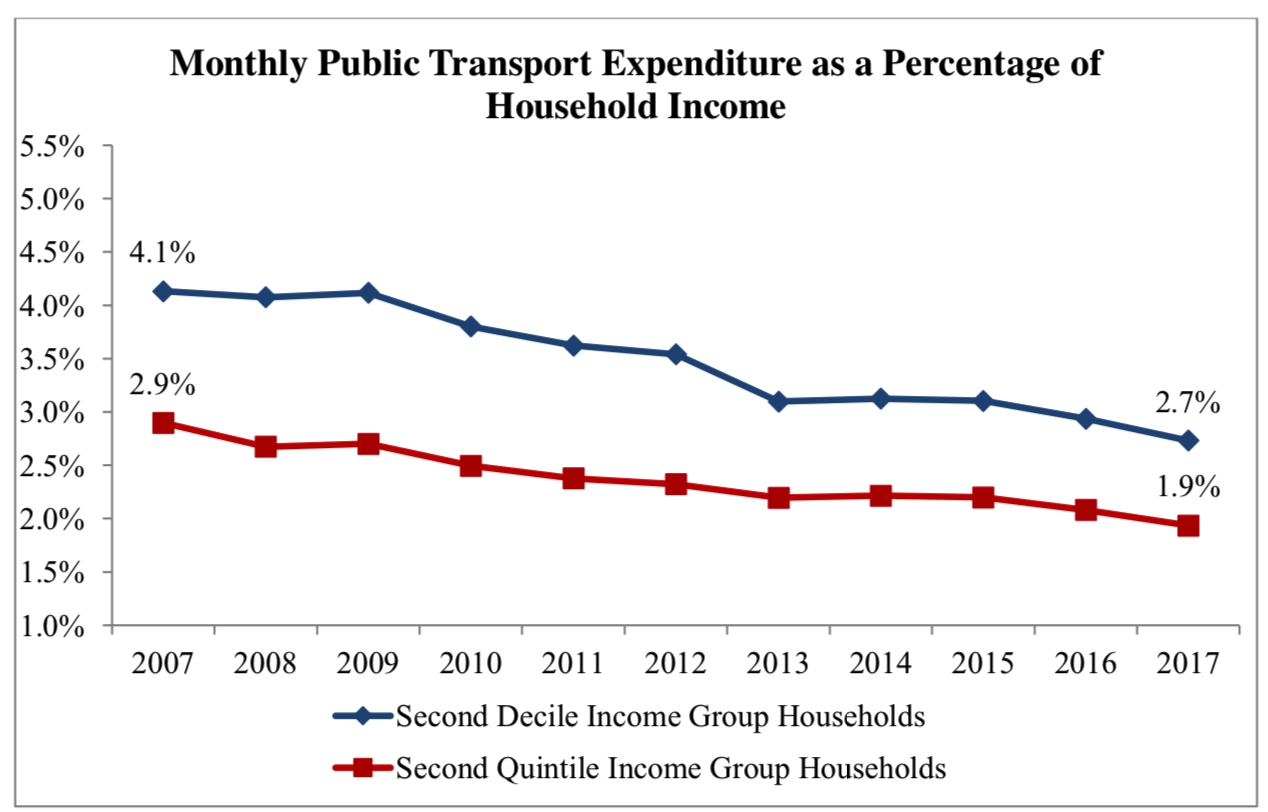 Objectively, spending between 1.9 and 2.7 per cent of your household income on public transport is not high, but how does it compare to other countries?
Ranked 2nd in affordability
A 2018 NTU study (commissioned by the PTC) found that, compared against 11 major cities, Singapore ranked second in terms of affordability when benchmarked against 11 major cities.
It created an index using a typical family of two adults and two school-going children and calculated the amount of household spending for sixty 10km-trips (two trips daily for 30 days).
Similar to the PTC's index, this study took the household disposable income of the second quintile income group which is most likely to take public transport.
In terms of public transport affordability, only San Francisco trumped Singapore.
Singapore collected the lowest amount of fare revenue
The study also found that Singapore collected the lowest amount of fare revenue per passenger kilometre among seven cities that were surveyed.
Using data from 2016, the study discovered that Singaporeans paid 11 cents per passenger kilometre. In Hong Kong, this was 14 cents per kilometre while Londoners paid 19 cents.
The study said:
"This means that for an average trip of 10 kilometres, Londoners pay at least S$0.80 more than Singapore commuters and Hong Kong commuters pay at least S$0.30 more. In fact, charging Singapore's fares would result in Hong Kong and London making a loss of $713 million and $2.16 billion in fare revenue respectively."
The study ended with a call for the PTC to "strike a better balance between fare affordability and cost recovery".
Why do Singaporeans perceive public transport to be unaffordable?
Singapore's public transport, especially our rail network, has improved over the years.
Singaporeans are also generally satisfied with our public transport's efficiency, availability, and convenience, according to this 2018 McKinsey&Company report.
Public transport in Singapore is also objectively affordable when compared with other countries.
However, when surveyed, Singaporeans say they are unsatisfied with affordability. So what gives?
It's hard to pinpoint the exact reason why.
One can postulate that some people don't want to pay much for a public good like public transport.
Coupled with the fact that public transport operator CEOs receive million-dollar pay to supply this public good, it is easy to see why some might feel irked.
And when the media higlights the occasional train disruption (which has been on the decline), one might question the need to pay more for a service that doesn't quite live up to expectations.
Here, it should be said that nationalising public transport might (ironically) lead to higher fares and lower service levels - according to the government.
Another reason could be the perception that comes with the impression about the increasing costs of living in Singapore.
Water prices increased by 30 per cent in 2018.
Less than two weeks before Khaw announced that "regular fare adjustments" are needed, SP Group announced that electricity tariffs will increase by 6.4 per cent for this quarter.
This onslaught of "increases" gives the impression that it is getting more and more expensive to live in Singapore.
There are no easy answers to these. But what is certain is that what we pay now to take the bus and train is too low.
This means that we should expect and embrace the fact that we need to pay the right amount for the service we are getting.
If we still want a world class public transport system, that is.
Top image by Joshua Lee 
If you like what you read, follow us on Facebook, Instagram, Twitter and Telegram to get the latest updates.