You might have heard of former Channel 8 actor Lawrence Wong, who got his big break in Chinese drama Story of Yanxi Palace.
Posted on Instagram
Wong is also set to replace Aloysius Pang in upcoming local drama My One In A Million, which he is in the midst of filming with Carrie Wong.
Recently, Wong was interviewed by entertainment mag 8 Days, with the discussion centred around the drama, his career, as well as his family.
The article was published recently on May 12.
On May 14, however, Wong shared a snippet of the interview on his Instagram Stories, saying with a smirk that he has given the "perfect answer" to his detractors: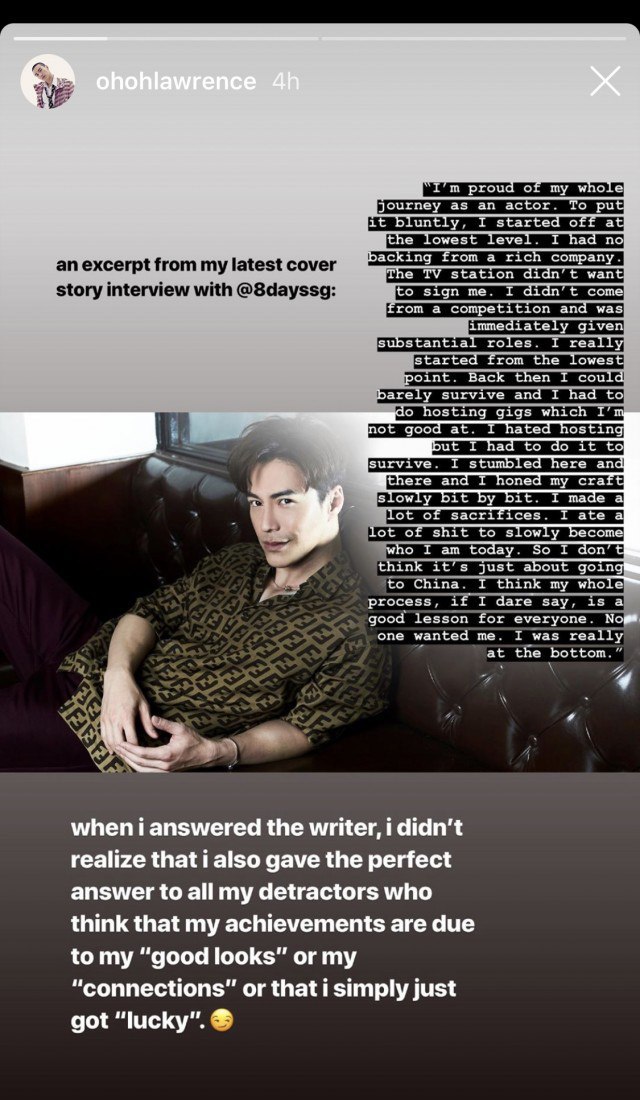 In case you can't see, this is the answer Wong gave in the interview:
"I'm proud of my whole journey as an actor. To put it bluntly, I started off at the lowest level. I had no backing from a rich company. The TV station didn't want to sign me. I didn't come from a competition and was immediately given substantial roles. I really started from the lowest point. Back then I could barely survive and I had to do hosting gigs which I'm not good at. I hated hosting but I had to do it to survive. I stumbled here and there and I honed my craft slowly bit by bit. I made a lot of sacrifices. I ate a lot of shit to slowly become who I am today. So I don't think it's just about going to China. I think my whole process, if I dare say, is a good lesson for everyone. No one wanted me. I was really at the bottom."
The same thing was shared to his Instagram posts:
It is not clear if he had previously made mentions of the same article on Instagram.
Subject of leaked chat
On the same day (May 14), at around the same time that Wong posted the story, news broke that intimate messages between Ian Fang and Carrie have been leaked.
In the Instagram messages that were leaked publicly, both Fang and Carrie were caught badmouthing Wong, among other things.
Here's the relevant bit, with translations below: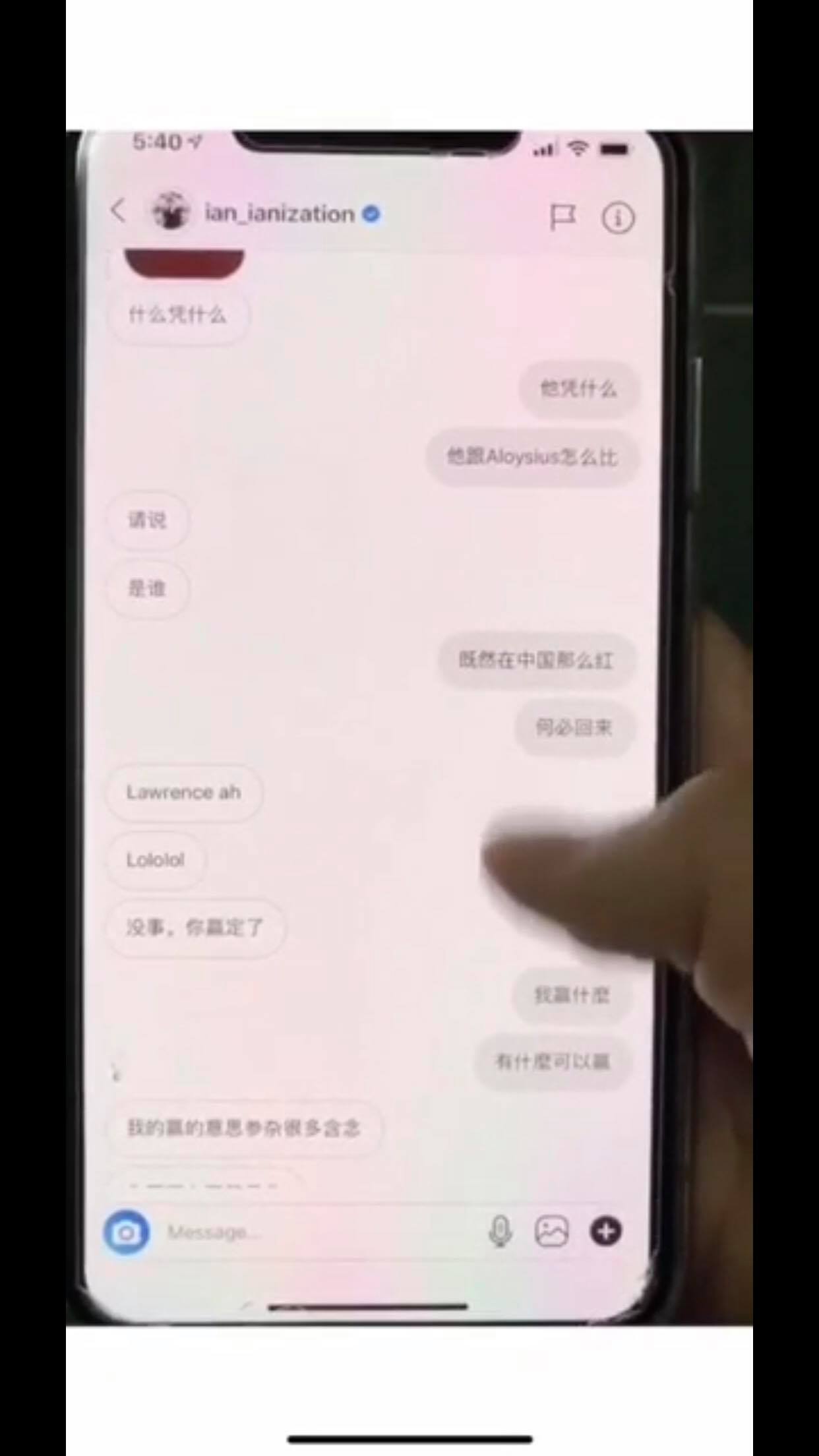 Fang: [Replying to a Instagram story] What right does he have

Carrie: What right does he have

Carrie: How can he compare to Aloysius

Fang: Please say

Fang: Who it is

Carrie: Since he's so popular in China

Carrie: Come back for what

Fang: Lawrence ah

Fang: Lololol

Fang: It's ok, you'll win for sure

Carrie: Win what

Carrie: What is there to win

Fang: My "winning" has a lot of meanings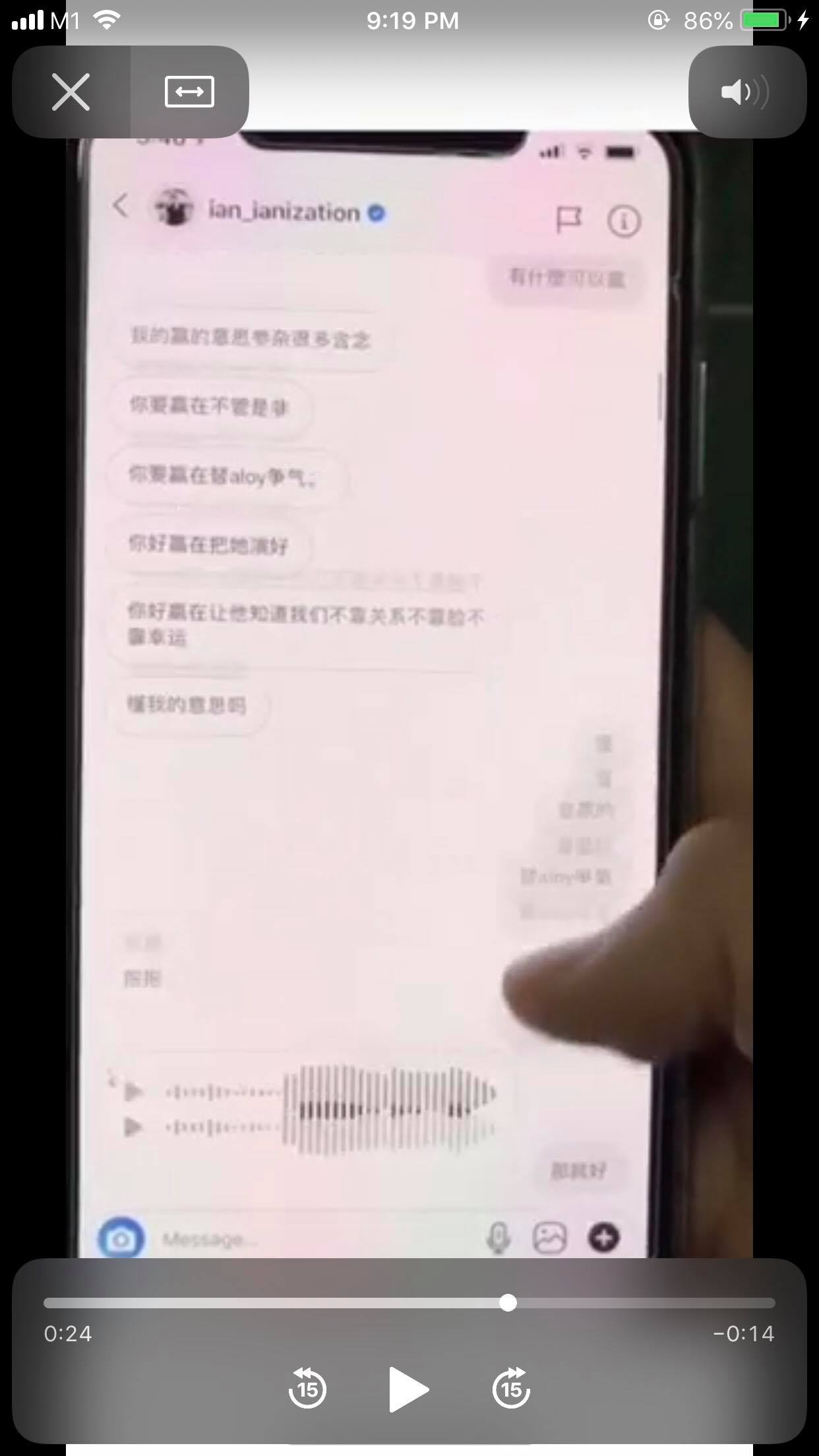 Fang: You have to win at not caring (indiscernible)

Fang: You have to win at standing up for Aloy

Fang: You have to win at acting well

Fang: You have to win at letting him know that we don't depend on connections, we don't depend on looks, we don't depend on luck

Fang: Do you know what I mean

Carrie: I know

Carrie: I will win

Carrie: Stand up for Aloy

Fang: Hug hug

Carrie: Must sayang me
You get the idea.
We're not saying that Wong's Instagram Story has to be directed at Fang and Carrie, but we're saying there is a possibility, considering that Wong had lashed out with such criticisms.
Carrie: "I'm a big fan of his!"
To make things even more awkward, Carrie previously said in an interview with 8 Days that she is a "big fan" of Wong.
Here are the excerpts: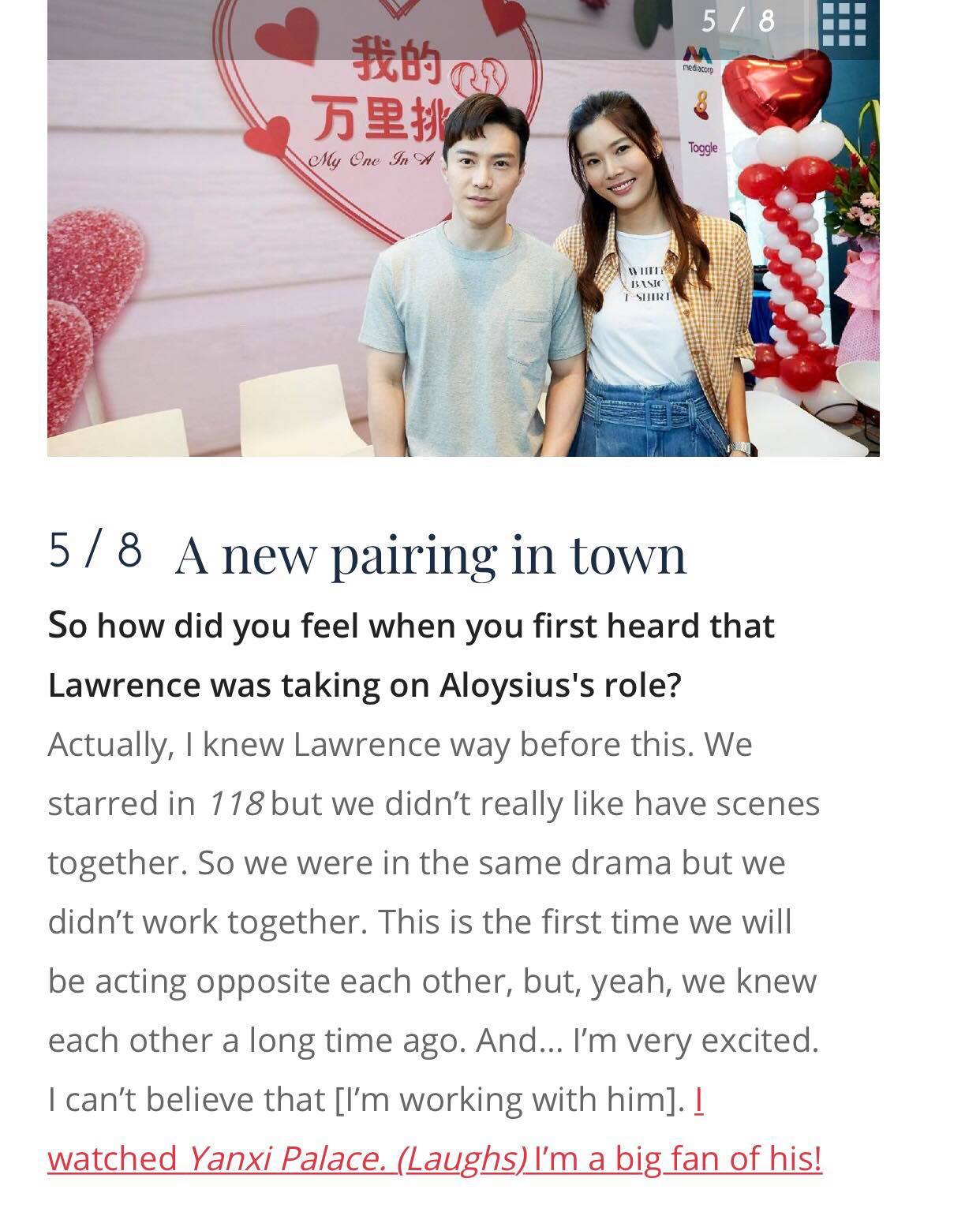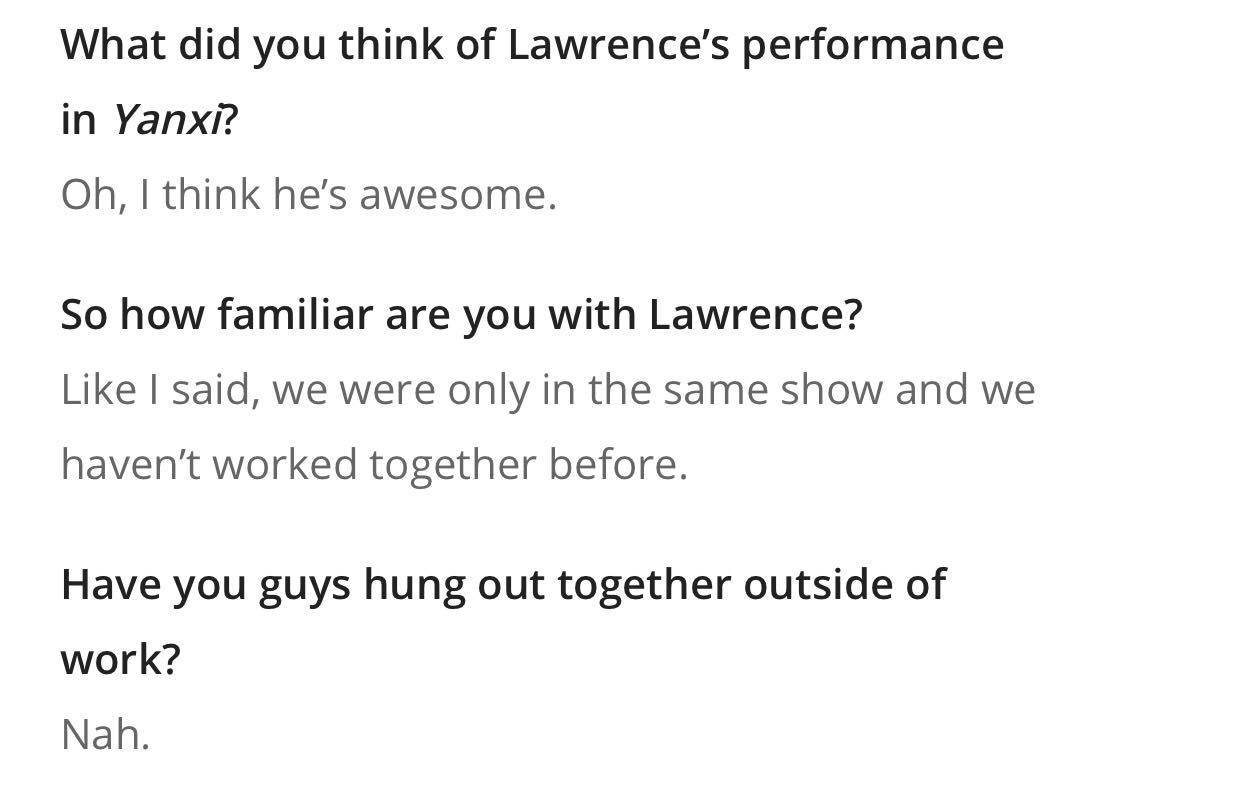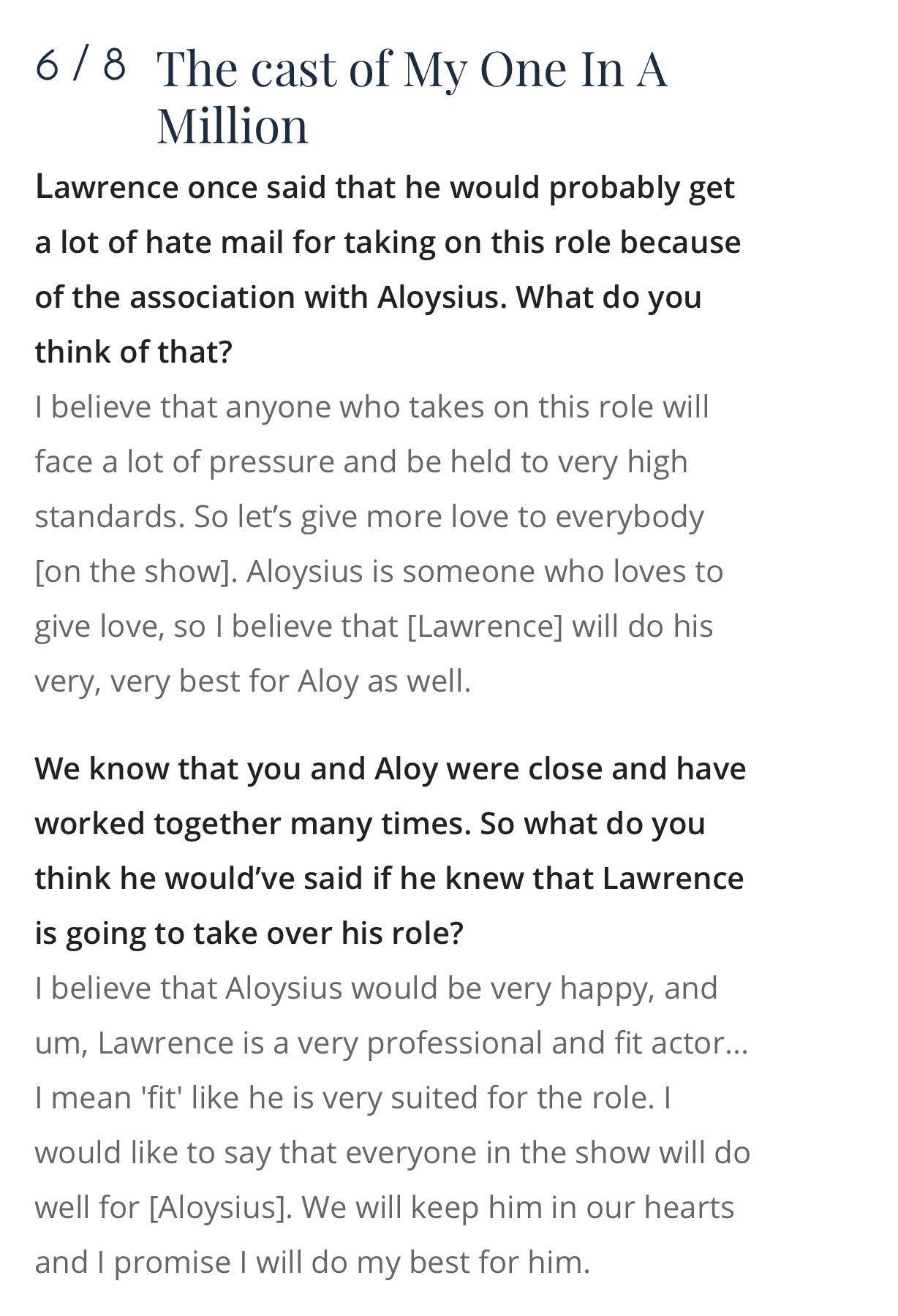 According to 8 Days, the drama that both Wong and Carrie are acting in still have a few weeks of filming left.
Oh no.
Related article:
https://mothership.sg/2019/05/rebecca-lim-ian-fang-unfollow-instagram/?fbclid=IwAR3OsLT6R7nsObAp2ubpe_IvgGyFZTzL0zJF6yriP1tXkW2w1DxlE_623Oc
Update:
https://mothership.sg/2019/05/carrie-wong-apologise-lawrence-wong-leaked-messages/?fbclid=IwAR0Rdsi1nFVtHCK6Ic9r3mdZe--txEP2_NO2zw3Ss9_dlO5weXMUtOBTF68
https://mothership.sg/2019/05/carrie-wong-instagram-apologise-lawrence-wong-boris-lin/?fbclid=IwAR3PSr-SQDwlXRMrOslw1mZ0wmaa5tG-vESCwZjfJCHEzfa9h85EBN-vXpc
Top image via Lawrence Wong, Ian Fang, and Carrie Wong
Content that keeps Mothership.sg going
---
??
Here's how not to get fat while stuffing your face with Hello Pandas.
?? ?
You think it's easy to be a father? This guy has something to say.
?‍??
Remember when you had to practice ting xie (Chinese spelling) like there was no tomorrow?
?️?
You probably know "Speak of Cao Cao, and Cao Cao arrives". But did you know he sometimes arrives in a Gundam suit?
??
Maybe can steam fish with this and make gr8 ginger recipes.
If you like what you read, follow us on Facebook, Instagram, Twitter and Telegram to get the latest updates.