Cathay Organisation has issued a statement in support of Pink Dot.
This was after a Pink Dot ad featured on an escalator in Cineleisure mall in Orchard sparked calls to report the matter to the police.
The group calling for police involvement is an anti-Pink Dot group on Facebook, We Are Against Pinkdot.
A Cathay spokesperson told Marketing that Cathay is an entertainment company that has always believed in an all-inclusive society where there is a place for everyone to call home:
"This is and has always been in line with our mission of bringing people together. We hope to inspire people to embrace the values of equality where one can live and love freely."
Prior to this year's ban on foreign involvement in the Pink Dot event, Cathay was already a corporate sponsor. The banner escalator advertisement in Cineleisure this year is considered advertising within private property premises.
In 2015, Cathay wanted to screen a Pink Dot 2015 promotional trailer in its cinemas. But its application was rejected by the Media Development Authority of Singapore, which has now been restructured as Info-communications Media Development Authority of Singapore.
The application was made despite advertisements being self-regulated in Singapore.
According to the Singapore Code of Advertising Practice [page 8 of PDF], all advertisements "shall not subvert the shared values in Singapore's society".
These values include, nation before community and society above self, family as the basic unit of society, community support and respect for the individual, consensus, not conflict, and racial and religious harmony.
News of the anti-Pink Dot Facebook group's antics being reported in the media has triggered at least one of its members: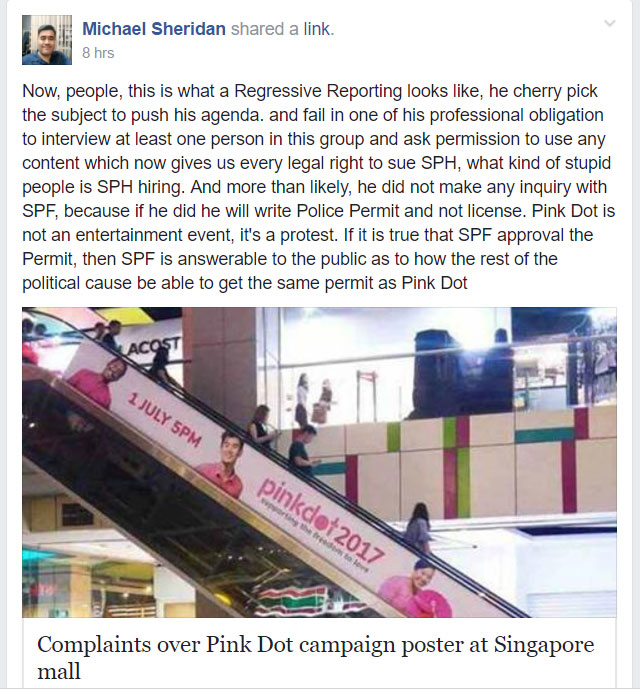 Related articles:
Pink Dot ad in Cineleisure sparks calls to report matter to police
Pink Dot 2017 video shows everyday S'poreans speaking to LGBT folks
Mark Zuckerberg reaffirms Facebook status as a gay platform
If you like what you read, follow us on Facebook and Twitter to get the latest updates.
If you like what you read, follow us on Facebook, Instagram, Twitter and Telegram to get the latest updates.