On Friday, Singapore otter-stalkingloving community OtterWatch posted a photo of an otter chowing down on a fish.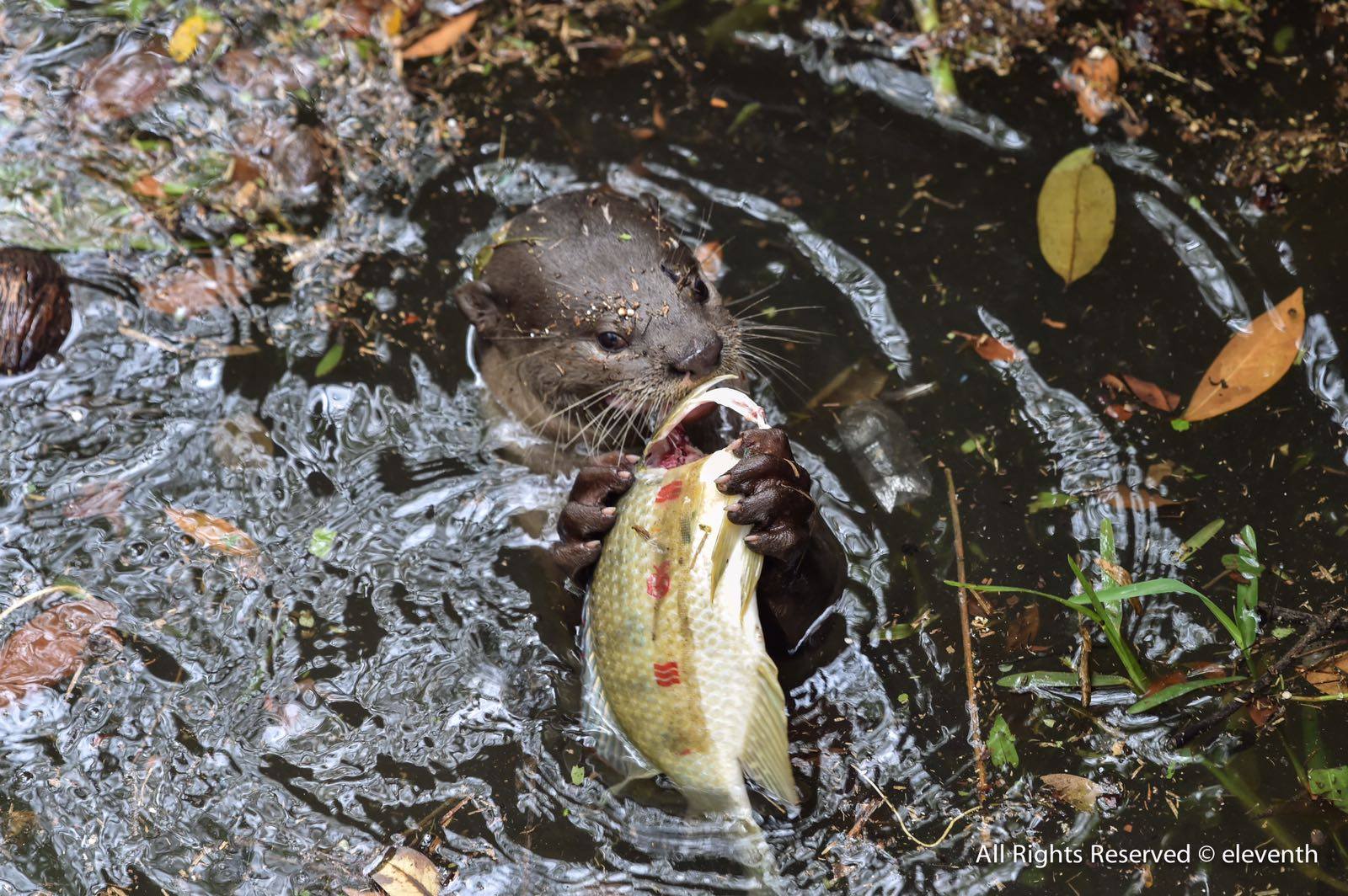 Just a normal shot, right? Look closer: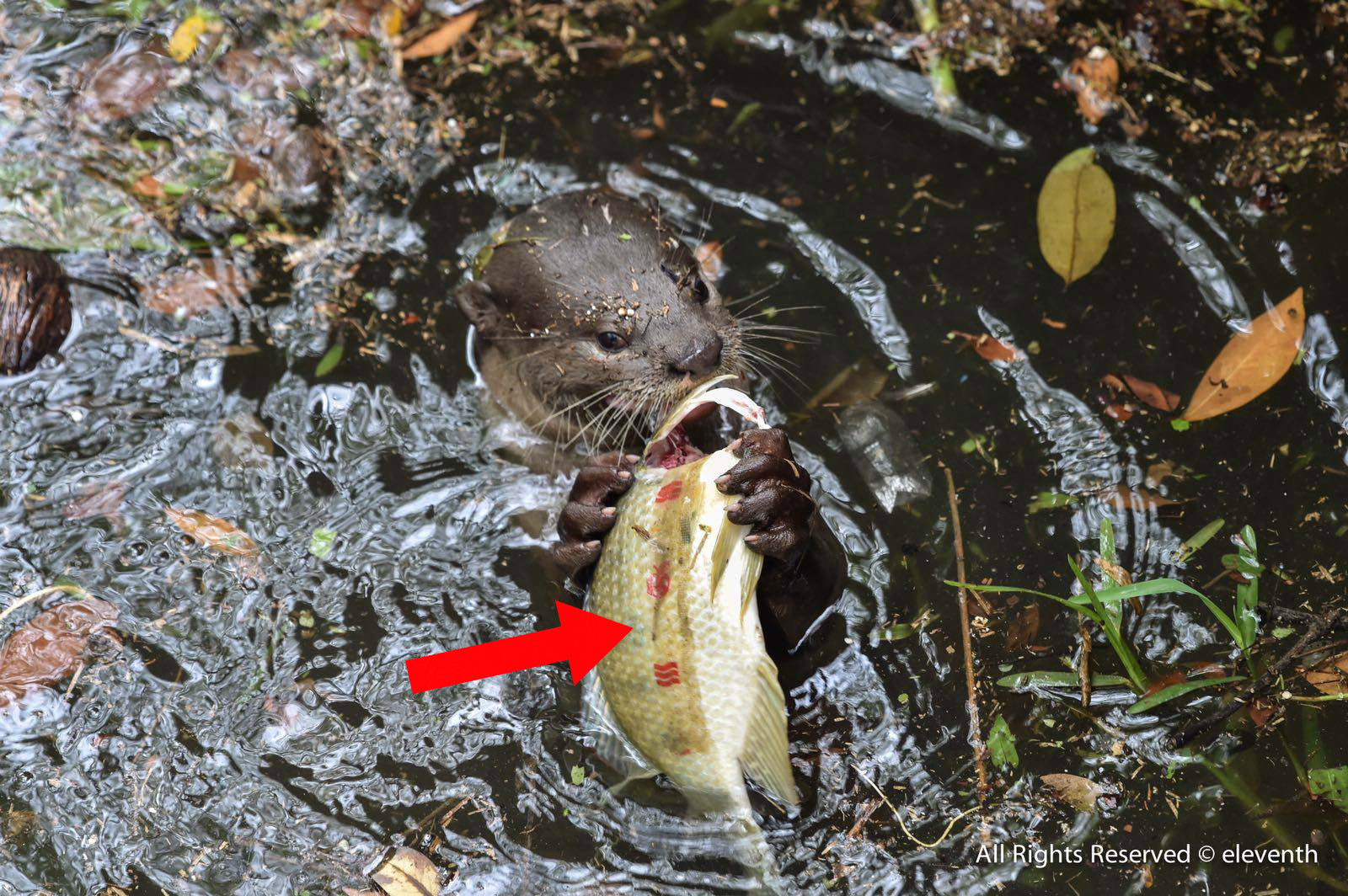 Chances are, the otter swallowed the plastic wrapper (or at least parts of it) together with the fish — unless it miraculously avoided that entire side of it.
Here's their original Facebook post:
'>
Sadly, this is but one (of many, many) instance where our wildlife struggles to contend with the crap we lazily toss out of convenience, both on land and into the river.
This portion of the Facebook post explains yet again why our thoughtless littering can kill them:
Trash such as plastic can not only block the intestines of animals when ingested, but can also strangle/suffocate animals, release toxins into the water over time, and more.

A simple act of disposing your litter properly will prevent such things from happening, making our waterways much safer us and for the animals. Reducing your use of such disposables will also go a long way in reducing your impact on our environment.
The folks at OtterWatch shared several other moments they spotted our otters facing rather trashy situations:
1. Singapore River, January 22, 2017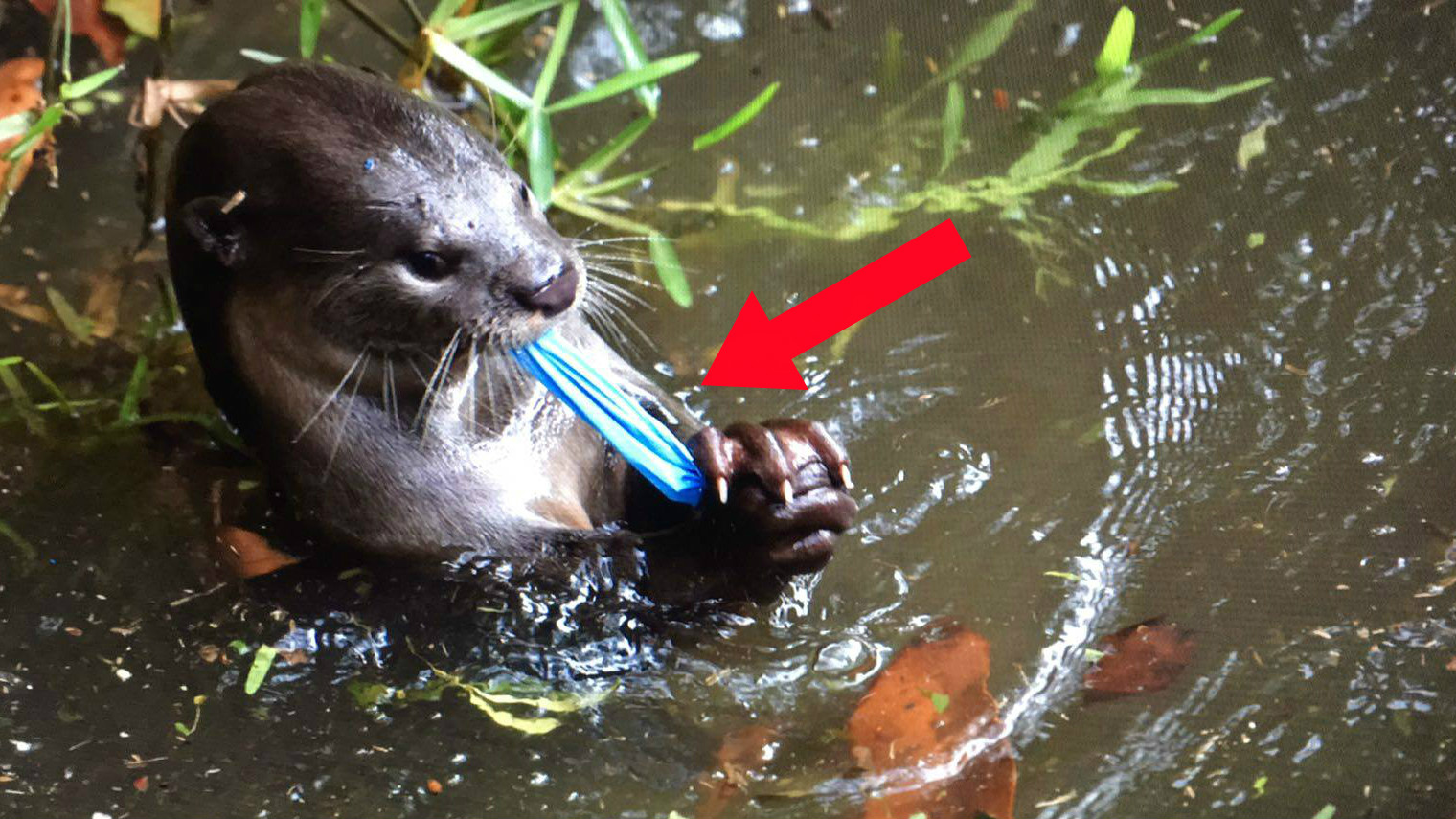 An otter was photographed chewing a blue plastic bag at the Singapore River. It is obviously unaware that it's not edible nor digestible. #这个可以吃的吗
This photo was taken on the same day, and at the same place: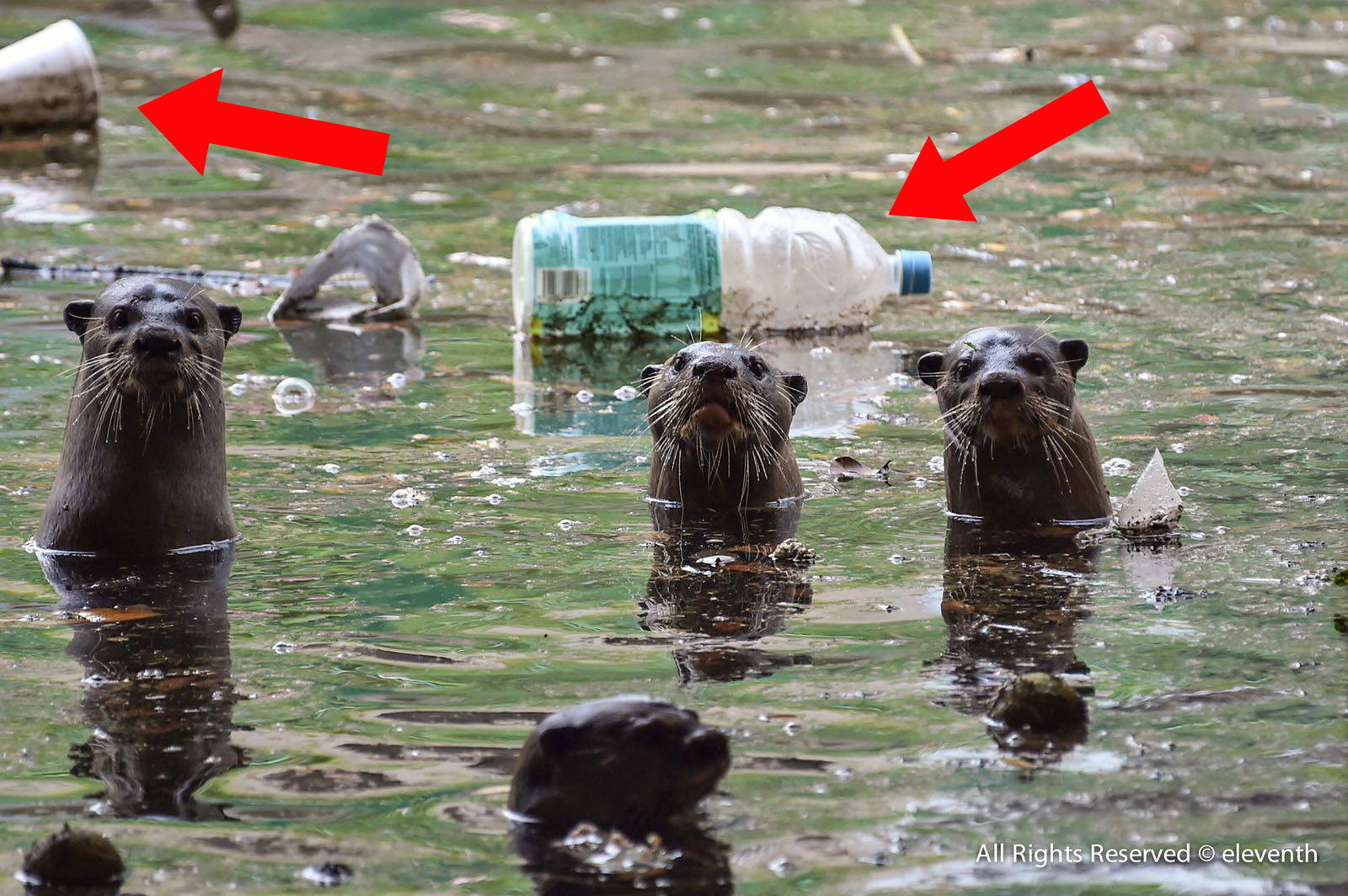 Here's what Alvin Tan, the guy who took these photos, had to say:
"On first glance, the rivers in Singapore are all pretty clean. However, it is generally clean because they are cleaned by the workers regularly. You can see still see trash floating in the rivers or trapped at the sides every now and then. I think that we can do much better in keeping our rivers clean."
2. East Coast, 2016
An otter was also found struggling with its catch that got tangled with a black trash bag in East Coast sometime last year: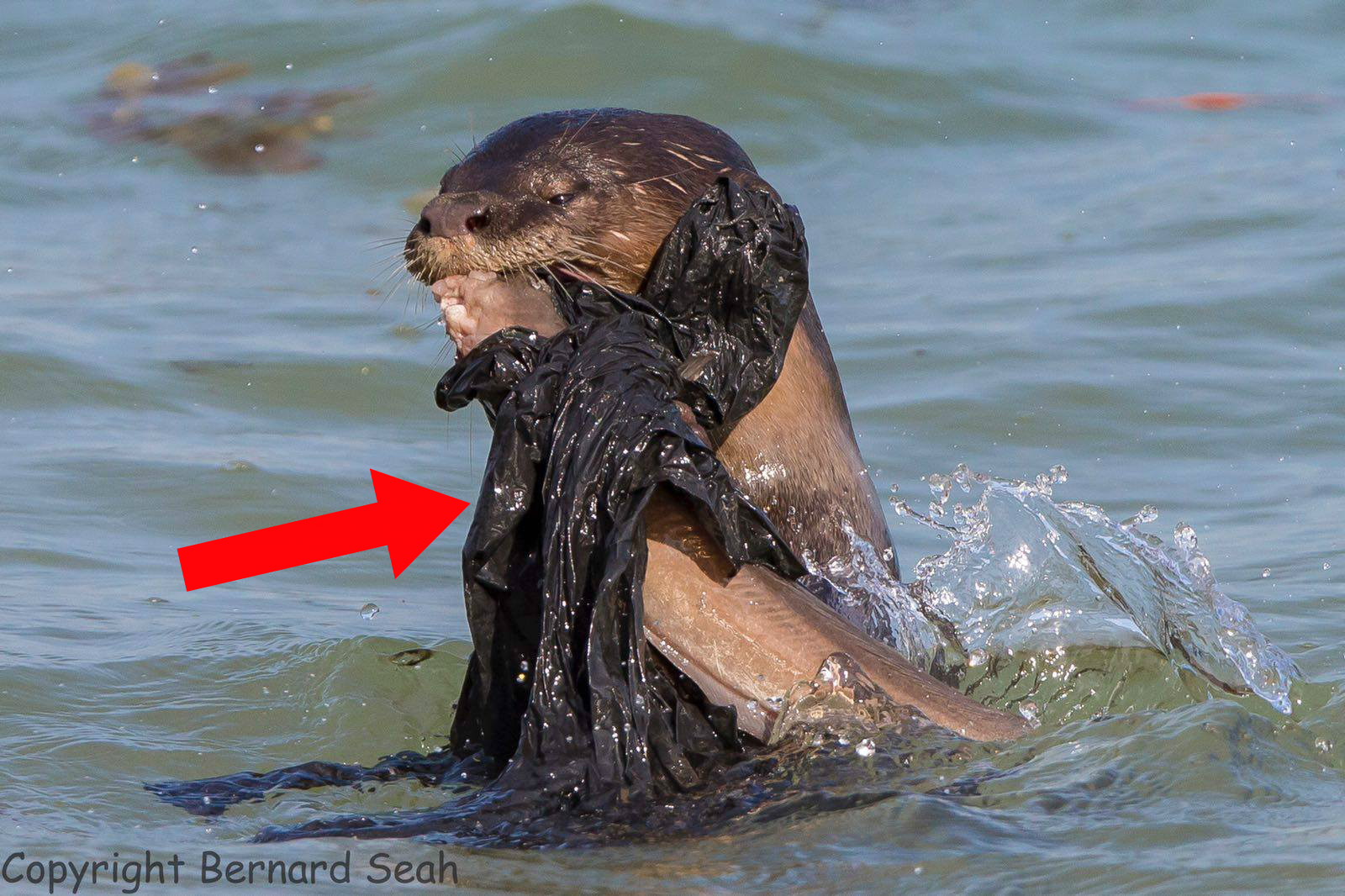 3. Marina Reservoir, 2016: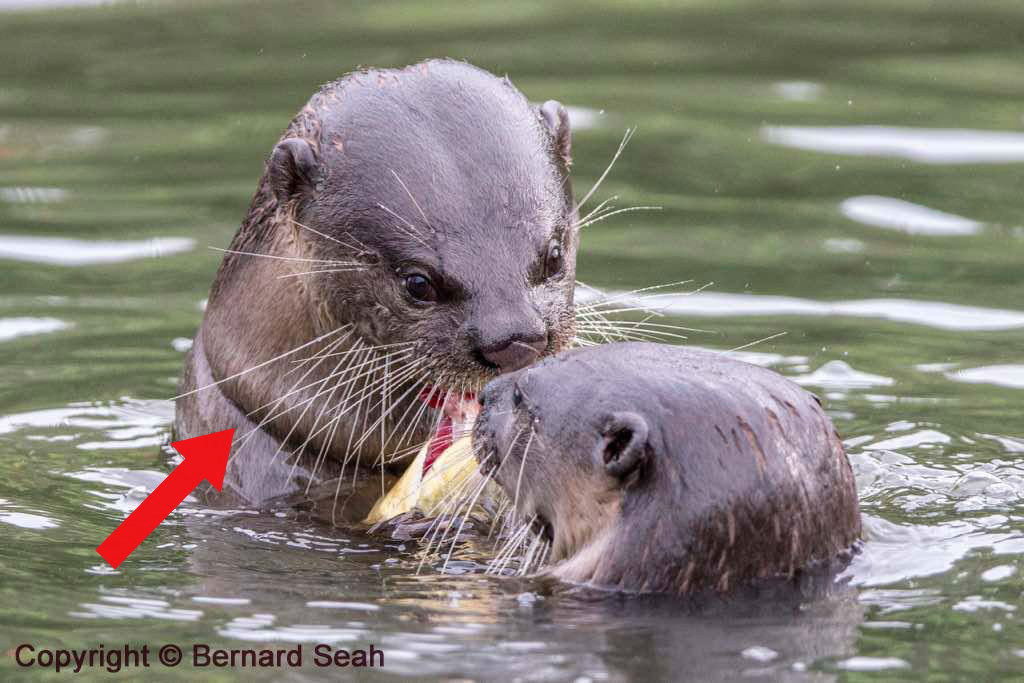 This subadult otter was photographed at Marina Reservoir with a string looped tightly around its neck, which it likely swam into and got stuck between by accident.
Imagine the discomfort of growing bigger with this strangling it.
Remember the mother otter that got injured by a fishing hook and the otter pup that fortunately healed itself like Wolverine?
Fortunately again, this otter eventually managed to escape from the string around its neck, we learned from a member of OtterWatch.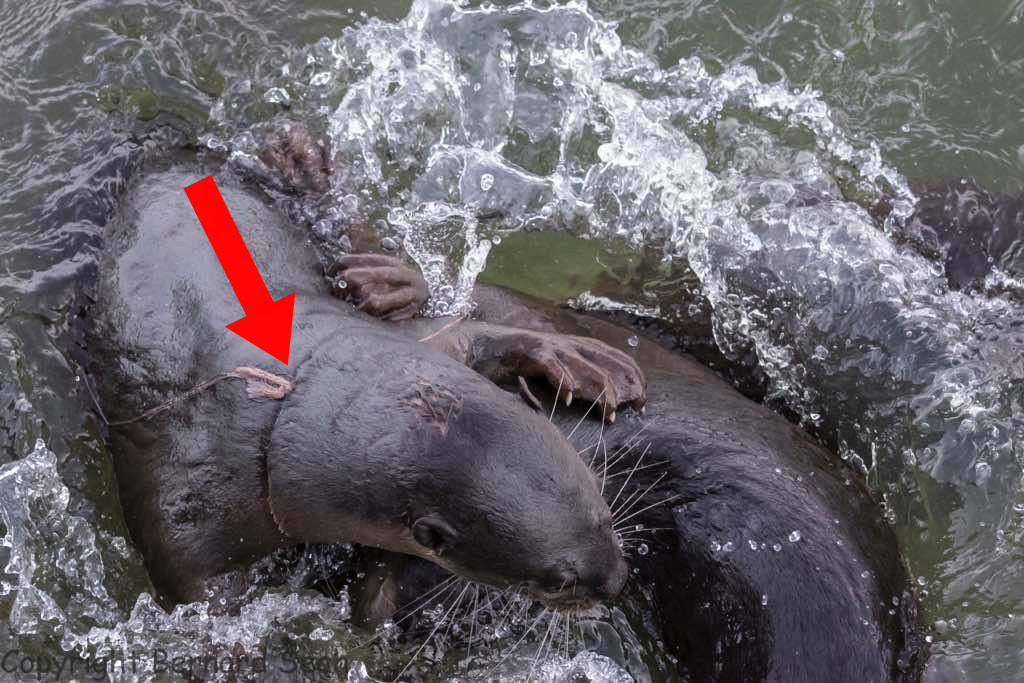 4. Marina East, October 2016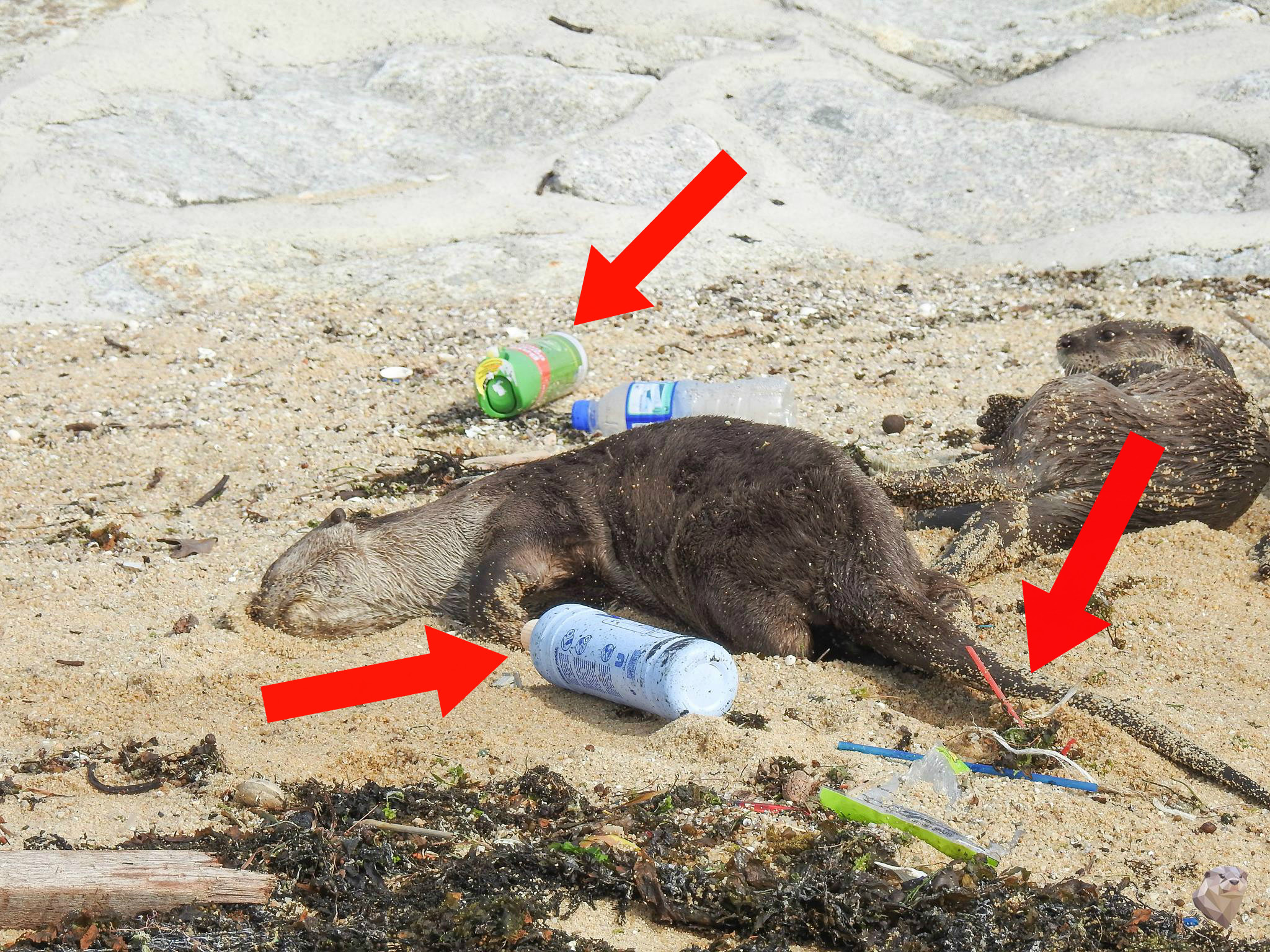 If you've seen otters either at the River Safari or the Zoo, or read this article previously, you'd know that otters like wriggling around the sand when they sunbathe.
The spot above certainly wasn't conducive for that though.
5. Kallang River, November 2015
In 2015, otter correspondent Fast Snail recorded a video of a curious otter pup mistaking styrofoam pieces for food:
" frameborder="0" allowfullscreen>
Thankfully, he vomited it all out afterward — imagine what could have happened to him if he didn't, though.
So folks, please be kind to our friends — the nearest dustbin usually isn't too far away when you're at a park or reservoir. Your consideration can go a long way.
Top photo courtesy of Alvin Tan
Here's a series of MCQs you need to try because they're that good:
10 modern day mathematics questions that schools should use to prep students for the cruel world
And here are more things you can read about keeping our country clean, and about our otters:
This S'porean started a litter picking movement to keep fit and S'pore clean. True story.
10 photos of Bishan otter family pups are exactly what you need to end your week
Otters go to Gardens By The Bay on Chinese New Year Day 1 for good luck
S'poreans reunite lost baby otter with family after it got too engrossed eating fish
Bishan 10 otters have grown to 15 but one baby is missing so it's 14 left :(
Otter family hangs out at Sports Hub volleyball court like real naturalised S'poreans
If you like what you read, follow us on Facebook and Twitter to get the latest updates.