A family of otters were spotted on Sunday, Nov. 13, at the outdoor volleyball court at the Sports Hub chilling, minding their own business and digging holes in the sand. 😍 😍 😍
They are believed to be the celebrity Bishan 10 family.
They were seen goofing off and frolicking in the sand, but all the while remaining alert as some kept watched while others slept or relaxed.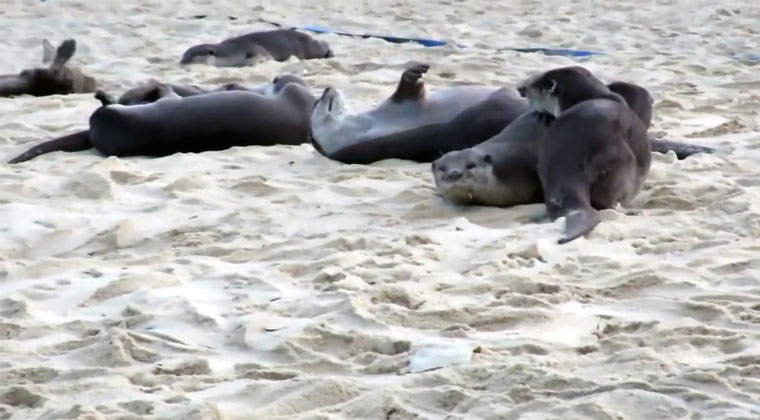 At one point in the video, a voice could be heard saying: "They all look the same ah, she's not that fat?"
Eh, don't body-shame, please.
The first time this particular family of otters made waves was in April 2015.
Then, two adult otters -- believed to have swam over from Malaysia in the north to Singapore -- were caught on camera with triplet baby pups in tow, having settled down in Bishan-Ang Mo Kio Park.
They have since been caught on camera numerous times, warming up to local Singaporeans and going to the extent of mingling and integrating with them and even playing tag.
The otter family of five then succumbed to touristy pressure and went on a Singapore tour, visiting St Andrew's Junior College, Gardens By The Bay and even The [email protected] Bay among other places.
However, one of the otter pups was subsequently injured after a fishing line hook got tossed into the water by an angler and caught onto its leg.
It later miraculously recovered without suffering any further visible injuries or deterioration.
Their adventure continues.
Related articles:
Bishan-AMK Park otters have 5 new baby pups, which makes them a family of 10 in total
Bishan Park's man-made river is now home to at least one wild otter. This time-lapse video shows how river was created.
Bishan-Ang Mo Kio Park mommy otter has triplet babies
Video shows Bishan-Ang Mo Kio Park otters successfully integrating, mingling with S'poreans
Otter pup clearly injured, limping after angler at Toa Payoh canal deliberately baited it with fishing line hook
Otter pup injured by fishing hook in Toa Payoh appears to have self-healed like Wolverine
Otter family of 5 enrols into St Andrew's Junior College
Otter family of 5 succumbs to touristy pressure, visits Flower Dome at Gardens By The Bay
Otters totally S'poreanised, visit SG Heart Map Festival @ Float before rest of public gets there
Otter family of 5 are really just dogs in disguise, played tag with cameraman at Kallang River
If you like what you read, follow us on Facebook and Twitter to get the latest updates.
If you like what you read, follow us on Facebook, Instagram, Twitter and Telegram to get the latest updates.