An otter pup, belonging to the Bishan-Ang Mo Kio Park family of 10 otters, was recently spotted on Saturday, April 2, to have been injured by a fishing hook sticking out from above its right eye.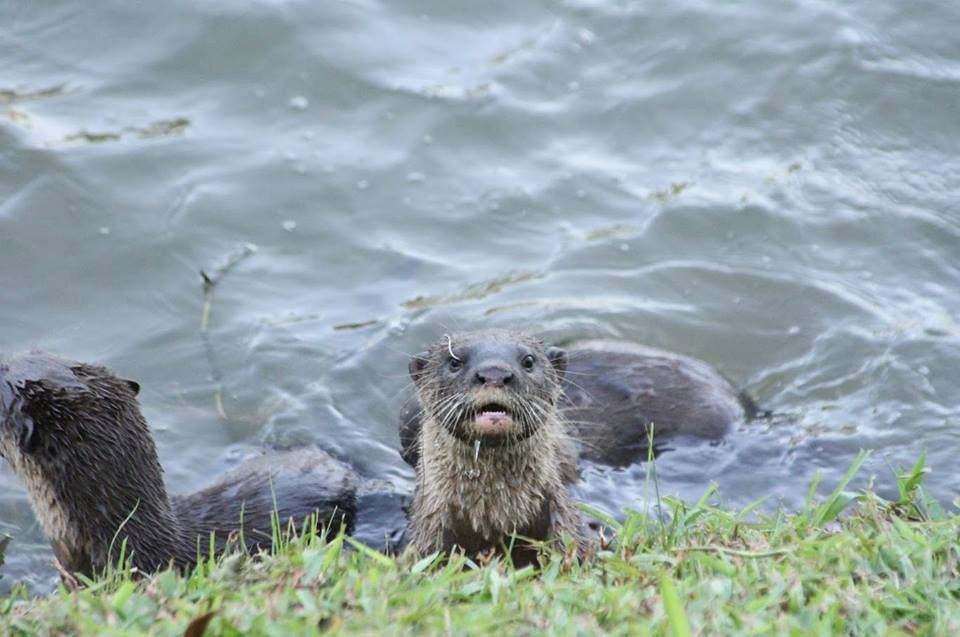 Photos of the injured second-generation pup shared on Facebook drew the ire of the public as this was the second incident where an otter has been snagged by a fishing hook.
The first incident, which was caught on camera last October, showed an angler actively baiting an otter as it squeaked to break free.
The otter subsequently emerged miraculously unscathed from the incident, even though an initial video showed that it was limping from its injury.
The angler from this first incident eventually turned himself in to the police.
Informal otter watch set up
Wildlife rescue group Animal Concerns Research and Education Society (Acres) said it was made aware of this second latest incident on Saturday evening, but were unable to locate the otters.
However, it appears that the otter pup has now been spotted free from the hook.
It was seen near the Kallang Wave Mall on Wednesday, April 6, morning by an informal group of otter watchers, who have been checking on and photographing the animal daily since its injury was spotted.
It is not clear how the hook came off, although it was suspected to have been pulled out by another otter from the family group.
One of the otter watchers Nick Soo, who is the foremost chronicler of otters in Singapore and uses the moniker Fast Snail, said so in a Facebook post on Thursday.
the unfortunate otter-pup hooking incident reported by Ms Yane Kang last Saturday, it is also very heartening to...Posted by
Fast Snail
on
Thursday, 7 April 2016
In total, more than 10,000 photographs and videos of the otter family were taken over five days as the otter watchers spent hours looking for details of each of the five pups in the family, to verify that the hook had come off.
In February this year, this Bishan-Ang Mo Kio Park family of five otters — initially consisting of two adults and three pups — doubled their numbers to 10.
The five new pups were believed to be born in late December 2015.
Related articles:
Bishan-AMK Park otters have 5 new baby pups, which makes them a family of 10 in total
Bishan Park's man-made river is now home to at least one wild otter. This time-lapse video shows how river was created.
Bishan-Ang Mo Kio Park mommy otter has triplet babies
Video shows Bishan-Ang Mo Kio Park otters successfully integrating, mingling with S'poreans
Otter pup clearly injured, limping after angler at Toa Payoh canal deliberately baited it with fishing line hook
Otter pup injured by fishing hook in Toa Payoh appears to have self-healed like Wolverine
Otter family of 5 enrols into St Andrew's Junior College
Otter family of 5 succumbs to touristy pressure, visits Flower Dome at Gardens By The Bay
Otters totally S'poreanised, visit SG Heart Map Festival @ Float before rest of public gets there
Otter family of 5 are really just dogs in disguise, played tag with cameraman at Kallang River
Top photos by Fast Snail
If you like what you read, follow us on Facebook and Twitter to get the latest updates.