Follow us on Telegram for the latest updates: https://t.me/mothershipsg
When Amanda Yong set out to propose to her boyfriend of three years, she didn't expect that it would take a year to become a reality.
She has no regrets about pursuing this unconventional route, and the year-long journey was one of self-discovery and learning about her partner too. But it wasn't without difficulty.
Proposals by women are very much outside the norm, both in Singapore and internationally, and with not much to take reference from, she knew she would have some figuring out to do — including the practical question of whether she should get down on one knee, for example.
Even in Singapore, where alternative points of view are increasingly coming up against traditional values in society, one can definitely expect at least some raised eyebrows at the prospect of a woman proposing to her male partner.
Yong didn't know that her now-husband, Sebastian Lau, was planning to propose too.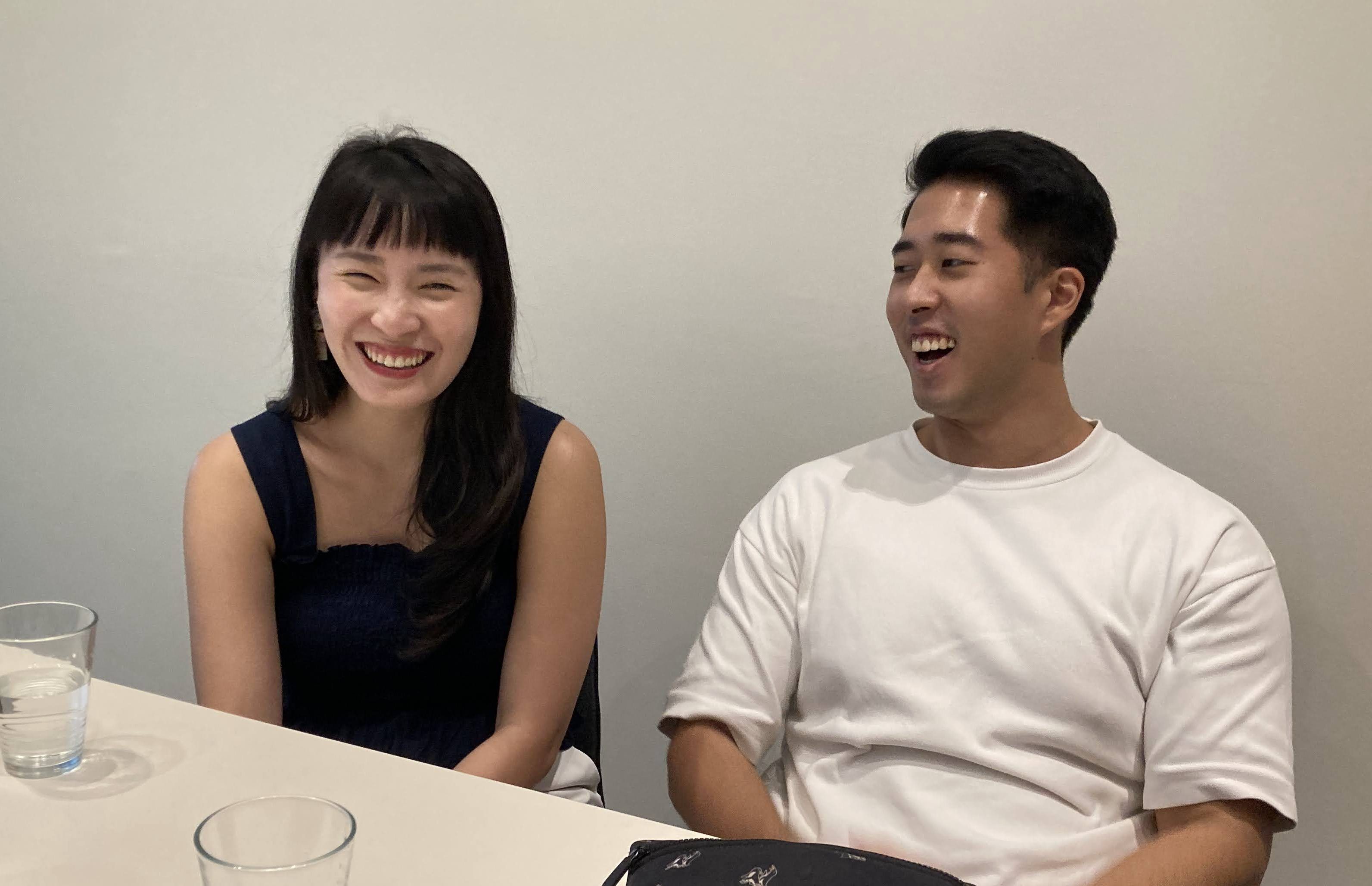 Both of them separately sought out the same ring-maker, and contacted the same friends for help in arranging the proposal, without telling each other.
It was Lau who popped the question first, on May 30, 2022.
Yong said yes, but doubled down on her own plan to propose.
"I already did preparations and all that. So I don't want to go down without a fight," she recalled.
Yong, sharing her experience with Mothership, clarifies that she did not set out to make a statement about gender norms, or prove anything to anyone.
Rather, she was keen to do it as a gesture of love for Lau.
"I also wanted him to have that kind of experience and also to feel loved," said Yong.
"This expression of love, in the form of a proposal, should not just be from the man to the woman, but it could also be the other way around, right? As long as you want to show them your love and appreciation," Yong said simply.
Yong's approach to the marriage proposal, and its purpose, struck me as refreshingly simple, especially when proposals can be such an elaborate affair.
"M A R R Y   M E"
If you're a young person in Singapore, you've likely seen the photos and Instagram stories with those specific light-up letter signs, in that specific font, often laid out on a specific kind of checkered picnic mat, with fairy lights and flowers.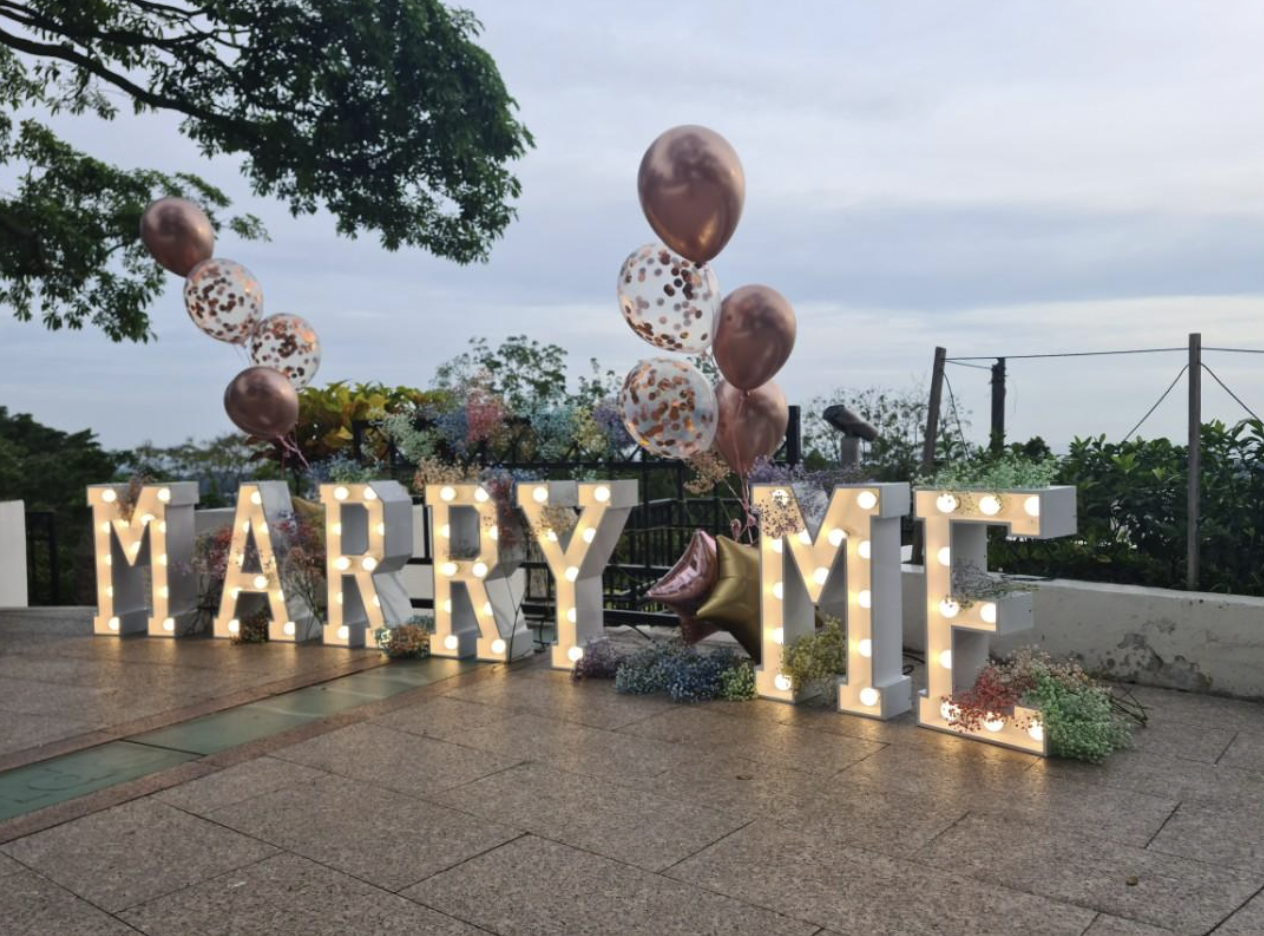 We've also seen some rather elaborate wedding proposals in Singapore in the past few years.
Things have gotten to the point where a hotel held a competition with a wedding banquet as a prize.
The winning entry involved a groom-to-be choreographing and filming a k-pop dance cover as part of his surprise proposal plan.
That isn't even the most elaborate one we've seen, with many other examples involving 150 drones, 22 cars, and three motorcycles.
Engagement and the successful proposal that signals its arrival, has become a milestone for couples and those around them. A couple's engagement is something they can publicly announce, and it's generally seen as a wholly positive development. Pragmatists may argue that clinching a BTO queue number has the same effect of announcing a couple's serious intention to wed, but then again, not all couples get that.
At best, it's an extravagant show of one's commitment to marriage, in the presence of witnesses who will hold you accountable for what you've promised, almost like what happens at the wedding itself.
At worst, it's a cynical flex, conducted to prove one's superiority over others proposing marriage — in the "I bet you couldn't hire a plane to fly your proposal message across the sky" kinda way.
Of course, there are different ways of proposing, including neither party proposing, or both parties proposing.
After all, two adults in a relationship generally have lots of latitude to decide on things between them, whether it's in matters of communication, accommodating each other's habits and preferences, and so on.
As some might say, you happy can already.
But would this apply to Yong's plan to propose to her boyfriend? Apparently not.
What it takes to rewrite tradition
Something on Yong's mind, as she planned to pop the question, was her parents' expectations.
No, it's not that they would have been against a woman proposing.
Rather, she was conscious of their expectations about the Chinese tradition of "提亲" ("to propose marriage"), where a groom-to-be is expected to formally visit the bride's family and ask for her hand in marriage.
"I wanted him to go and talk to my parents, just to say that we had plans to get married," said Yong.
Lau was amenable, explaining that he saw this particular tradition as a matter of "courtesy and manners".
This gave rise to a "sticky situation" — she'd wanted to respect her parents' wishes on one hand, although doing so would ruin the surprise.
Yong thus had no choice but to reveal her plan to Lau.
"In that sense, it was very open. Me openly telling him what my plan was back then, and that I even bought a ring and all that."
Besides Yong's parents, the other important stakeholder in this situation was Lau himself.
Why can't women make the first move?
It's commonly said that if a woman makes the first move, she may be seen as "pushy" or "demanding".
It's also considered by some to be emasculating for the man to be the recipient of a proposal.
As a result, the idea of a female proposing marriage to a male is not really in mainstream consciousness.
"How To Get Him To Propose Without Being Too Pushy? 11 Subtle Ways", reads the headline of an article which also suggests some helpful(?) tips for women patiently awaiting a proposal, such as "3. Stop bringing up the topic of weddings".
As one Vulture article highlighted, the idea of a female proposing is so outlandish that even in the TV show "The Bachelorette" — where an eligible woman has her pick of attractive male suitors, the title character is the recipient of a proposal from the winning man, rather than the one to propose.
Those gender norms have no doubt been called into question, however.
For instance, the Bumble dating app only allows females to make the first move, turning the trend on its head.
In any case, Lau had no qualms at all about getting proposed to.
It was in fact sort of his idea to have her propose. Yong shares:
"The whole thing started really because he is someone that is very funny and also very confident in himself. So he's always saying like, 'eh you know like I'm such a good catch. You should be the one proposing to me.'"
In an equal and fair relationship, Lau says, "the guy would like to be on the receiving end also."
Equal and fair works both ways however, as Lau eventually managed to beat Yong to the proposal. As both of them started to feel more ready for marriage, they independently came up with the idea of proposing on Lau's birthday.
It was Lau who executed his plan first, roping in Yong's friends to help plan the occasion.
She said yes, of course, and resolved to carry out her proposal nonetheless.
"If she were to propose to me first, back then, I would actually be quite grateful," said Lau.
Had Yong proposed first, Lau says, he would still have proposed back.
But it would have been a relief for him — "relief that I would already have her agreement."
What's in a proposal?
In Singapore, many couples plan ahead to ballot for a Build to Order (BTO) flat and often do so before they are ready to be engaged or married.
This means that by the time they propose, they are already committed — if not to each other, then at least to the purchase of a home together.
To Lau, proposing marriage still has significance even in these circumstances.
Arguably, agreeing to purchase a home is a very significant commitment.
But there is a lot more that one commits to in marriage than buying a flat: becoming the default recipient of the other's CPF savings, needing to care for each others' parents or families, potentially having a change in one's citizenship prospects (or, those of their children) — these practical, but real aspects of marriage may not be top of mind when one agrees to ballot for a BTO.
Perhaps this is why, in Lau's view, the one proposing first would have to take the "pressure" of being the one to ask.
As Lau puts it: "You don't just ask for the sake of asking, you want your partner to actually want to marry you."
Thus, he pushed through with his plan to propose first, even though he knew Yong was planning to do the same.
And while Yong didn't end up proposing first, she nonetheless felt all the pressure of planning for it.
"It requires a lot of strength and humility," she says, recalling how she approached Lau's parents to "ask for permission".
"I really did go to his mum and ask her 'Is it okay if I propose to Sebas?' And when you do that, right, you become really vulnerable, because that is that person's parent, and you want to be accepted by the parent. So that in itself is also not easy to do.

Because by asking that, you must know that you proved your worth to the parent first."
What does it take for a woman to propose marriage?
A proposal is not an easy feat. But why is it harder to propose marriage as a woman?
Perhaps what Yong found out is that if you want to overturn one aspect of a tradition, you really have to overturn it all.
Because, if tradition is not on your side, you end up having to rewrite the whole script.
Yong's surprise counter-proposal eventually happened, with Yong and Lau going for a pizza meal, followed by ice cream — exactly what they'd had on their first date.
The venue for ice cream — and the proposal — was O Happi Place, a cafe in Everton Park, which Yong selected after considering its layout, how it was already nicely decorated, and how the route to the cafe from the parking lot would allow her to create a photo-walk similar to the one Lau made for her.
Of course, he said yes.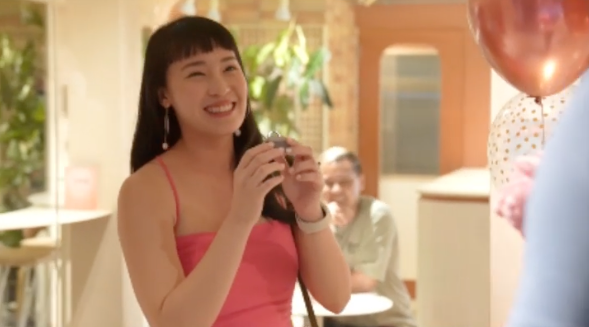 Beliefs change faster than behaviour
It can often be easier to go through the motions of conventionally-accepted practices, even if you don't necessarily believe in them.
That's probably the case with every couple who goes through with wedding traditions while having less-than-full knowledge of the practices' origins.
For example, the tradition of not seeing each other the day before the wedding is widely practised.
Its status as a widely accepted traditional practice means that many have not thought about its possible less-than-romantic roots.
One common theory is that it's a cultural spillover from a bygone era where marriages were arranged, and grooms were not allowed to see their brides until the wedding night, to reduce the chances that they would back out if the bride's looks were not up to expectations.
Today, for many couples, it is a superstitious insurance policy of sorts.
Would they agree with the origin of the tradition? Probably not. Would it hurt to just comply? Probably not.
Questioning tradition is easy, but rewriting it can be challenging.
At the end of the day, their two proposals took quite a bit of planning, but things seem to have worked out well for Yong and Lau.
They're also mindful to keep their two proposal events — happy and significant as they were — in their rightful place. As Yong recalls from Lau's proposal speech:
"He actually said, although this moment is very meaningful, and it's a very important moment, it will still also only be one of the many moments that we will have in our life, because we are going to be together for a long time, right? And I think that really struck a chord in me."
Lau jumps in to say that the couple have their sights set on their life together, past the "checkpoints" of their proposals and their wedding:
"I think what draws us together is that we think of a life together, far ahead. Even after the marriage itself."
Yong adds: "And there'll be many, many more meaningful, memorable moments."
Related story
Top image courtesy of Amanda Yong
If you like what you read, follow us on Facebook, Instagram, Twitter and Telegram to get the latest updates.