The latest real-life Channel 8 drama blew up after explicit texts between local artistes Carrie Wong and Ian Fang were leaked.
Among the leaked messages include criticisms toward Lawrence Wong, who rose to fame after a role in Chinese historical drama Story of Yanxi Palace.
Fang was rumoured to be seeing fellow Mediacorp artiste Rebecca Lim, while Wong was also reportedly dating Taiwanese model Boris Lin.
As such, public attention also fell on Lim's and Lin's reactions to this scandal.
Zoe Tay's thoughtful Instagram post
Enter Queen of Caldecott Hill Zoe Tay.
On May 15, Tay uploaded a selfie with Rebecca Lim to Instagram, one day after the scandal broke.
The timely post from Tay appears to be rooting for Lim while being less favourable to Fang and Wong.
The post also garnered supportive comments from a few local artistes such as Romeo Tan and Quan Yi Fong.
Here's a rough translation of the caption:
Attitude determines your daily life.

Being poised brings you to great heights in life.

Education level determines your standard.

How you treat people depends on your magnanimity.

Depth determines how you are as a person.
Deep. It sounds more poetic in Chinese, we assure you.
Throwing shade at Fang and Wong
Along with the enigmatic Instagram post about life, Tay also posted this Instagram story: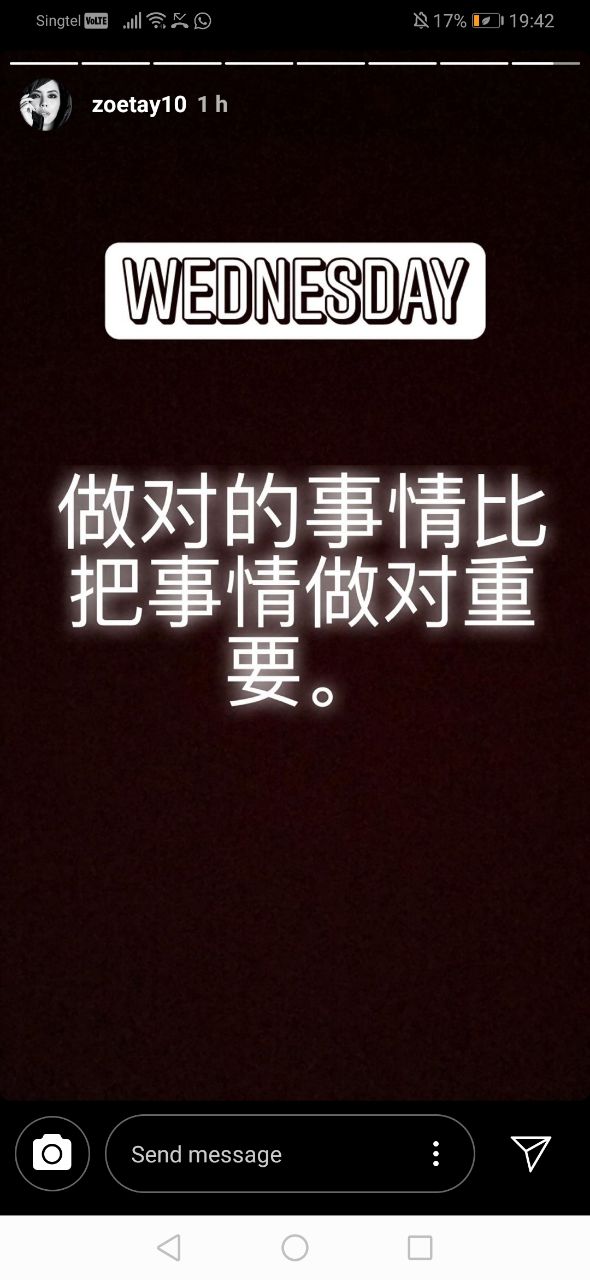 The words in the story mean "Doing the right things is more important than doing things right", which *might* be referring to how Fang and Wong apologised for the explicit texts after the leak.
High level.
Related article:
https://mothership.sg/2019/05/rebecca-lim-ian-fang-unfollow-instagram/?fbclid=IwAR3OsLT6R7nsObAp2ubpe_IvgGyFZTzL0zJF6yriP1tXkW2w1DxlE_623Oc
Top photo collage from Zoe Tay's Instagram
Content that keeps Mothership.sg going
---
??
Here's how not to get fat while stuffing your face with Hello Pandas.
??
Maybe can steam fish with this and make gr8 ginger recipes.
?‍??
Remember when you had to practice ting xie (Chinese spelling) like there was no tomorrow?
?️?
You probably know "Speak of Cao Cao, and Cao Cao arrives". But did you know he sometimes arrives in a Gundam suit?
❤️?❤️
Hit (on) your friends at a human whack-a-mole here.
If you like what you read, follow us on Facebook, Instagram, Twitter and Telegram to get the latest updates.