Recently, a former Ministry of Education teacher Lenny Rahman wrote a Facebook post sharing her frustrations regarding parents who do not teach their children how to read.
Parents who can't teach kids how to read should not have kids
Lenny mentioned that she has changed the privacy settings of her initial Facebook post because it was "requested of [her]".
However, she has re-published the exact content of her initial post in a second post on Jan. 15.
This is a summary of her points in that post:
She was "baffled" that there are kids in primary one who do not know how to read.

She clarified that she wasn't referring to special needs kids.

Thinking of reading as a necessary skill, she said that "depriving your child of basic education is depriving your child of a better future".

She suggested that parents who are "busy working" and "don't have the means" to contribute to their kids' "basic education" should not have kids.

She insinuated that the majority of such parents belong to "a particular race".
This is the post:
And this is a screenshot of it: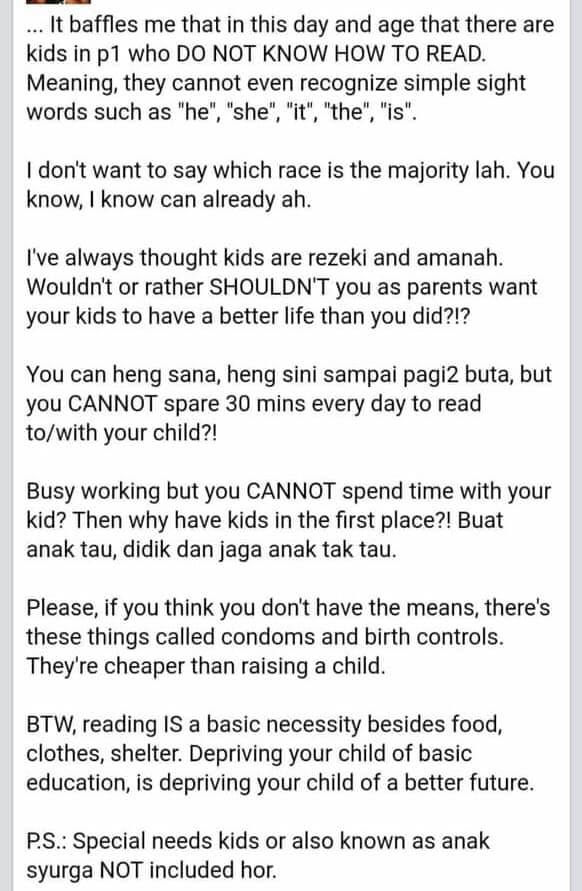 Apologised for post
On a separate Facebook post on Jan. 22, Lenny shared that she was a teacher for 14 years who left the service two years ago, but continued working as an adjunct teacher.
In that post, she apologised to those who took her initial post as "harsh", and said that her objective was to raise awareness.
She also emphasised that she stands by what she said in her initial post.
"We all see the need to help these students read," she added.
This is her Facebook post:
Top photo adapted via iStock photo
.

Content that keeps Mothership.sg going
---
??
Property hunting can be a chore, but we made it into a game. Sort of.
???
Pretty pastries and cheese fruit teas. Instagram-worthy cafe without breaking the bank.
??
Here's how to pair your CNY snacks with beer to look like a true blue connoisseur.
?
Find out which decade you should be born in.
If you like what you read, follow us on Facebook, Instagram, Twitter and Telegram to get the latest updates.