A nurturing mother of three, a key leader of her children's schools' parent support groups, a self-made, home-based entrepreneur, a volunteer at a charity for less-privileged children and youths, and a loving wife.
All these are true of 31-year-old Singaporean Liyana Dhamirah.
But Liyana was also pregnant at 16, got cheated on repeatedly by her first husband, spent three months homeless and living on Sembawang beach and West Coast Park and who until around three weeks ago, slept in the common area of a two-room rental flat in Redhill.
Her story was featured in a Facebook post by Beyond Social Services.
And while we'd prefer to tell you about all the great things she has achieved and the very impressive life she leads today, we would be remiss to do so without sharing the truly formidable struggles she braved in her journey to where she is now.
A rental flat: in itself a personal achievement
[caption id="" align="alignnone" width="4032"]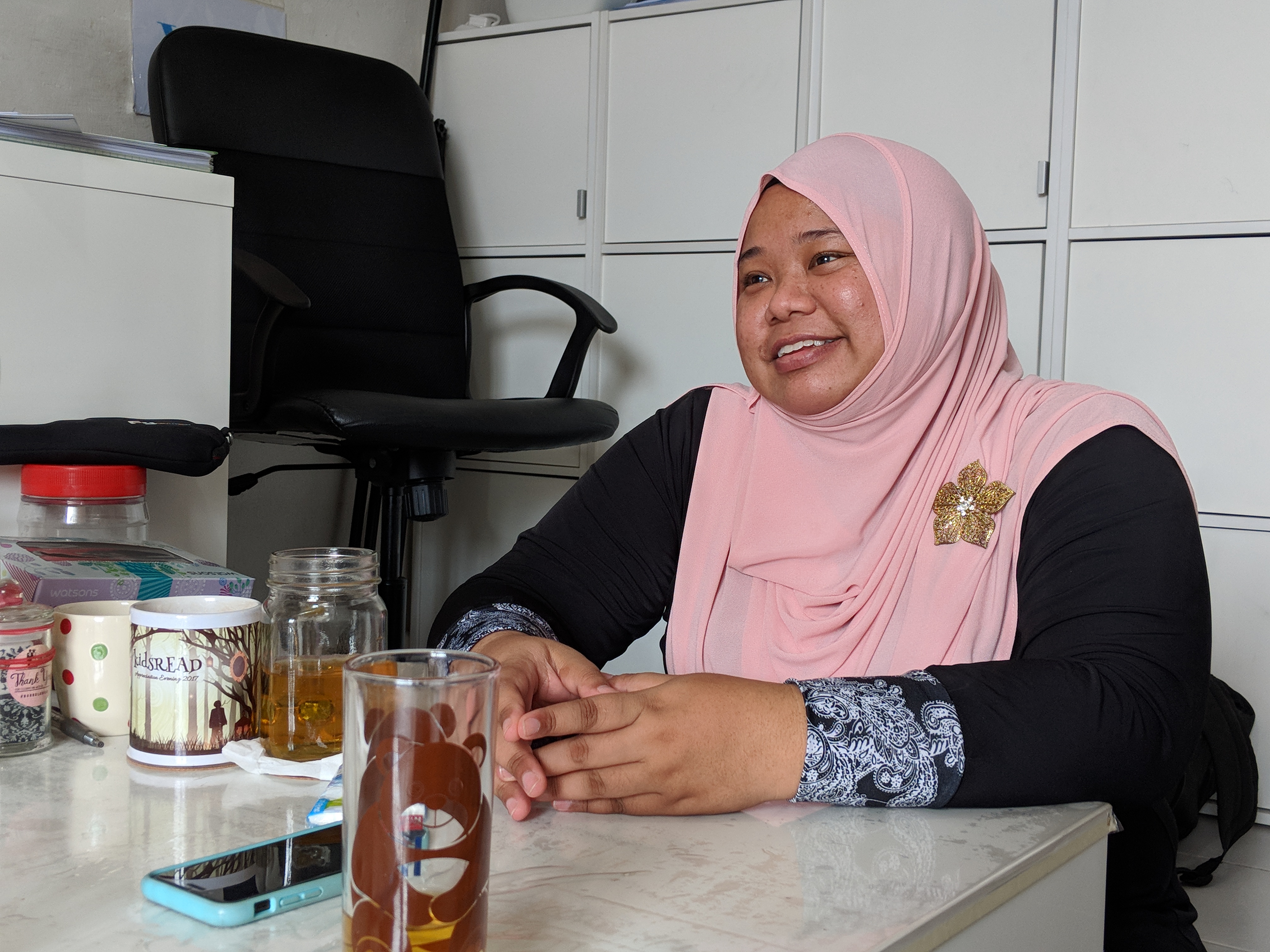 Photo by Fasiha Nazren[/caption]
We're sitting with Liyana on the floor around a low coffee table, cardboard boxes piled high against the wall.
Diagonally behind us is a TV set and a small network of tunnel tubing built around the family hamster.
To her right, her work desk and chair. Behind her: a standing cabinet that doubles as a divider between the living area and a bed she shares with her husband (yes, they sleep in the common area).
Beyond that, the kitchen and common toilet, and to the right, the room where her two teenage sons (and previously her youngest child, a daughter, too) sleep.
[related_story]
And that's it — this is the place Liyana and her family called home for almost eight years now. And as life would have it, getting this flat in the first place was in itself an achievement, compared to around 10 years ago.
Homeless on Hari Raya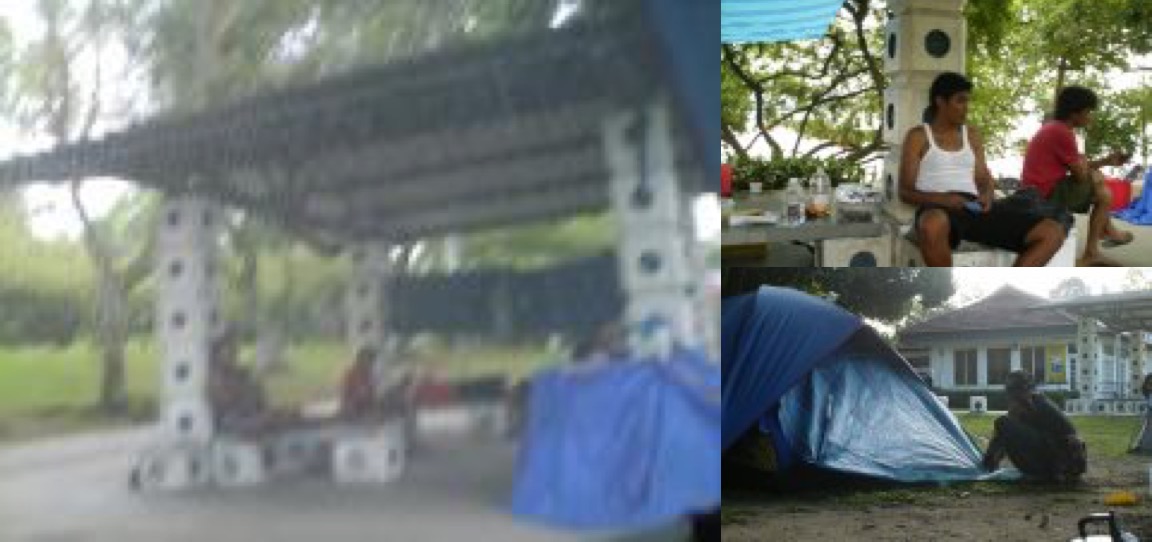 It was September 2009, the morning of Hari Raya Aidilfitri, a day where the Muslim community seeks forgiveness with one another and a time to strengthen bonds between families and friends.
Liyana was at the time four months pregnant with her third child — a girl — but instead of strengthening bonds, Liyana and her husband were greeted by the sight of her mother-in-law throwing their belongings from the house and telling them to leave.
The worst part: Liyana had only just finished serving notice on a stable and well-paying job with a multinational company, which she decided against the urging of her bosses to leave in a bid to save her marriage.
So she was jobless, and homeless.
Liyana had nowhere else to go — not even to her own mother, who was at the time based in Johor Bahru.
Thinking they would just be out for a couple nights, Liyana's then-husband, and her two kids, set up tent on Sembawang beach.
They would end up staying there for the next two months.
But this experience, she says, opened her eyes.
"I never knew Singapore had homeless families until I became homeless myself. I thought my situation was bad enough, but some had been homeless for about eight months."
They met about eight other homeless families in Sembawang beach and formed a kampung-like community, with each family playing a different role, pooling resources, contacts and networks to help one another. Liyana, for instance, was "chief chef", cooking up dinner for everyone from a small stove every night.
"Actually, it was pretty relaxing cooking for the 'village' on top of the charcoal stove, enjoying the breeze."
The camaraderie among the community fuelled her will to seek help not just for herself, but the others who were in the same situation, all while well into her second trimester.
Reaching the brink
During this time, she took every opportunity there was that she could find to seek help.
She tried the Family Service Centre and countless Meet-the-People sessions appealing for a rental flat, only to be told she was already on the waiting list.
At one point, someone ratted on the community of families to the authorities, and they received heads-up that there would be checks on the beach where they lived — anyone whose seven-day camping permits had expired or were not in good order would be evicted.
So one of the people knew a person with a lorry, who helped to, in the dead of night, transport several of the families (including Liyana's) and all their belongings to West Coast Park.
Conditions there — consistently-heavy rain, no shelter and inaccessible facilities — forced Liyana to shuttle her family back to Sembawang.
She relates to us one particular day she will never forget: one fine day, she found herself feeling so desperate to get out of homelessness that she made a trip to the then-Ministry of Community Development, Youth and Sports (MCYS) building.
Already six months along by this point, she walked the uphill path, accompanied by a couple of friends who feared she would faint halfway, toward the building, determined to seek a roof over her family's heads.
There, she would end up meeting a social worker, whom she poured her heart out to.
After all that though, this was his response:
"Mdm Liyana, I understand what you're going through. You are not the only one going through this, there is a long waiting list for the shelter. Maybe you can consider staying in a backpacker's hostel that charges S$18 a night in Geylang?"
You may at this juncture be already feeling for the suffering Liyana went through to this point. But to truly appreciate the extent of her life's experiences, it's worth delving a little into her early years too.
Unhappy childhood stretched into rebellious teenage years
When Liyana was 12, her parents on the verge of divorce, she thought, being the eldest child, that doing well for her Primary School Leaving Examination (PSLE) could help to save their marriage.
After realising it didn't, she decided as her first act of rebellion not to enrol into the top school in Yishun (where she grew up) that she qualified for, instead choosing a newer neighbourhood school without a track record.
Unfortunately, she was sidelined as the misfit Express stream student because her friends were mostly in the Normal (Academic) and (Technical) courses, and was told that she doesn't "look and behave like an Express student".
She was then roped into a kuda kepang dance troupe by some of her secondary school friends and thanks to this, she was able to earn her own pocket money and ease the burden of her single mother who had to work multiple jobs in order to support Liyana and her three younger siblings.
However, she says the friends she made in the dance troupe made for "not-so-good" company, some of whom indulged in vices like drugs and joined gangs.
It was with this group of friends that Liyana hinted at a very painful personal experience that also involved her losing her virginity.
It was also through these friends that she would meet her first husband — a friend's acquaintance she was introduced to during her 16th birthday celebrations. A few months after going steady, though, Liyana found herself pregnant with their first child.
Willing to keep baby, not ready to be wife
Despite not being sure if she was ready to be a wife, or married to him for that matter, Liyana would end up going through a simple solemnisation to her then-boyfriend, who decided to take responsibility for their unborn child — today a very mature 15-year-old lad.
The one thing she tells us she was sure of was that she was not going to abort her baby because in her Islamic faith, a child is a "blessing from God".
This decision came at a price.
Liyana found herself being forced to drop out of school mere months shy of her 'O' Level examinations.
Rocky marriage
Add all that to a marriage that soured, right from the beginning.
Liyana says she found suspicious text messages from other women in her husband's phone, and there would be days on end where he would not come home. All he would say, when asked, is "I'm working hard for the family, don't ask me such questions".
She considered divorce, but despite his cheating ways, he begged her not to leave him, and out of naïveté, she gave him multiple chances for the sake of their children, thinking that as they had more together, they may help to save their relationship.
This hypothesis was proven wrong, and Liyana would spend a good five or six years living pretty much as a single mother anyway before finally successfully divorcing him in 2014.
Making the most of every circumstance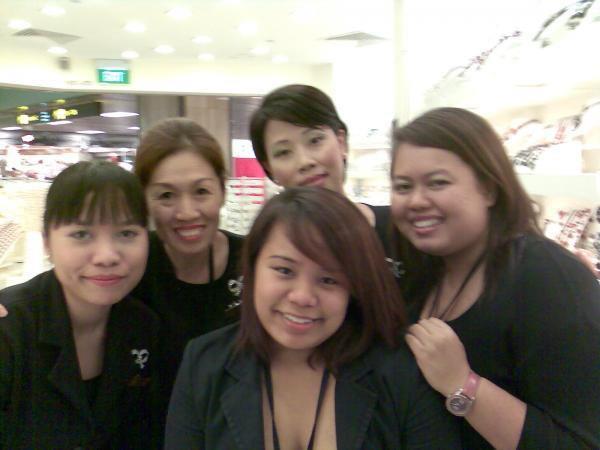 How Liyana dealt with her lot over the years can only be described as truly making the best of what you have.
Bear in mind that at the time she gave birth to her son, she pretty much had no academic qualifications that could land her "better" jobs — no strong 'O' Level results, never mind a diploma or even a degree.
Of course, she would not let that stop her. Just 44 days after giving birth to her eldest, she was off to work as a part-time waitress at a restaurant, together with her husband.
There, she proved her worth (and never took a single day of MC, by the way) and was trained in fine dining preparation, and promoted steadily until two years later, when Mohd. Ian Fiqri came along.
And this time around, she would only give herself two weeks with the newborn boy before starting work as a retail associate.
But it paid off — she was promoted to keyholder of the store just three months in, and later managed to land a much higher-paying role at the MNC we told you about earlier. She worked there for a good three years, and got pregnant with her daughter, until everything came tumbling down again.
An unexpected lifeline
Liyana's beacon of light arrived when Andrew Loh and Ravi Philemon, former editors of The Online Citizen, came across her and her family while they were still living on Sembawang beach, close to New Year's Eve back in 2009.
She said they asked her a lot of questions, and then wrote a three-page letter as well as an article on her behalf to appeal for a space in a shelter and make her story known.
The very next day, she received calls from various agencies, offering interim housing arrangements.
She eventually settled for a shelter in Havelock Road that day — it was a shared apartment with two or three other families, so they had no room for themselves, but hey; it was a roof over their heads.
Finding hope in a suitcase
Just when she thought things were looking up, her then-husband was jailed for six months, and with absolutely zero income or savings, Liyana found herself one day staring blankly at her bank account balance: S$5.25.
It was a truly helpless situation: she had no money to withdraw to buy milk powder for her baby daughter, and had no idea how to feed her.
But her desperation also drove her to find hope in a suitcase left at a void deck filled with jewellery parts, tools and yarn packed nicely in zipped bags — Liyana learned to crochet from the elderly ladies she stayed with, and after a day of learning and making some accessories, she sold about S$50 worth of items and bought the milk powder.
With a subsequent S$400 injection from social welfare, she bought a second-hand Dell laptop at S$100 from a friend, who threw in a free internet dongle for her. Armed with that, a gift of an old camera from her aunt and a S$30 prepaid data card, Liyana consulted online tutorials and refined her skill, setting up a Facebook account and a blog to sell the items she made.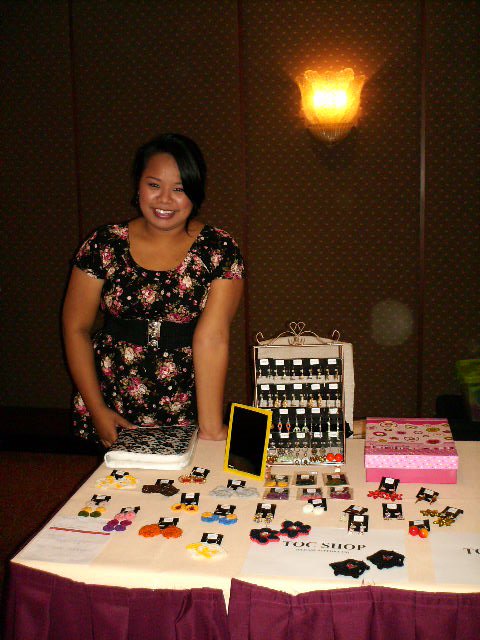 The trinkets she sold, Liyana recalls, helped in small ways — so she could buy vegetables or chicken, for instance, to cook for the children. She still keeps the laptop and camera to remind her of the tough times she went through.
She would later write in a Facebook post reflecting on her experience:
"Without realising it, I was blessed with something that helped my small family survive."
Piqued interest in entrepreneurship
This experience prompted Liyana to start taking entrepreneurship courses online on platforms like Coursera.
In fact, she's currently pursuing a diploma in business management at Singapore Polytechnic.
Apart from her studies, she founded a home-based start-up called Virtual Assistants Singapore, where she and a few colleagues assist clients with business administrative tasks.
She still runs this today, and has a healthy stable of clients.
[caption id="" align="alignnone" width="4032"]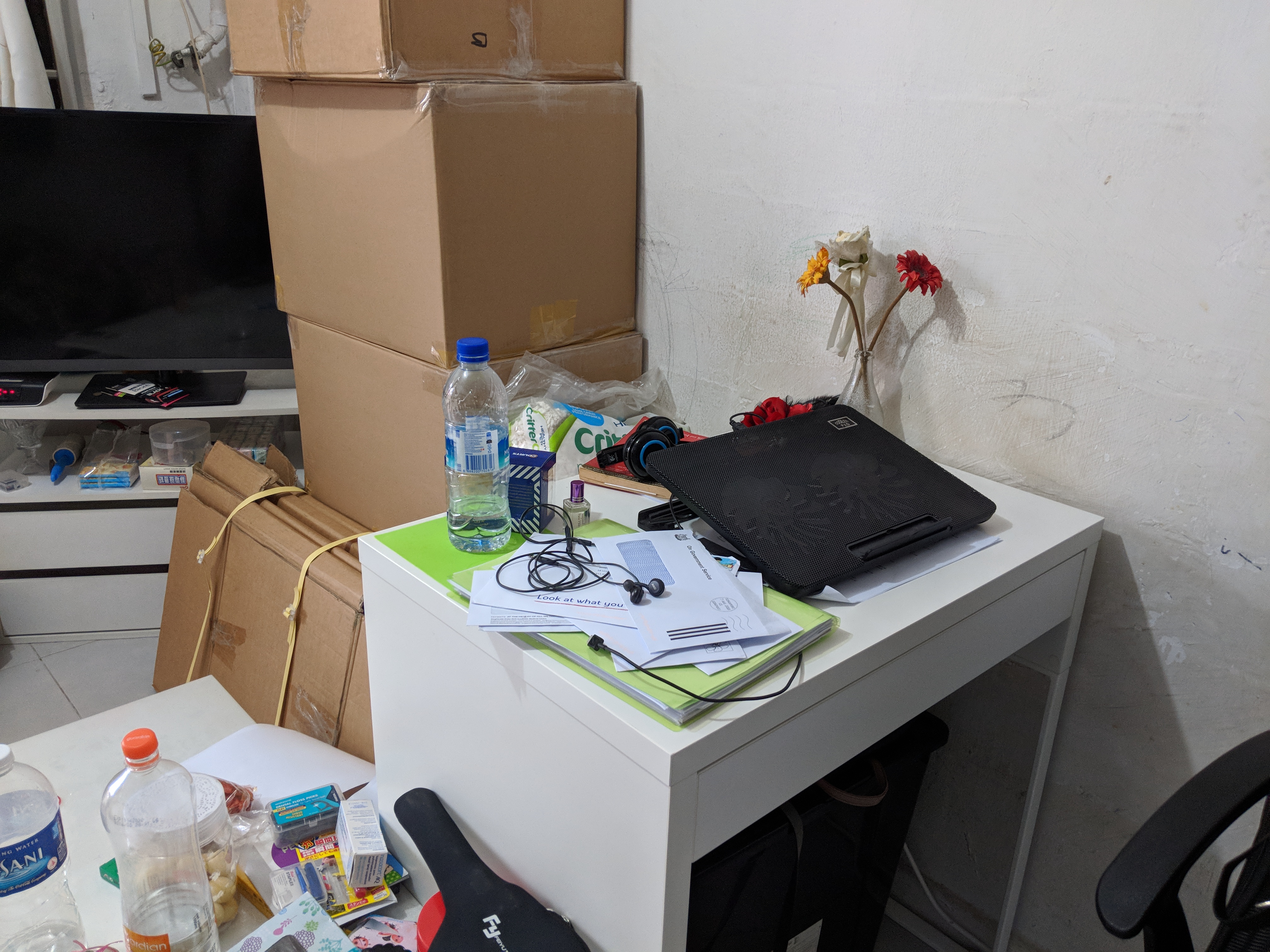 This is Liyana's home-based office in a corner of her two-room rental flat. This is where she manages her start-up, Virtual Assistants Singapore. Photo by Fasiha Nazren[/caption]
Brighter days ahead
She eventually got married to her current husband (after his third proposal) in July last year.
The man in her life now, who works in the shipping line, she shares with us, is gentle, patient, and waited years for her to be ready to see him romantically (she repeatedly told him she was not looking for a relationship).
Despite that, Liyana says he loved her and her children quietly — taking the boys out for meals, for instance, while their mother was working.
[caption id="" align="alignnone" width="1449"] Liyana rejected her husband's proposal twice in 2014 and 2015 as she wanted to focus on herself and her career then. Photo courtesy of Liyana Dhamirah[/caption]
Where the newlywed couple shared a bed behind the partition in the common area outside in the two-room flat, just three weeks ago, Liyana's entire family moved out of the rental flat to their very first (and their very own) four-room flat in Woodlands.
[caption id="" align="alignnone" width="960"] This long corridor of the two-room rental flat their family lived in is now a thing of the past. Photo by Jeanette Tan[/caption]
And as if that isn't turning your life around, Liyana is now in talks with publishers to release her own autobiography.
You can support her by reading her story in a book called Once Homeless (there are many more details and life experiences we had no space to share, and which she didn't tell us!) — you can sign up to be notified when it's ready for purchase here.
While her story may be awe-inspiring to others, being looked up to is not a familiar feeling for her.
"I don't think I'm inspiring, I just did what I needed to do to survive...

I'm not rich nor wealthy yet, but the process and experiences I endured were the most priceless and valuable, as those shaped me into who I am today. I am never a victim, I am a survivor."
Top image by Fasiha Nazren
Content that keeps Mothership.sg going
---
?
What was the last thing you used this place for? (Somebody said paktor, meet boys?) This is what you can do these days!
?
Did this mall make you feel at home when you were young? Did somebody say... Yaohan?
?
Have a little money but can't help being kinda lazy? You can still invest using this.
?
This was not part of CIP.
If you like what you read, follow us on Facebook, Instagram, Twitter and Telegram to get the latest updates.