A couple of weeks ago, the government announced that all travellers passing through and flying out of Changi Airport will from July 1, 2018 have to pay an airport levy (tax) on top of their air tickets:

The tax itself isn't that much — S$10.80 for travellers starting their journeys at Changi Airport, and S$3 for passengers transiting.
But Changi Airport is also hiking its passenger service & security fees — and those will cost you a good bit more, increasing by S$2.50 per year for the next six years, until the total surcharge you end up paying for a flight out of Changi Airport will hit S$62.30 by 2024. Not counting your actual ticket cost, of course.
Second Minister for Transport Ng Chee Meng dwelt on some of these things in his speech at the Ministry of Transport's Committee of Supply debate in Parliament last week, but we thought it would be worth going further in-depth to find out more about this.
So this may make you wonder why, with a S$9.6 billion surplus from last year and GST slated to go up, we still have to pay more. Besides, it's just another terminal right? Hasn't Changi Airport built its own terminals in the past?
We answer these and more questions in this rundown Q&A:
Let's start simple. What is Changi East?
Changi East currently doesn't exist yet. Okay, Changi East is currently a military runway and a massive plot of empty (reclaimed) land.
But when it's ready, it'll be huge.
Almost as big as what we know as Changi Airport now.
Yup — almost as large as Terminals 1 through 4 combined.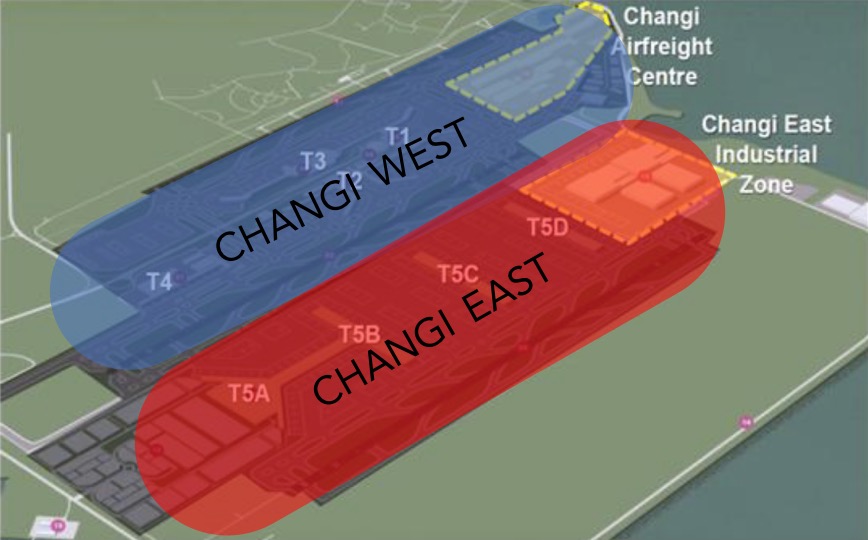 In fact, since we've mentioned Terminals 1 through 4, now's a good time to let you know that that is now referred to as Changi West.
Changi East is the entire area in the picture above that is to the right of the runway in the middle.
And it doesn't exist right now. And it needs to be built.
And why does it need to be built? We're already the best airport in the world mah.
True, we are, and have been for the past five years.
As true as that is, we are also truly Singaporean (and by that I mean we are kiasu [scared to lose]). And so we must stay ahead of the game.
The Changi East/Terminal 5 project is the biggest, most ambitiously-scaled expansion to Changi Airport Singapore has ever attempted.
[related_story]
And we're doing this because the truth is...
we kinda have to. :|
You see, passenger traffic (the total number of people flying out of and passing through while flying somewhere else) at Changi Airport has been growing by an average of 5.7 per cent per year over the past decade.
Last year, it grew by 6 per cent to 62.2 million (and by the way, we aren't pulling out these numbers from our behinds — these stats are from Changi Airport).
Think about that: 62.2 million passengers flew out of, arrived at and passed through Changi Airport in 2017. They boarded 373,200 flights, which translates to an average of 1,022 flights per day, 42 per hour and roughly one taking off or landing every 80 seconds.
Pretty crazy.
Now check out the graph below — that horizontal blue bar at the top is the 85 million passenger mark, which is the capacity of Terminals 1, 2, 3 and 4 combined in a year.
And even if we plot a reduced passenger growth rate of 4 per cent per year, or even 3 per cent per year, we will arrive at the 85 million passengers per annum mark at either 2025 (yellow line, which is 4 per cent growth) or 2028 (the red line, for 3 per cent growth each year):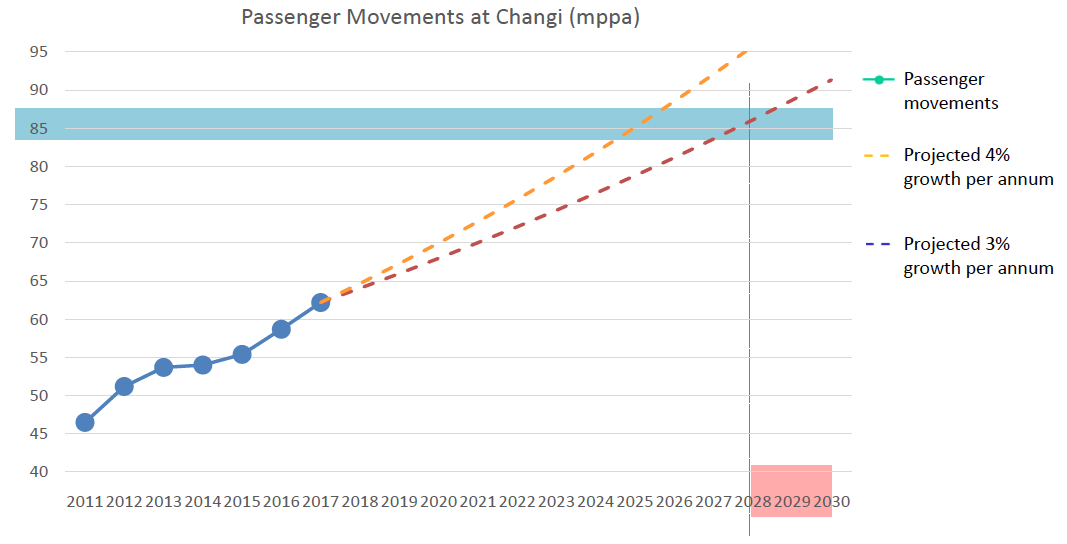 So if you think about it, it's pretty much a grow or die kind of situation we're in. We have to start building more capacity, and we have to do it now.
So what will Changi East add to capacity?
50 million passengers.
It'll take us to a total of 135 million passengers per year, which according to Changi Airport's growth trajectories will last us "a few more decades".
So we'll be good for awhile.
Plus, bear in mind that our existing terminals are upscaling their respective passenger capacities through the development of new technologies, like the FAST check-in system at Terminal 4: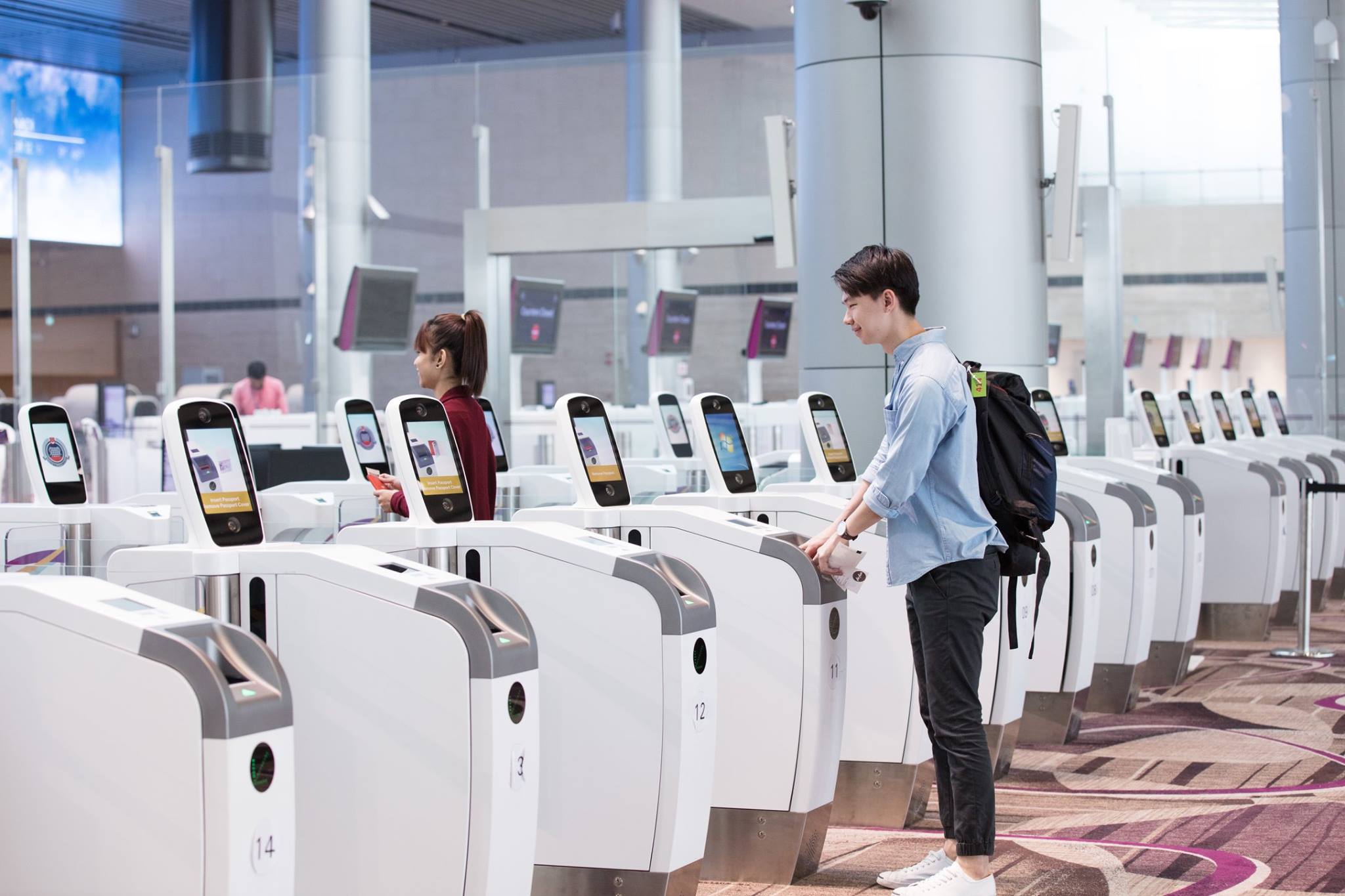 ... so the 85 million passenger capacity from Terminals 1 - 4 will also be increased as the years pass.
Nice.
But wait... you mean Terminal 5 will not be like, a Terminal 1 or 2 or 3?
No way José. Terminal 5, in fact, consists of Terminals 5A, 5B, 5C and 5D.
Remember how we said it will be almost as big as the entire Changi Airport now?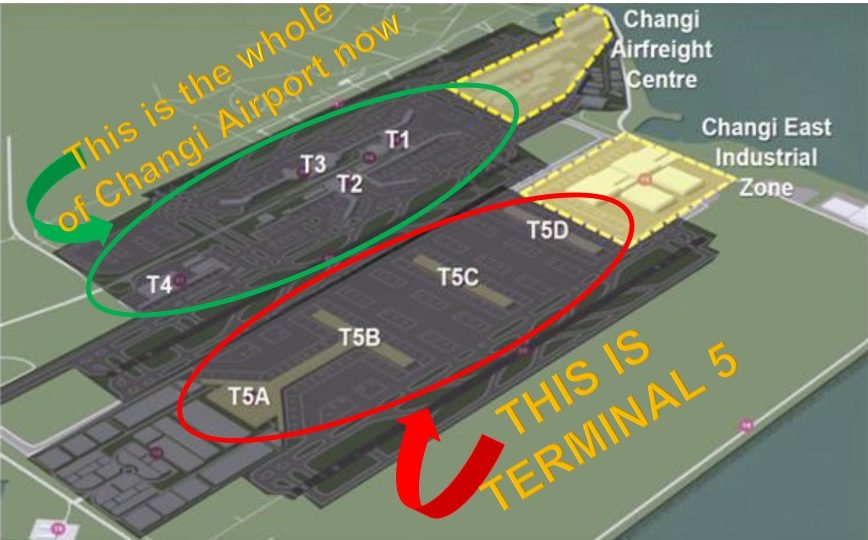 The land space Terminal 5 will take up is 1,080 hectares. More than 2,018 football fields.
The land space Terminals 1 through 4 occupy is just a little more, at 1,300 hectares.
And apart from the terminal buildings being built is way more plane parking space, as well as a third runway (currently an out-of-use military runway), so that we can accommodate 50 per cent more flights arriving and taking off at the same time.
Changi Airport is even building a second control tower as part of Changi East so it can manage the increase in air traffic.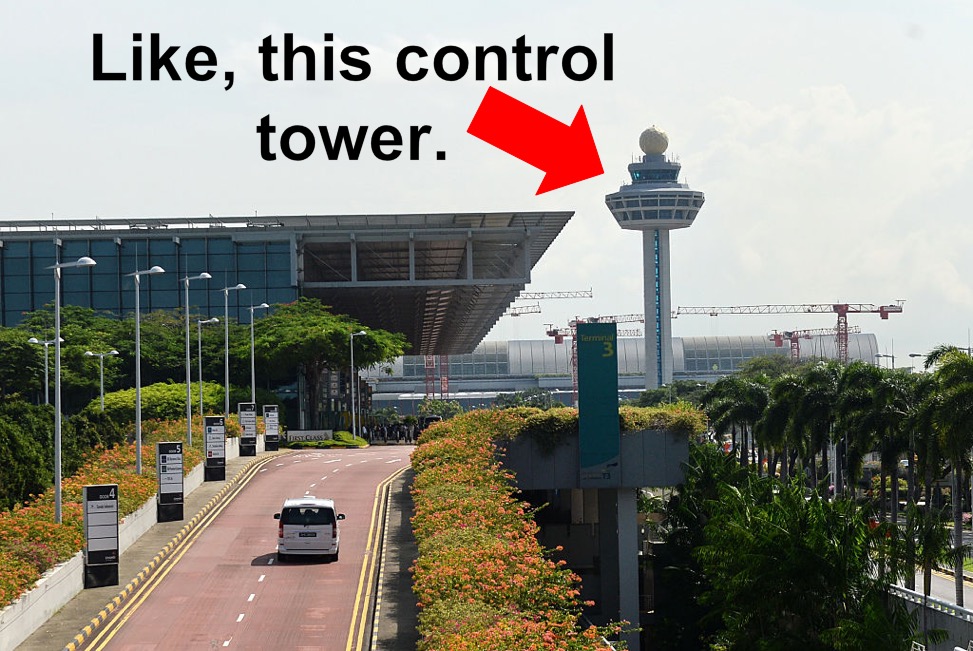 But we'll have more on that later.
So... how much will all this cost?
Honestly, we don't know.
If the government and Changi Airport have a clear figure in mind, they're not sharing it with us either — they're saying it's because the truth is this project is so huge, costs in their entirety can't be cast in stone yet with so many moving parts.
The phrase that's been tossed around provisionally, though, is "tens of billions of dollars".
We know that so far, the government has committed more than S$9 billion while Changi Airport has so far spent S$3.6 billion. It's even going to use up its reserves, commit future earnings (this would refer to its fees its collecting from passengers and airlines) and and even "take on substantial borrowing" for it.
Just to put this in perspective, Terminal 4 (quite a small terminal actually, compared with Terminals 1 through 3) cost about S$1 billion to build, and this was funded completely by Changi Airport through its commercial revenue and fees collected from airlines and passengers.
Huh?! Why so expensive??
Because you must remember that the land this is being built upon is completely barren. There are no utilities, no electricity/power, no plumbing or sewers, no roads, nothing.
So these need to be prepared before anything can even be built.
And over and above those basic amenities, there are many other things apart from the physical buildings of the terminals that need to be constructed from scratch.
The soil, for instance, needs to be analysed to ensure it is stable enough to build a runway and airport over it and won't fall apart when a plane lands on or takes off from it.
Some 40km of taxiways and runways need to be built — that's the length of the PIE — and we're even looking at the possibility of another MRT station being included into these plans as well.
And even when we get to building the buildings, aircraft parking spaces, bus bays and car parks, there are other things needed.
Let's take a moment to talk about the runway, for example.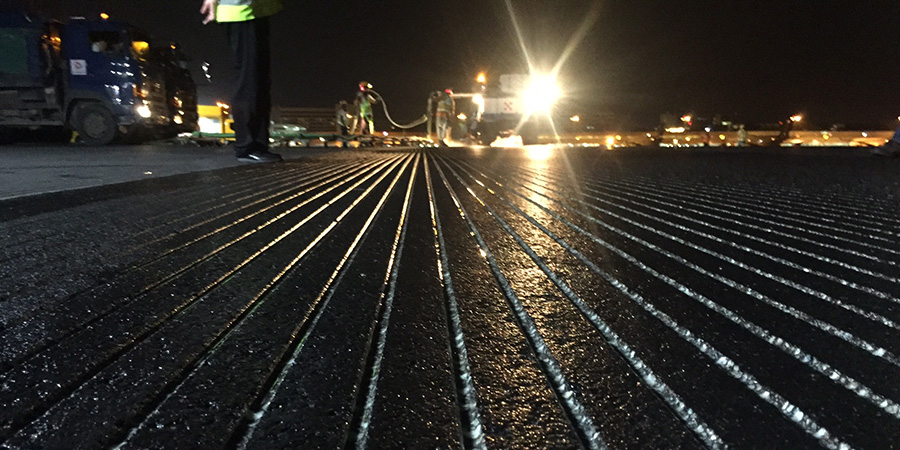 The airport runway is often regarded as the world's most expensive stretch of asphalt — and for good reason.
The average 18-wheel monster heavy-duty lorries weigh at most 15 tonnes, but even a mid-range aircraft like the Airbus 320 weighs 37 tonnes, at the very least. Think about all that weight pressing in on the ground, and that's just rolling along. Never mind the fact that these boys come crashing down on the runway surface when they land, while slamming their brakes — hard.
And that's just one landing. At Changi Airport, a plane lands or takes off every 80 seconds.
The two that we currently have at Changi are made of bituminous concrete, and are layered, reinforced and resurfaced from time to time with a strong asphalt mix.
It's built with this combination because
a) concrete is stronger and longer-lasting, and
b) asphalt cools, dries and is ready for use way faster (within hours) compared with concrete (days).
So lovingly cared for our runways are, in fact, that one is closed every night for about six hours for maintenance and inspection work.
"Besides runway resurfacing, pavement grooving and the removal of rubber deposits (left by plane tyres when they run over the surface, which need to be removed to make sure other planes won't skid on the runway when they land), other works include the servicing of airfield lights, repainting of pavement markings and grass cutting alongside the runway."
The existing unused military runway, now 2.75km in length, will be extended to 4km like the other two we currently have. It's made of asphalt at the moment, so that will need to be reinforced with concrete as it is lengthened for commercial air use.
Oh, and did you know that every runway has its own fire station? Generators and substations also need to be built, so they can power the lighting running all the way along it too.
Whew. Yes, all that for just the runway.
Ok. So if this is such an important project, why doesn't the government just pay for even more of it? Why must passengers pay so much?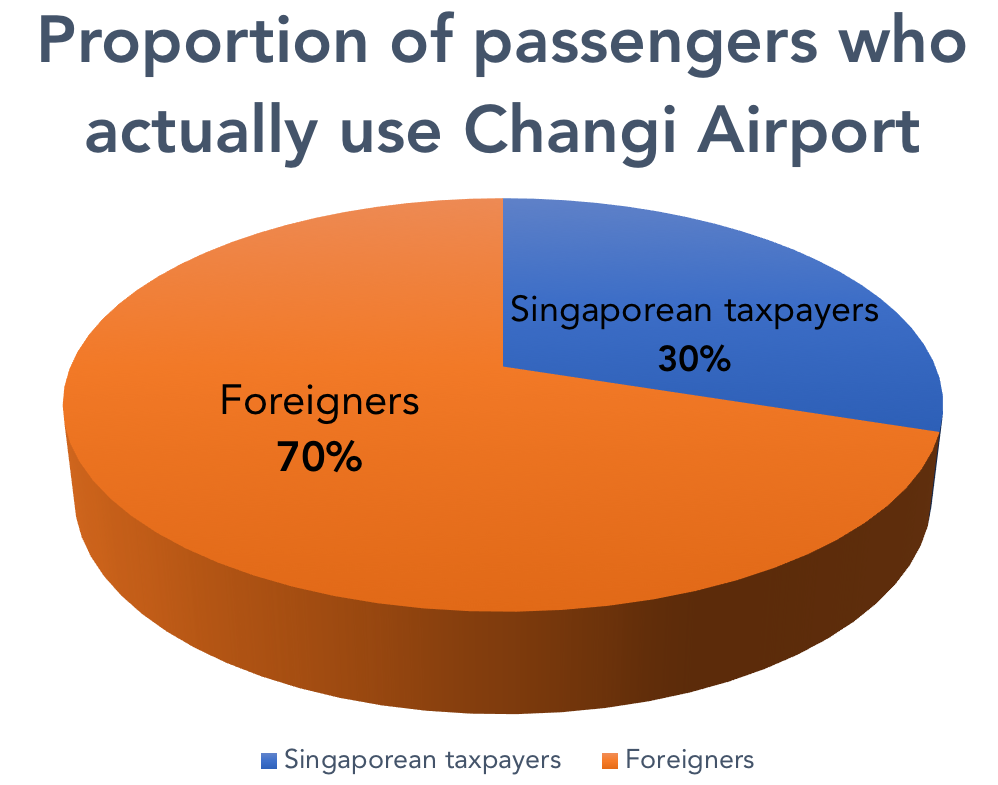 Because... the majority of passengers who travel out of or through Changi Airport are not Singaporeans. Figures shared with us from the airport show that just 30 per cent of the passengers passing through or leaving Changi Airport are locals.
So technically, as a Singapore taxpayer, it is actually in your interest that passengers pay as much of the cost as possible. It makes sense, after all, for the people using the airport (and who will likely in future be using Terminal 5) to pay for it to be built, right? Never thought of it that way, eh?
But the airlines are unhappy, right? And also IATA? Why isn't Singapore (and Changi Airport) following international aviation standards on funding airport development?
Okay, this question is more for those of you who have been following this from the time we first heard that there was going to be a Terminal 5. (This was in 2013, by the way.) Chances are, you'll have heard about international opposition to Singapore's decision to pay for this huge project in this manner — if not, you can read the red box below:
Here's a short segue for those of you who are lost at this juncture:
Frst things first — the IATA is the International Air Transport Association. They're basically the main global body that oversees the aviation industry.
They've been kind of vocal about this whole thing, actually — their CEO Alexandre de Juniac first said in February at our Airshow that the trade body is
"strongly against any pre-financing of any infrastructure... We shouldn't pay first without having the infrastructure ready to be operated and used by airlines and by the users."
IATA's Asia Pacific regional vice-president Conrad Clifford also cited policies published by the International Civil Aviation Organization on charging in advance for projects.
Here's what it says:
"Pre-funding of projects through charges should not be used to fully recover costs in advance of commissioning of new airport or air navigation facilities or infrastructure but may be accepted in specific circumstances, after having allowed for possible contributions from non-aeronautical revenues, where this can assist in financing longterm, large-scale investment, provided that strict safeguards are in place, including the following:

i) Effective and transparent economic oversight of charges and the related provision of services, including performance management;

ii) Comprehensive and transparent accounting, with assurances that resulting charges are, and will remain, earmarked for civil aviation services or projects;

iii) Advance, transparent and substantive consultation by providers and, to the greatest extent possible, agreement with users regarding significant projects being pre-funded; and

iv) Application for a limited period of time with users benefiting from lower charges and from smoother transition in changes to charges than would otherwise have been the case once new facilities or infrastructure are in place."
Them aside, a couple of airlines have also said they were not happy about this change — well, of course, since costs are going up for them too.
Our national carrier "noted" the change, but folks like Jetstar and Qantas have expressed disappointment that costs for the new airport will be passed on to passengers.
Now everyone's up to speed, here's another way to think of all this:
Well, it's certainly easier to say that one should only pay for what one is using at that point, instead of paying in advance for something that doesn't exist yet and which one may not necessarily use.
But the mathematical principle of compound interest will tell you it always makes sense to start paying for a big expense in small sums now than to borrow the money first and start paying it off later.
And while Jetstar, for instance, warns it may have to pass on the added fees to passengers in the form of higher ticket prices, it may be worth considering that maybe it would have had to all along...?
The fee is called the "passenger" service & security fee, after all. The airlines aren't supposed to be absorbing it — they're supposed to be passing it on to passengers.
The same goes for the airport development levy — it's a tax, and like the GST, all the airlines are supposed to do is collect it on behalf of the government and pass it on to them right away. The airlines don't get a cut of this amount.
Okay... so what's the timeline like?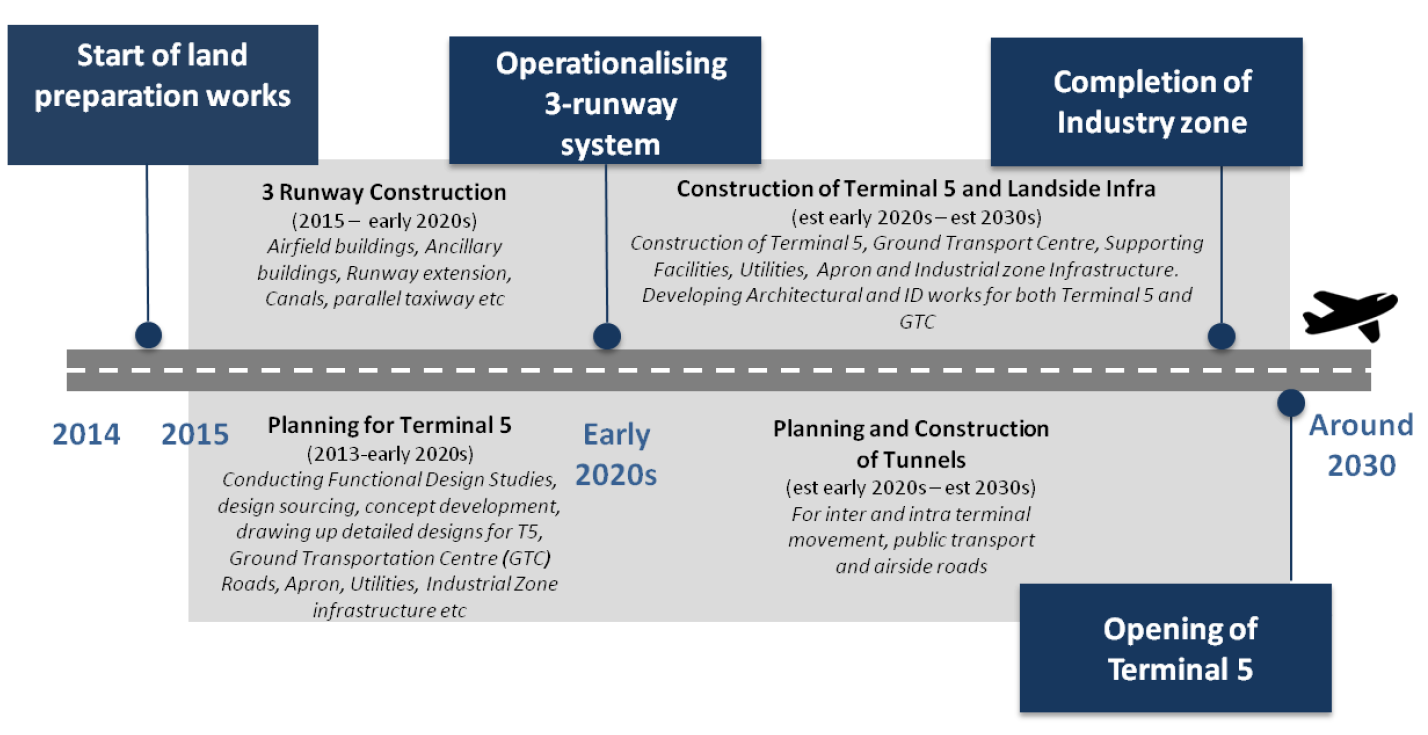 So the airport has been working on this thing since four years ago or so (in 2014), preparing the land space for building everything that needs to be built.
2015 saw the start of the building of the third runway. Changi Airport says it will be ready for commercial use by the "early 2020s", at which point Runway 2 (the one in the middle) will be closed for a short period so they can build the connecting roads and taxiways to link all three runways — and all five (well, eight) terminals together.
Over the years that follow, Terminal 5 and the industrial zone forming part of Changi East (this is for airfreight and air express operators, as well as aircraft maintenance, repair and overhaul) will be worked on, and everything's expected to be done by 2030.
So that's in about 12 years. Not thaaaat long to wait, eh?
And so now you know.
Related article:
Top photo courtesy of Changi Airport
Here are some totally unrelated but equally interesting stories:
Uzbekistan is such a beautiful country it sounds like Us Back In An Instant
Want to low-key persuade your child to be a mini eco-warrior? We got your back.
If you like what you read, follow us on Facebook, Instagram, Twitter and Telegram to get the latest updates.