Even the most casual followers of local politics would agree that Singapore's veteran opposition leader Low Thia Khiang is a steely, stoic and largely unemotional man.
The secretary-general of the Workers' Party is, after all, 61 now, and come 2018, will be the longest-serving opposition Member of Parliament too. That achievement certainly doesn't come from being soft or a pushover in any way.
And sure enough, ask any WP member you might meet and they'll all tell you how tough he is. And we've of course seen the way he pulls three times his weight in any Parliamentary debate.
That's why we found ourselves in disbelief when, in a rare interview for an inaugural WP documentary, Low's voice suddenly cracked, his face turned red, and he paused to wipe away tears as he spoke.
Low's little-known beginnings
The 50-minute documentary this interview appears in, by the way, was released on YouTube on November 30, 2017, in commemoration of the party's 60th anniversary. "Walking with Singapore: Road to 2011" is the first part of two.
This first part focuses on the party's road to the watershed 2011 General Election, where for the first time ever in Singapore's history, Low led an opposition party of five (including single-term Non-Constituency MP Sylvia Lim and now-recognisable WP MPs Pritam Singh, Chen Show Mao and Muhd Faisal Manap) to win a group representation constituency — Aljunied GRC.
It also dwells on Low's beginnings and career as a teacher, as well as what brought him into politics.
The WP anniversary book did hint at this, where he was quoted saying:
"Because I felt that I could not get myself to class and tell my students, "You have to work harder", but I know the system is going to kill you. And students were measured based on their academic results. But many of them were not well off—they did not have tuition. Or they had to do something else, like work part-time to help their families financially…

And there was another problem. They were so stringent with the aggregate point and restricted the number of students who could repeat. So that was the last straw, and I decided to join the Workers' Party."
His passion for educational policies
Low was on camera talking about the state of education back when he was a teacher, after being forced to continue school at NUS (after Nantah, where he was studying, was merged with the University of Singapore) and rejected from the political science faculty because he was Chinese-educated.
[related_story]
In particular, he dwelt on the decision to enforce only English-language education at higher levels, as well as the streaming policy — in its original form, with EM1, EM2 and EM3 — that was implemented at the primary 4 level across schools here.
And that's where this happened:
Here's our transcript of what he said:
"We thought it was short-sighted of the government to only have one university. I even wrote to the press but horrendously, nothing came out.

That's the situation. If the govenrment wanted to push something down, no matter what you say you can just cover up. And nobody would know given the fact that those days, it was only the media, the newspapers or the television.

So to me, practically I mean, I'm experiencing first-hand how the government can really 一手遮天 (a Chinese idiom that means "to hide the truth from the people").

I went into IE those days (institute of education), I became a teacher. Then maybe I'm suay la, I mean I always kena stuck by that you know. In came the streaming policy... I see my students, I know they are not second-class, or they are not slow learners.

But because of the system, they will fail."
In a subsequent portion of the documentary, he said:
"I know they will fail because many of them come from poor backgrounds. And you're going to assess them based on their results and stream them and not even give them a second chance. I think that's not fair.

Okay, that is the... That was the last straw for me. I decided I probably will be happier in life rather than remain as a teacher. Because I have seen my students every day. Every class I tell them "Look, work harder!" But I know the system will kill you no matter how hard you work.

So you are sacrificing the whole generation. And what do we have? Manpower.

So I thought it was unbecoming of the government to do this to your own citizens and your future generations of Singaporeans.

Okay, let's move on."
But perhaps the most poignant point he made in his interview was this:
"... And I find myself obsolete in a sense, if I continue to talk and debate in Parliament and I know people are suffering and things are not changing, so what's the point?

...

So I came to a conclusion. You can talk until the cows come home, debate until the cows come home in Parliament. The PAP will not change. It is the people, the electorate that have to show them, they have to change."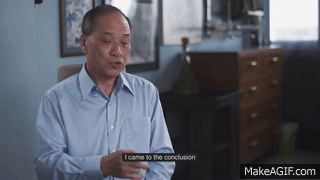 A rare side to a tough opposition leader.
You can watch the documentary in full here — Low's section appears from the 5:53 mark onwards:
&feature=youtu.be
Here are a few unrelated articles you should check out next:
I did my secret Santa shopping online and *gasp* saved money
The Body Shop Christmas products for clueless S'porean men, explained
We match each of your colleagues to a Christmas gift from The Body Shop to make your life easier
We secretly took AR photographs of our colleagues. It was fun
Top photo: screenshot from WP documentary
If you like what you read, follow us on Facebook, Instagram, Twitter and Telegram to get the latest updates.