You might remember the American teenager in Singapore who speaks better Mandarin then most Chinese Singaporeans.
She's Happy Rogers, the elder daughter of Jim Rogers, a prominent American investor. The Rogers family has made Singapore their home since 2007.
The 14 year-old American girl attends Nanyang Girls High School and she speaks Mandarin fluently with perfect intonation. Hear her speak, and you'd find it hard to reconcile with the fact that she's an ang moh and not a native Chinese.
How to learn Mandarin the rich way
Apparently, she has now become quite the poster girl for learning Mandarin, given how often she is being trotted out by the media to remind us, especially those who have less-than-stellar Mandarin-speaking abilities that hey, learning Mandarin shouldn't be too difficult right?
A  3-minute long video, titled How to Embrace the Chinese Language with Paige Parker and her two daughters posted on Nov 25 by The New York Times Style Magazine, featured her mum (Paige Parker), her, as well as her younger sister Bee.
From the video, it's clear that the Rogers family leads very different lives from us.
We see Parker wearing a sleeping robe and walking across a poshly decorated home setting with slow and deliberate steps, reciting Quiet Night Thought (静夜思) , a famous Chinese poem by Tang dynasty poet Li Bai, from a piece of paper she's holding.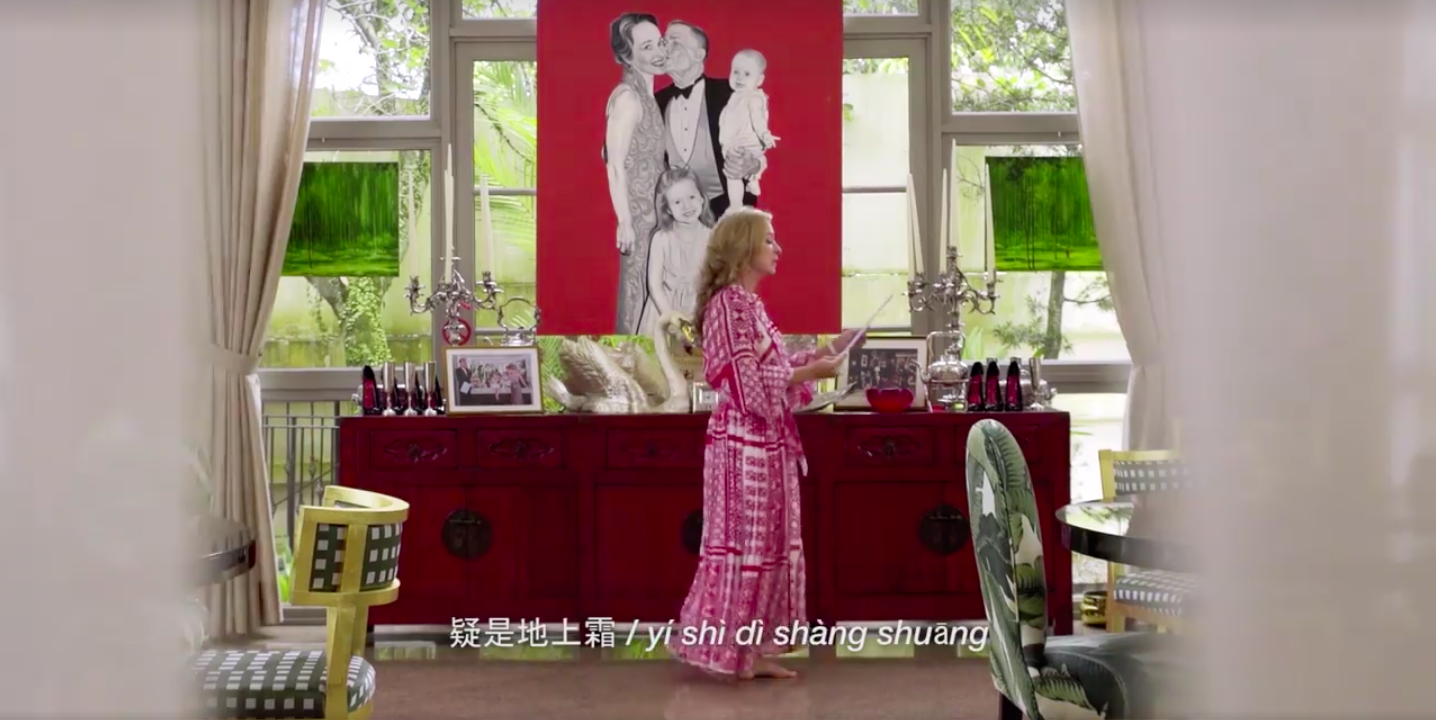 Then in the interview explaining how she believes children should learn Mandarin, Parker revealed that they hired a full-time laoshi (Chinese teacher) so that their daughters can learn the language "completely" through immersion since they were born.
According to Parker, this was how her husband and her successfully cultivated a pair of bilingual children whose Chinese is as authentic as it gets:
"From the very beginning we wanted it to be their mother tongue, which meant having a Chinese mother in the home, which I'm not.

So we had a full-time laoshi in the home, with the girls, since they were born.

So they grew up, the same way they learnt English is how they learnt Chinese, just completely through immersion.

That's the reason that we started them when they were born. Because they just didn't know they were learning it."
[related_story]
The video then shows Bee reciting the same poem her mum was reciting at the beginning, but in a "melodrama" way.

The girls also had fun teaching their mother the poem, and the three of them were clearly enjoying themselves.

We certainly don't remember learning Chinese this way.
Social Commentary
After some light-hearted talk reminiscing the time when Happy surprised the heck out of older women in Shanghai with her impressive Mandarin when she was just a two-and-a-half-year-old toddler, Parker lapsed into a social commentary, proceeding to give her take on why Singaporean kids don't like Chinese.
"I think one of the problems in Singapore – the reason kids don't like Chinese is because everybody is going for tuition, and everything they're learning is toward the grade and preparing for exams.

As opposed to learning Chinese to love it, to really understand it, and to understand the culture, the food and the place."
[related_story]
S'poreans get salty
Some of the most up-voted comments are from Singaporeans pointing out the fact that most ordinary families couldn't afford to hire a full-time tutor like they did to teach their children a language from birth.



But perhaps the biggest irony is that while Singaporean parents send their kids to tuition so they can get good grades and have a better shot at life, the Rogers themselves hired a full-time tutor for their children so they can be "the head sommelier, head maître d'hôtel, or who knows what". #lifegoals
Top image via Facebook.
Here are some totally unrelated but equally interesting stories:
Mums share their experience in helping their kids go cashless
Shell created a quiz to help me find my ideal city and I didn't get Singapore
This guide to interacting with persons with disabilities will make you a better person
If you like what you read, follow us on Facebook, Instagram, Twitter and Telegram to get the latest updates.