Builders at Sims is a café at Sims Place near Geylang, a heartland spot between kopitiams and mama shops offering French-inspired dishes like sous vide beef cheek stew and crab pasta.
Here's a sampling:
https://www.instagram.com/p/BF77WFTjyn5/
It's a fairly new eatery, opened by former Tiong Bahru Bakery chef Joey Lim in May 2016, but it has already managed to rack up an impressive number of positive reviews, both on Burpple and its own Facebook page.
One-star review
However, a one-star review appeared on their Facebook page on Dec. 19.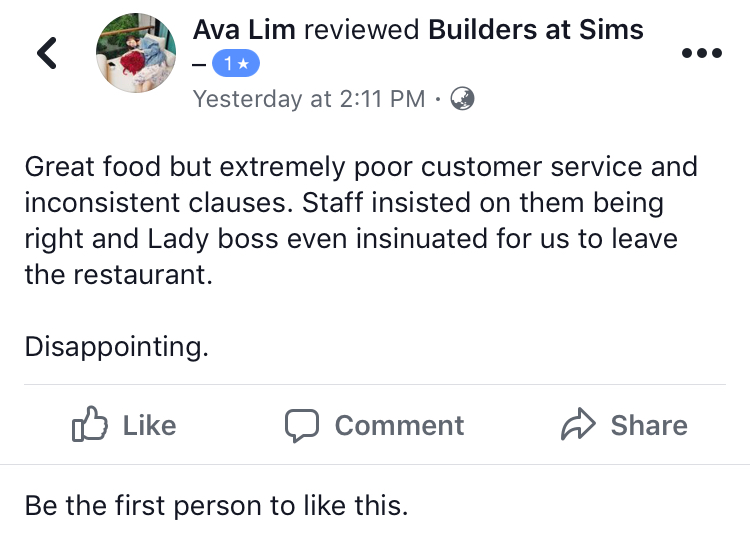 Lim's response
In reply, Lim posted a lengthy comment, summarised thus:
The cafe staff informed the group upfront that there was a minimum order for groups of 5.

Ava Lim's group had 6 people, so they were subject to this policy.

Ava Lim's group agreed to this.

But upon having been seated, they caused "noise and commotion" when making their orders.

This was disturbing for the other customers.

The group was asked to leave.
Lim also explains that as the cafe has limited space with just 28 seats, it's vital that they maximise their revenue during the 11:30 am to 2 pm "peak period" for the lunch crowd. Hence the reason for the minimum order policy.
Here's his comment reproduced in screenshots: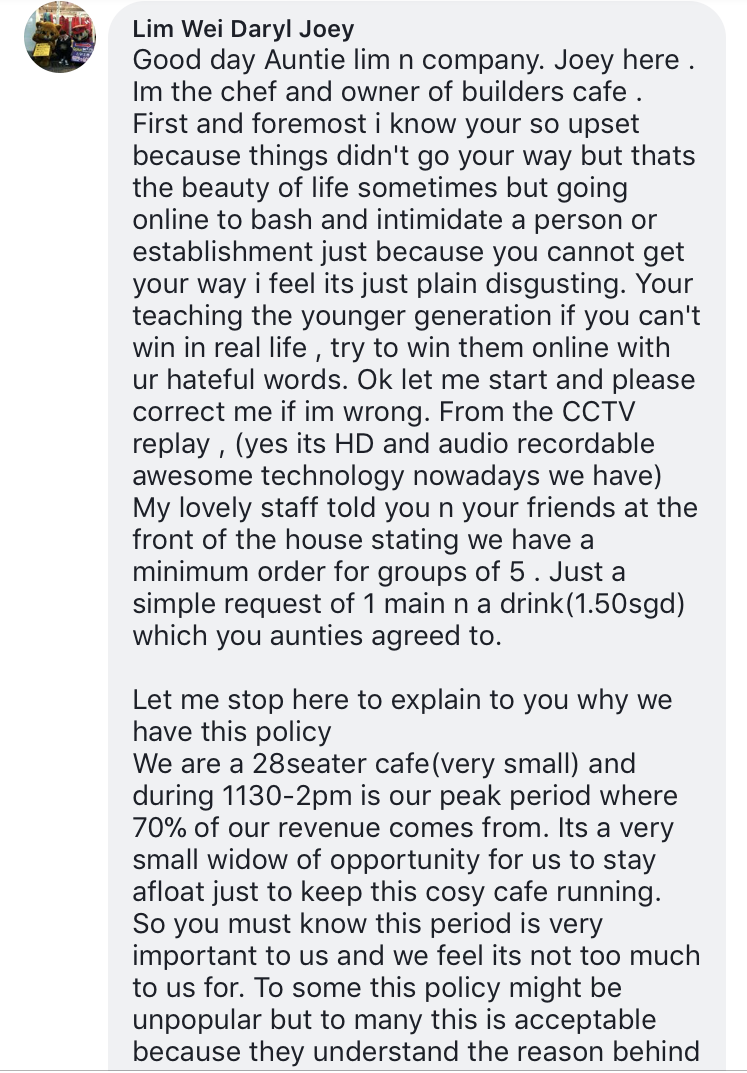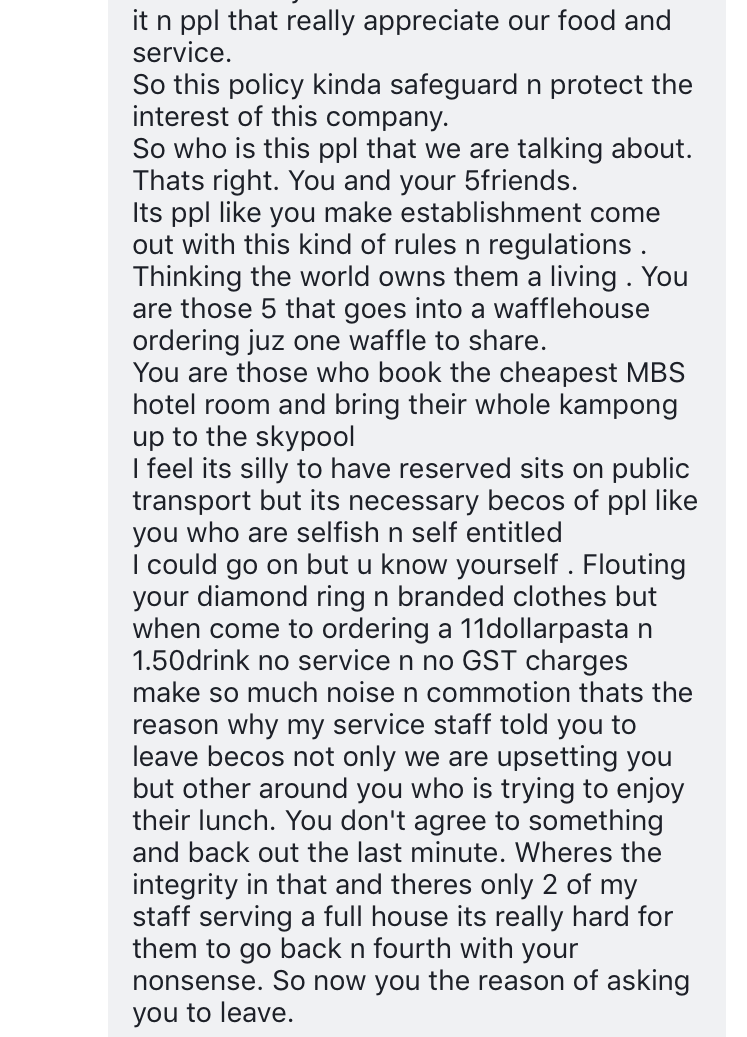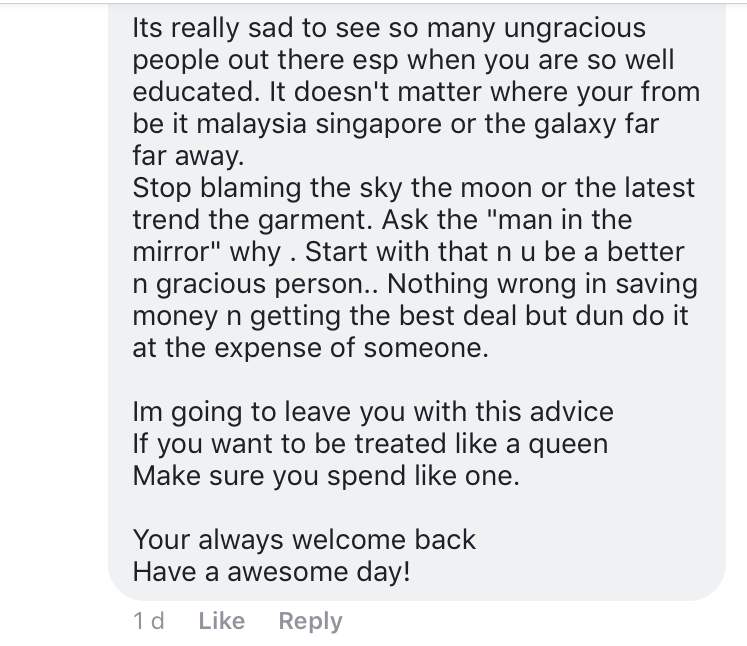 [related_story]
Debate ensues
A back-and-forth between the Lims followed, with other kaypoh kias joining in too: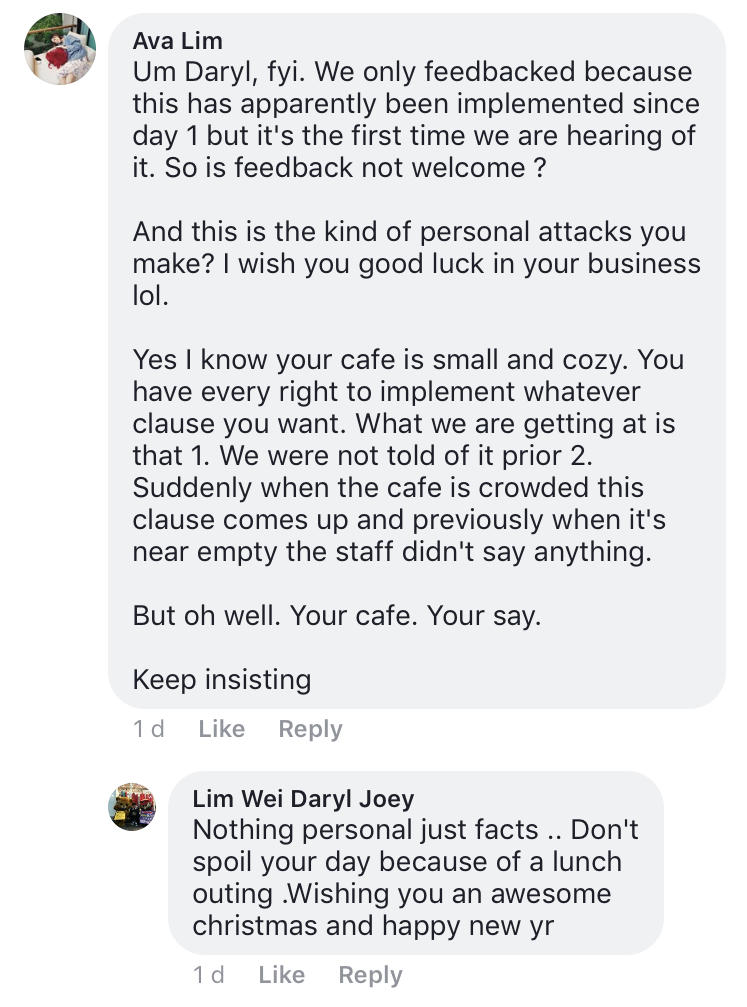 Some, like this user, backed up the complainant: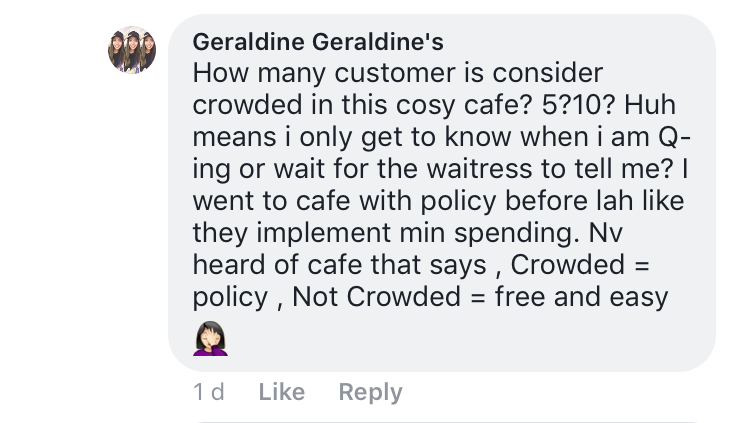 While others decided to step in to mediate the discussion — first he told off the complainant: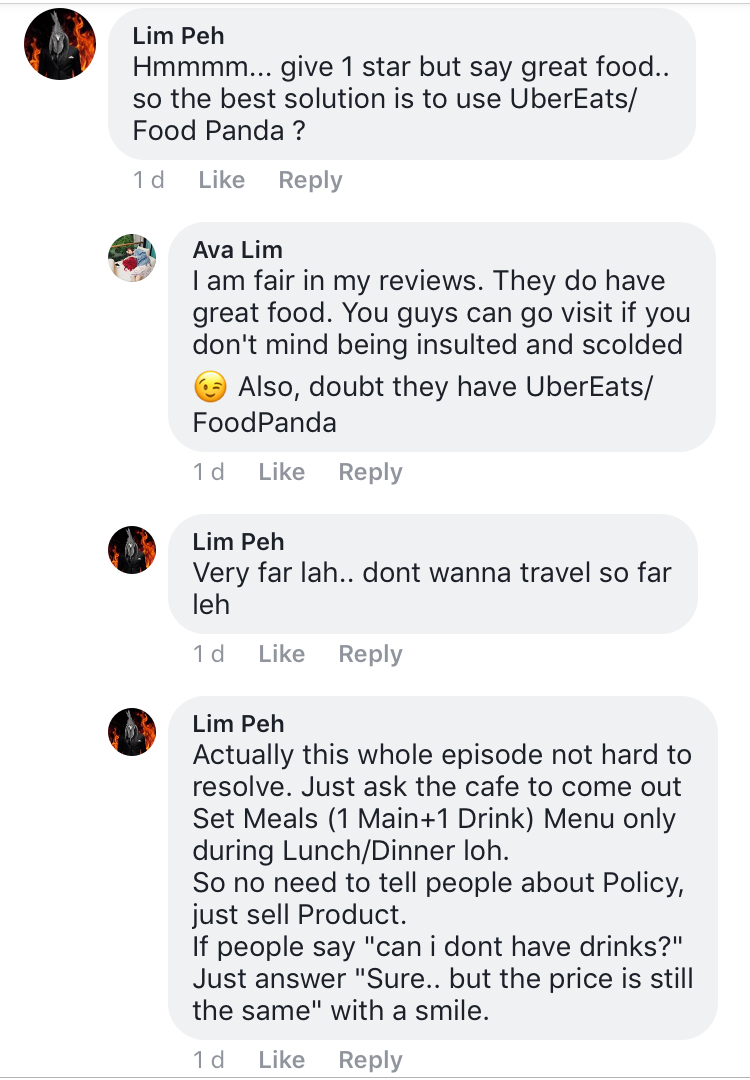 Then he turned on the chef-owner: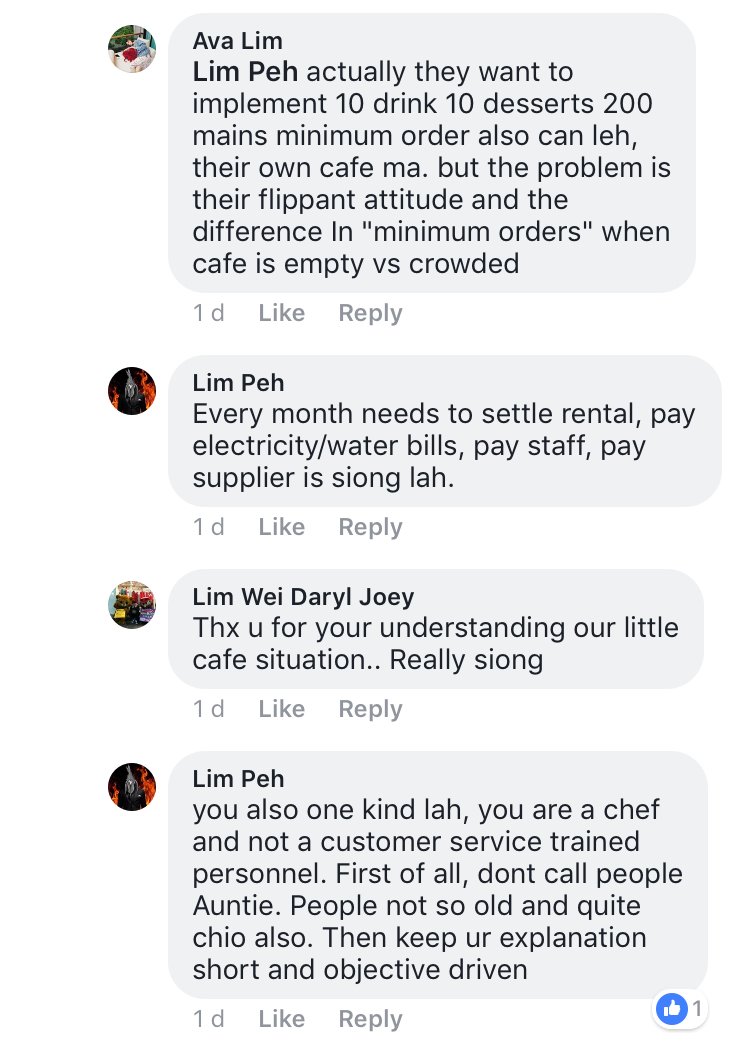 Even giving him some advice: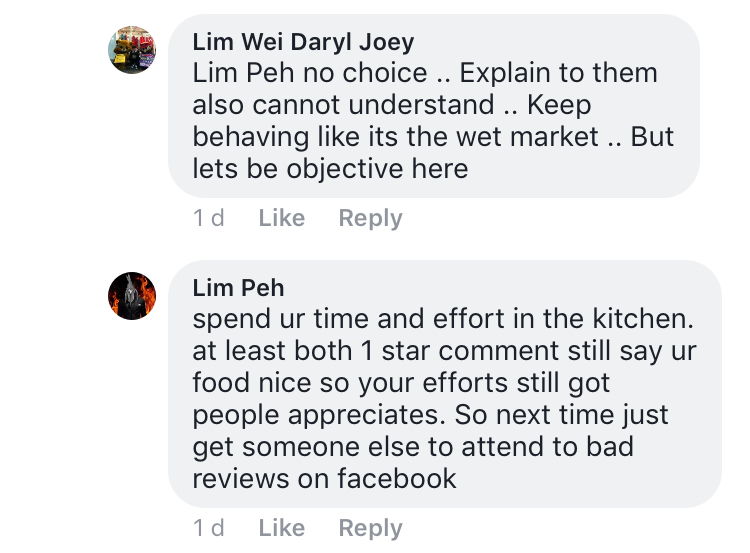 But at the end of the day, we suspect it ended on a positive note: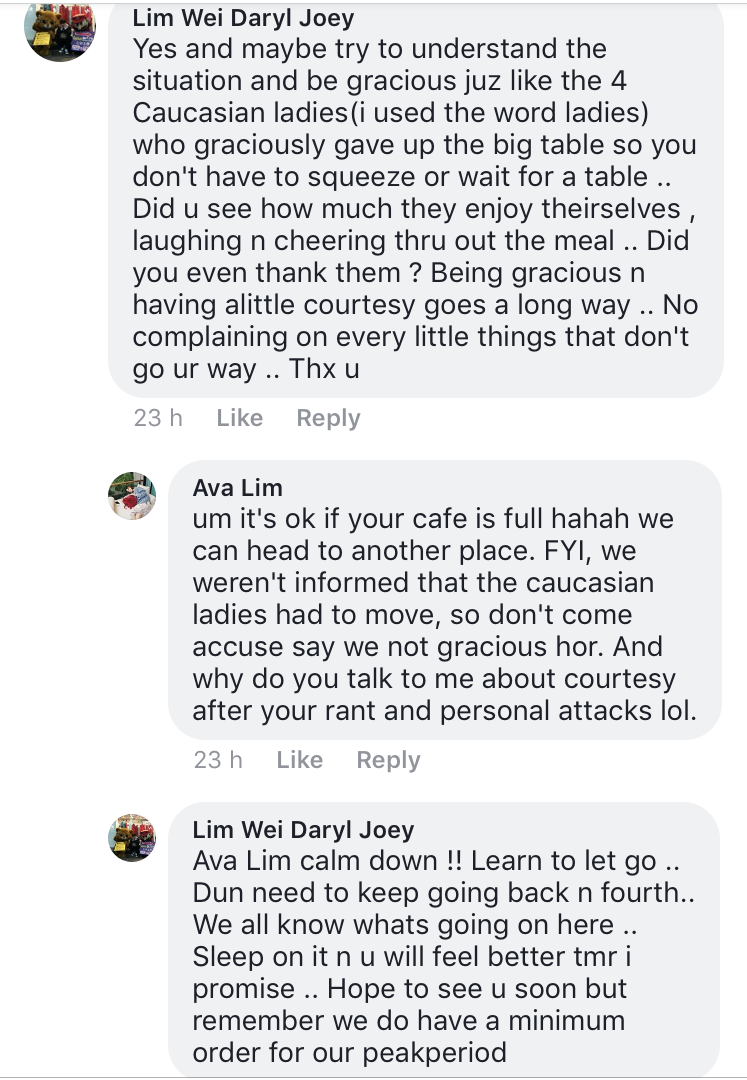 Proportions in café's favour
Vigorous debate on that post aside, Builders at Sims has an overwhelmingly higher proportion of positive reviews on its Facebook page, with 127 five- and four-star reviews, as compared to just six two-star and one-star reviews.

And of the five one-star reviews that exist on the page3, two were posted on the same day, Dec. 19, while another one was posted on Dec. 20.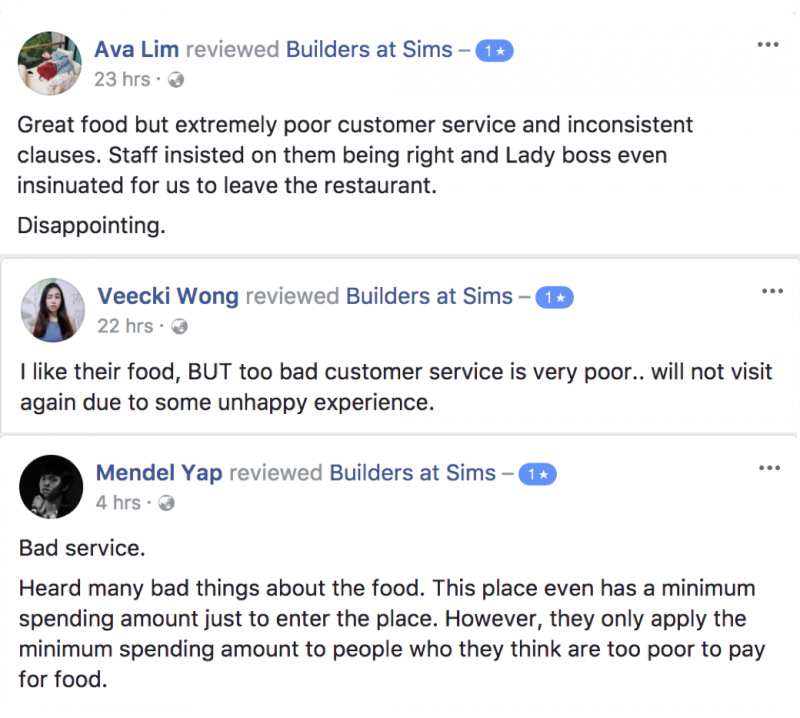 The other two one-star reviews were posted in August and December 2016.
The Aug. 2016 review had no words at all, but Builders at Sims still responded politely: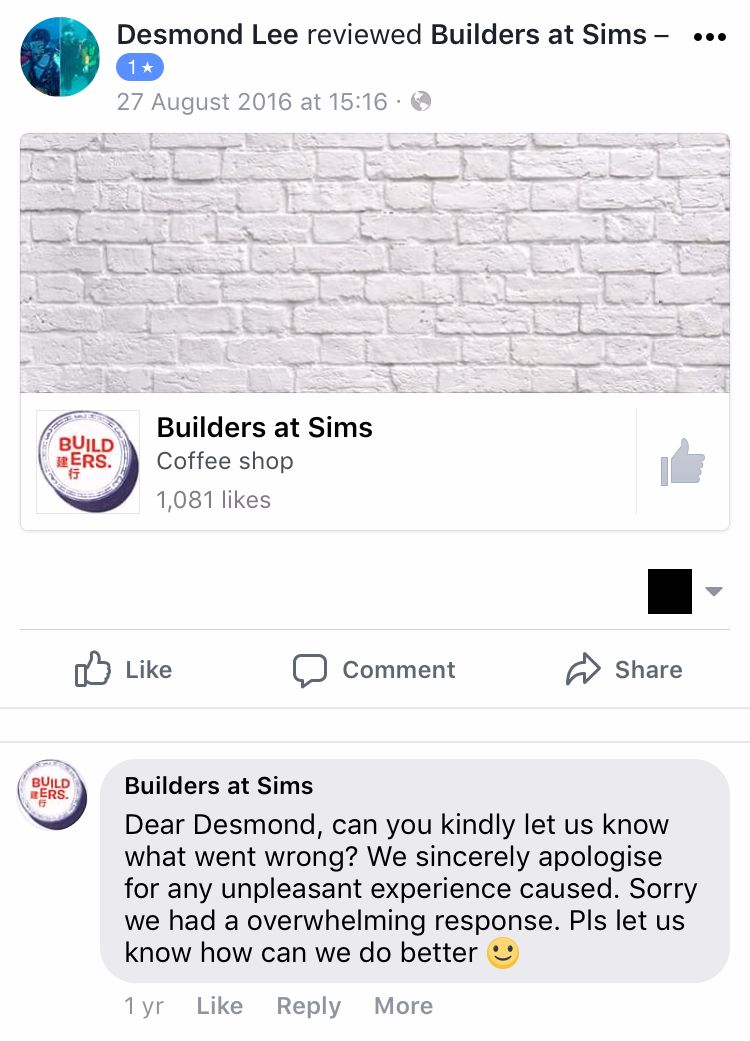 The Dec. 2016 review also happened to be about the same minimum order policy that vexed Ava Lim.
But Lim's response then was shorter and more succinct: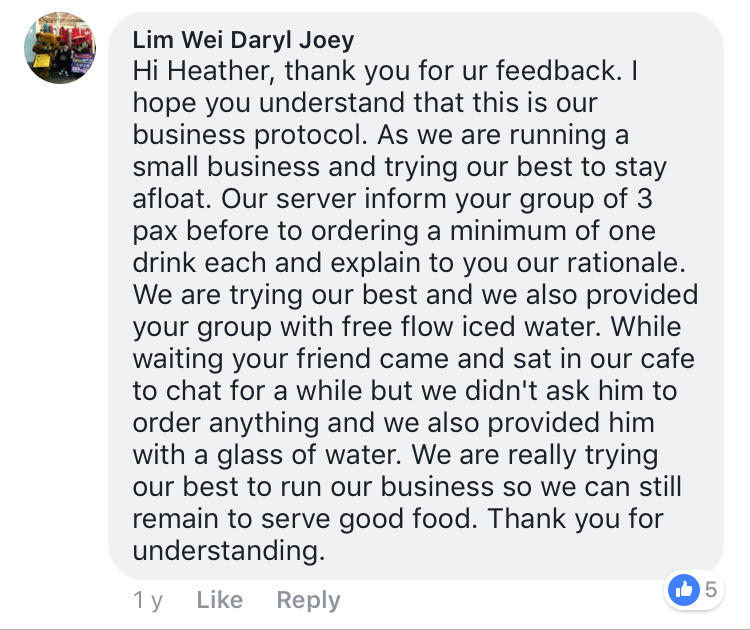 The struggle restaurateurs and café owners face in juggling good service and business concerns and constraints is an ongoing one, and while some bite the bullet, others take the effort to stand up for themselves — with varying results.
But on the whole, let's try to be nice and understanding customers and gracious business owners as far as we can; it makes the world a better place.
Related articles:
Restaurateur's essay response to a 1-star review makes us all self-conscious customers
S'pore pastry chef engages in FB comment war, spams 2 strangers with verbal abuse
S'pore home baker tried to get customer to remove 1-star review after botching S$400 cake
Big Fatty Crab's response to one-star reviews can be quite… crabby
Here are a few interesting articles you should check out next:
My Mom went on a day out with a film camera. Here's how she views the world
Why you should reignite that kampong spirit with your neighbours
Top image via kel_vinyu and Builders at Sims' Instagram pages.
If you like what you read, follow us on Facebook, Instagram, Twitter and Telegram to get the latest updates.