Tucked away in a hawker centre in Toa Payoh Lorong 7 is a humble stall that sells kueh (traditional snacks), but not just any kueh you'll find elsewhere.
As its name suggests, Hainan Xiaochi (Hainan Cuisine and Snacks) specialises in traditional Hainanese kueh.
Opened by Mdm Yeoh Min Lin, the tiny hawker centre stall has been operating for over 40 years. She has since passed on the art of making Hainanese kueh to her daughter, Ms Goh See Mui.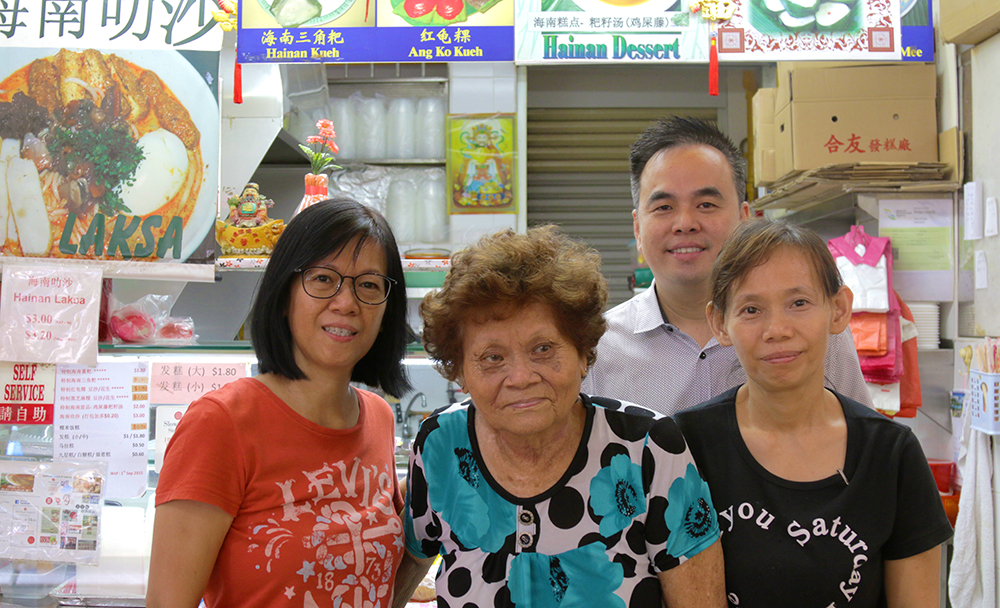 "Chicken Poop Dessert"
Plastered on the stall front are pictures of kuehs such as yi bua and a rather hilariously named "Chicken Droppings Dessert" (spoiler alert: It's not made from bird droppings).
Simon Goh, Mdm Yeoh's son, explained that Chicken Dropping Dessert is made from skunkvine, also known as Chinese fever vine. It emits a sulphurous odour when crushed, hence the name of the dessert.
"Once, I got my workers to help me pick the vine and put them in my car. I almost fainted from the smell during the drive back," laughed Goh.
Yi Bua
We didn't get to try the Chicken Poop Dessert but what we did have was the yi bua and it was unlike anything we had before.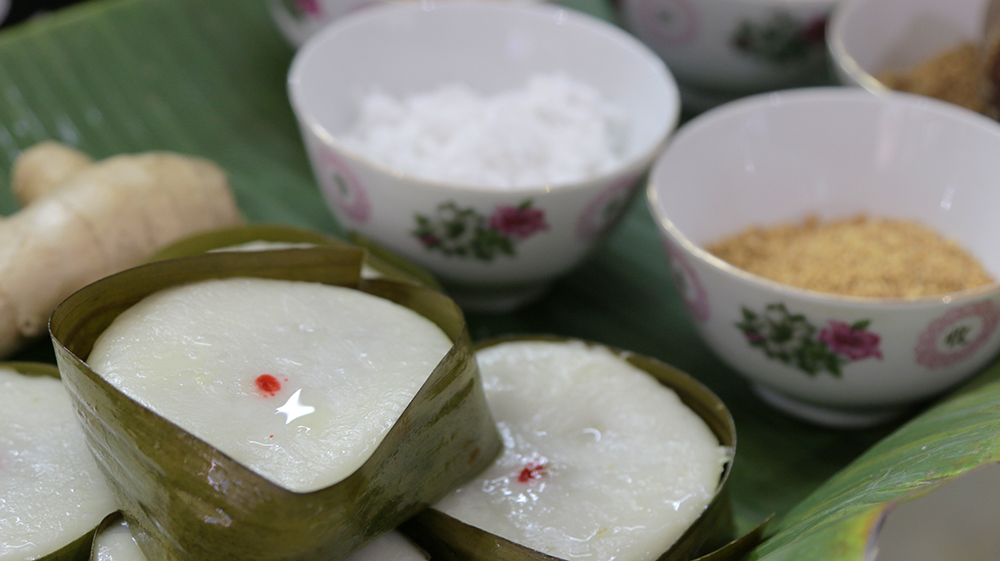 On the outside, yi bua, with its glutinous rice flour skin and banana leaf wrap, looks pretty normal.
The inside, however, is an explosion of flavours made possible by a combination of shredded coconut, ground peanut, gula melaka, sesame seeds, ginger, and dried persimmons.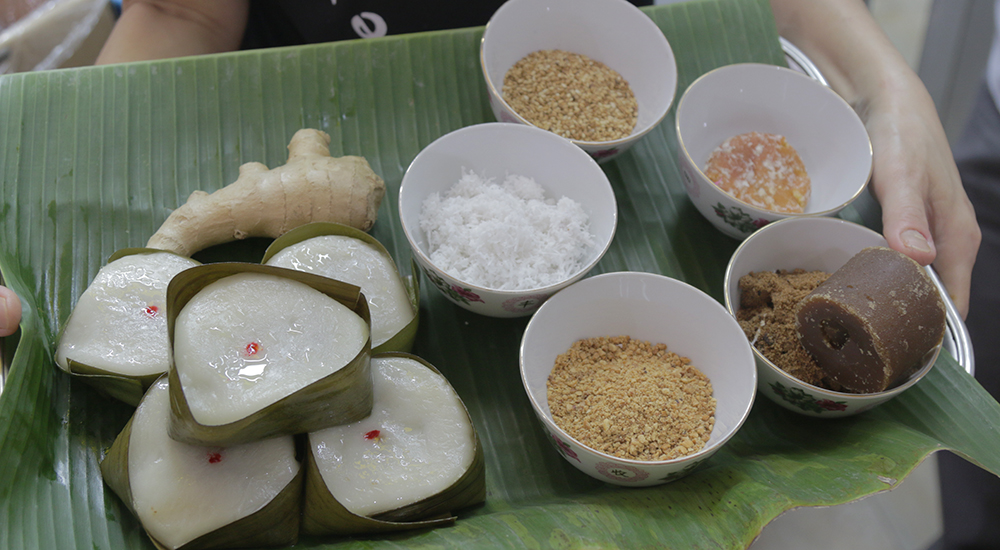 The chewy glutinous rice flour skin contrasts very well with the sweet textured filling, giving the yi bua a delightful mouthfeel.
As you can expect from the list of ingredients, the kueh is sweet, but the ginger gives it a mildly 'spicy' kick.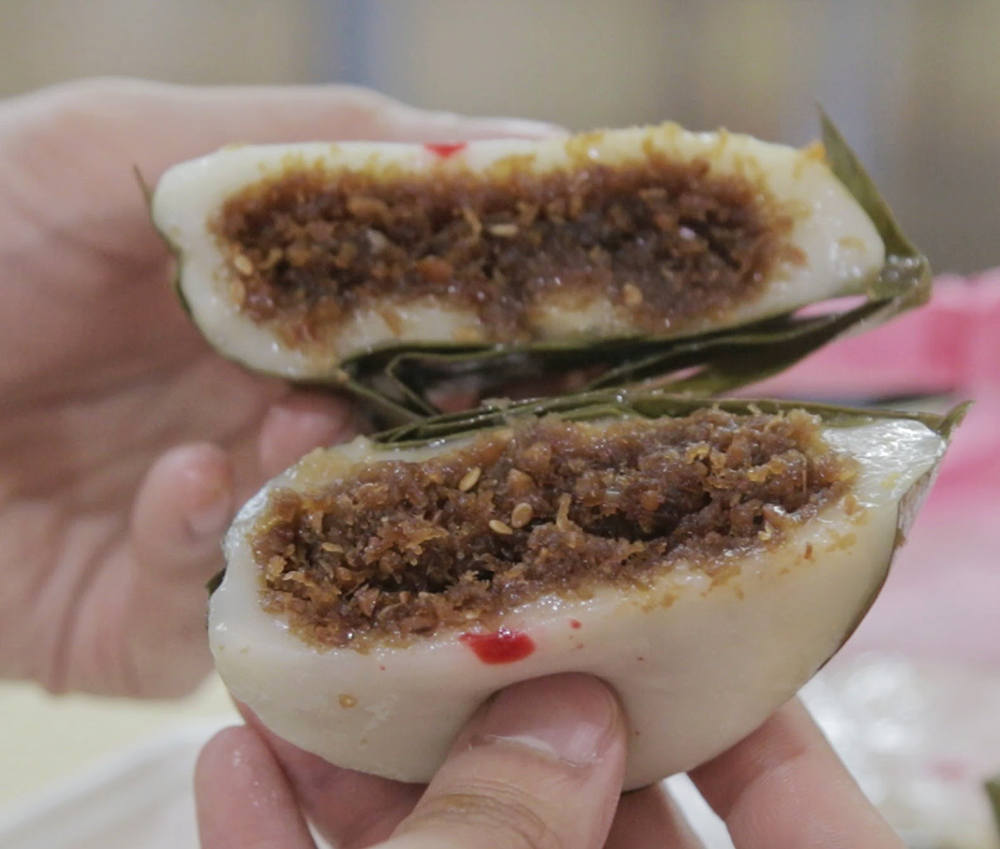 [related_story]
Business launched by circumstance
The difficult part of making yi bua would be preparing the ingredients for the filling. The wrapping, while requiring considerable skills, takes less time.
"In the old days, my mother used to wake up at 3am to prepare. She used to be able to wrap 30 pieces in one minute," Goh told us.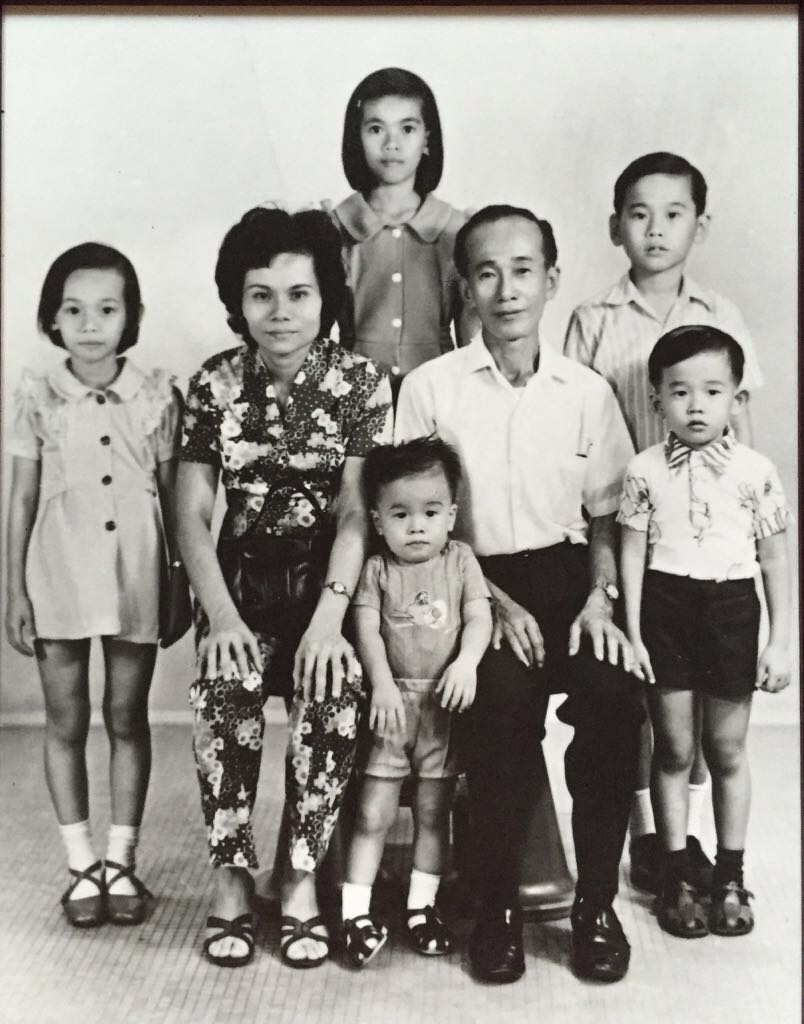 Mdm Yeoh's business was launched by circumstance - after her late husband passed away, she had to find jobs to support her five children.
"My mum, no choice, had to come out and work," explained Goh, with a quiet sigh.
"She washed the laundry for families and worked as a part-time maid. At night, she washed dishes for a coffee shop. She had to work two to three jobs each day."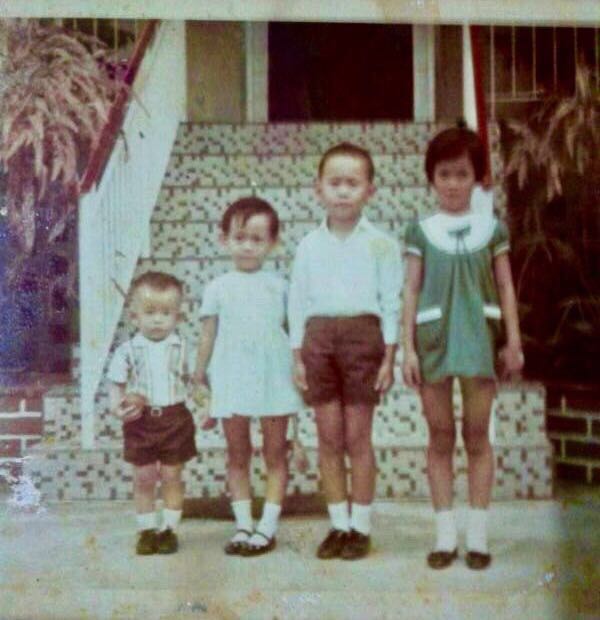 Upon the advice of the coffee shop boss, Mdm Yeoh approached her then - Member of Parliament for Kim Keat, Ong Teng Cheong for assistance.
He told Mdm Yeoh that since she has kueh-making skills, he would help her ask for assistance for a stall so that she could support her family with a kueh business.
From kaya toast to kueh
Mdm Yeoh's first business was literally bread and butter, which she sold at the market adjacent to the current hawker centre stall.
"Back in those days when she got her first stall at the market, we were selling Hainanese kaya toast," said Goh.
"Every morning I had to wake up very early and squat by the roadside to wait for fresh bread to be delivered from the main factory."
From there Mdm Yeoh also started making and selling Hainanese kueh.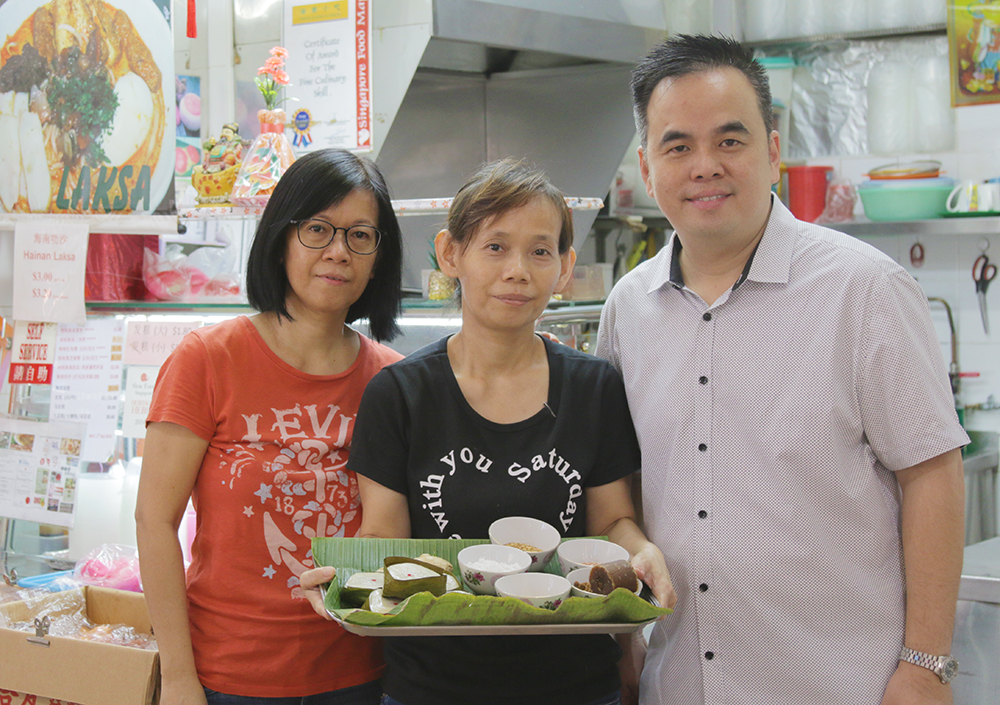 When the stall was moved to the current hawker centre, Goh told his mother that the stall needed to focus on selling something unique.
"If you sell Hokkien Mee, there are many other places that sell Hokkien Mee. If you sell Prawn Noodles, everywhere else also sell Prawn Noodles."
"We should have a niche product. We're Hainanese, we should sell Hainanese kueh," said Goh with a hearty laugh.
As we were about to conclude the interview, Goh pointed out that the Hainan Xiaochi signboard has an image of a little girl: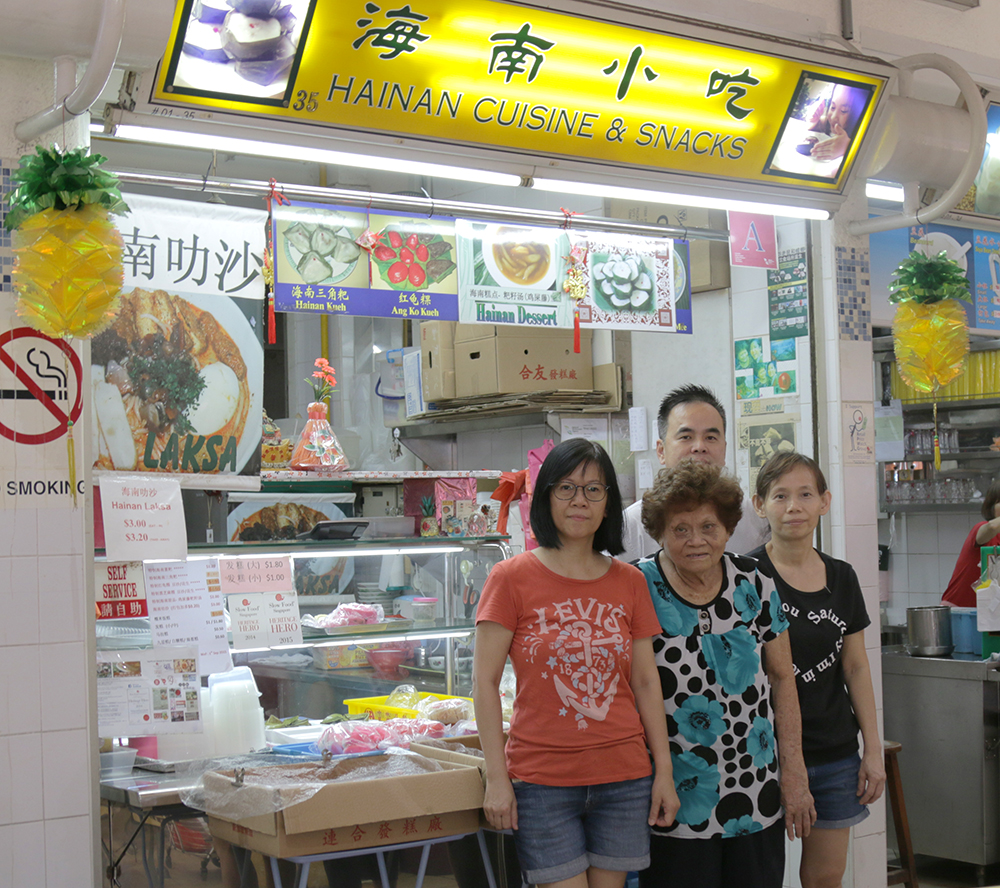 "That's my daughter," he grinned. "I want people to know that traditional kuehs are not only for old people. It's our heritage. Young people should also come try it - they might like it."
Having tried their yi bua, we cannot agree more.
You can visit Hainan Xiaochi at Blk 22 Toa Payoh Lorong 7 #01-35 S(310022).
---
If you're interested in Singaporean Hainanese culture, you might like this article:
Top image by Jiahui Wee. 
Here are some unrelated but equally interesting stories:
I tried giving people free stuff for three days and this is what I learned
I used to hate the smell of durian. Till I met you
Mums share their experience in helping their kids go cashless
If you like what you read, follow us on Facebook, Instagram, Twitter and Telegram to get the latest updates.