There are feuds in life that never seem to end.
One of them is the Ministers of Singapore vs the Reporters Sans Frontières (Reporters Without Borders for non-Francophiles).
They've been brawling since at least 2005 and there seems to be no end in sight.
A digression from the topic at hand
During his speech on terrorism in Parliament on Oct. 3, 2017, Minister for Law and Home Affairs K. Shanmugam touched upon the topic of religious diversity and the importance of multi-racialism.
He cited a study conducted by the Pew Research Centre that ranked Singapore first out of 232 countries for religious diversity.
However, Shanmugam said that he was "careful of such studies" -- even when it was positive, in this case.
"Ms Sun Xueling cited the Pew Research Centre study on religious diversity. Singapore is ranked top among 232 countries. Mr de Souza cited several studies. I will say this though. I am usually careful of such studies and reports that sometimes rank us at the top and sometimes rank us at the bottom. You need to check the methodology and the people who do these reports."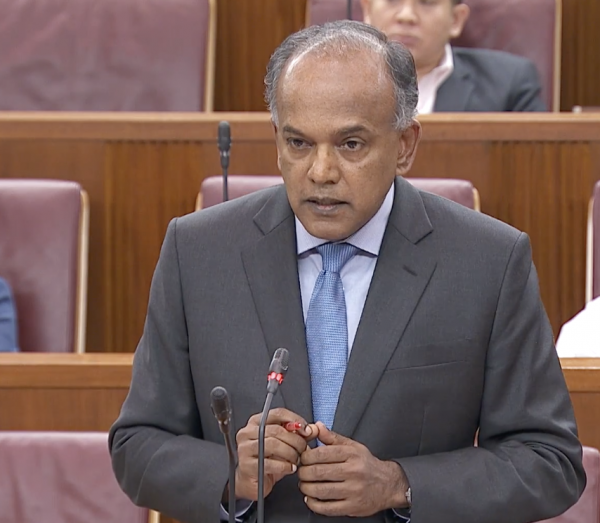 He then digressed from his main topic and took some time to criticise the Press Freedom Rankings handed out by Reporters Without Borders:
"For example, if I can digress and make a point here, RSF's (Reporter's without Borders) ranking on press freedom. I have spoken about this before in 2009. In 2008, RSF ranked us 144 out of 173 countries, below Guinea, Sudan, Pakistan, amongst others. I pointed out in 2009 that IHT (International Herald Tribune) had a news story on Guinea. It was one or two days before I made my speech. IHT said people were being gunned down by "brutal military junta" and women were being raped on the streets, but in RSF's eyes, their press freedom was higher than ours."
Shanmugam added that he urged RSF to visit countries ranked ahead of Singapore like Pakistan and Afghanistan. He concluded by saying that Singaporeans should be "discerning" about such rankings, to be aware of possible political objectives behind them and to disregard them if they are "patently false".
Poor rankings
It's no secret that Singapore ranks highly in international surveys for things like university rankings, but we rank terribly for other important things in life, like frequency of sex and press freedom.
Take a look at our RSF rankings for the past five years or so:
2017 - 151st (Below South Sudan, Angola and Oman)

2016 - 154th (Below Tajikistan, Venezuela and Chad)

2015 - 153rd (Below Gambia, Turkey and Myanmar)

2014 - 150th (Below Ethiopia, Burundi and Libya)

2013 - 149th (Below Russia, Democratic Republic of the Congo, and Cambodia)
You get the picture.
[related_story]
Shots fired
Back in 2005, then-Senior Minister Goh Chok Tong fired off a salvo at RSF during the 5th Anniversary Dinner of TODAY newspaper:
"I have taken the Reporters Without Borders's Press Freedom Index at face value. It is a subjective measure computed through the prism of western liberals. The Index was compiled based on feedback primarily from fourteen freedom of expression groups and 130 press correspondents. It lacks the careful research of hard data like the World Economic Forum's Report on World Competitiveness."
When Shanmugam said "he had spoken about this before" in 2009, he was referring to this speech he gave at the Opening Cocktail Reception of the Seasonal Meeting of the New York State Bar Association, International Section.
It's a speech well worth reading, where Shanmugam mounts a vigorous defence of the government's approach to the press, i.e. the right to a response and legal action taken for false personal attacks. But he also needles the RSF:
"How objective is the criticism of Singapore in relation to press freedom?...I will share with you something that struck me as quite absurd and divorced from reality: there is an organization called Reporters Without Borders. It comes out with a ranking of countries on press freedom. In 2008 they ranked us 144 out of 173 countries, somewhere below Ethiopia, Sudan, Kazahkstan, Venezuela, Guinea, Haiti, and so on."
He mentioned how soldiers in the West African country of Guinea gunned down citizens who held a peaceful pro-democracy rally, yet Singapore still ranked below Guinea that year.
Counter-punch
Despite these barbs, RSF dishes out as much as it takes.
In July 2014, it called for support for blogger Roy Ngerng during the libel suit brought against him by Prime Minister Lee Hsien Loong, and also criticised PM Lee.
In Oct. 2016, it criticised Shanmugam himself for apparently treating local blog The Online Citizen unfairly during their coverage of the suicide case of Benjamin Lim.
A case of two points of view
So who's right and who's wrong? Perhaps the answer lies somewhere in between.
Both Goh and Shanmugam have made the point that press freedom is not a guarantor of economic prosperity, and that Singaporean citizens are in much safer conditions than war-torn nations where people seeking liberty are fatally persecuted. Also, it's worth noting that Singaporeans can freely access the RSF website with no restrictions.
But RSF uses their own methodology, based on an online questionnaire and data of "abuses and violence" against journalists, bloggers and the like.
You can download the questionnaire and see for yourself. None of these questions relate to the economic prosperity, basic human rights, or levels of corruption within a country, as it concerns itself solely with the freedom of the press.
Perhaps the lesson to take from this is that development and press freedom aren't always linked and do not always correlate.
However, it probably means that the back-and-forth sniping between RSF and the Singapore government looks set to continue, with no end in sight.
Related stories:
S'pore ranked 154th in Reporters Without Borders 2016 index, maintains esteemed showing
Here are some totally unrelated but equally interesting stories:
Apparently, there's a headless ghost that will deliver booze to you this Halloween
5 times Singaporeans ownself scared ownself with hoaxes
I let a 20-year-old Tarot card reader inside my mind and it was nothing like I expected

If you like what you read, follow us on Facebook, Instagram, Twitter and Telegram to get the latest updates.