Ever wanted to see something you've written published in The Straits Times? If you do, bear in mind that your words are subject to edits, and not everything you write may be reproduced faithfully.
And in some cases, words you never even wrote might also end up being added.
Jolene Tan is the head of advocacy and research for the Association of Women for Action and Research (AWARE). She wrote an opinion piece about children of single parents and the housing issues they face, for ST.
A version of this article appeared in the print edition of ST on Saturday, Sept. 23, 2017, with the headline "Be child-centric all the way, including in housing". The article was also published for the online edition of ST, the current version of which you can see at the link.
After noticing that it looked slightly different from what she initially submitted, Tan wrote a post on Facebook claiming that ST had made several changes to her article — including adding words she did not use.
And sure enough, a cached version of the online article from the day it was published appears to demonstrate what Tan was talking about.
We compared it to a version of the article which Tan said was the one she originally submitted, uploaded to AWARE's website on Monday, Sep. 25 to spot the differences.
1st change:
ST added a paragraph about how "Most policies in Singapore are indeed child-friendly."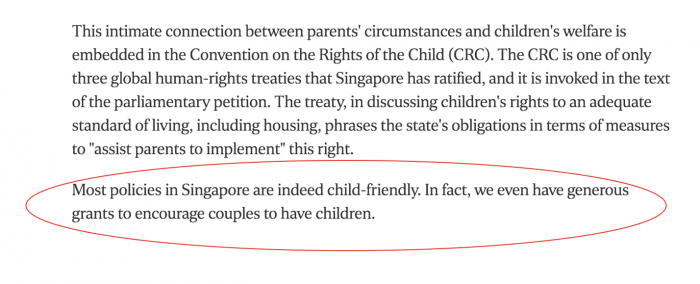 Tan said that she never included this paragraph in the piece that was originally submitted to ST. Here's the version she uploaded to AWARE's website:

2nd change:
ST removed two consecutive paragraphs that pointed out the following:
Japan had already found that reducing legal discrimination against unmarried mothers did not increase their numbers.

Previously, unmarried mothers could access subsidised HDB flats until the mid-1990s, until Prime Minister Goh Chok Tong announced in 1994 that he intended to revoke this access in order to signal "moral disapproval".

Here is the version that appears in AWARE's website:

[related_story]
3rd change:
Tan said that she did not use what she defined as "stigmatising language" of "broken relationships" to describe divorced individuals. However, the phrase, alongside a section of the sentence that appear between dashes, shows up in the version first uploaded by ST, which you can see below.

Here's how she originally wrote the sentence:

ST responds
A friend of Tan's urged her to write to ST to inform them of the issue.

The next day on Sunday, Sept. 24, ST's Opinion Editor Chua Mui Hoong took the unusual step of posting a comment directly on Tan's Facebook post to address the issue: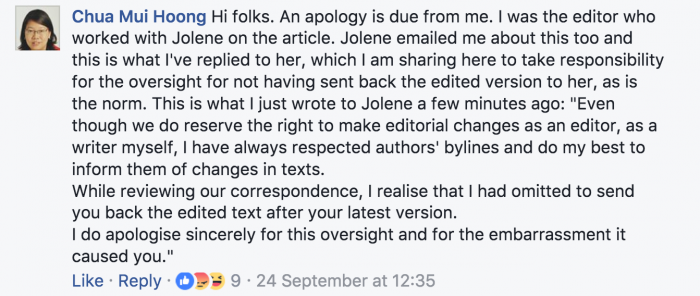 "Hi folks. An apology is due from me. I was the editor who worked with Jolene on the article. Jolene emailed me about this too and this is what I've replied to her, which I am sharing here to take responsibility for the oversight for not having sent back the edited version to her, as is the norm. This is what I just wrote to Jolene a few minutes ago: "Even though we do reserve the right to make editorial changes as an editor, as a writer myself, I have always respected authors' bylines and do my best to inform them of changes in texts.

While reviewing our correspondence, I realise that I had omitted to send you back the edited text after your latest version.

I do apologise sincerely for this oversight and for the embarrassment it caused you."
Tan later replied on that comment thread to Chua:

And she amended her original Facebook post on Sunday to reflect that Chua had spoken to her and made changes made to the online ST version of her piece, albeit with one edit still not changed back.
You can read a screenshot of her full Facebook post here: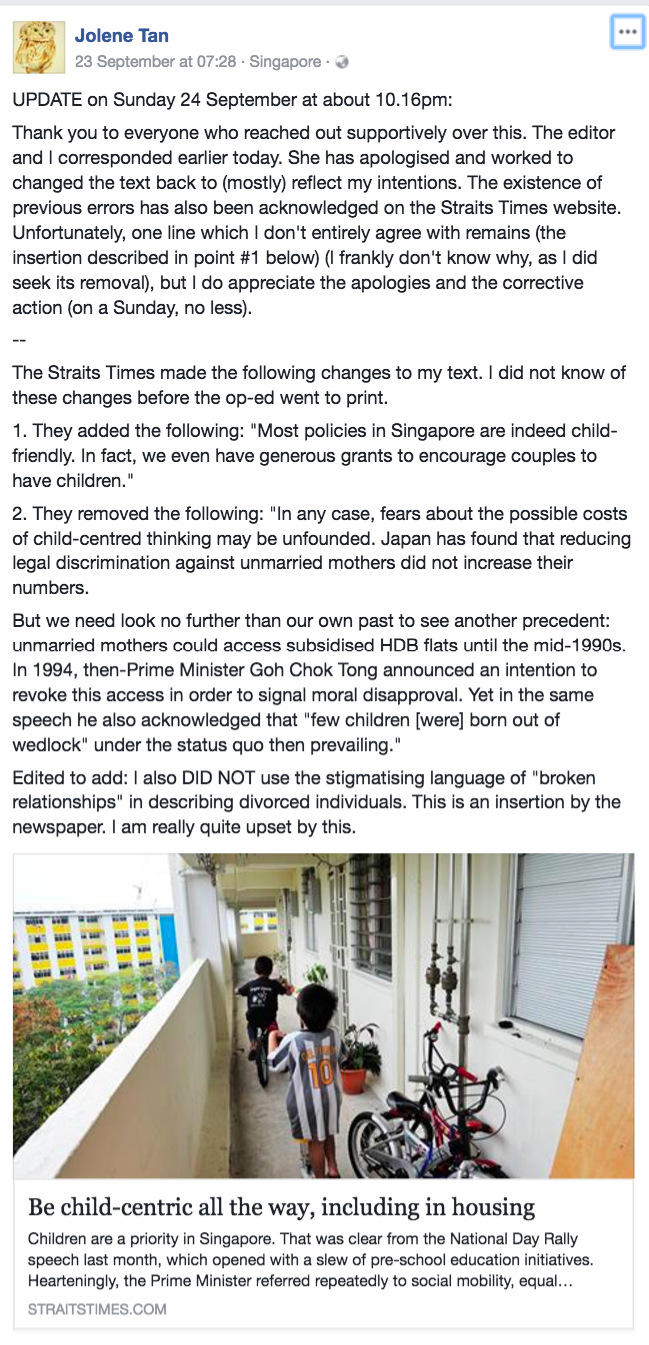 Not the first time
Although the online version of the article has been (almost) restored to Tan's original version that was submitted, and people can visit the AWARE website to read the original piece, it is too late to change the piece that appeared in the print version of ST on Sep. 23.
Hundreds of ST readers would have therefore already read the piece in print, and perhaps attributed to Tan things she never said.
And if the comments to her post are anything to go by, Tan's experience isn't the first time something like this happened — and not just from ST:



We're glad this pickle's been resolved by Chua and the paper, but future contributors might like to double check their piece once it's printed.
Here are some totally unrelated but equally interesting stories:
SCDF firefighter puts out fire & goes back into Woodlands flat to look for 2 pet cats
HK newspaper SCMP hypes up & downplays Sino-S'pore relations in a span of 6 days
Redhill MRT station really looks like K-pop music video set
Deadly office-related sins everyone would have encountered at least once
One of Us: This guy has been couch surfing in the U.S. for over 2 years to get his app started
Top image from Pixabay.
If you like what you read, follow us on Facebook, Instagram, Twitter and Telegram to get the latest updates.