Ladies and gentlemen, we have a new President-elect of Singapore.
Following the Presidential Elections Committee's decision to award the Certificate of Eligibility to only one person, Halimah Yacob, she was declared the President-elect of Singapore on Nomination Day, standing unopposed in our first reserved Presidential Election.
Halimah Yacob is a history maker. Not only has she served as our first female Speaker of Parliament, she will be our first Malay President since Yusof Ishak, the first President of Singapore. She will also be the first female President in our country's history.
The Nomination of one candidate
Despite the tight security measures under the eyes of armed officers, a sizeable crowd of supporters had already gathered, some who had waited for hours.
According to one NTUC member, about 500-600 unionists from more than 45 unions had taken half-day leave, to come down and show their support for the former Deputy Secretary-General. Most were decked out in orange, the colour of Halimah's campaign.
Members of the AIN Society, a charitable organisation whom Halimah serves as an Advisor, also turned up in support.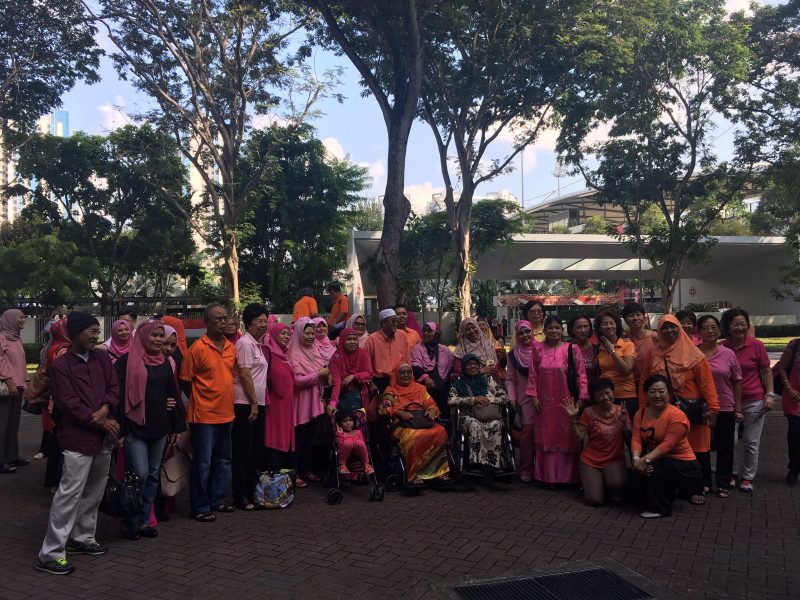 Women activists were out today as well, hoping to catch a glimpse of the future first female head of state. Saleemah Ismail, former President of the UN Women Singapore committee, said:
"She's always (been) the voice for women. In Parliament and in government."
Jannie Chan, President of the Women's Business Council and founder of Hourglass, said:
"She's always been ahead of her time in advocating (for) women and children, and the underprivileged."
Halimah arrived at the Nomination Centre at 9 King George's Avenue at 11.15 am, accompanied by her husband, Mohamed Abdullah Alhabshee. Her proposer, Singapore Business Federation Chairman and Chinese community leader Teo Siong Seng was also part of the entourage.
Her arrival was greeted with loud cheers from her supporters and cries of "Madam!". She took some time to greet her supporters and shake a few hands before heading into the Nomination Centre to submit her paperwork.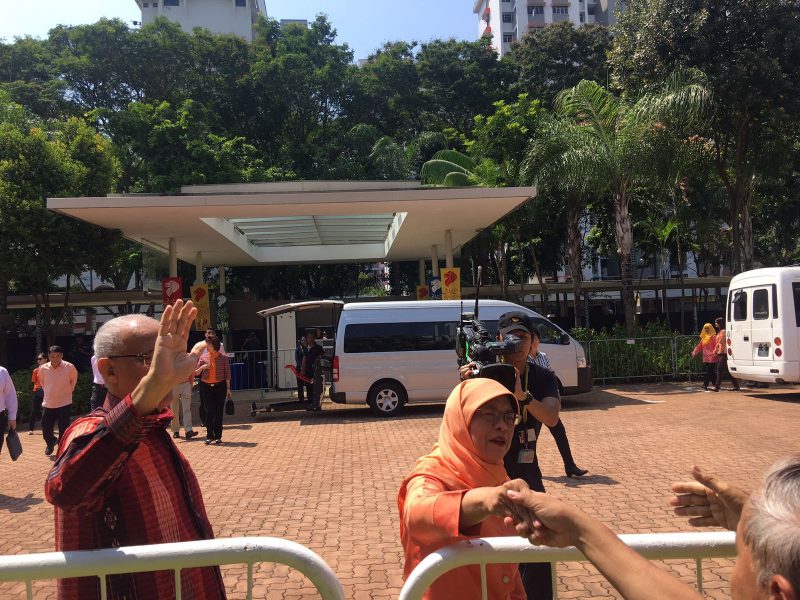 After a brief period Halimah emerged once more, this time with Singapore's Returning Officer, Ng Wai Choong (who replaced our beloved Yam Ah Mee in 2013). Ng read out the results and formally declared Halimah as Singapore's President-elect.
The swearing-in ceremony will take place this Thursday, Sep. 14 at the Istana. Prime Minister Lee Hsien Loong and former President Tony Tan Keng Yam will likely be in attendance.
[related_story]
Started from the bottom now we here
Halimah joins the ranks of female South East Asian leaders, like President Megawati Sukarnoputri of Indonesia, Prime Minister Yingluck Shinawatra of Thailand, and President Gloria Arroyo of the Philippines.
But unlike other female politicians in Southeast Asia and Asia at large, Halimah did not capitalise on the reputation of a famous relative already prominent in politics. She is the first person in her family to enter the political world.
Her father died when she was young, and Halimah had to help out at her mother's hawker stall after school and on weekends to make ends meet. However, she persevered and pursued an undergraduate law degree in NUS, and later joined the National Trade Unions Congress as a legal officer.
After a career in the labour movement spanning nearly 30 years and achieving the post of Deputy Secretary-General, the PAP tried to recruit her twice, only for Halimah to turn them down both times.
"They talked to me and they said that, you know, can you come another tea session? I said no, I'm very busy. Whatever you have in mind, I think I'm not the right person."
It was third time lucky for the PAP when former Prime Minister Goh Chok Tong himself came calling, and implored her to use her talents to serve a broader group of Singaporeans.
"I said I'm already doing public service, you know, and I'm in the labour movement. He said ya.. but imagine, you can reach a wider group of people. So I said, ya. But he said, 'think of the good that you can do. A wider good.'"
Stepping onto the world stage
The President is also known as Singapore's chief diplomat, and there could be a few State Visits abroad to come. We know that PM Lee met with President Donald Trump at the G20 meeting and that he is scheduled to visit Washington. Will Halimah travel there as well? It remains to be seen.
While Halimah prepares for her new role as the symbol of our nation and our chief representative on the world stage, it's safe to say the concerns of the ordinary Singaporeans will never be far from her thoughts as well. She has six years to make her mark, before deciding whether to continue her service in the highest office in the land.
Congratulations and best of luck, Madam President-elect.

Top pic from Jeanette Tan
Related stories:
Angry react only: A Halimah Yacob walkover induces palpable angry reactions
"Mixed reactions" to Halimah being headed for a walkover? We disagree.
Halimah Yacob, sole eligible person in race to Istana, promises to do her best to unite S'poreans
Only one certificate of eligibility given out for Presidential election, and it was to Halimah
Here are some totally unrelated but equally interesting stories:
There are tons of GrabRewards points you haven't been using
This app lets you read nostalgic books from your youth for free
If you like what you read, follow us on Facebook, Instagram, Twitter and Telegram to get the latest updates.