There are many things that are shiok in life – finding an empty seat on the train, finding $50 mysteriously in your wallet and getting the GST voucher when election comes.
None of these might occur often, but here's one that is waiting for you here, if you use Grab.
Open your Grab app now. Instead of booking a ride, click on the menu button and look for "GrabRewards".
Like this, see that right below GrabPay?
Bam! My face when I notice GrabRewards for the first time:
Stop sitting on your points, use them to Grab - Rewards instead
Veteran Grab users would probably use their points to redeem these GrabRewards to get discounts on their rides already: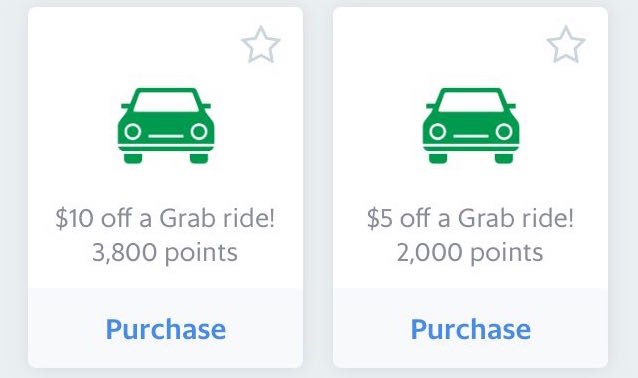 But now, instead of redeeming a $5 off your next ride with 2,200 points, you can use 2,300 points to get $7 off your next KFC delivery (min. purchase of $35 required). More value leh!
That's just one of the many new perks available for Grab users. Other exciting retailers include Spotify and Deliveroo.
Every point is a precious gain (we feel you) so if you're looking for 'cheaper Rewards', there are also $8 OFF Love, Bonito at 2,700 points and $5 OFF for Cotton-On full-priced items at 1,700 points.
Still not enough points to get these discounts ah? Okay, try this.
Typically you will earn 1 point for every dollar spent on Grab rides -- like very little right?
From 1 July 2017 onwards, every point you earn will be multiplied by 8 if you used cash or 16 (Zomg!) if you used GrabPay (credit cards and GrabPay credits) to pay for your rides.
Still don't get it? If you use GrabPay, you will get twice the amount of points from the same ride.
To illustrate: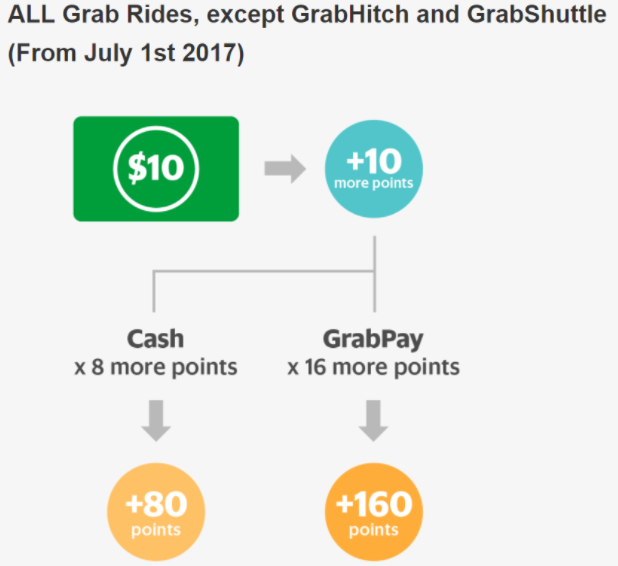 Now that you're equipped with this knowledge, go forth to earn more points and grab those Rewards that you deserve!
More info can be found here
This post is sponsored by Grab who probably is the first ride-hailing app in Singapore that provides retailer discounts and deals.
If you like what you read, follow us on Facebook, Instagram, Twitter and Telegram to get the latest updates.