Paya Lebar Air Base was once an airport for Concorde flights, here's more on its colourful history
Aircraft at the current air base include the F-15SG fighter plane.
By Ruth Jaensubhakij |
July 28, 2017
In case you haven't heard, Tengah Air Base and Changi Airbase East will both be undergoing expansions into their surrounding areas in the coming years. This is happening to accommodate the relocation of Paya Lebar Air Base.
While good news for some, who may benefit from the removal of height restrictions and increased room for redevelopment in the central-eastern region of our island, it also signifies the end of an era for Paya Lebar Air Base, which has been around since Singapore's pre-independence days.
And though the relocation isn't due to happen until 2030, there's no time like the present to reflect on Paya Lebar Air Base's history.
Paya Lebar Air Base began life as Paya Lebar Airport, with a single runway and an interim building. It had been built over the course of three years, and was designed to replace Kallang Airport as Singapore's civil international airport.
Changi was considered to replace Kallang back then, but the Public Works Department found that the soil there was too weak.
Paya Lebar Airport was ready for flight trials by mid-1955. First Officer Chan Soon Kim made two successful landings in a Malayan Airlines plane carrying over 20 passengers on July 23, 1955, and the trial was declared "most satisfactory".
Over 10,000 people attended the airport's opening ceremony on August 20, 1955, which was a grand event complete with a ceremonial fly-past involving 24 planes from the air forces of the UK, Australia, New Zealand, and Malaya.
Colonial Secretary Alan Lennox-Boyd officiated the ceremony.
A Garuda flight from Jakarta was the first to touch down on its runway after its official opening, and from then on all commercial flights in Singapore were transferred from Kallang Airport to Paya Lebar Airport.
The airport was well-received by the public, with some even describing it as one of the finest in Asia. Construction and expansion on the facility continued until as late as 1964, when a $3.5 million permanent passenger terminal opened.
In 1964, the airport also saw the Beatles stopping over in Singapore for 55 minutes while on their way back to London.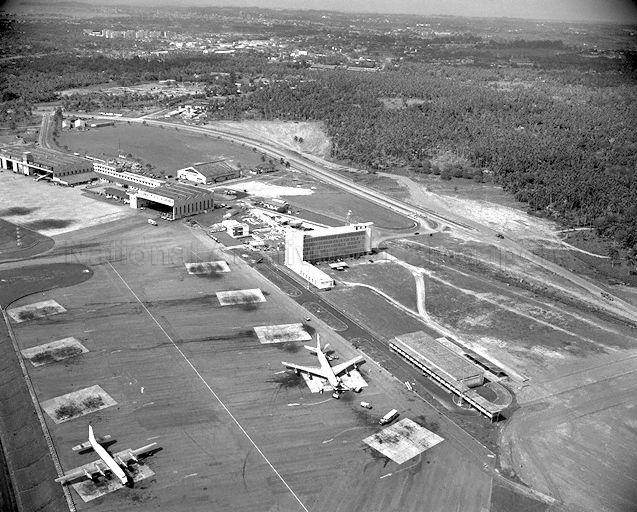 By 1970, as passenger and aircraft volume increased, it became clear that the airport was struggling to cope.  The terminal, which was built to handle one million passengers annually, handled 1.7 million passengers that year.
The airport underwent further expansion, and it would take on historic supersonic Concorde flights to Singapore between 1977 to 1980.
Despite airport's expansions, the government eventually decided that a new and larger airport had to be built in Changi.
Paya Lebar Airport's last scheduled international flight— SQ 28 to Abu Dhabi and Frankfurt — departed on June 30, 1981. The next day, on July 1, Changi Airport opened its doors and took over the old airport's role as Singapore's civil international airport.
The airport did not remain empty for long though, as the RSAF converted the facility into a military air base. It was renamed Paya Lebar Air Base in late 1981.
Presently, the base is home to various squadrons and aircraft, including what is probably the most powerful fighter jet in the RSAF – the F-15SG Strike Eagle.
Paya Lebar Air Base is also currently used as a staging post for several U.S. Navy and U.S. Air Force units.
The 497th Combat Training Squadron of the U.S. Air Force has used the base for flight operations since 1991. It provides operational and logistical support to visiting U.S. fighter aircraft training with the RSAF.
Beyond the base's serious military functions, it is also the home of the RSAF's Air Force Museum and the RSAF Open House, which are open to the public.
The original terminal and control tower from Paya Lebar's days as a civil international airport still remain standing to this day.
But it remains to be seen if these, or any other structure at the air base of historical significance, will be conserved after the air base's relocation in 2030 for the area to be redeveloped to build homes, parks, factories, and offices.
Here are totally unrelated but equally interesting articles:
The Kiasi guide to surviving a mass attack of any kind
4 real life versions of comic book superpowers you used to read about in your childhood
Top photo via. 
1819 is a labour of love by Mothership.sg where we tell stories from Singapore's history, heritage & culture. Follow us on Facebook, Instagram and Twitter!
If you like what you read, follow us on Facebook and Twitter to get the latest updates.