What a time to be alive, for us to see a case like this in Singapore.
If you haven't already heard, the father of an Anglo-Chinese School (Barker Road) student took its principal, Peter Tan, to court.
The principal had confiscated the boy's iPhone 7 after he was caught using it during school hours.

This, despite both father and teenage son having full knowledge of the school's rules, which state that anyone caught using their phones during school hours would have them confiscated for three months.
And do you know how we know they do know? Check out Page 3 of this letter Tan sent out to parents, dated Jan. 3, 2017: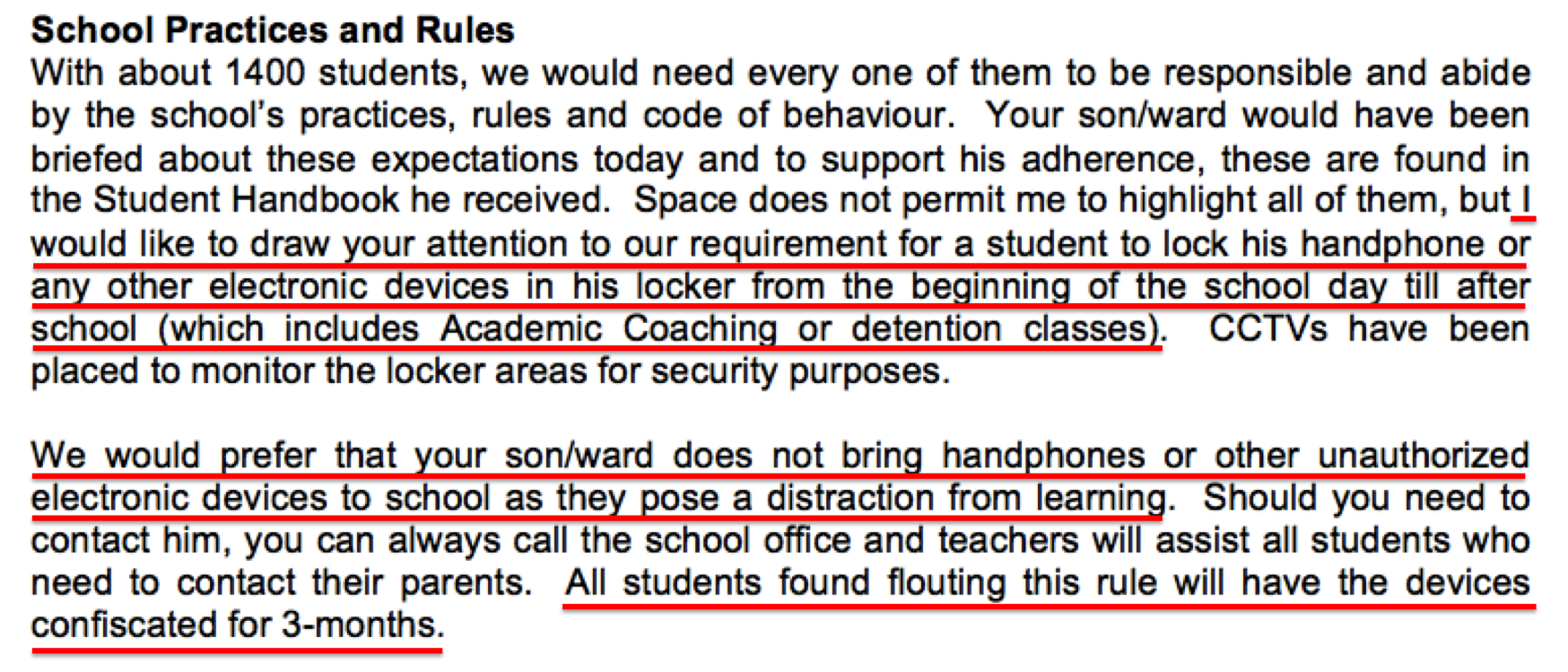 We plucked out the relevant sections, which we underlined in the screenshot above, for your convenience:
"I would like to draw your attention to our requirement for a student to lock his handphone or any other electronic devices in his locker from the beginning of the school day till after school (which includes Academic Coaching or detention classes).

[...]

We would prefer that your son/ward does not bring handphones or other unauthorized electronic devices to school as they pose a distraction from learning... All students found flouting this rule will have the devices confiscated for 3-months. (emphasis ours)"

How the phone got confiscated, and the father's case
Looks pretty clear to us, and in fairness, details laid out in the ongoing civil suit shows the dad of this wayward secondary school student does not dispute knowing about this.
According to the broadsheet, which received details of the case from the State Courts, where the case is being heard, on March 8, the boy was caught using his phone in school.
He admitted to his misdeed to Tan on March 21, whereupon his phone was confiscated, as per the rules, but his SIM card was returned with a receipt saying he could collect it three months later — that would, presumably, be in about two weeks' time.
Now, the father is suing Tan for damages. His lawyer Andrew Hanam's case for this: retaining the phone amounts to the tort of conversion — denying a person his rights to his own property.
Oh, and also, this gem of an argument: the father, who owns the son's phone, is not bound by the school's rules "as there is no contract between him and the principal". 
But in the meantime, the dad filed a wishful request for a court order to force Tan to return the confiscated phone to his offspring immediately.
Roundly turned down
We're amazed that a court of Singapore has to decide who is right — parent or principal — in this scenario, but here goes.
In response, District Judge Clement Julien Tan, who heard the dad's plea for an immediate return of his son's phone on April 28, stated the obvious: No.
Reason #1: The principal was simply following the rules.
Reason #2: The dad's claim that he is not bound by the school's rules and hence should get his phone back is "untenable". Besides, said District Judge Tan, if the dad had any issue with that rule to begin with, he "could have enrolled his son in another school".
Reason #3: The dad had not made out any special circumstances that would warrant any exceptions to be granted to him.
Reason #4: Forcing Principal Tan to return the phone early would defeat the purpose of the rule, and also trigger a landslide of other parents demanding the early returns of their sons' confiscated devices.
The judge also taught us a new word in saying this:
"This may also send a wrong signal to the students that they can use their mobile phones during school hours with impunity, thus rendering the Phone Rule otiose (meaning, serving no practical purpose or result — you're welcome), however temporarily this might be so."
Now, just an FYI, the dad still has an undecided case before the courts, which is whether or not he and his son are entitled to damages from Principal Tan and the school because the latter held on to the student's phone for three months.
But indeed, the judge has made as crystal clear as he possibly could've, that they're not gonna get it back just yet.
Consider this parent duly schooled.

Here are totally unrelated but equally interesting articles:
Step aside, influencers. These are the real influencers who have been disrupting industries with MNCs.
Where can a regular twenty-something realistically travel to with the KrisFlyer UOB account?
Related article:
ACS boy gets phone confiscated by school, parents sue principal to get it back
Photo of ACS Barker Road by Peter Tan, image of iPhone 7 via Getty Images
If you like what you read, follow us on Facebook and Twitter to get the latest updates.
If you like what you read, follow us on Facebook, Instagram, Twitter and Telegram to get the latest updates.