The Blue-crowned Hanging Parrot is a small, bright-green-feathered bird resident to Singapore, Southern Thailand, Malaysia and Indonesia.
They're not easy to spot (they're usually no more than 15cm in length) and move very quickly, although they have been spotted in a spread of locations around our sunny island before.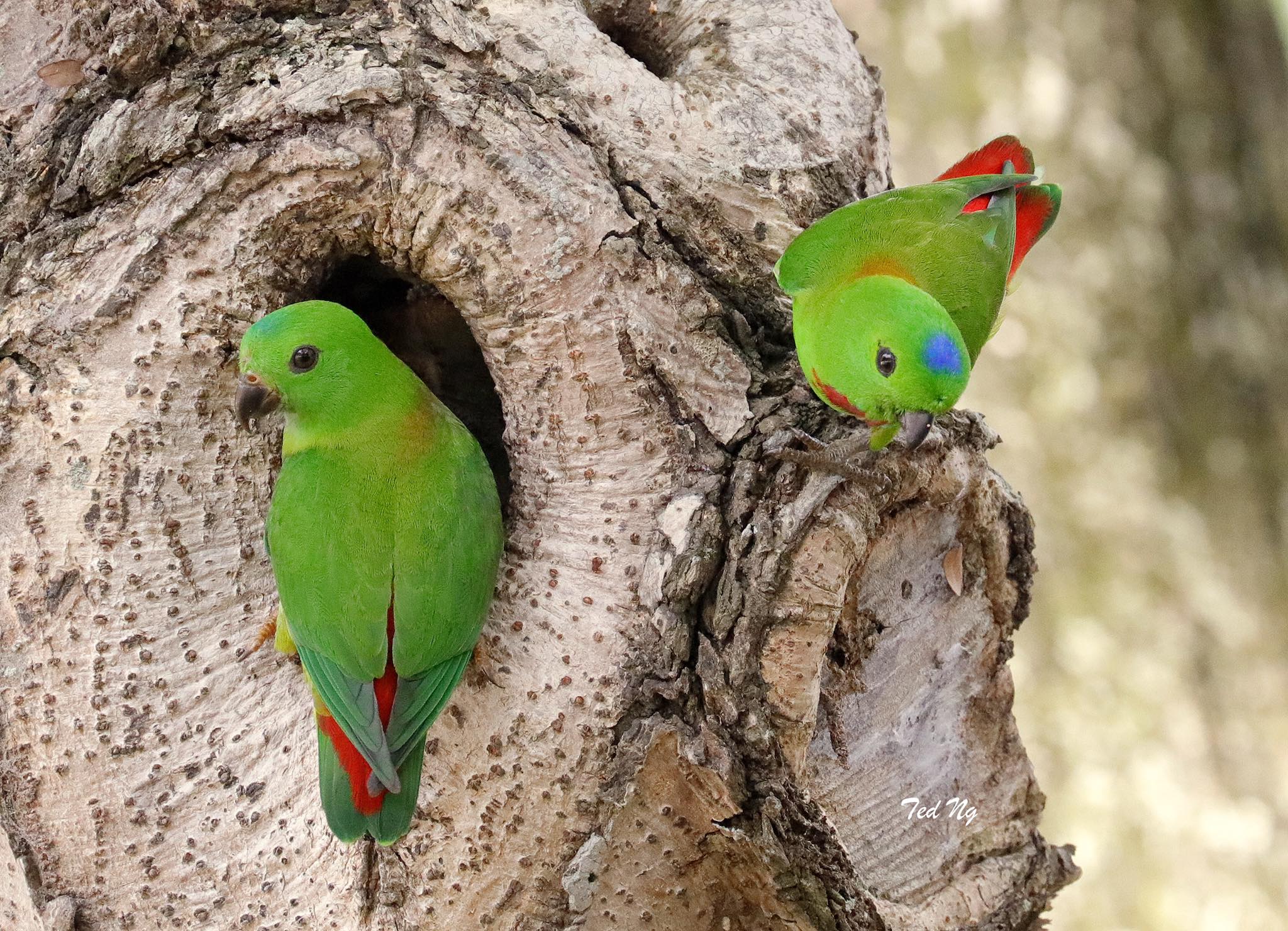 Males have a blue patch of feathers at the top of their heads and a red "moustache" on their chests. Female hanging parrots don't have as pronounced a blue patch, and have no red moustaches. Both enjoy literally hanging upside down from branches of trees, though.
They're rarely sighted in an urban setting, and usually set up shop up in the canopy of high trees, so bird-watching photographers flocked to camp at a tree opposite Pek Kio Market and Food Centre when a couple was found to have nested less than 5m from the ground in it in late March.
As you can see, this species of parrots has stunning vibrant colours: Chiefly in green, with red tail coverts and some yellow feathers at the back of the neck.
It is also not difficult to guess from their name that they are acrobatic experts which can hang themselves on tree branches and trunks easily, even for the juveniles: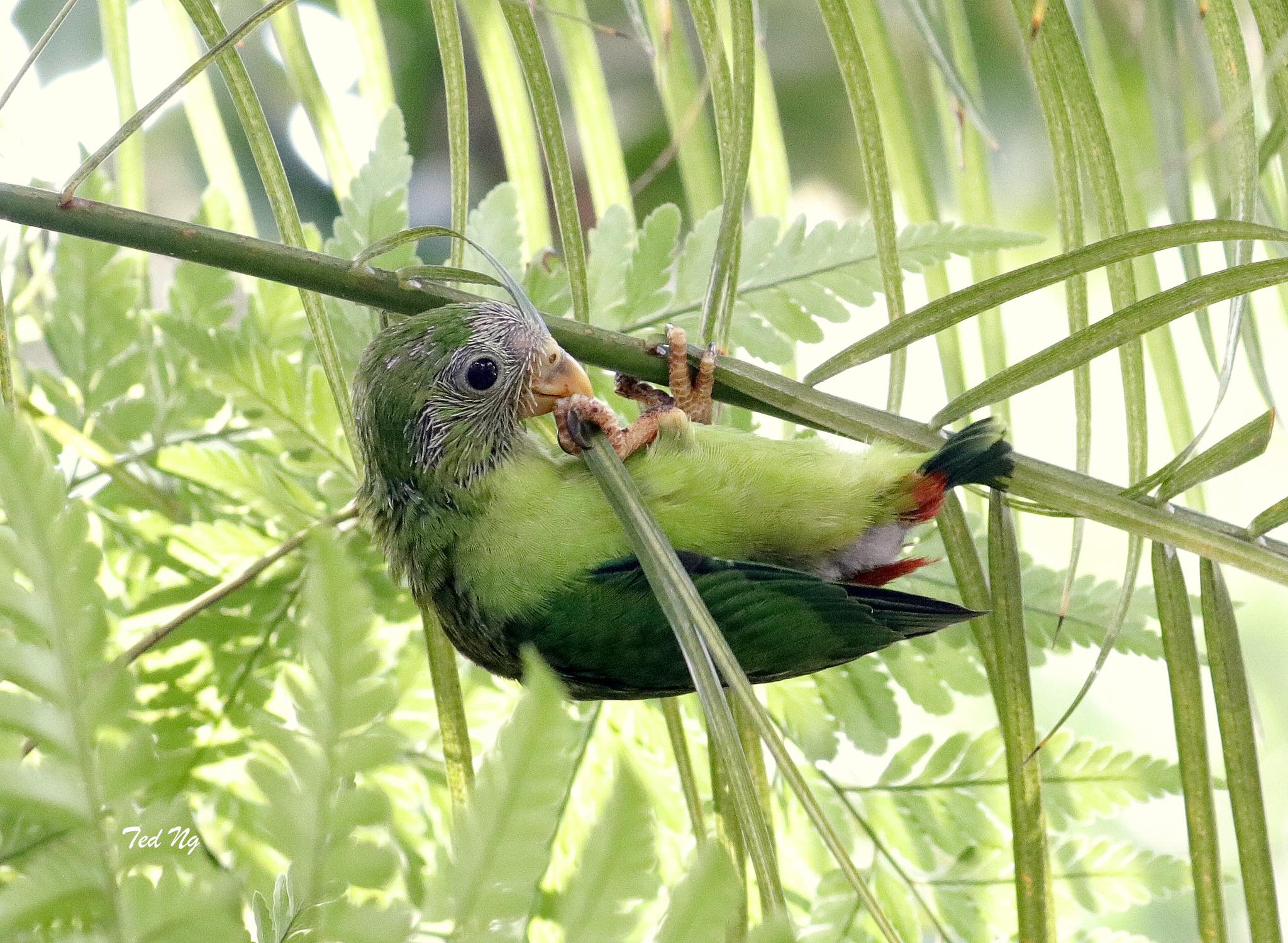 Fun fact: According to The Guardian, they sleep upside down like bats: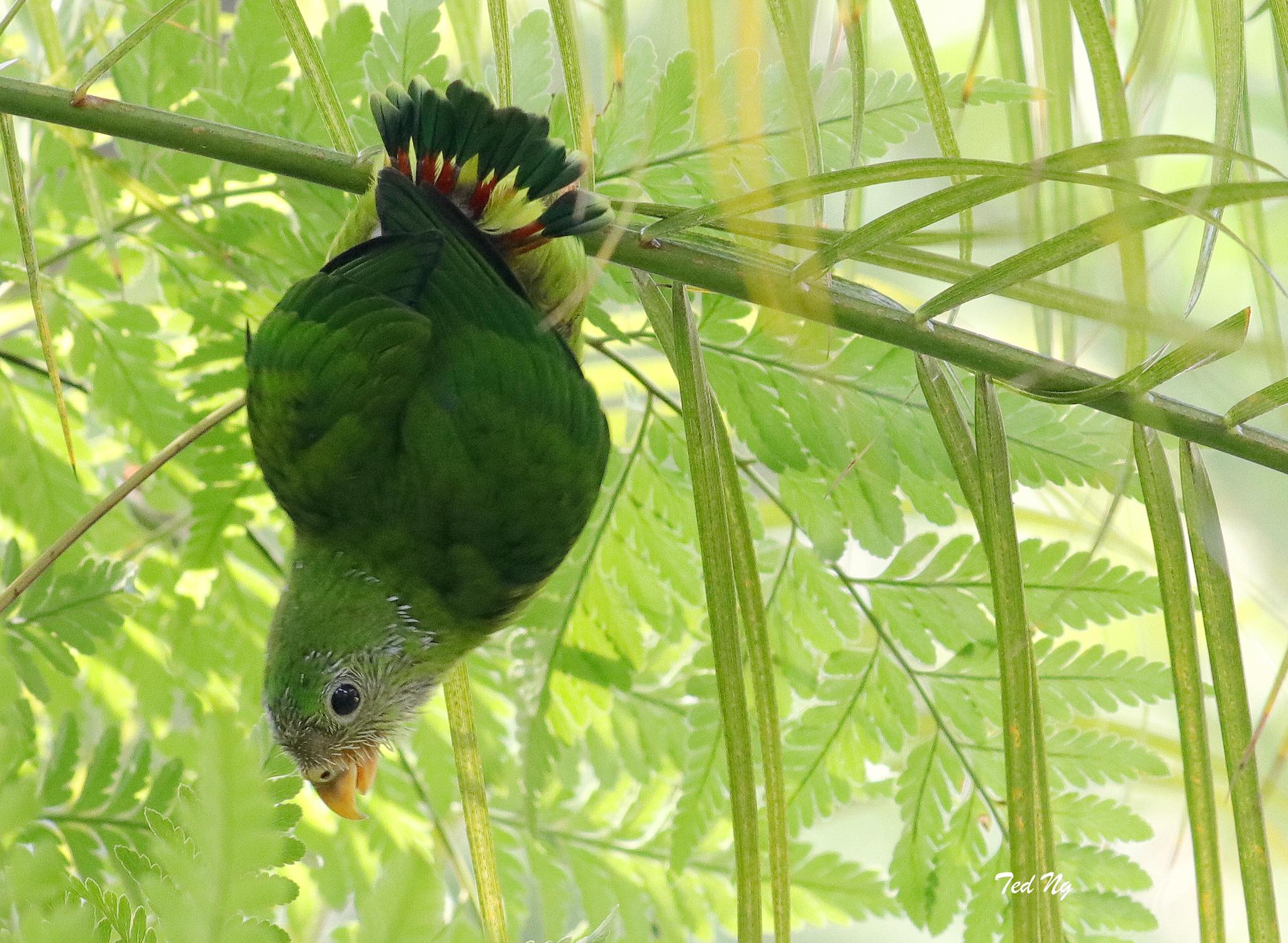 Interestingly, Blue-crowned Hanging parrots cannot make their own holes to nest in, so they nest in holes that other birds, possibly woodpeckers, create.
This crowd of hardcore bird-chasing photographers is a rare sighting too: https://www.instagram.com/p/BSigqMhB7Tz/
Bird-watching (and photography) is a tedious hobby to have, though — it takes a videographer hours, possibly days, before being able to snag a video like this:
" frameborder="0" allowfullscreen>
Here's an awesome shot of a parent parrot returning to the tree-hole: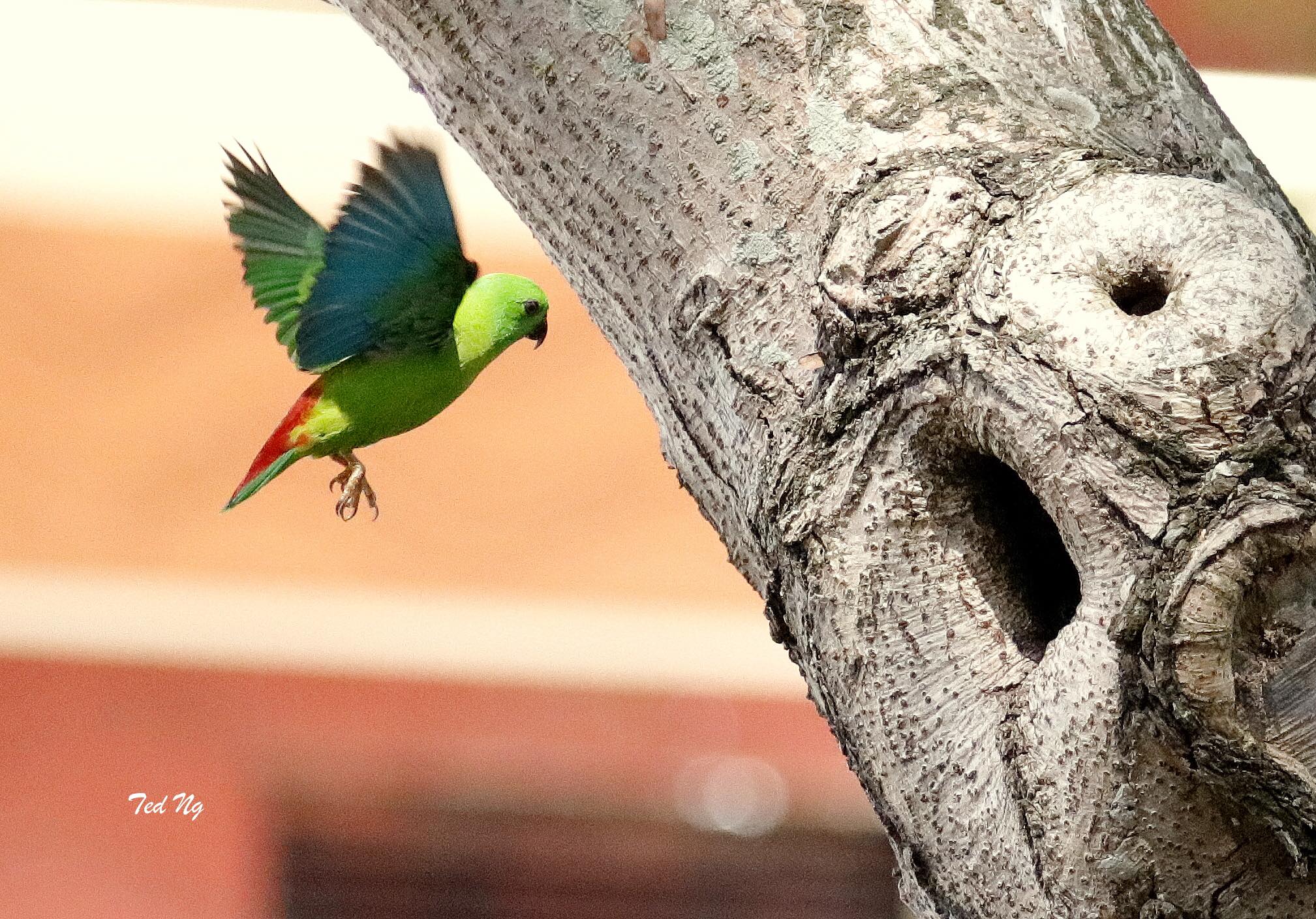 And here are the happy parents outside the nest: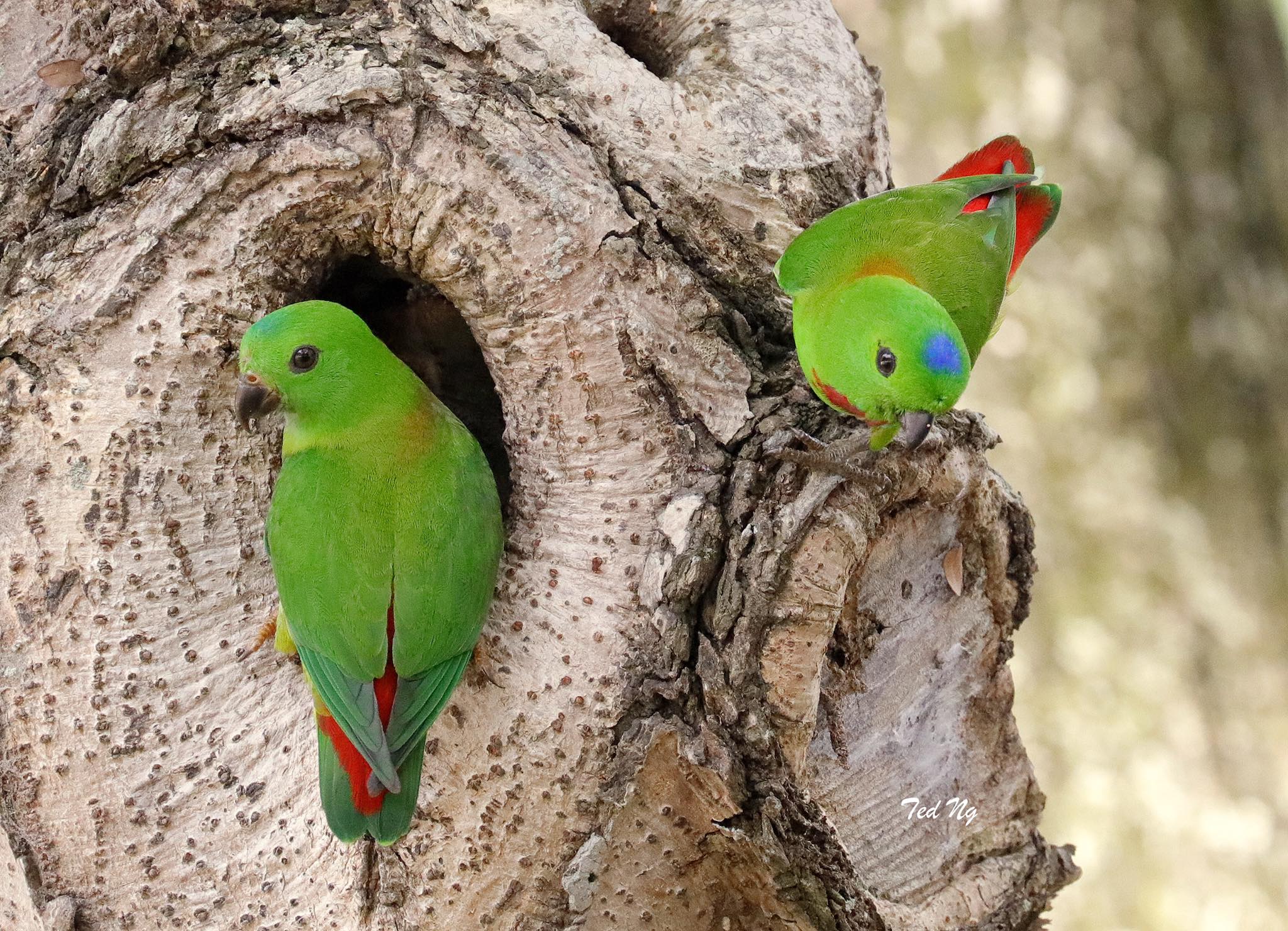 Feeding time: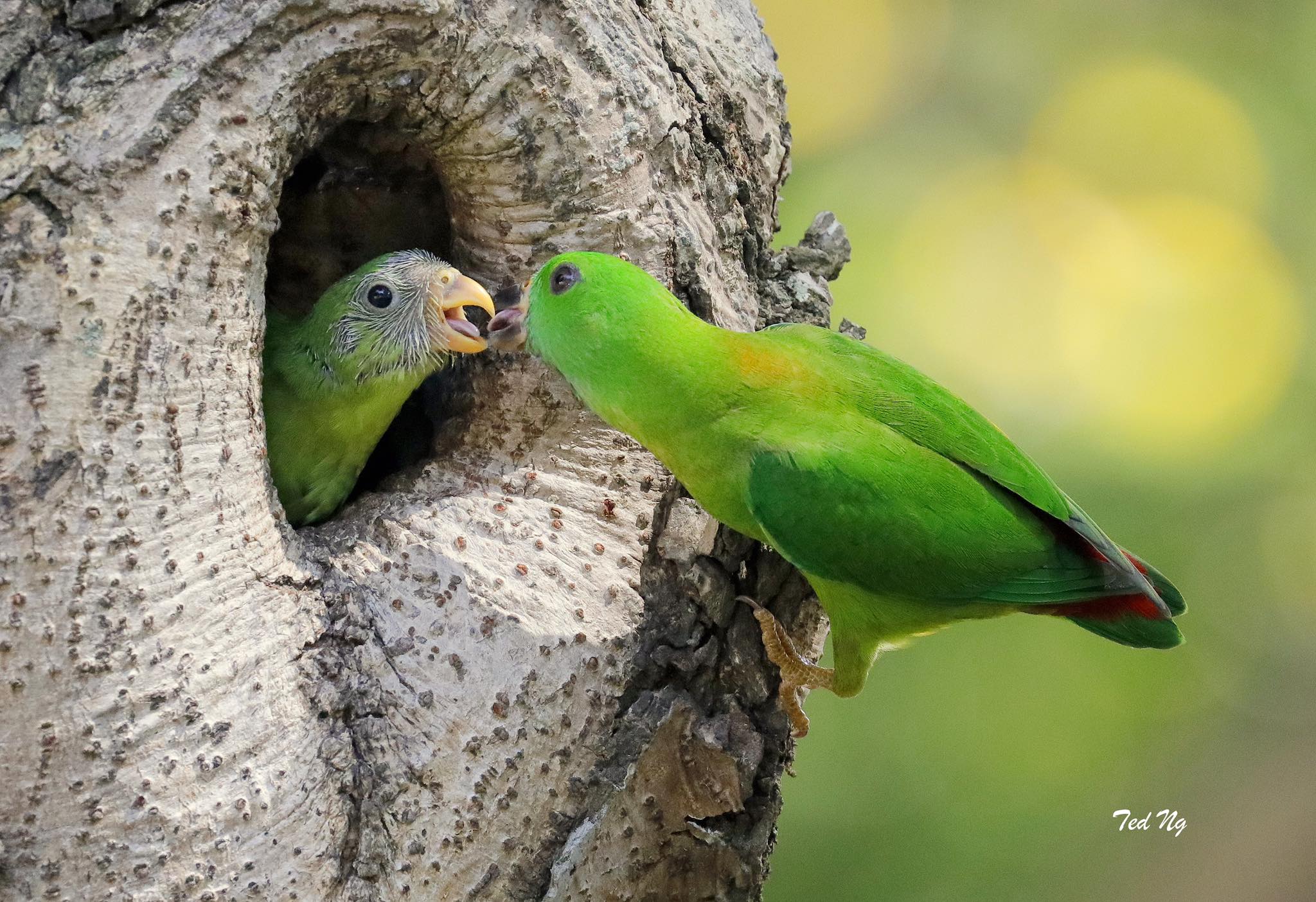 Here are some shots taken of the baby parrot:
This video Ng recorded shows the moments just before the fledgling young parrot took its first flight:
[video width="700" height="524" mp4="https://static.mothership.sg/1/2017/04/17876489_396512740735155_2610181986626568192_n.mp4"][/video]
(Video Courtesy of Ted Ng)
And at around 10.40am on Apr 11, it did it!
[video width="700" height="524" mp4="https://static.mothership.sg/1/2017/04/17877566_1628376317190593_4051779693580386304_n.mp4"][/video]
(Video Courtesy of Ted Ng)
Juvenile blue-crowned hanging parrots typically fledge after a month or so of living in the nest. After this happens, the family departs from their hidey-hole.
It's possible they might return a year later, the way this family of sunbirds did, but again, it depends on how comfortable they feel about the spot — a tough call, with all the paparazzi snapping away mere metres below.
All the same — hey Singapore, you're a pretty vibrant nature spot aren't ya? :)
Top photo collage courtesy of Ted Ng
Related articles:
Olive-backed sunbirds build nest at Sengkang family's potted plant, humans enjoy free science lesson
S'pore lady tracks growth of 2 rare birds outside her house over 17 days, results are amazing
Majestic bird of prey on the ground looking out of sorts at Jalan Membina
Hornbill queued up for Old Chang Kee, guarded Mackenzie Road carpark
If you like what you read, follow us on Facebook and Twitter to get the latest updates.
If you like what you read, follow us on Facebook, Instagram, Twitter and Telegram to get the latest updates.