In the midst of the frenzy and fury that erupted from the Toa Payoh Lorong 8 hawker centre seating confrontation, an unrelated Straits Times report went seemingly under the radar.
After Underwater World Singapore (UWS) officially closed last June, five pink dolphins, three fur seals and five otters were supposedly sent to Chimelong Ocean Kingdom (COK for short) in Zhuhai, China.
However, during three visits to COK last month, investigators from a conservation group known as Sea Shepherd only saw four pink dolphins on display: two adult females and two younglings.
Clamming up, conflicting information all round
When Sea Shepherd's investigators asked about the dolphins, there was also a discrepancy in the answers from staff they approached on the ground.
One claimed the fifth dolphin was kept in an off-site research facility, while another said there were "only four left" at Chimelong.
Furthermore, the City of Zhuhai reported that the five dolphins they received from Underwater World consisted of one adult male, one adult female and three calves, which did not tally with what Sea Shepherd observed.
Meanwhile, the Sea Shepherd folks also observed injuries on the two adult female dolphins at COK, one of which is also suffering a degrading skin condition — either a sign of age or skin cancer.
According to the Straits Times, UWS refused to reveal the whereabouts and conditions of the three missing dolphins (two following the closure of UWS and one who is missing from among the five sent to China).
Instead, they issued a general statement saying that all the remaining aquatic animals were rehoused safely to various regional facilities by end-October last year.
The Agri-Food and Veterinary Authority (AVA), which issued the permits to UWS to trade in the pink dolphins, reportedly declined additionally to state the number of permits they granted to UWS — citing organisational confidentiality. They would only say that they worked with UWS in the rehoming process.
In short, we will not be able to find out where other marine animals were relocated to specifically; nor will we be able to find out how are they doing — or if they are even still alive.
Here's why this tremendous lack of transparency is a problem, especially for the dolphins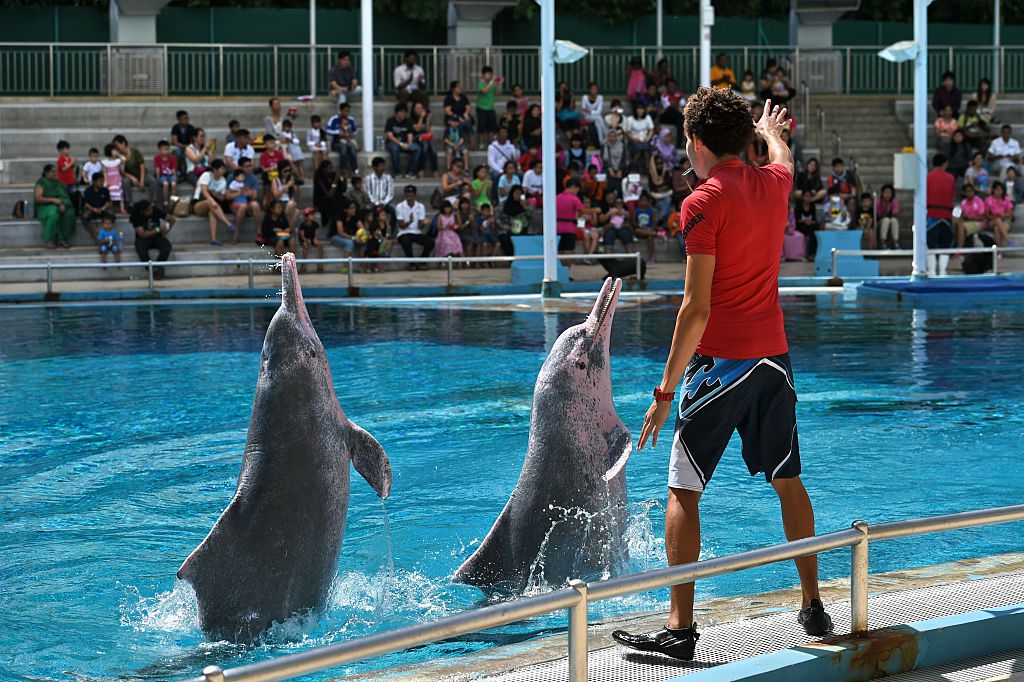 As most of us know by now, dolphins are highly intelligent marine mammals with complex social structures. They depend on echolocation to navigate or communicate with its same kind.
Formally known as Indo-Pacific humpbacked dolphins, the pink dolphins at UWS's Dolphin Lagoon are no different. Their conservation status at the moment stands marked as "near threatened" by the International Union for Conservation of Nature (IUCN).
Indeed, it's also been established widely by animal and wildlife activists that keeping dolphins in captivity is bad for them — aquariums and zoos are inevitably incomparable to the space that the vast oceans and seas accord.
Even in Singapore, the keeping of dolphins in captivity has been a widely contentious issue.
The SEA Aquarium at Resorts World Sentosa, for instance, was the target of much scrutiny by animal lovers and activists — a batch of 20-plus bottlenose dolphins now housed there were caught from the wild in the Solomon Islands.
The group of 27 shrunk to 23 between 2011 and 2014, with one dying on the journey to the Philippines, another two dying while there, and a fourth passing away in Singapore.
Some have justified their actions by saying they do this for research, conservation and education purposes. Be that as it may, these lofty goals don't absolve marine parks from the obligation to be held accountable for the standards of their animal husbandry.
And that's why Sea Shepherd persists in crying foul on our marine parks — as ST pointed out quite astutely, places like UWS and RWS have repeatedly refused to come clean when animals in their captivity have died or fallen sick, only doing so in as vague as possible a fashion when probed by activists or media.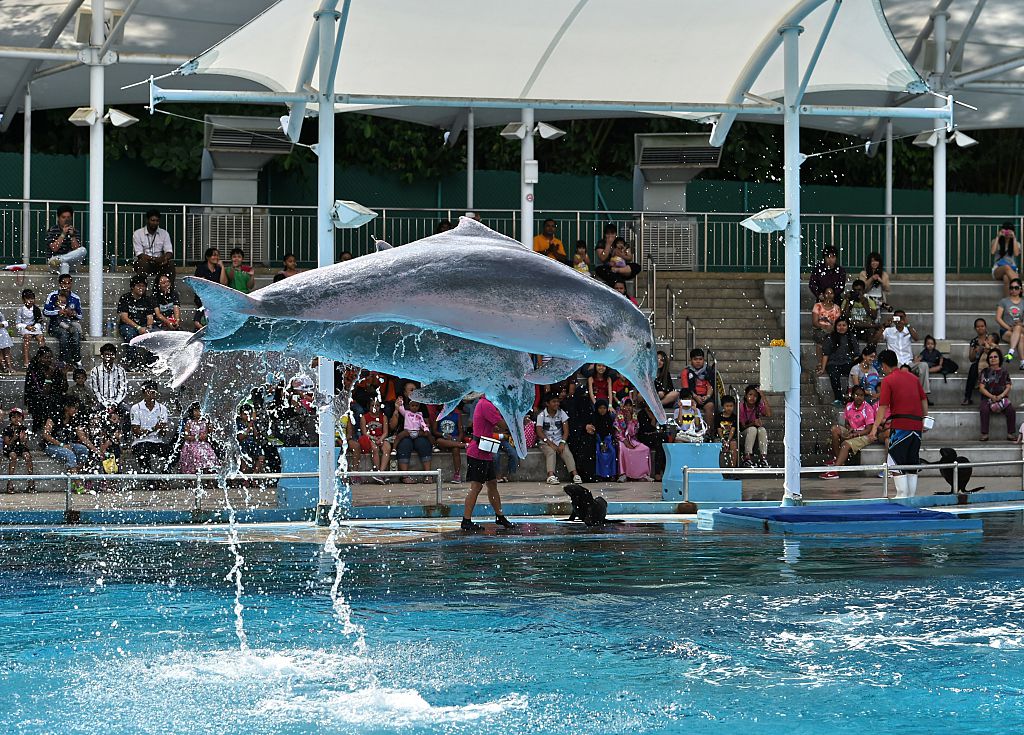 Back in 2014, Sea Shepherd also pautohed the unsatisfactory living conditions of UWS's Dolphin Lagoon in posts questioning the presence of a sickly-looking dolphin there.
It was only then that UWS released a statement to confirm that the dolphin was suffering from a "non-contagious" skin cancer — not as if any dolphins have ever been reported to have "caught" cancer from any others before, but okay.
Other conservation groups such as Nature Society (Singapore) (NSS) and the World Wide Fund for Nature (WWF) also reportedly supported Sea Shepherd's call for a greater transparency such as publishing the acquisitions, births, deaths and sales of any animal.
NSS's marine conservation group chairman Stephen Beng also cautioned that building more ocean theme parks might lead to more poaching of threatened species. A park's willingness to be transparent would indicate its sincerity in supporting marine life research, conservation and education.
Nee Soon GRC MP and chief executive of wildlife rescue group Animal Concerns Research and Education Society (ACRES) Louis Ng also highlighted that India has banned holding dolphins in captivity, Switzerland has banned the import of dolphins, and even the Solomon Islands, which initially shipped the 27 bottlenose dolphins to Singapore, has banned exports.
"Singapore should also move in this direction," he reportedly added.
Now, as we await greater transparency from UWS and AVA, we hope that the three unaccounted-for dolphins, as well as the other marine animals, are still well and alive now.
Related articles:
Animal groups discover Tampines flat swarming with 100+ mice, 23 rabbits, go on epic adoption drive
These photos of S'pore otters getting tangled up in our litter should serve as an impetus to stop littering
Pink dolphin at Underwater World Singapore has skin cancer
Top photo from Sea Shepherd Global
If you like what you read, follow us on Facebook and Twitter to get the latest updates.
If you like what you read, follow us on Facebook, Instagram, Twitter and Telegram to get the latest updates.