The concept of pet rodents has in recent years gained ground in Singapore.
Gerbils and mice, for instance, have endeared themselves to us, burrowing around in cardboard shavings in cages.
But we doubt any lover of either of the above could ever be prepared for this.
President of animal welfare group Voices For Animals Tan Derrick uncovered 23 rabbits and over a hundred mice living together with an elderly mother and son in Tampines. Here's the post from him:
In case you can't see, here's what he wrote:
Today I chanced upon a case of a family who has hundreds over fancy mice, and many rabbits, it's a case of an elderly Mom and his Son who started with 3 fancy mice and it multiple to hundreds In years. They are all not in cages or whatsoever, they were particularly all over the house.

I have activated Apollo Chan and Ow Robert for the Mission of mice trapping, and working together with HRSS Jacelyn Heng who took over the 12 rabbits and Bunny Wonderland Jackie Fang & Lynne Tan Xinlin for taking the other 11 rabbits.

It's a first time that I actually stepped in to a house that's filled with Hundreds of mice! I would like to take this time to share with people, please be a responsible owner, do not breed them when you are unable to care for them, and also, these small animals, they are equally precious, we tried our best today and caught close to 70 mice. And I would like to take this time to look for adopters for these beautiful mice. and there are still hundred of them in the house. It's an urgent case, because Pest control has been activated and I strongly believe that, all the remaining will be put down.

If you do know of someone or if you are keen in adopting, please do let me know, we have already separated the males and the females! Those who are keen, can only adopt a pair of the same gender. And these are for pets and not for feeding. If I have more people coming forward, we can save more before the pest control comes in.
The town council was alerted after neighbours of this family complained, and it in turn sought the assistance of three animal welfare groups (Voices For Animals (VFA), House Rabbits Society Singapore (HRSS) and Bunny Wonderland).
Even so, volunteers from the three groups were unable to round up all the mice and rabbits, which could easily evade capture in the exposed compound of the house and hide in corners, and they eventually had to call pest control in.
As the rabbits and mice reproduced out of owner negligence instead of being outright pests, the animal welfare groups are putting the mice and rabbits that they rescued from the house up for adoption.
Here are some of them: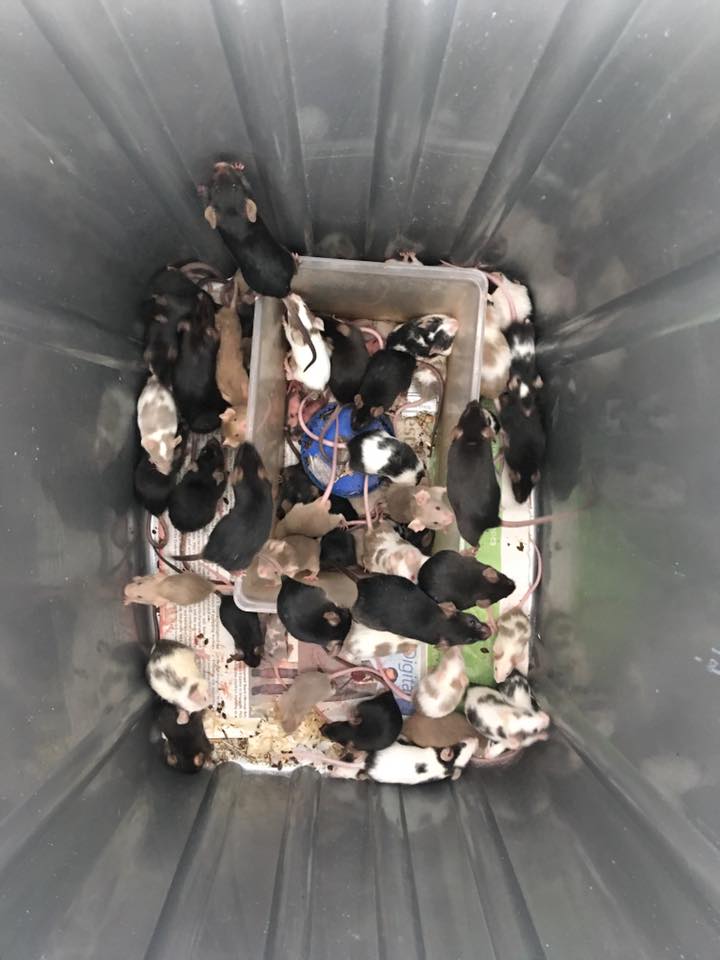 The mice are currently under the care of VFA while 12 rabbits are with HRSS and another nine rabbits with Bunny Wonderland. They urgently need adopters or donors to support their food and medical care, and crucially, their sterilisation:
HRSS's post:
Bunny Wonderland's post:
In the comment section of their post, Bunny Wonderland also raised the need for government agencies to impose more stringent licensing regulation for rabbits to prevent situations like this from happening again: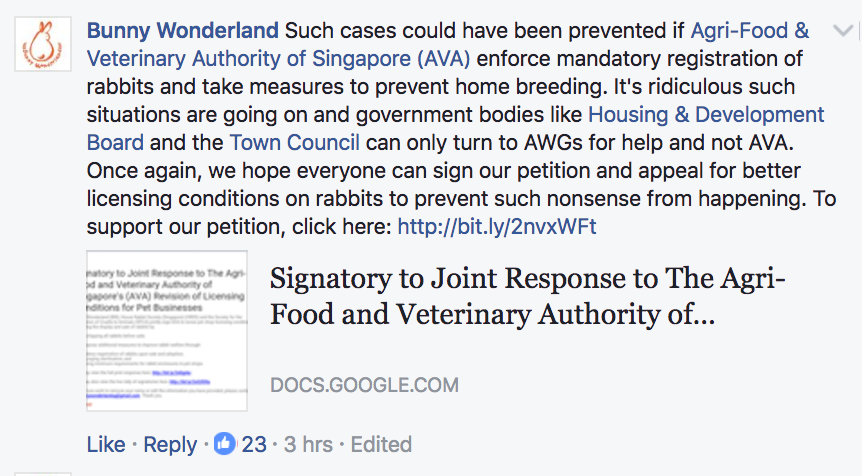 Similar points were also commented in Tan's post, which also appealed to more members of public to sign a petition for a revision to the licensing conditions for pet rabbits:

Top photo from screenshots of Tan David's Facebook post
Related articles:
Multiple attacks and attempts at capture later, aggressive monkey of Bukit Panjang still at large
Another Bishan otter stuck with fishing hook in its paw, this time at Marina Bay
Totally unrelated stuff:
Here's a compilation of the best BMT sergeants' insults that you can keep and use in the future
If you like what you read, follow us on Facebook and Twitter to get the latest updates.
If you like what you read, follow us on Facebook, Instagram, Twitter and Telegram to get the latest updates.