P.S.: there are updates to this story here and here!
With Raclette cheese videos making its rounds on social media, The Western Co. — one of the first establishments to introduce it to the island — has most certainly grabbed its fair share of Singapore's dining population.
However, the two-month-old establishment has hit a snag, as related by what one Andy Wong experienced and recounted on social media.
What happened:
In a text message confirming a reservation Wong made a day prior to visiting the eatery was a clause from the dining outlet stating that they "only accept nets", which gave rise to a slew of misunderstandings, confrontation, and Facebook drama.
Here's the TL;DR:
- Wong made a reservation the day before going, and received an SMS confirmation that included the clause "we only accept NETS". He thought it was a typo, but didn't think too much of it.
- To his surprise, as he went up to the counter to place his order, there was no NETS machine, and only cash was accepted.
- He went back to his table with his friends, whom he was supposed to treat to a meal, reporting the news and grumbling a bit, as is wont to happen. He sure didn't expect the lady whom he spoke to at the counter to come up to him, though, and they had the following exchange:
Lady : "Its just nets, why are you so unhappy about"

Me: "Do you mean as a customer, I cannot be unhappy about things?"

Lady: "If you are unhappy, you don't have to eat here. You can leave. We are all educated people. We don't owe you a living." [She repeated that she doesn't owe us a living a couple of times throughout]

Me: "Ok fine, I'm not eating here"

Lady: "Ok thanks, please leave".
- The lady's male colleague came out to ask what the matter was, and whether they had cash (the group did), but the lady continued urging them to leave.
In a bid to salvage the situation, The Western Co. replied to the post.... with no remorse.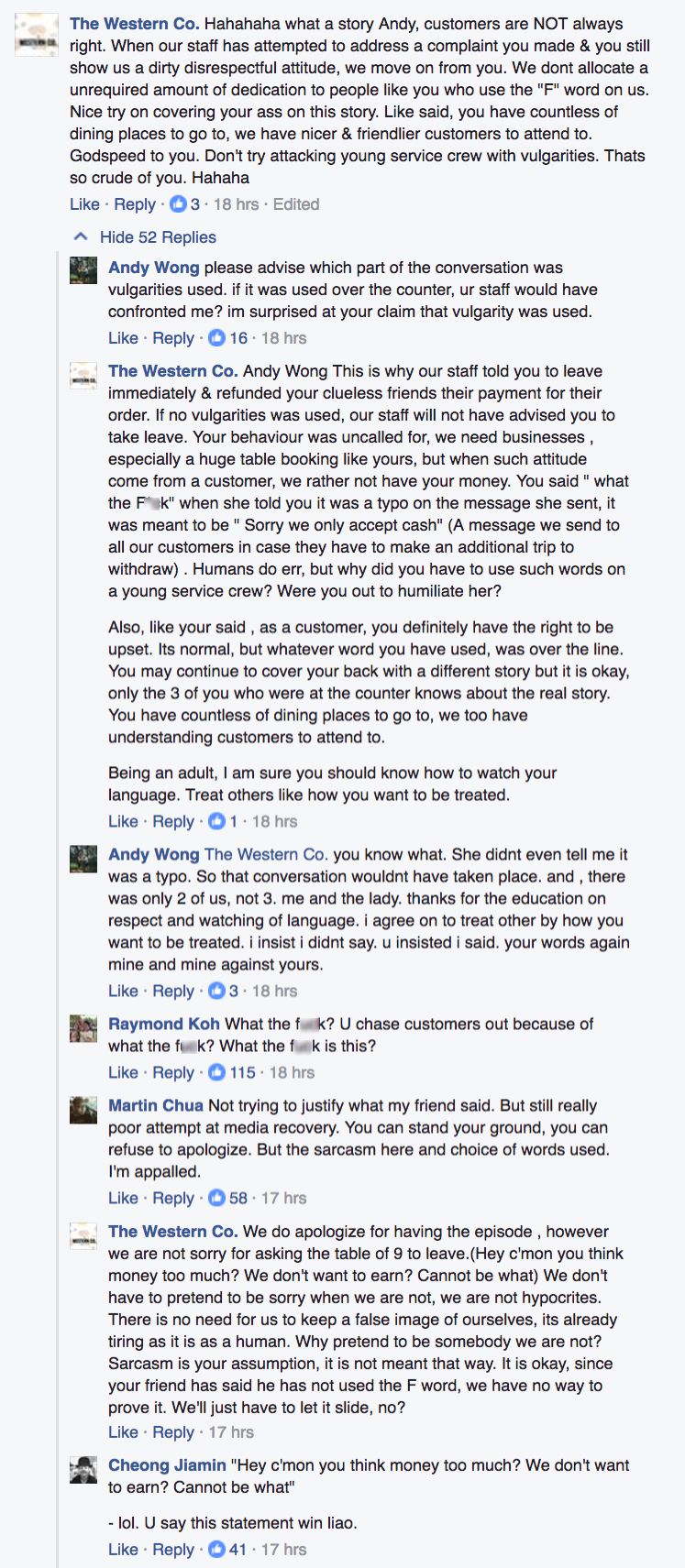 It became a he-said, she-said argument — but let's bear in mind that this was playing out on a public Facebook post.
The drama continued with a recent post on their page (now taken down), demonstrating that they are still on the defensive.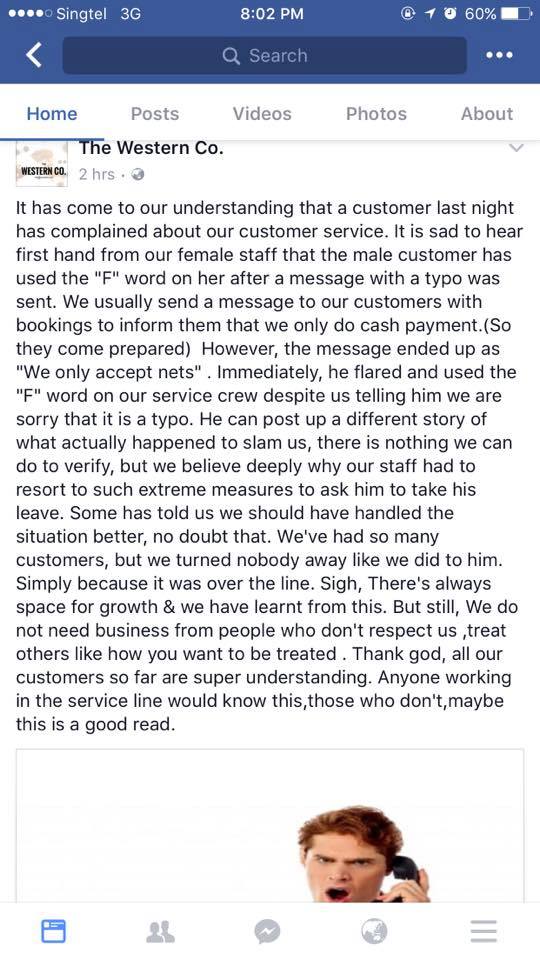 Other Facebook users defended Wong and called the establishment out on their poor service recovery: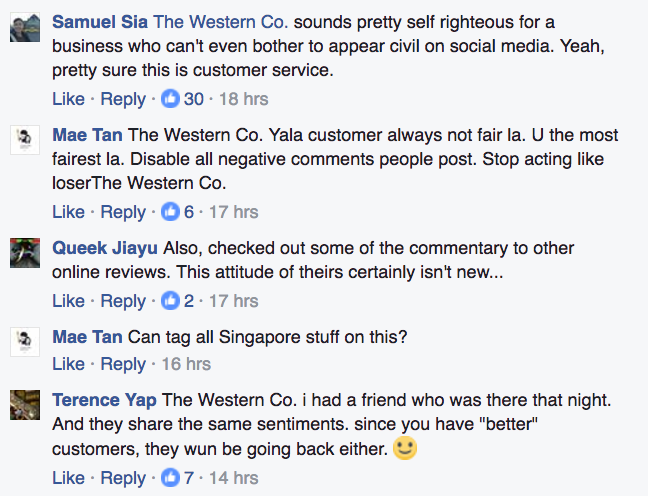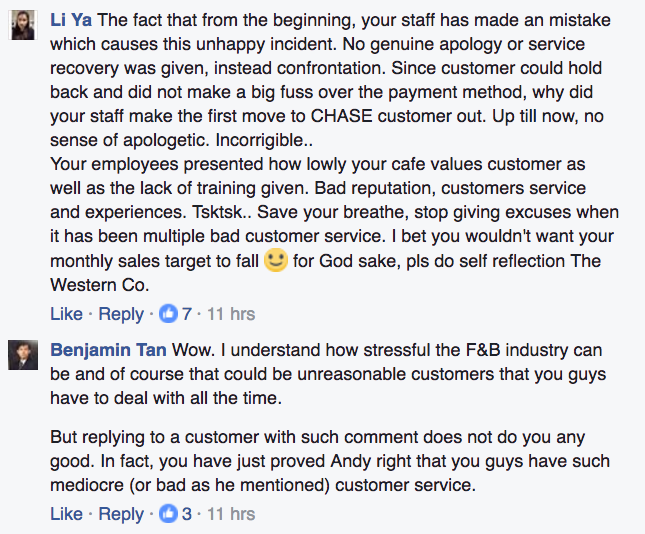 Some shared their own dismal experience at the outlet: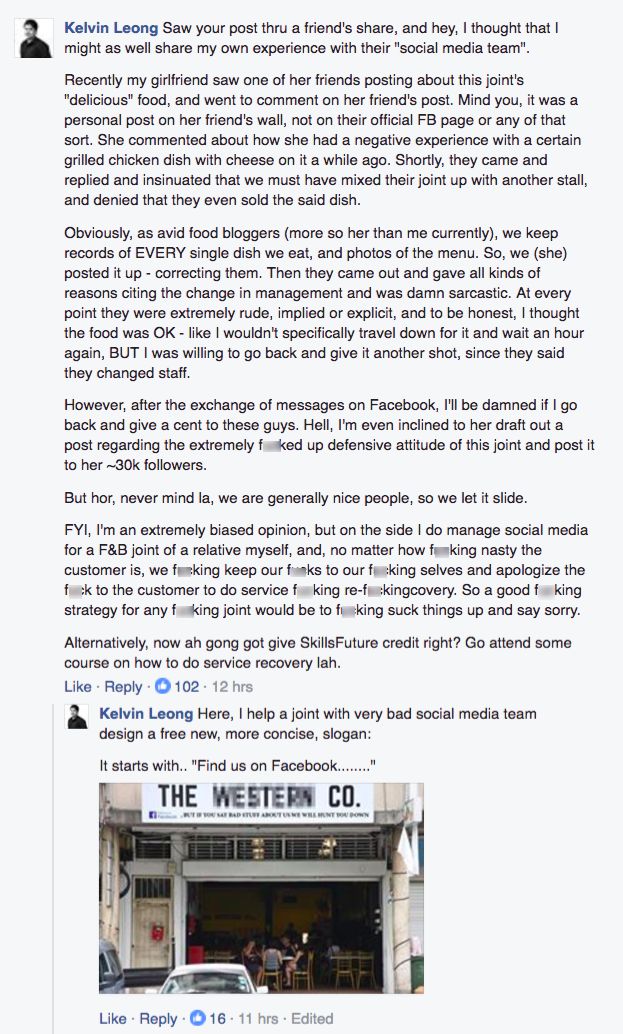 By the way, it looks like they have a history of passive-aggressiveness against their customers on their own Facebook page as well.
Here are two posts from their page on September 2, while they were still at their original location on Foch Road: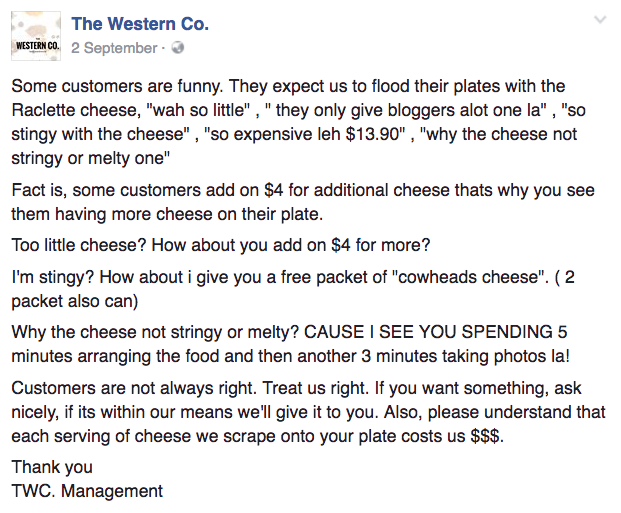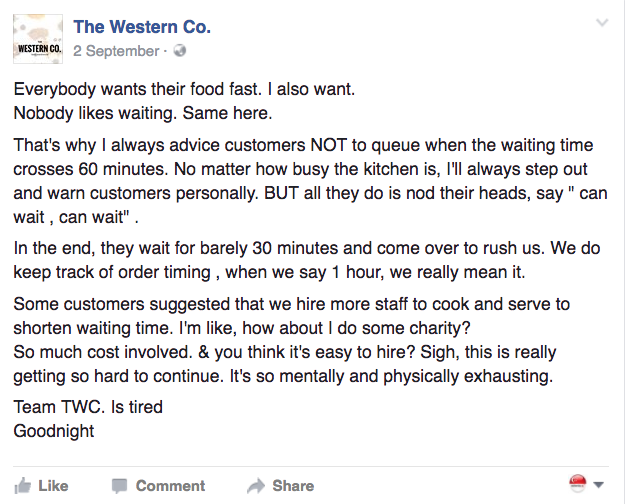 It gets even weirder — they said in end-September that they were closing "for good":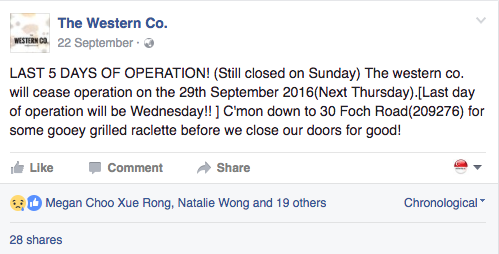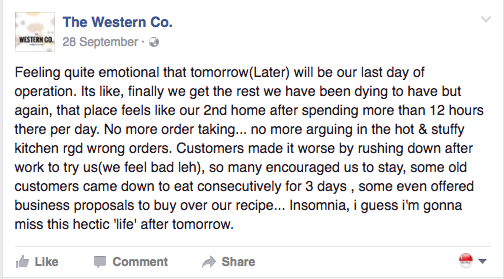 Yet, here they are on October 27, announcing their re-opening at Tyrwhitt Road:
We're pretty sure this is a classic example of how not to run a food establishment's social media presence.
Here are some further developments to this story:
The Western Co. owner comes out with her side of story, alleges customer was rude throughout
The Western Co. issues apology statement, appoints social media agency, promptly hides post from its Facebook page
Here are some of The Western Co.'s predecessors in bad social media management:
Lavastone Steakhouse Facebook review rating drops to 1 star, issues statement, review column vanishes
Lavastone Steakhouse's Facebook review page shows why F&B owners should not react to bad reviews
Crab in da Bag gets a 2-star review on Facebook, reacts passive-aggressively to win customer back
Top image from Andy Wong
If you like what you read, follow us on Facebook and Twitter to get the latest updates.
If you like what you read, follow us on Facebook, Instagram, Twitter and Telegram to get the latest updates.