If you happened to be online on Monday, you might have heard of an establishment called The Western Co., and perhaps also of the way it mishandles customer feedback (using a cocktail of sarcastic replies, deleting comments and banning users, and even posting statuses insulting them).
Around 10.20pm Monday, the now-embattled business owners took to their otherwise-silent Facebook page (apart from actively deleting comments and banning users from posting comments) to say the following: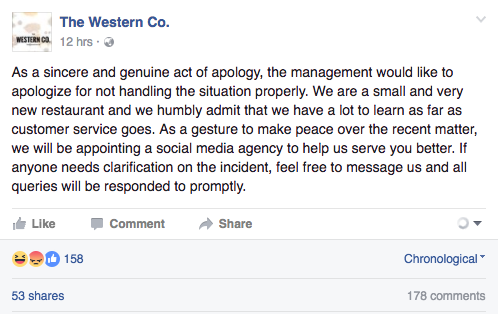 If you were to visit their Facebook page now, though, you will not be able to find this post. It's been hidden.
But fear not, click here to see it — until they delete it, that is.
At least one person seems to have realised this:

While others turned on the curiousness of their apology:


We think this comment sums the problem up quite eloquently:

Meanwhile, the number of comments and people that have been deleted and who have been banned from the company's page has resulted in people finding and befriending one another: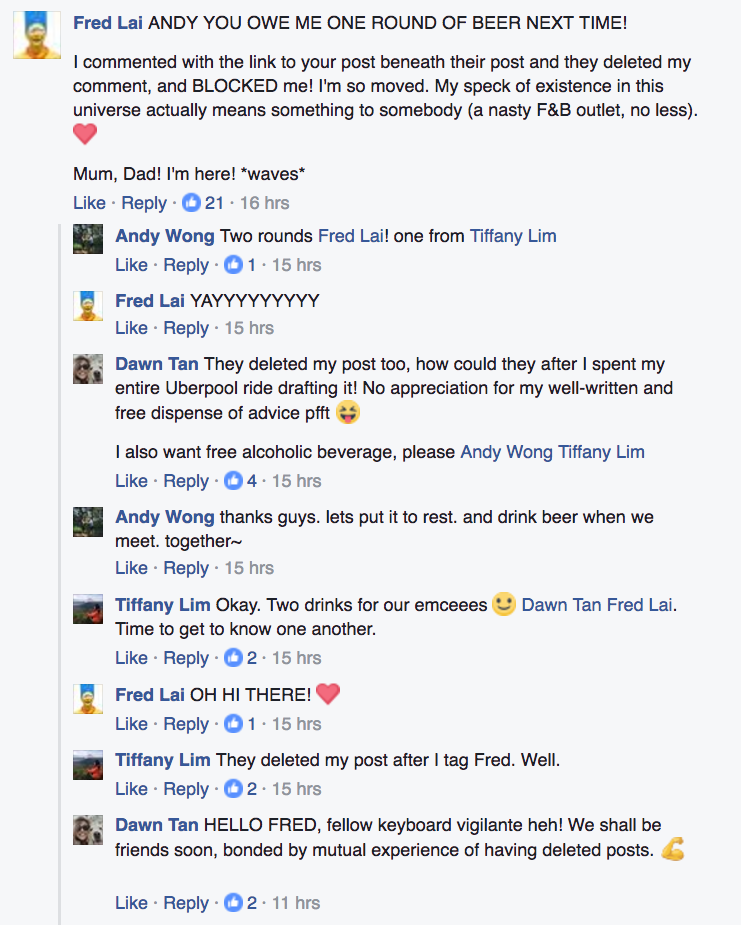 All we can say is, the social media agency has their work cut out for them.
Read more about The Western Co's antics:
The Western Co. owner comes out with her side of story, alleges customer was rude throughout
Looks like The Western Co. is latest S'pore eatery on its way to social media destruction
Top image from The Western Co.'s hidden Facebook status and Andy Wong's Facebook page.
If you like what you read, follow us on Facebook and Twitter to get the latest updates.
If you like what you read, follow us on Facebook, Instagram, Twitter and Telegram to get the latest updates.