A private bus caught fire along Yishun Street 11 on Thursday, Sept. 15, at about 430pm.
According to the Singapore Civil Defence Force (SCDF), no injuries were reported.
The rear section of the bus was seen to be badly charred though.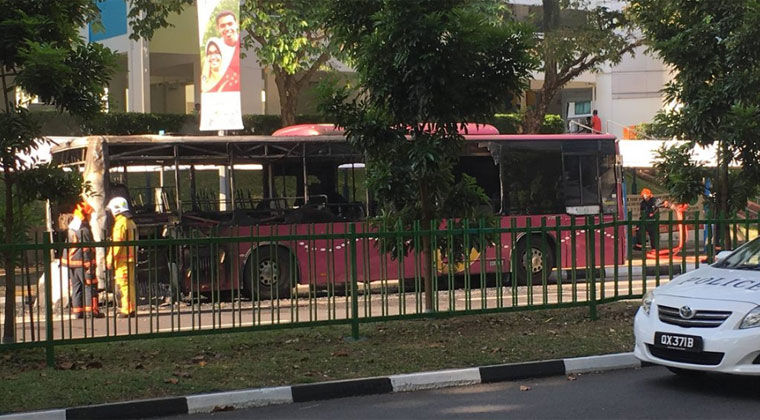 The SCDF despatched a fire engine, a red rhino and two fire bikes to the scene.
The fire was extinguished using two water jets, SCDF said, adding that five passengers evacuated before its arrival.
The cause of the fire is not known.
Jokes traded on Hardware Zone forum include speculating whether this was caused by using the Samsung Galaxy Note 7 on board the bus.
▄▄▄▄▄▄▄▄▄▄▄▄▄▄▄▄▄▄▄▄▄▄▄▄▄▄▄▄▄
░ ░░░░▀█▄▀▄▀██████░▀█▄▀▄▀████▀
░░░░░░░▀█▄█▄███▀░░░▀██▄█▄█▀
Related articles:
E-scooter rider escapes after allegedly hitting elderly man along Yishun Ave 2 towards stadium
Yishun Thug Life: 2 men playing with stun gun outside Northpoint arrested
This map of Yishun shows exactly why estate keeps popping up in news items
All photos via Hardware Zone
If you like what you read, follow us on Facebook and Twitter to get the latest updates.
If you like what you read, follow us on Facebook, Instagram, Twitter and Telegram to get the latest updates.