Follow us on Telegram for the latest updates: https://t.me/mothershipsg
As vaccinated people in Singapore continue to get treated differently from the unvaccinated, those mRNA vaccine-averse are flocking to get themselves inoculated with the Sinovac vaccine, which have, unfortunately, started to run low on supply.
And it appears this persistent high demand and low supply has led to a new black market on Carousell: The buying and selling of Sinovac vaccination slots.
Strong demand in Singapore for Sinovac
A quick search on the online marketplace revealed a listing from July 2021, where one seller was hawking a Sinovac vaccination slot for a negotiable price of S$50.
The listing has since been marked as sold, but it is unclear if the transaction, and vaccination slot changed hands.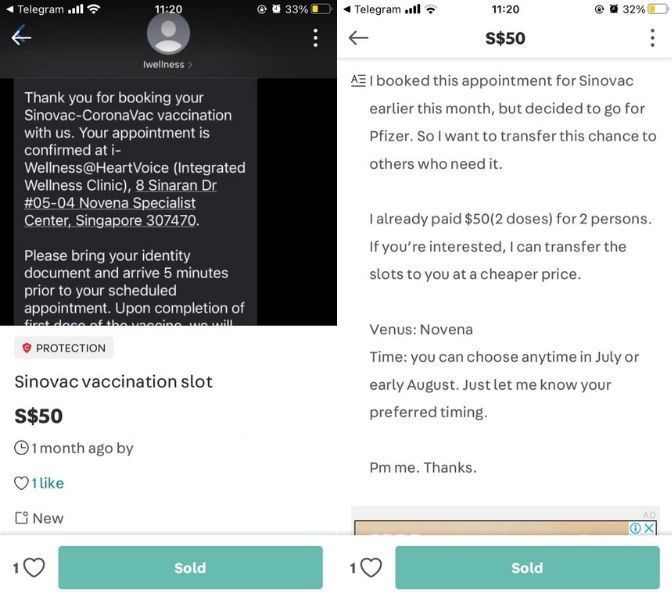 Demand surge after Sinovac vaccines fully allocated
Singapore is currently experiencing a strong demand for the Sinovac vaccine, if recent reports are anything to go by.
It was reported that some approved clinics in Singapore experienced snaking queues, and were overwhelmed with bookings.
The demand likely surged after the Ministry of Health (MOH) announced that all 200,000 doses of Sinovac vaccines were either fully allocated to the 31 approved private healthcare institutions, or reserved by the ministry.
The implication was that appointments to receive the first dose of the Sinovac vaccine was no longer possible, not until new stock arrives in Singapore.
Some in Singapore, who had made appointments to receive their first dose, even discovered that their appointments were cancelled abruptly.
Shortage resulted in Carousell listings
Given this shortage, four bidders took to Carousell to look for Sinovac vaccination appointment slots, as reported by The Straits Times (ST) on Aug. 18.
Dating as far back as Aug. 12, these bidders were willing to pay between S$50 and S$80 for a slot.

At the time of writing, these listings are no longer available on the online marketplace.
A Carousell spokesperson told Mothership, that the listings of vaccination slots have been removed from as they are potentially prohibited.
This is in accordance to the platform's guidelines on listings related to public health.
In addition, Mothership understands i-wellness had closed its booking for Sinovac vaccinations.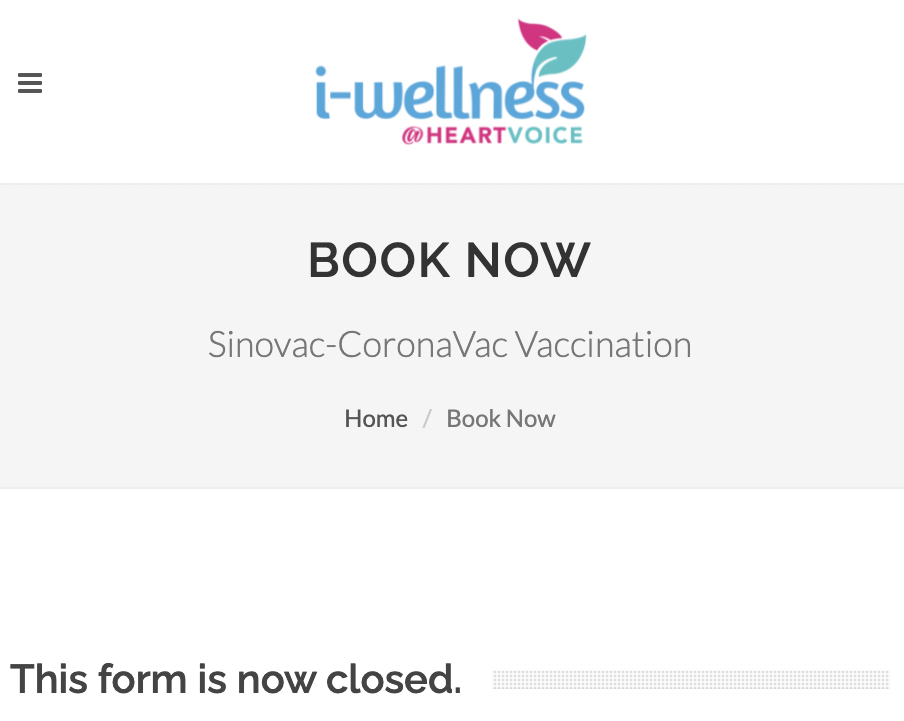 The healthcare provider is one of MOH's approved private healthcare institutions to administer the Sinovac vaccine.
Next batch will arrive four to six weeks later
MOH previously said Sinovac vaccine stocks are expected to arrive within the next four to six weeks.
The vaccine is one of the four that is not included in Singapore's national vaccination programme, but is offered by MOH approved private healthcare institutions under MOH's special access route.
The other three are Johnson & Johnson, Sinopharm, and Astrazeneca.
No Carousell listings of these other three vaccines have been observed.
What does it mean to be fully vaccinated?
All four vaccines are approved under the World Health Organization's Emergency Use List (WHO EUL).
Individuals who have completed the full regimen of vaccination with Pfizer-BioNTech/ Comirnaty, Moderna vaccines, or any of the four vaccines mentioned above, will be eligible for the differentiated safe management measures, said MOH on Aug. 6, so long as they are "fully vaccinated".
The "fully vaccinated" criteria is met only after the individual has received the full regimen and two weeks have elapsed.
As of Aug. 18, 153,020 doses of other vaccines recognised in the WHO EUL have been administered in Singapore, covering 84,172 individuals.
For more information on special access route, click here.
Carousell is known as the go-to place to buy and sell any number of goods and services, from bubble tea during circuit breaker in 2020, to KTV alibis to help smooth over any potential spousal conflict when the KTV cluster broke out.
Other things on Carousell:
Top image screenshot from Carousell and via Noel Celis/AFP/Getty Images
Follow and listen to our podcast here
If you like what you read, follow us on Facebook, Instagram, Twitter and Telegram to get the latest updates.