Follow us on Telegram for the latest updates: https://t.me/mothershipsg
Singaporeans love indulging in the creamy flesh of durians but not everyone knows how to differentiate among the durian varieties in the market.
Multiple readers of Chinese evening paper Lianhe Wanbao have written in to share their encounters with unscrupulous durian sellers.
Fake premium durians
A self-proclaimed durian connoisseur, surnamed Zhu, said that he saw a supermarket in Sembawang selling Black Thorn durians. However, the appearance of the durians did not resemble that of Black Thorn durians.
Instead of the dark yellow flesh that he is familiar with, the flesh of the durian on sale was bright yellow.
He gave his feedback to the supermarket via email and gotten in touch with the durian supplier subsequently. The durian supplier did not hide and admitted that the products were wrong, Wanbao reported.
Zhu told Wanbao that the durian supplier disclosed to him that such practices are neither new nor uncommon in the same industry. These durian sellers took advantage of the fact that many customers are unable to differentiate the type of durian they had purchased.
Zhu added the durian seller still had the cheek to try to sell him some durians despite admitting to such dishonest business practices. However, Zhu did not dare to purchase durians from him.
Another 45-year-old housewife surnamed Zhang also shared with Wanbao that she bought three Mao Shan Wang durians from a durian stall in Yishun recently. She was charged S$18 per kilogram and spent around S$90 in total.
However, her Malaysian-born husband could immediately recognised that the three durians were not Mao Shan Wang when she brought them home.
As her home was located very far from the durian stall and she was busy attending to her guests, she did not return to the stall to confront the seller or demand a refund or exchange on the same day of purchase, she told Wanbao.
She added that she hopes that the media can expose the behaviour of these dishonest durian sellers.
Local durian sellers confirmed woman was cheated
Zhang had sent Wanbao photographs of two durians she had purchased.
The two durians are not Mao Shan Wang, two local durian sellers confirmed with Wanbao separately.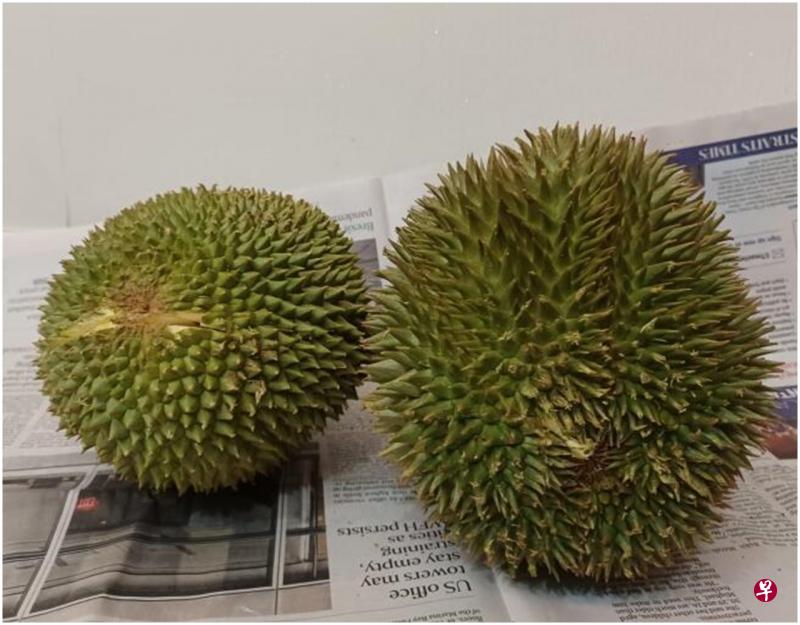 Kelvin Tan, 37, who runs 99 Old Trees Durian said the durian with shorter thorns in the photograph is D13 while the other durian with finer and denser thorns is D101. These two types of durians cost around S$12 to S$14, which are cheaper than Mao Shan Wang.
According to Tan, some sellers would mix D13 and D101 with Mao Shan Wang because the colour of their flesh resembles Mao Shan Wang, hence they can pass off as Mao Shan Wang.
Cai Ming You (translated from Chinese), 27, who runs Top Durian Station also said that the durians that Zhang bought were not Mao Shan Wang.
He recommended examining the durian husk when buying durians as the durian type can be identified by looking at the durian thorns' density and size.
Tips on identifying Mao Shan Wang
Both Tan and Cai shared some tips on how to identify Mao Shan Wang:
Mao Shan Wang has a distinct five-line star-like pattern at the base.

Mao Shan Wang durian thorns are not densely packed, the shape of the thorns resembles a pyramid and appears more three-dimensional.

Mao Shan Wang can have big seeds, not long and thin all the time.
Some sellers may say that the star pattern for a particular durian is smaller, which may be an attempt to mislead customers as the star pattern on Mao Shan Wang durians are extremely distinct, Cai added.
Tan also suggests interested durian buyers to look for a reliable durian seller whom they can trust.
Read more
As durian season has arrived, here are some places where you can get your durians:

Top images by Jim Teo on Unsplash and Lianhe Wanbao.
If you like what you read, follow us on Facebook, Instagram, Twitter and Telegram to get the latest updates.