Potong Pasir Single-Member Constituency (SMC), with the smallest number of electors in a constituency, does not occupy a particularly large area of Singapore - you could cover the ground in about an hour, maybe two if you walk at a leisurely pace.
Yet this quiet, kampong-like town has left its mark in the annals of Singapore's political history, its name entwined with a small-statured giant of Singapore politics --  Chiam See Tong, the second longest serving opposition member of parliament after Workers' Party MP Low Thia Khiang.
Chiam's storied career in Potong Pasir, from his first run as an independent in 1979, to his first victory in the general election of 1984, to his defeat in 2011, nearly 30 years later, is familiar to every political enthusiast.
Chiam, who was MP for Potong Pasir for 27 years, from 1984 to 2011, stepped down as Secretary-General of the Singapore People's Party (SPP), and it appears that he will not contest in the upcoming General Election.
But as one political story draws to a close, another one may just be starting.
Meet Jose Raymond, a man who has taken on many roles over the course of his life.
Could his next one be Member of Parliament for Potong Pasir?
The contender
Raymond, who will be 49 this year, is a familiar face to residents of the town.
Before the outbreak of Covid-19, Raymond could be seen walking the streets of Potong Pasir, chatting to residents and getting to know them.
He had first done so in 2017, the year in which he joined the SPP. Almost three years on, he's ready for the next step up.
Raymond, the Chairman of the SPP, intends to contest Potong Pasir SMC.
And its significance? For the first time since 1979, a Chiam will not contest an election in Potong Pasir.
Raymond will likely face Sitoh Yih Pin, the incumbent from the People's Action Party (PAP) who won his seat by beating Lina Chiam in 2011.
But who is this man who will be standing in a GE for the first time?
We met with the intensely private Raymond for an interview at his office to find out more.
Growing up
When Raymond was born in 1971, his family lived at the Queenstown police station inspectors' quarters.
His father, Henry Thomas, was a Police Inspector. He helped to nab the Swimming Trunk Gang, a group of four robbers who ransacked houses wearing nothing but swimming trunks. By the time they were caught in 1975, they had stolen nearly S$500,000 (about S$1.3 million today).
In 1975 the Thomas family moved to Bedok South, where they lived in a flat on the 24th floor, with an "amazing view of the sea, the East Coast."
But in 1983, Raymond's parents split. He moved to another place in Jurong West in 1984.
For a young boy, this must have been a tumultuous time. Yet the year 1984 would make an impact on Raymond in more ways than one.
In the same year where President Ronald Reagan crushed Walter Mondale in the U.S., with the latter only winning electoral votes in two areas (Minnesota and Washington DC), Singapore's own election saw two non-PAP candidates win their contests for the first time since 1963.
JB Jeyaretnam won in Anson, while Chiam's efforts paid off with a victory in Potong Pasir.
Chiam drew big crowds during his public appearances, moving around in his trademark Volkswagen Beetle. And among those that came to see him campaign were Raymond and his father.
Raymond shared, "In '84 when my father brought me to Mr Chiam's rallies in Potong Pasir. I went to two of his rallies throughout the course of his campaign, and I was also at the counting centre."
He added, "And elections day was my birthday in 1984. So on my birthday, I was actually at the counting centre, waiting for the results with my father."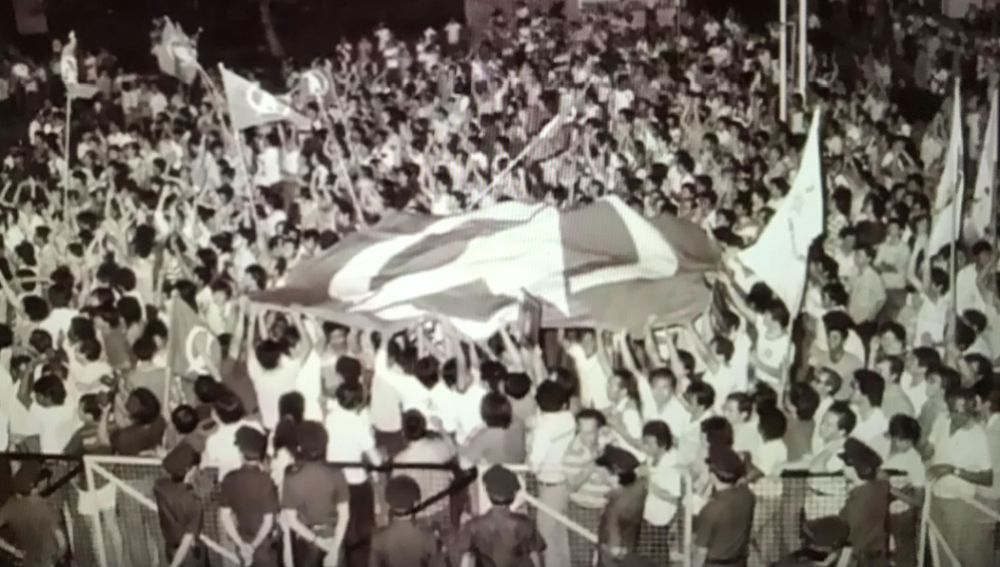 Four years later, during the GE of 1988, Raymond's father got more involved in the process and volunteered for Chiam.
While Raymond was still in school at the time, he recalls helping his father to hand out manifestos in Potong Pasir, and Chiam retained his seat. However, Raymond and his father would run into some difficulties in 1990.
Raymond's father experienced financial difficulties after leaving the police force, and did not have the money to pay for the deposit on the flat. In his moment of need, the elder Raymond went to Chiam for help, even though he was not a resident of Potong Pasir.
Recalled Raymond, who was there in the office:
"Mr Chiam actually just took out a cheque and gave it to my father and said 'bring this in (to) HDB now and pay' and go and settle, and I'll always remember that moment because Mr Chiam actually asked my father, 'do you think your son will actually be interested in politics one day?'"
A career in journalism
Politics seemed a long way off when Raymond completed his National Service (NS), and started working for a company involved in sports publications.
That experience helped him to link up to Godfrey Robert, who was then the Sports Editor at the Straits Times (ST). He encouraged Raymond to apply for a position with the ST, where he worked as a photojournalist.
He recalled a particularly memorable moment in 2000, when he was sent to cover the conflict in Sri Lanka alongside veteran reporter Nirmal Ghosh. The pair decided to head up to a village, where Raymond managed to make his way to a refugee camp, and took photos that were picked up by other publications.
Unfortunately, he ran into some trouble with the authorities, and wrote about his experiences for the ST.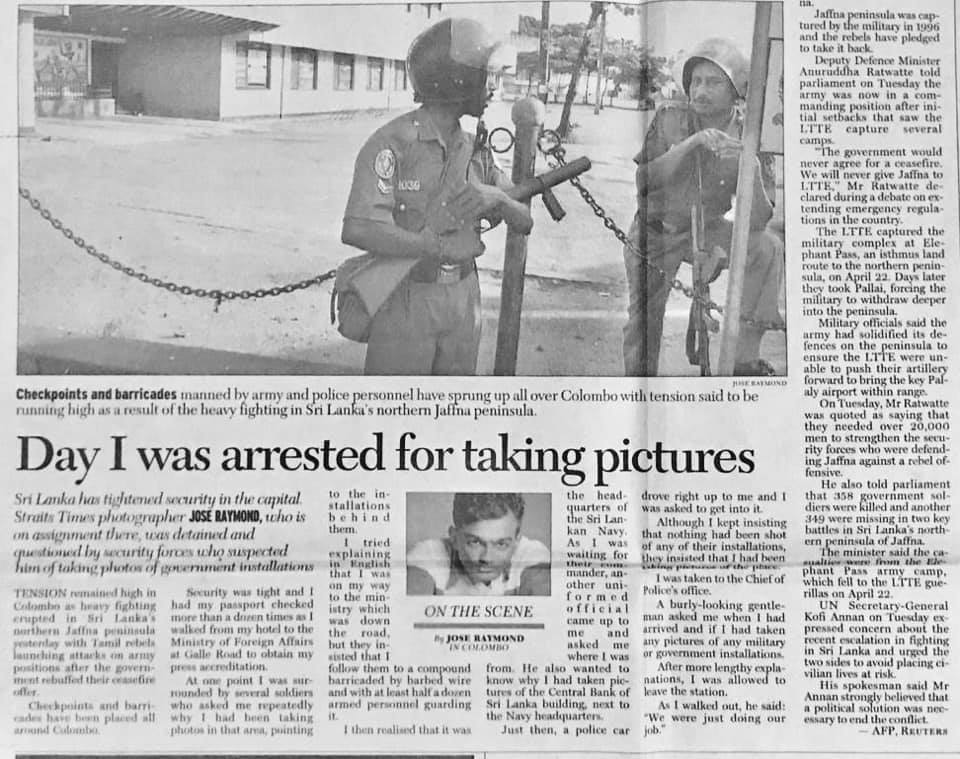 Raymond then joined Today in 2001, and described his experiences in Mediacorp as the "best times in his life" because he had "great bosses" that allowed him to perform a number of investigative pieces.
He spoke fondly of breaking stories like the collision of the RSS Courageous and a cargo ship off Pedra Branca, which made the front page. He recalled walking into a briefing chaired by then-Minister for Defence Tony Tan, and seeing other attendees reading copies of Today.
But even after winning multiple awards for his journalism work, Raymond felt that he wanted to do something different.
A public servant
Raymond's next role was in the civil service, but one with something of a call back to his first job, covering sports. He joined Sport Singapore, then called Sport Singapore Council, a stat board.
During his time there, he was Head of Communications for the Asian Youth Games in 2009, and served as Press Secretary to the Village Mayor of the Youth Olympic Games, current PAP MP Teo Ser Luck.
In 2011, he was seconded to the Ministry of Environment and Water Resources as Press Secretary to Minister Vivian Balakrishnan, which he called a "good learning experience."
It also opened his eyes to issues in a completely different sector, going from sports to something completely different, like mosquito breeding. After his secondment, Raymond was asked to consider a role in charge of the Singapore Environment Council (SEC), a non-governmental organisation. He accepted, kick-starting yet another phase in his life.
Raymond called his stint at the SEC a "new role in a different space", one where he could develop his skills in management while also bringing his own experience to the table. While there, he managed to grow the organisation and create new programmes, including clinching sponsorships and expanding its presence overseas.
The environment space
However, following a stint at Singapore Sports Hub, his next move may have come out of left field to some.
In 2016, Raymond took up a role at Asia Pulp and Paper (APP), an Indonesian company linked to contributing to the problem of transboundary haze in Singapore.
In September 2015, the National Environment Agency (NEA) listed APP as one of the firms it was investigating under the Transboundary Haze Pollution Act, for links to regional forest fires that led to the haze. Major supermarket chains took APP products off their shelves.
Raymond was quoted by the ST in 2016 that he felt he could "help them move along their green journey, which they have already started on." He added that he believed that APP was not to blame for the haze, and that he had worked with them during his time at the SEC.
Speaking to Mothership, Raymond shed more light on the move:
"They asked me for help because of my expertise in managing crisis, sustainability background work in Singapore Environment Council, provide them with the ways in which I thought, which they thought I could at least help them with engagement, and also provide them with some inputs on what they can do to do better."
However, Raymond left APP that same year.
He said that he didn't think it was the "right fit", and that when he left, their products were still off the shelves in Singapore. APP was awarded a green certification from the SEC in May 2019.
Today, he works as the Chief Strategy Officer at SW Singapore / Malaysia, a digital media company he founded.
Meeting Mr Chiam (again)
It was also around 2016 that Raymond got back in touch with Mr and Mrs Chiam, after they reached out to him to discuss setting up the Chiam See Tong Sports Fund.
They had taken notice of Raymond speaking up publicly for a live broadcast of the Olympic Games in Brazil, where Joseph Schooling would win Singapore's first gold medal.
However, they had no idea of Raymond's previous meeting with Chiam as a boy, until he showed them the photo of the rally which he attended, and told them about how Chiam helped his father.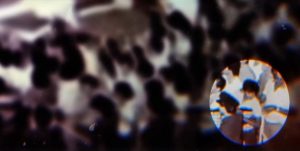 While Raymond was speaking, Chiam absorbed it all.
"Then he said, 'Who's your father?' Then I said, my father's Henry Thomas. Then Mr Chiam then looked at me, and then he said, 'Can you stand up?' I said ok, then I stood up right, then he said 'You are taller than your father.' So he remembered my father!"
When the Chiam See Tong Sports Fund was launched, Raymond brought his father along, and he met Chiam again for the first time in many years.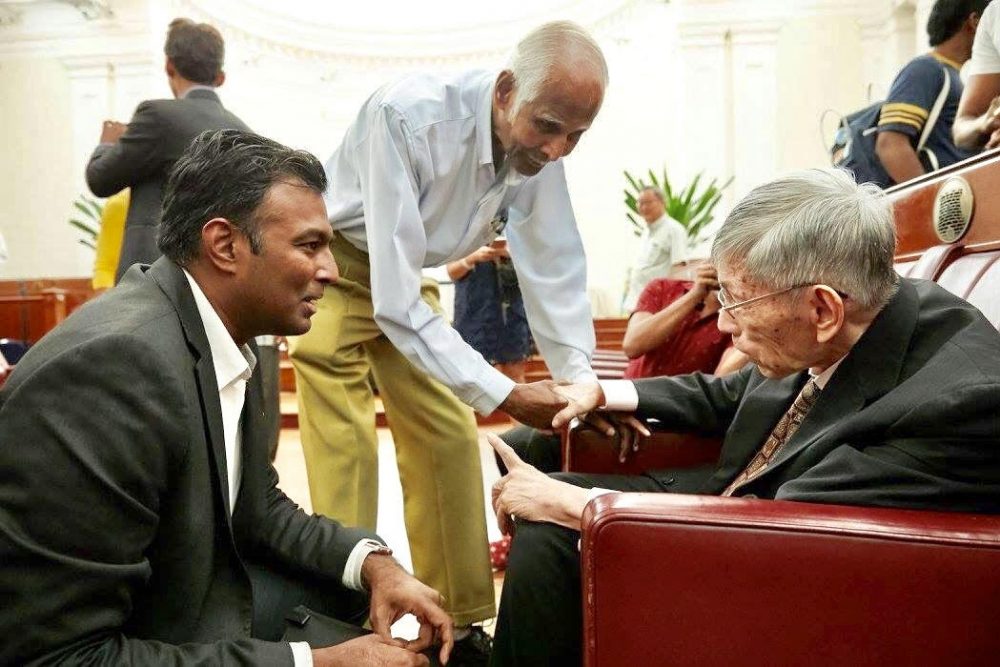 A couple of months after the fund was launched, Mrs Chiam had a chat with Raymond, and asked if he could come and help out in the party.
At the time, Raymond was heading back to school to complete his Masters in Public Administration at the Lee Kuan Yew School of Public Policy, and he was concerned about managing the time commitment. Added Raymond:
"Even if I want to help, my intent is just to go and help people on the ground, to find out what hurts them because I'm into policy right, I'm into policy thinking and to figure out how we can actually use policy to make people's lives better."
Although it was a full-time course, Raymond decided to try meeting people on the ground after all.
He started knocking on doors, from once a week to four times a week, bit by bit, until he submitted his membership to join the SPP in Oct. 2017.
Sumith Sudarshana, 35, a contractor who lives in Potong Pasir, said that he has seen Raymond personally helping Potong Pasir residents with their troubles.
Said Sumith, "He always takes the time to listen to people's problems and provides consolation for those who are having it tough", and added, "He's a people's kind of guy, a breath of fresh air."
Potong Pasir is still very much a kampong
After almost three years of walking the ground, Raymond is familiar with Potong Pasir, noting that it is "still very much like a kampong".
Describing the residents as a rather small and close-knit community, he said that Potong Pasir differs from many newer estates, such as Punggol, in several ways.
There is a certain sense of openness between the residents, given how many residents prefer to keep their doors open, with some even relying on the light from the corridors to illuminate their flats at night.
Visitors to Potong Pasir will also find that although the flats may be on the older side, with some about 30 to 40 years old, one would find the area more spacious, given how the various HDB flats are often not built too closely to one another.
Raymond pointed out that neighbouring Bidadari, which is considered to be a newer estate, looks vastly different from Potong Pasir, despite its proximity.
Not that it is a bad thing, of course, as Raymond speaks fondly about the sloping roofs of the HDB flats in Potong Pasir, which is a unique icon of the estate.
Raymond began visiting the new blocks in Potong Pasir almost immediately
Raymond recalled that when he first started knocking on doors, there were rumours that Potong Pasir would cease to remain as an SMC by the next GE, and would be integrated into a larger Group Representation Constituency (GRC).
When the Electoral Boundaries Review Committee (EBRC) report came out, Raymond was pleasantly surprised that Potong Pasir did remain an SMC, albeit with a few changes.
A portion of Potong Pasir SMC, located in Lorong 8 Toa Payoh, is now consolidated under Bishan-Toa Payoh GRC, while Potong Pasir received the Joo Seng and Woodleigh neighbourhoods from Marine Parade GRC.
Raymond was apparently no stranger to the new Joo Seng neighbourhood, as he frequently went to a coffee shop there after his outreach efforts, given its proximity to Potong Pasir itself.
Describing the neighbourhood as a "very, very small estate", Raymond said that it comprised only 21 blocks of HDB flats.
He also wasted no time at all, visiting 20 out of 21 blocks within two weeks of the report's release, right before Circuit Breaker measures kicked in.
He keeps a database of residents that he has visited
In order to better understand the people in Potong Pasir, Raymond also keeps a database of the residents he met during his years of outreach.
This turned out to be even more helpful now, given how he is no longer able to visit them physically under Circuit Breaker and Phase 1 rules.
This is not only his way of measuring the number of people he has visited, but also a way for him to better analyse their needs, so he can come up with ways to help them.
For him, having the data alone is not sufficient, as he explains that without spending the time to meet and understand these residents, he will "just be reading numbers".
"You might have the data, yes, you have X number of people above the age of 50. But as far as possible, what are these people like? Are they employed, or what do they do at home? That's why you go out and meet them and understand them. It only happens by knocking on doors, you see".
Important to ensure access to voting during Covid-19
While other opposition parties have raised concerns over holding an election during Covid-19, Raymond was more balanced in his stance.
He acknowledged that it was "not an easy decision to make", as it is difficult to determine when it can be considered completely safe for people to vote, given the uncertain situation.
However, he is concerned about certain aspects of the new guidelines, which state that people who are issued a Quarantine Order or are sick will not be expected to vote.
"So while I understand that they have got to do, and put whatever in place to ensure that the elections are conducted safely, I am also worried that if we give off the impression that, you know, your vote is not important, it turns people a lot more apathetic towards politics. And I think we want people as engaged as possible in the electoral process".
Raymond also pointed out that overseas voters are likely to be left out of the electoral process during the upcoming elections, due to the Covid-19 pandemic.
There are only 10 overseas polling stations worldwide, as Singapore does not allow mail-in ballots.
While in most circumstances, overseas Singaporeans would be expected to either return to Singapore, or travel to their nearest polling station to vote, this is not feasible now given the plethora of travel restrictions imposed by different countries.
He said that for these overseas Singaporeans, not giving them access to vote in the upcoming elections is akin to telling them that their votes do not matter, and is not a message that the government should be sending.
New election arrangements affects everyone
With GE2020 likely to be held during the Covid-19 pandemic, Raymond appeared to be quite ready for the elections that he termed "predominantly online", arming himself with a small studio in his office.
Raymond is no stranger to the online space, having used various forms of social media, such as Facebook and Instagram to reach out to the people of Potong Pasir during the last few years.
He also encouraged residents of Potong Pasir to contact him directly via Whatsapp, should they require his assistance in any way.
Using technology to adjust to changes
With his election posters printed and ready to go, it would not be a stretch to say that Raymond is thoroughly prepared for the hustings.
However, he revealed that he is still experimenting with new tools, such as short videos, uploading them on both Facebook and IGTV in order to gauge the responses from his audience.
Raymond is also preparing to conduct online streaming, as well as the possibility of Zoom sessions with residents who wish to chat with him in private.
When asked whether he feels the new election arrangements may prove disadvantageous to him, he simply reasoned that the changes will affect everyone.
"The course of the campaign will have to change. But it's not going to just affect me, it's going to affect everybody. And that also includes, you know, the PAP candidates, including the new candidates."
And what of Sitoh, Potong Pasir's current MP, and his most likely competitor in this race?
Raymond acknowledged that Sitoh has "put in a lot of work" in Potong Pasir and deserves recognition for his service to his residents, having walked the ground for more than 20 years.
However, he hopes that the residents of Potong Pasir would vote for him instead, given how he has invested his time in getting to know each resident and to understand their needs to the best of his ability.
Possible NCMP?
But what if Raymond does not win the election outright, but garners enough votes to qualify as a Non-Constituency MP (NCMP)? Will he accept a seat as an NCMP?
He said, "The party has got a precedent already, Mrs Chiam served as an NCMP so there's a party precedent."
Mrs Chiam stood for election in Potong Pasir in 2011 and was defeated by just 114 votes, which allowed her to accept a seat in Parliament as an NCMP.
Politicians need to be "non-confrontational" in order to better serve the people
Although Raymond focused primarily on what he could do to help the residents of Potong Pasir, he does have a grander vision of politics for Singapore as a whole.
If elected into Parliament, Raymond said that his first act would be to promote a collaborative model of politics, where politicians put aside their political differences to better benefit Singaporeans.
Calling for politicians from both the PAP and the opposition to be "non-adversarial and non-confrontational", Raymond said that this model would allow every citizen to be recognised for the part they play in Singapore's development.
"We need to see the value which we all bring to the table, regardless of which side of the House we sit on, or which party flag we represent. I think that's a model which will end up benefiting members of the public for our citizens at large".
Raymond also feels strongly about the issue of lease decay among HDB flats, especially since many residents in Potong Pasir live in older flats.
According to Raymond, this is a very important issue for Singaporeans, as it affects wealth transfer between generations, and may perpetuate income inequality.
While such policies may be complex, and solutions may not be easy to put in place, Raymond urged policymakers to cooperate for the good of the people.
"Let's come back to the table, and you know, to discuss what we need to do to help them do better. You know, not to be shackled by issues of the past, or policies of the past".
---
The Mothership Covid Interviews is a series of conversations where our young writers sit down with key figures in Singapore to talk about the ongoing pandemic, its effects on Singapore's society, economy and polity, and how the folks we talk to are coping, or helping Singaporeans cope. And in some cases, we talk about fun stuff too.
Top image by Sulaiman Daud.
If you like what you read, follow us on Facebook, Instagram, Twitter and Telegram to get the latest updates.