The events of the past four days will have shown Singaporeans that truly, Olympic gold medallist swimmer Joseph Schooling is a mature, well-mannered, gracious, patient and humble young man.
At the same time, we discovered in a sit-down chat with him on Thursday afternoon, the 21-year-old is overwhelmingly still that — a young man.
A young man who geeks out over 15-minute videos of OpTic Scump (also known as OpTic Scumpii) playing Call of Duty, when he should really be watching swimming videos to prepare himself for his Olympic races.
A young man who laughs not only at his best friend Teo Zhen Ren for looking unglamorous in a phone picture, but also readily shows us a pore-pack-pasted image of himself from last year, ahead of the SEA Games.
A young man who chuckles at the situation of a group of American swimmers being held up in Rio de Janeiro for police investigation because he knows one of them (Jack Conger) well.
And most importantly, a young man who genuinely was extremely happy to be back in Singapore, even for four very long and tiring days, to share his historic victory with Singaporeans.
And while Joseph Schooling the mature Olympic champ is a popular narrative we've been seeing over the past few days, we thought it would be fun to bring out Joseph Schooling, the young man.
So here's Joseph Schooling, a young Singaporean man who uses his phone a lot, showing us its contents — pore-pack strip selfies and all:
Photos on his phone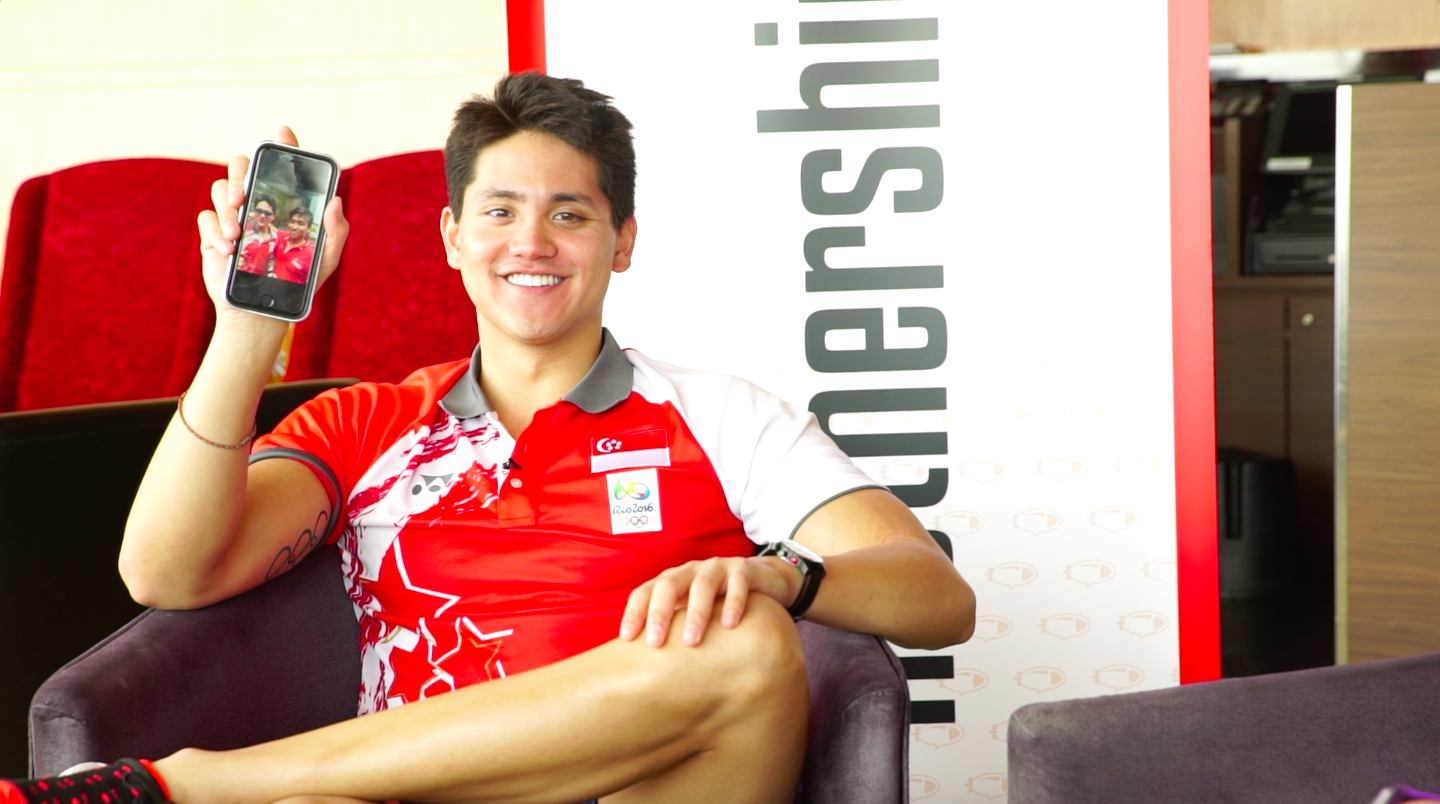 - The last photo on his phone: 
"So it's this awkward picture – (Teo) Zhen Ren looks so bad! (Cue furious glance from Teo, who is seated to one side and listening in) of me and Zhen Ren. That's kinda funny, but that's the last picture on my phone! I think this was on top of the bus, outside Swissotel, before we got off the bus. We were trying to take a quick snap before it got crazy again. Someone helped us take that picture. I guess they were like bam, bam, bam, trying to take as many pictures as possible... it's great cause Zhen Ren looks pretty funny here. It's even better!"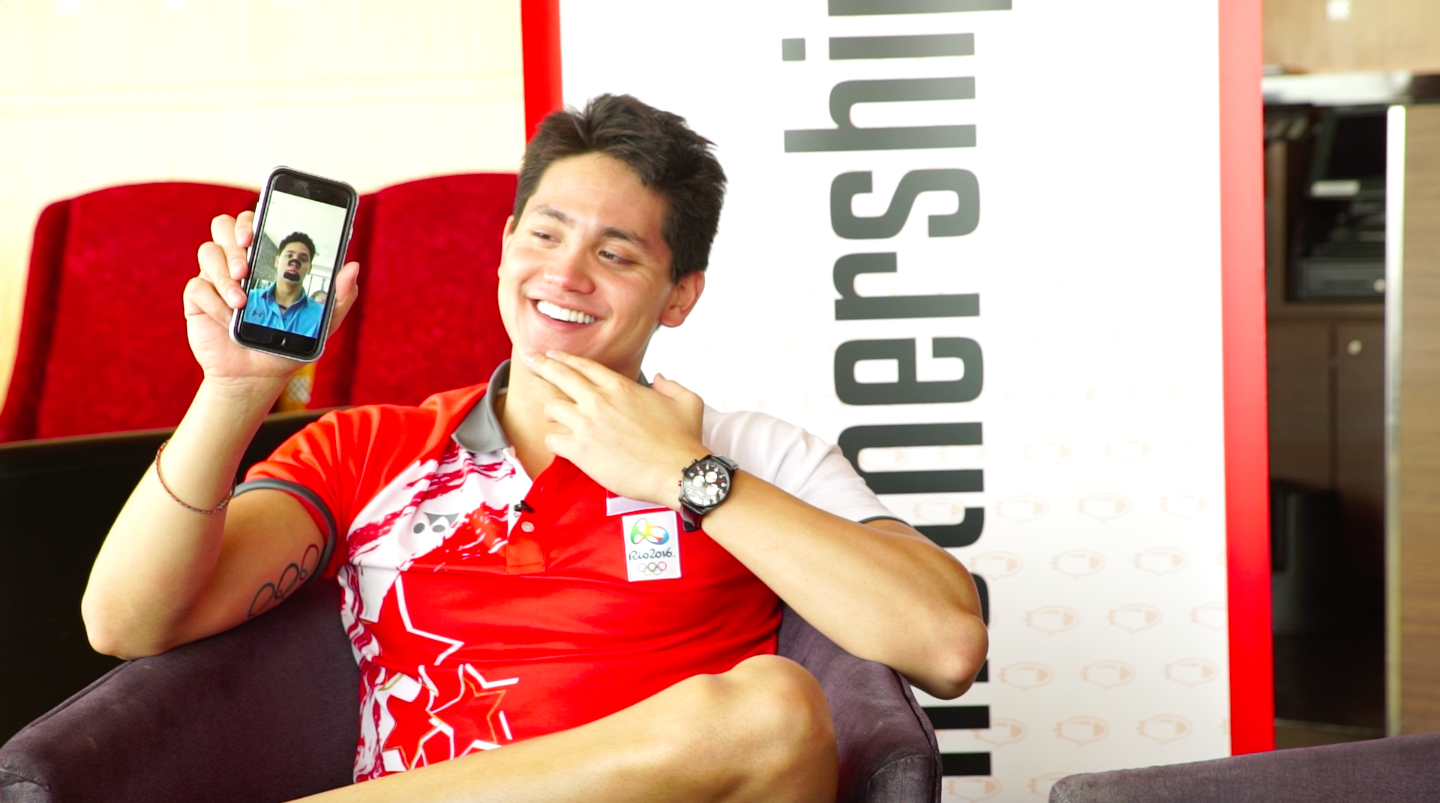 - The last selfie on his phone:
"Yeah… I don't think I took any selfies before the Olympics. Everything was just like other pictures – oh, oh my gosh. Okay... (laughs) my last selfie… oh sh*t... was before the SEA Games, last year, and this was before a photoshoot, and I was getting, like, hair and makeup done. And uh, they put two pore patches on me to get my blackheads out (laughs)! That's the picture. My last selfie before the Olympics on this phone."
- The last photo sent to him on WhatsApp:
"Hmm. It was... (from) Alvin (a photographer). All the pictures he took of us; this is the last one I received. This is the latest picture of us on the bus, going down Orchard Road, and there were flags in the background. So he took a great picture, and he just WhatsApped it to me."
Messages on his phone
- The last message exchange he had on WhatsApp:
"I WhatsApped Zhen Ren – and it was this morning, it's the last text before I got on the bus. I said, "Are you ready for that bus?"

And he said, "Just woke up. You better massage your face — you're going to have to smile a lot." I texted him, "Come down, fool."

In the bus or something, he's like,"I'm too tired to get up and down", so he's obviously out of shape. He's fat."
- The last Facebook personal message he received from a friend:
"This was (from) Morgan. It was a group message from Morgan, to me and my mom – so this was like a 3-person (conversation). Just, like, thank you for visiting ACS(J), God bless… the best is yet to be. So like a thank you message. From Morgan…

(Who's Morgan, we ask)

I have no idea. I think it's a mom…

(And you're friends with her on Facebook?)

I guess. I guess, yeah. I used to accept everyone like a long time ago – before like I maxed out the friends limit. And um, so right now I just like kinda pick and choose, or like delete people to make more room for the new people, but, I guess, somewhere along the line I must have met… Morgan (laughs).

Yeah… I have to see the person, I'm bad with names."
- His most commonly-used emoji: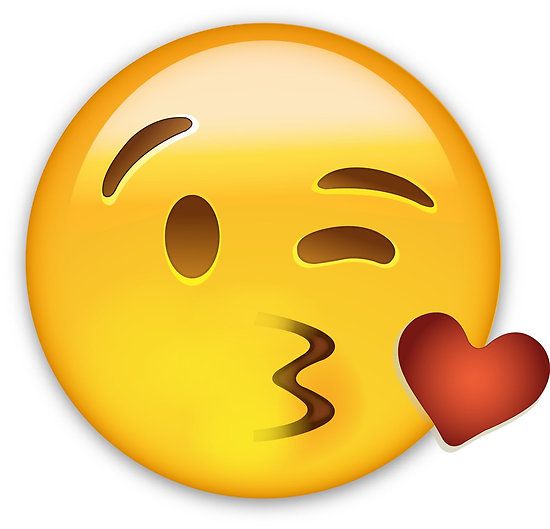 "Hmm… It might be that kissy face thing. I love… that heart thing? I think that's mine. Yeah it is, look at that... there it is, top left (of his WhatsApp most-frequently-used emoji list), it's the winky kiss thing.

I don't really use many emojis. I mean sometimes I just like, throw that out — like "thank you for that" (then) the emoji? But um, I probably use it, if I have to count every day, I probably use it... maybe seven or eight times a day?

(We asked what the emoji means for him)

It's just like a... I don't know, sometimes I don't like leaving plain text for something — like if someone says I'll do this and this, (and if) I just reply "thank you" (it) sounds kind of rude – you know, kinda bland and boring. So I like to throw in an emoji to make it sound like more comfortable, like "thank you!" and more appreciative. If that makes sense (laughs)!

(Would you send it to a guy?)

Well it depends on how well I know the guy. If he's a good friend, then I'll be like, "thank you (makes kissy face)". Like, I have to know the person; if I send that to a stranger, he might think, you know, I'm all weird. But, if it's still someone that I know, yeah, I'll do it, just for fun."
Videos, music and news online
- The last video he watched on YouTube:
"I watched... the last video I watched was probably at the Olympics. I got tired of watching swimming videos, so I started watching Call of Duty videos because I'm, like, a huge geek when it comes to Call of Duty, and I love to play Search and Destroy on Ghosts (a part of the game series).

And I was watching this guy called OpTic Scumpii, who is like an insane gamer, and uh (here's where he breaks out into a fanboy moment) I hope he sees this, because that'll be sick. I'd love for him to know me, that's crazy! But yeah OpTic Scumpii, just tearing it up, using like the Ripper or something... something like that, I don't know. It was a Call of Duty video, of him. Yeah.

(We found out it was a 15 to 20-minute video, which he watched before his last [Olympic Gold and record-setting] race — the 100m butterfly.)

Yeah, I got sick of watching swimming videos. I got too pumped, and I had to wait a while to swim, so I just started watching Call of Duty videos. Cause one of my buddies were like – yeah you need to check this guy out! And I love watching videos like that, to try to get better. I need the help!

(Does it help, we ask)

Yeah — the way he plays, I kinda pick up on what he does, so that's pretty cool, and I dunno, I'm gonna try it out when I get home!

(First thing you do, right?)

Yeah!"
- The songs he's listening to on Spotify:
"Spotify, ok let's check it out – so my last few songs... (pauses) I feel like my phone's about to crash... okay. Last few songs, all right, last three songs I have:

Never Say Goodbye, Hardwell…

Hardwell,

Hardwell,

Hardwell,

Mad World (Radio Edit) – I listen to a lot of Hardwell...

Zedd,

I have some rap in there,

some Cash Cash, and, yeah,

some alternative.

These last few songs are just like, house, rap and alternative rock.

Before I race, I like to listen to these three genres, before I race."
- The last article he read online:
"Well, before this - my friends, Jack (Conger) and Gunnar (Bentz) (Editor's note: they're both American Olympic swimmers), they're like the guys who got pulled off that flight. so I was just watching video on ESPN about them – having to stay in Brazil (laughs) Yeah, it was crazy. That's just nuts.

Yeah, cause I know Jack well. This is really serious...(yet) All you can do is laugh... it's more like 'what did this guy do to get into this kind of trouble?' that kind of thing. In a funny way.

(That would be a good conversation to have later on.)

Hehehe yeah."
Naturally, since we had Schooling talking about his phone to us, we had to also ask him when the last time was that he swiped right.
He looked thoughtful, and then told us that quite honestly, he can't remember when he did, saying it was "a long-a*s time" ago.
He also showed us his social app panels, telling us he no longer has Tinder or Bumble on his phone, and referring to that specific incident, he says he honestly doesn't remember swiping right to her.
And now, our man of the week's on a long flight to Austin, Texas, where he goes straight back to school — and likely, training — almost as soon as he arrives.
Four crazy, whirlwind days of being Singapore's most famous, well-loved, sought-after and popular celebrity later, Joseph Schooling will return to being a normal boy, in a normal university, and going back to his normal routine and discipline.
We suppose that's what should matter to us above all, especially beyond who he swipes right to — that our Singaporean champ is indeed "the kid who beat Michael Phelps that one time".
You can watch his responses to some of our questions from this interview in our video here:
Top photo by Ng Yi Shu.
If you like what you read, follow us on Facebook and Twitter to get the latest updates.
If you like what you read, follow us on Facebook, Instagram, Twitter and Telegram to get the latest updates.