An online user, Vince5877, took to HardwareZone forum to post about the experience of receiving S$500 as part of the Temporary Relief Fund (TRF) being provided by the government, despite not having offered any documents.
The financial aid is meant for those who have lost their jobs or faced a 30 per cent loss of income due to Covid-19, and require urgent help with basic living expenses, according to the Ministry of Social and Family Development (MSF).
"I can't believe this!! No document also can get the $500!!"
In the post, the user attached a screen shot of what appeared to be an email from DBS bank, which said: "You have received SGD 500.00 from PEOPLE'S ASSOCIATION to your account via PayNow."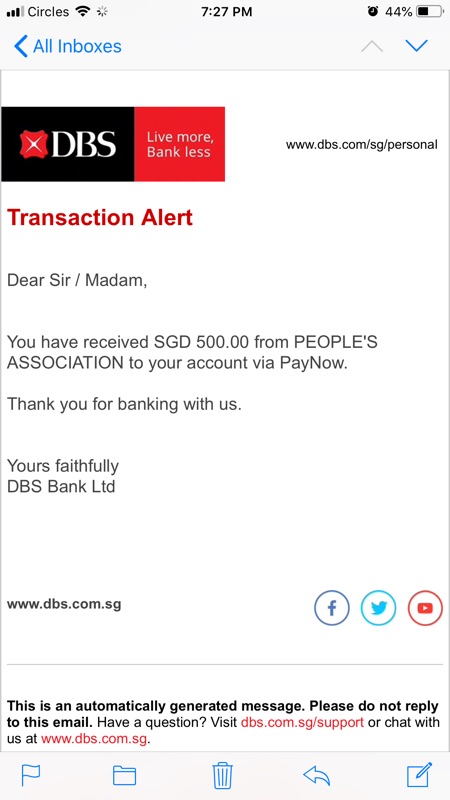 In an edit to the post, the user, Vince5877, then clarified that a trip to the community club was made on Apr. 2 to apply for the TRF.
The user claimed to have worked part-time in hotel industry doing banquets and has not been assigned any jobs since January.
The post described the application process briefly and mentioned that no documents, except for an identification card was required.
The user then speculated: "Maybe they did checked my CPF, maybe they got call and verify with my recruitment agency I don't know. Or maybe they never do anything at all."
The user added that there was an expectation that the respective government agency will call and ask for proof before the disbursement of the TRF, but was surprised when the email regarding the transfer of money came in.
The user added that the money would help get through the month:
"As some ppl say, I thought they will call me and ask for document proof or something but I was surprised to receive the email that $500 has been credited in.

I was really down and out and this $500 will help me to survive through for this month."
In the edit of the forum post, and in response to some backlash, Vince5877 added that the post was put up in a moment of excitement.
The forum user apologised for the post and asked those who need the money to try applying for the fund as well: "In my excitement, I posted something that I should not have post. If any of you took offence, I apologise sincerely."
"To those out there who really need some cash to tide through, do go and apply for it. No harm trying. Good luck."
Over 100,000 Singaporeans affected badly by Covid-19: Desmond Lee
In a Facebook post, the Minister for Social and Family Development, Desmond Lee, addressed the original forum post by Vince5877, and said that the government agencies involved have made the application for the TRF "more flexible and responsive".
As over 100,000 Singaporeans have been hard hit by the Covid-19 pandemic, agencies have accommodated a range of supporting documents, Lee explained.
He wrote: "Along the way we're adjusting to make the TRF more flexible and responsive. We've accommodated a wide variety of supporting documents: a letter, an email, a screenshot from an app, a WhatsApp message, an appointment booklet, handwritten notes, payment slips."
"And for those with no documents, they can make a legal declaration on the form and we will accept the application."
Aware of some who might "cheat" the system
Referring to a screen shot of the online forum post on HandwareZone, Lee said that "a very small number of people are taking advantage of the schemes, or encouraging others who do not need help to try to "cheat" the system".
He emphasised that those who "cheat" the system are doing so at the "expense of many Singaporeans who are in genuine crisis" and that the abuse disheartened him and his colleagues.
He ended the post by mentioning that the current priority is to disburse the TRF and other help schemes and any reports of abuse might be dealt with at a later date by the Minister of Home Affairs, K. Shanmugam, and his officers and "to have a chat" with those who abuse the system.
Top image via Vince5877/Hardware Zone from and screenshot from Gov.sg Youtube
Content that keeps Mothership.sg going
---
😢😫
This writer got eczema only at 25.
👁️‍🗨️💻
Know someone who experienced cyberbullying?
💥😨
What to do with your PMD during circuit breaker period.
🤭🎮
Do you play games while working from home?
🏠💼
We hate online meetings as much as you do.
If you like what you read, follow us on Facebook, Instagram, Twitter and Telegram to get the latest updates.