Update (Jan. 24, 2:20am): A previous version of this article incorrectly stated that koalas were sold at the market. While they were labelled "树熊" (koalas), they more closely resembled large rodents. We have corrected the error. 
Update (Jan. 23, 11:50pm): A 66-year-old Chinese national in Singapore was confirmed to be infected with the Wuhan virus on Jan. 23. According to the Ministry of Health (MOH), the man from Wuhan arrived in Singapore with nine others on Jan. 20. The 10 of them stayed at Shangri-La's Rasa Sentosa Resort. We spoke to a Chinese tourist staying there.
The novel coronavirus outbreak has led to a lockdown in Wuhan to contain the virus within the megacity and has claimed 17 lives and infected over 600 people so far, according to the Chinese authorities.
Reports are pointing to wild animals kept for sale in one Huanan Seafood Market as the likely source of this new coronavirus.
Over 100 wild animals sold at epicentre of virus outbreak
An image circulating around shows an outrageous range of exotic animals sold at the Huanan Seafood Market in Wuhan, where the virus possibly originated from.
It is apparently a menu taken from the said market, featuring a wide variety of game meat and livestock.
🖐🏼I volunteer to translate Public Livestock Wild Game menu items and prices:

Live Sika Deer 梅花鹿 6000元
Live ostrich 活鸵鸟 4000元
Live peacock 活孔雀 500元
Live #civet cat 活果子狸 130元
Crocodile tongue 鳄鱼舌 45元/1斤
Camel meat 骆驼肉 25元/1斤
Bull testicles 牛蛋 12元/1斤

— CIAspy 🌀 (@CIAspy) January 22, 2020
The menu features a mix of over 100 live animals and their meat, which includes live Chinese Giant Salamander, camels, ostriches, peacocks, and wolf pups.
According to the menu, a live peacock was sold at RMB500 (S$97) each, a particular deer species cost RMB6000 (S$1167) and a live "树熊" -- understood by most people outside of China to mean a koala -- cost RMB70 (S$13.60).
The menu also promotes services such as live slaughtering and delivery.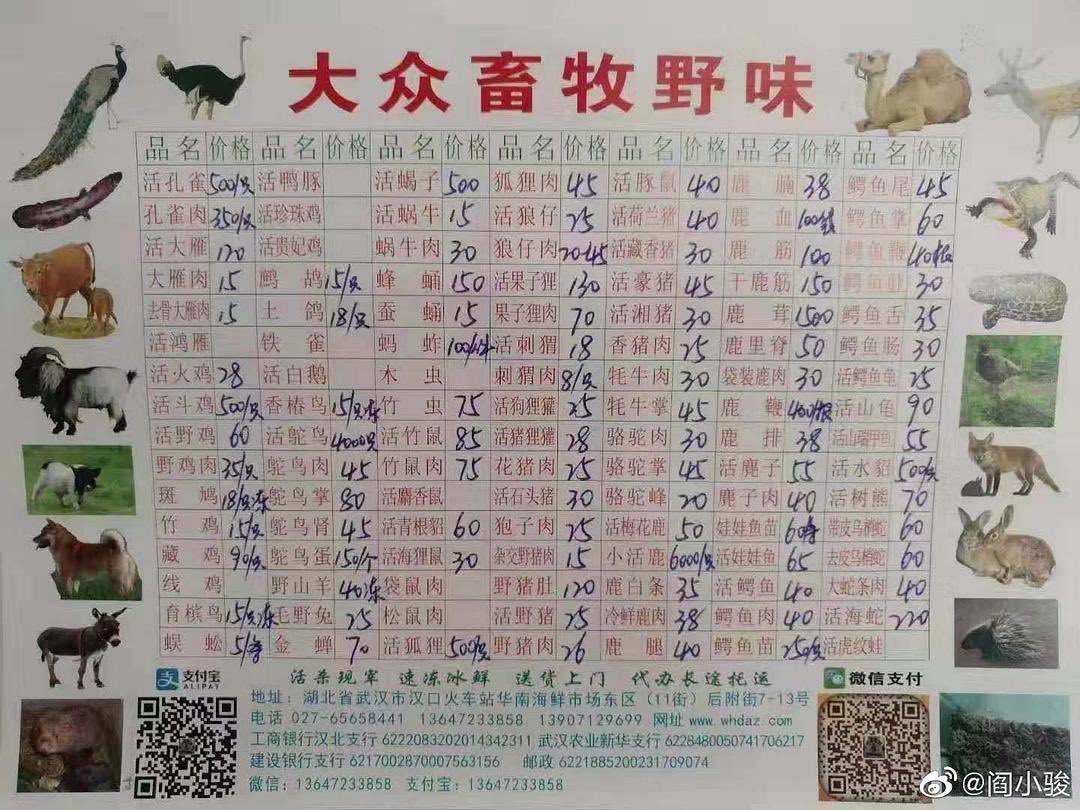 Live animal markets such as the one in Wuhan are breeding grounds for viruses, as animals of various species are kept in close proximity with one another and some viruses can jump from one host to another, according to Business Insider.
The sources of these animals are uncertain.
Koalas on sale?
While the term "树熊" (read as shù xióng) commonly refers to koalas among Chinese communities in Singapore, Malaysia, and Hongkong, it might not mean the same thing in China. 
Live koalas can be observed in China, only at Guangzhou's Chimelong Safari Park, and they are called "考拉" (read as "kaǒ lā").
Older posts by Weibo users who visited the Huanan seafood market show that the term "树熊" (read as shù xióng) actually refers to a large rodent species which resembles beavers.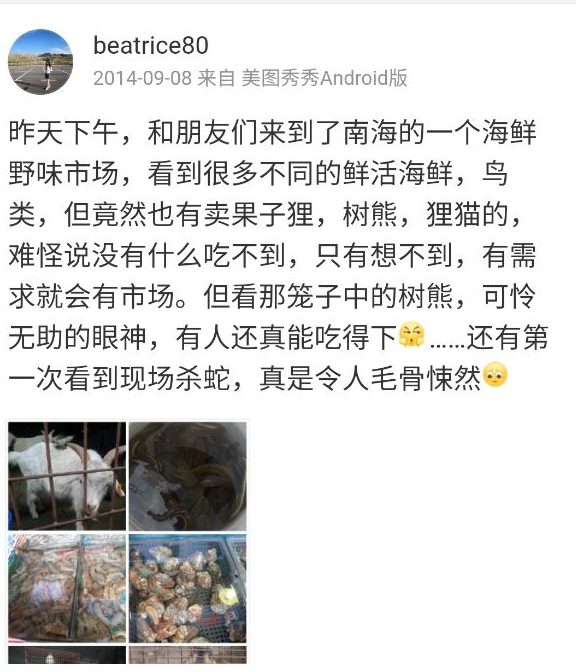 It was sold at an exorbitant price of RMB1680 each (S$327) at another eatery in Guangzhou, according to a Weibo user's post in 2011.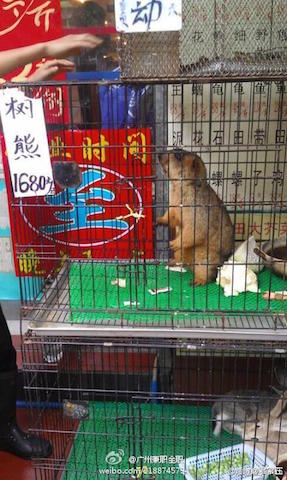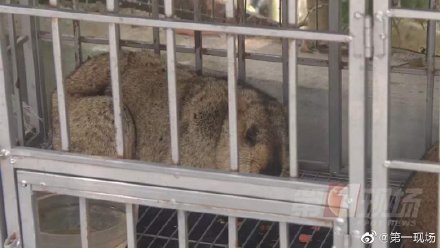 Live animal markets not uncommon in China
Live animal markets selling both dead and live animals of different species are common in China, existing in areas such as Guangzhou and Shandong province.
What led them to consume exotic animals has to do with their cultural beliefs that wild animals are more nourishing than reared ones.
Also, a significant number of Chinese people still view consuming exotic animals as a public display of social status.
For example, this bowl of soup contains a bat which, in Chinese, sounds like the word for fortune and good luck "福" ("Fu").
https://twitter.com/Hongkong3333333/status/1219968686418644992
https://twitter.com/Fightin49203206/status/1220301584220844034
现在病毒传播怎么严重 丝毫没有人去反思到底是什么原因导致病毒传播 吃野味 流动禽类销售都可能 更可恨的是 今天走在街头还看到有流动禽类销售 pic.twitter.com/MeeCfSuNQp

— Ashesily (@shangenjoy) January 23, 2020
The virus outbreak has since led to public outrage over the consumption of wildlife.
Posters like this below have been circulating online urging the Chinese government to ban the sale of wild animals at food markets for the sake of public health and biodiversity.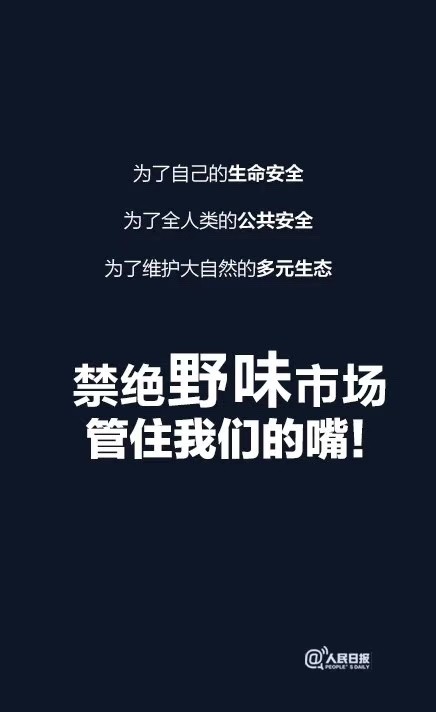 Related stories
Watch how a Chinese tourist in Singapore reacted after a guest in her hotel was diagnosed with the Wuhan coronavirus:
Top photo via Liberty/Twitter and @阎小骏/Twitter
Content that keeps Mothership.sg going
---
✈️?
We compiled a list of food, flight and activities promos for you.
??
Instant $88 lucky draw to get cashback for your CNY clothes!
??
$1.50 unagi sushi?!? Don't say we bojio.
??
Technology can be scary for older folks, but it doesn't have to be.
If you like what you read, follow us on Facebook, Instagram, Twitter and Telegram to get the latest updates.