[UPDATE on Friday, Jan. 31 at 8:23pm: The ICA has said it does not require its frontline officers to wear masks because their interaction with travellers is limited enough for the risk of viral transmission between them to be low.
Read more in our story here.]
As the number of confirmed cases of the Wuhan virus in Singapore reached 10 this week, much of the public discussion about protection against the virus in Singapore has centred around wearing surgical masks properly and practising good hygiene.
Some Facebook users, however, are alleging that one important group of people that meets and interacts with thousands of travellers every day has been instructed not to wear masks in their work: immigration officers.
Staff told not to wear masks
One Manju Balakrishnan took to Facebook on Monday (Jan. 27) to share her disappointment at the situation.
According to Manju, she had heard that staffers working at Singapore's immigration checkpoints, as well as customs and customer service counters at our airports, had been instructed not to wear masks.
She said that it "came to [her] knowledge" that while cleaners and other airport staff are allowed to wear the masks, immigration officers are not.
She expressed her disappointment that the well-being of those at the frontlines is not being taken care of.
She referenced Prime Minister Lee Hsien Loong's Facebook post reminding Singaporeans to protect themselves, and asked why these individuals at the frontlines were excluded from this.
You can read her full post here:
Other commenters chiming in
Manju's post, which has been shared more than 400 times, elicited comments from others who affirmed this, saying they knew people who were instructed the same thing.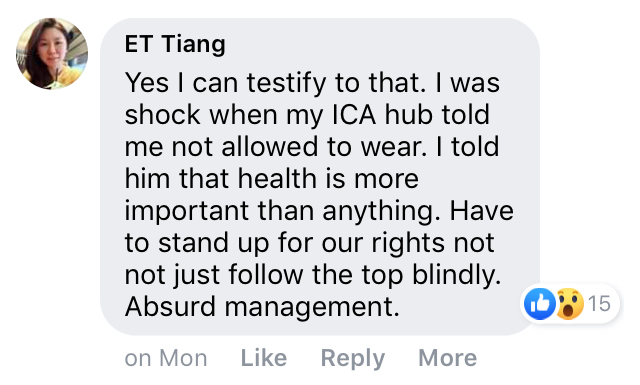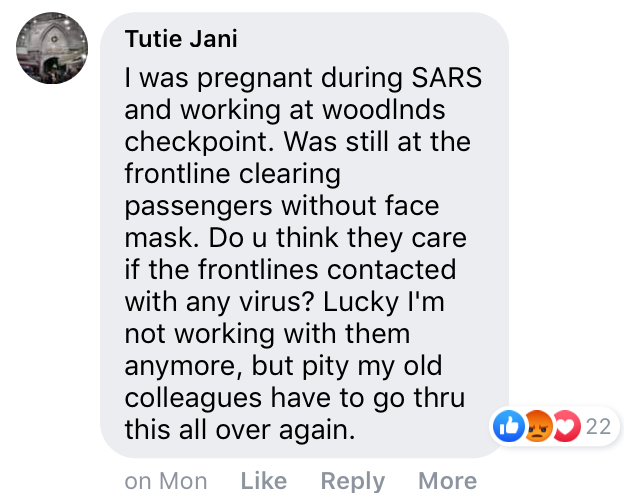 In a Facebook post on Tuesday, Jan. 28, the Immigration & Checkpoints Authority (ICA) shared precautionary measures being taken to prevent community spread of the virus, such as quarantining higher-risk individuals who had recently travelled to or were returning from Hubei province and denying entry to new visitors with travel history in Hubei or who hold Chinese passports issued in Hubei.
Facebook users also left comments on the post questioning ICA's policy about frontline immigration staff wearing masks: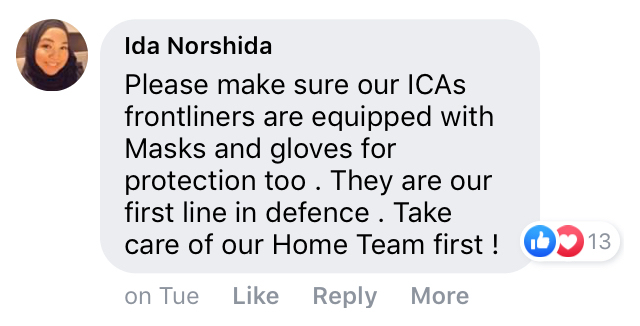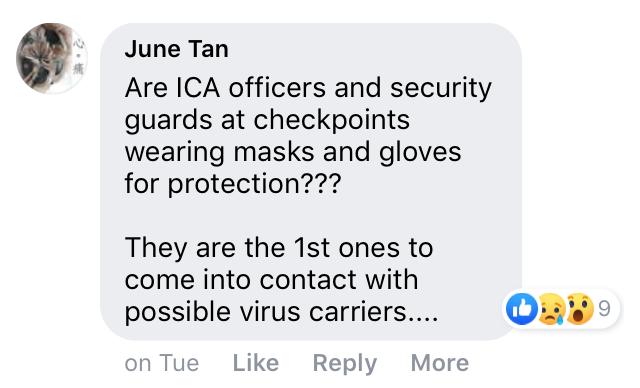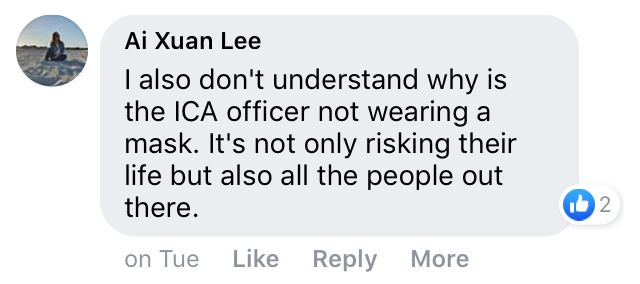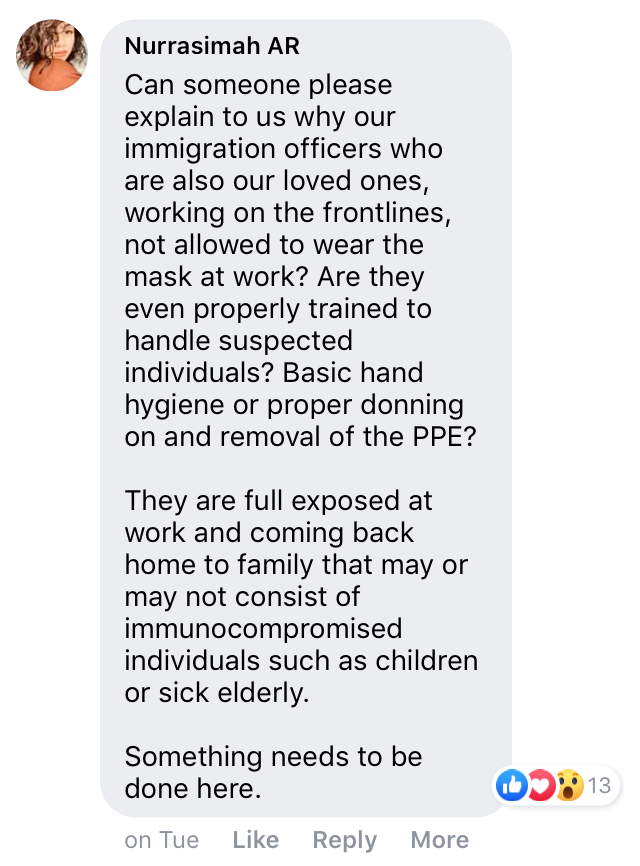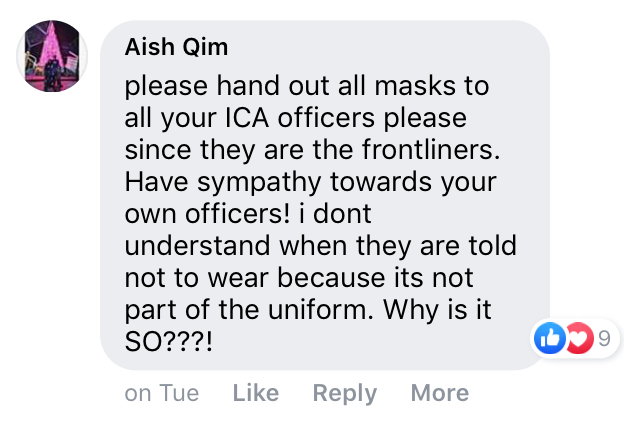 Woodlands Checkpoint officers
When Mothership went down to the Woodlands Checkpoint on Thursday (Jan. 30), none of the immigration officers stationed at the arrivals baggage check area were wearing masks. Nor were officers stationed after the immigration booths to conduct checks on arriving motor vehicles.
However, a Facebook post on Wednesday (Jan. 29) by Senior Minister of State for Transport Janil Puthucheary about his visit to Woodlands Checkpoint to view the thermal scanning process showed healthcare staffers deployed at the checkpoint wearing surgical masks.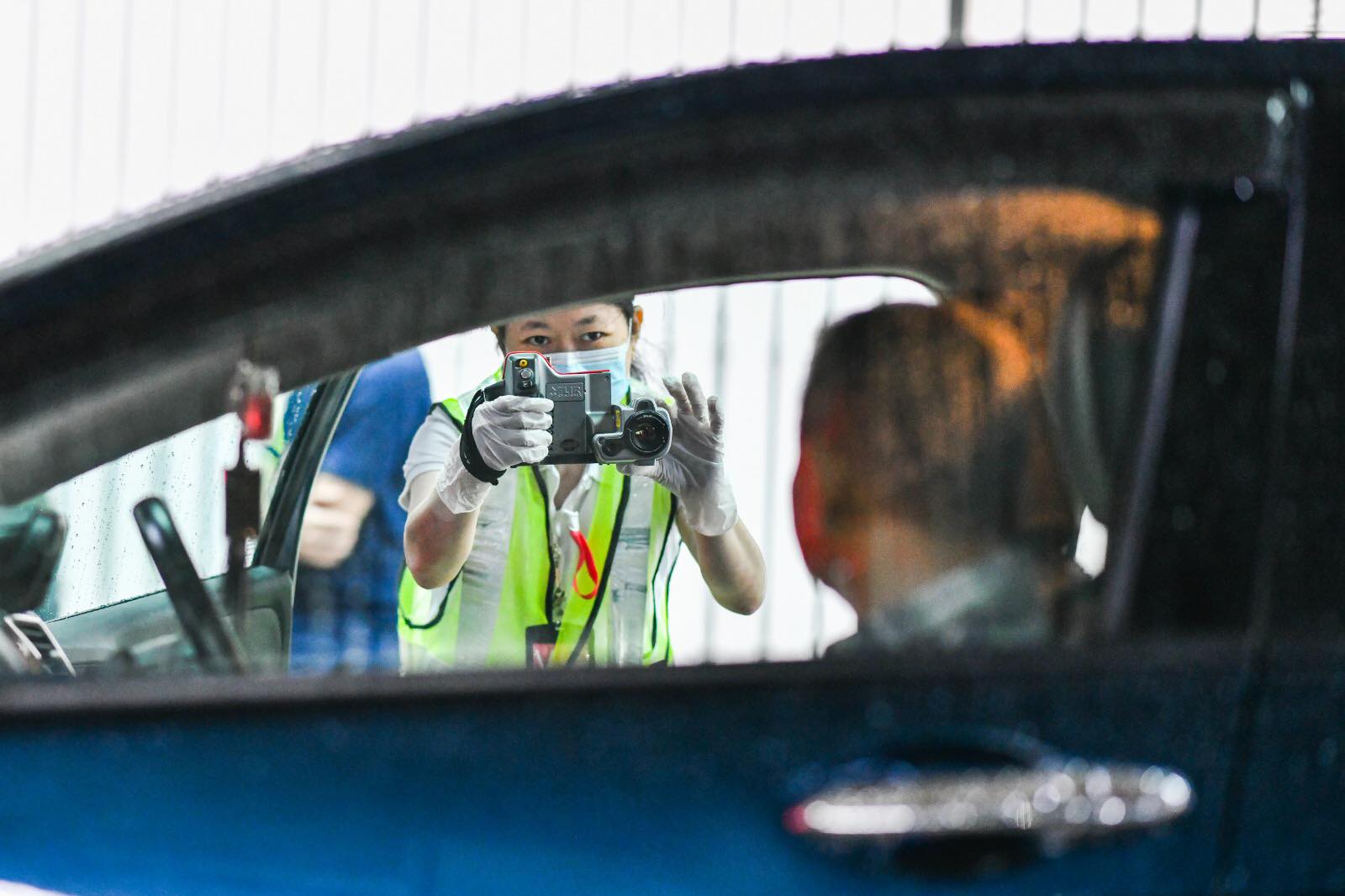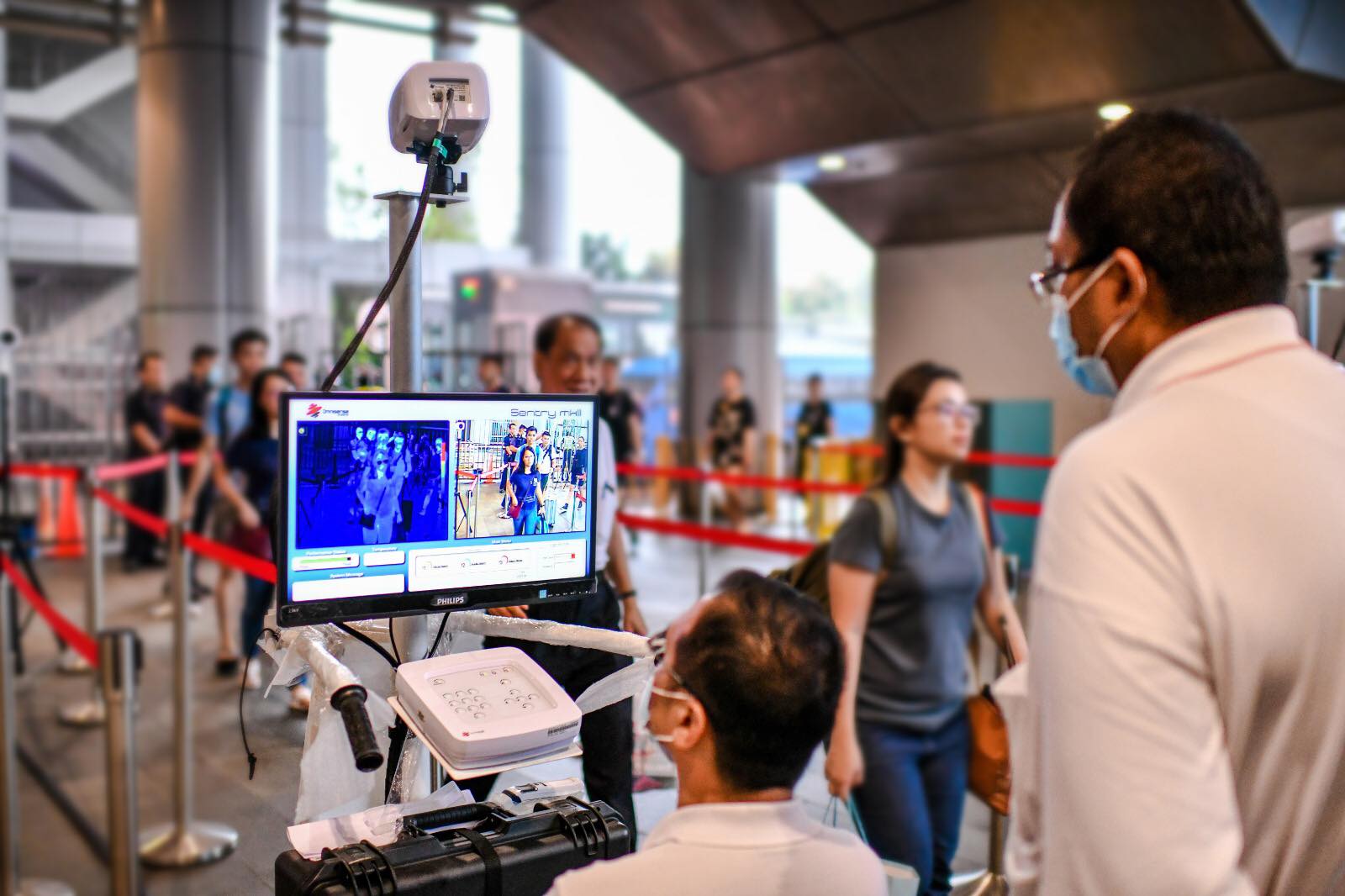 Mothership has reached out to ICA about the situation, and will update this article when we receive a response from them.
S'pore government: No need to wear masks if well
In a media briefing on Thursday (Jan. 30), in response to a question about whether employers have the right to stop their employees from wearing masks, the government said that they cannot control and enforce what companies do in their work settings.
They said they can only educate people on the appropriate uses of masks, which is that people who are not sick do not need to wear masks, including in their workplaces.
Rather, companies should make sure they have arrangements in place to safeguard the interests of unwell employees as well as other people, which might include requiring the sick employee to use a mask.
PM Lee shared a reminder in a Facebook post on the same day (Jan. 30) that the masks are meant to be worn by people who are sick, writing:
"The Ministry of Health, Singapore has advised that we only need to wear a mask if we are sick. There is no need to wear a mask if we are well."
Top image via Facebook / Janil Puthucheary.
Content that keeps Mothership.sg going
---
??
Quick!!! Cheap food, flights and activities here!
??
$1.50 unagi sushi?!? Don't say we bojio.
??
Technology can be scary for older folks, but it doesn't have to be.
If you like what you read, follow us on Facebook, Instagram, Twitter and Telegram to get the latest updates.