Update on Oct. 22, 2019 at 5:24 pm: This article was updated to reflect the source of the screenshot.
Every parent wants the best for their children, especially when it comes to education.
Some however, can be quite a stickler for certain things, such as when exactly should lessons end.
Tracked her child's school hours
One parent, who didn't seem particularly satisfied with her child's schooling hours, wrote an elaborate note on it.
According to a Mothership reader, the note was originally posted to Facebook group Childcare in Singapore. However, the post has been taken down.
A screenshot of the note has since been circulating online, and was posted to Facebook page All Singapore Stuff where it has garnered 237 shares and 508 likes in less than a day.
The same screenshot was also posted to various other pages, such as Hello Asia Singapore.
The parent, who did not reveal their identity, stated that their child was currently attending Adventist Schoolhouse.
The schoolhouse's hours apparently ran from 11:30am to 2:30pm.
The parent shared that they had been tracking the school's specific hours, such as when the students checked in and out, via an app called Diibear.
Believes lessons should end at 2:30pm on the dot
The parent appears dissatisfied by the fact that their child's lessons end before the three-hour mark, saying that the student's check-out timings were "always before 2:30pm" or "even... as early as 2:21pm".
Subtracting the time taken for the children to pack up their bags after lessons, head to the toilet and other miscellaneous activities, the parent speculated that the school actually finished their lessons at around 2:10pm or 2:15pm.
And this, the parent apparently felt, might not be worth the school fees paid, as the "school fees [were paid] for school hours specifically from 11:30am to 2:30pm".
The parent also stated that lessons should preferably end at 2:25pm, which means the child would only leave the school after 2:30pm.
He/she even calculated the amount of school hours wasted per month, which would be equivalent to a day's worth of school.
The note-writer then questioned other parents if they experience the same issue.
You can read the parent's full letter here.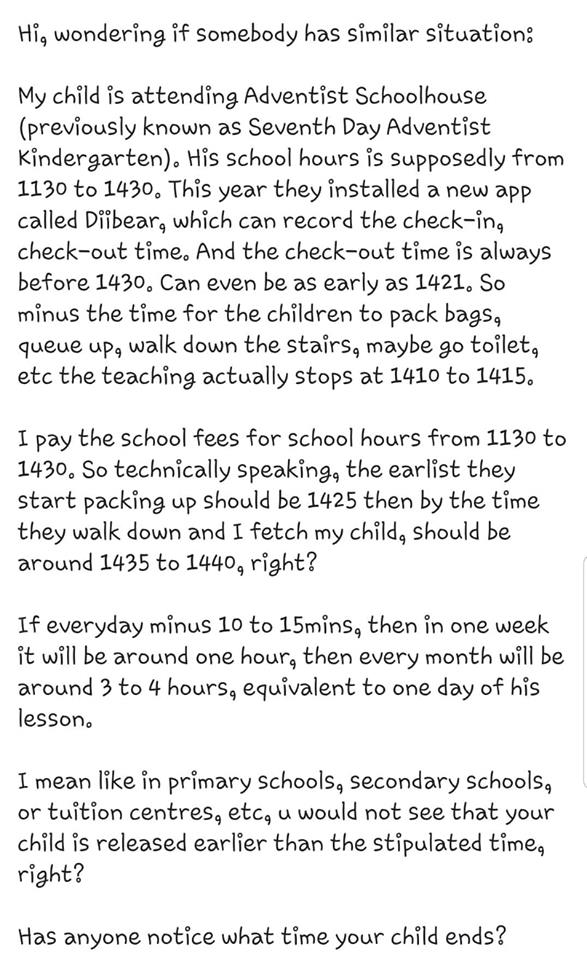 People online bewildered
Many social media users reacted to the post in disagreement.
Many acknowledged that teaching should end earlier as packing and cleaning up required time, especially with so many children.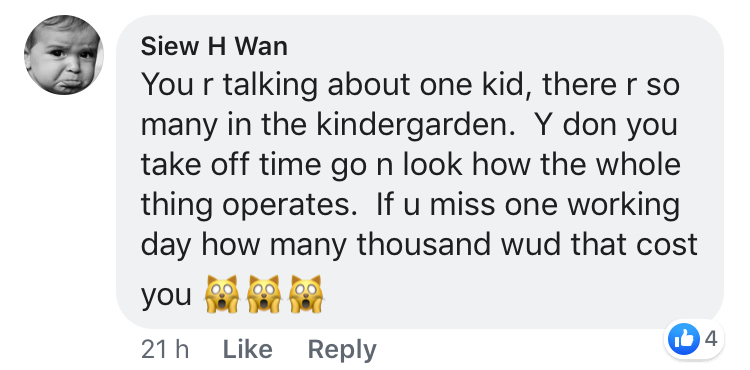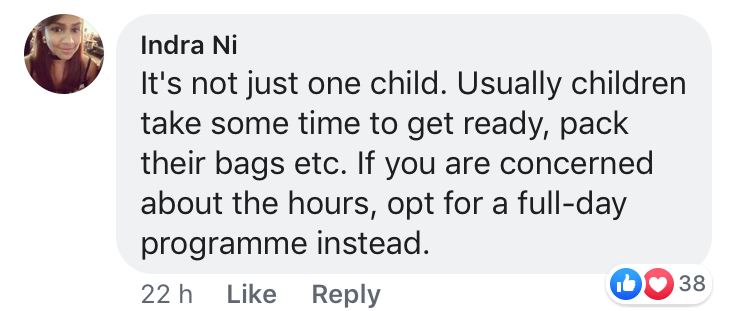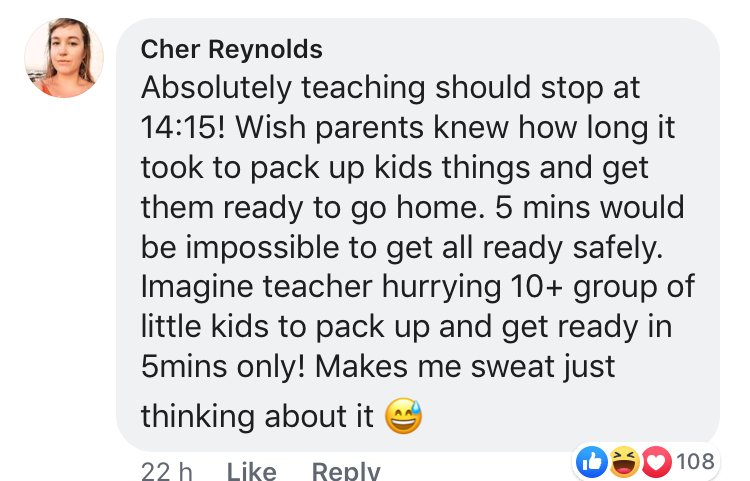 Others commented on the parent's fussiness, and suggested alternative methods of schooling the parent could choose from.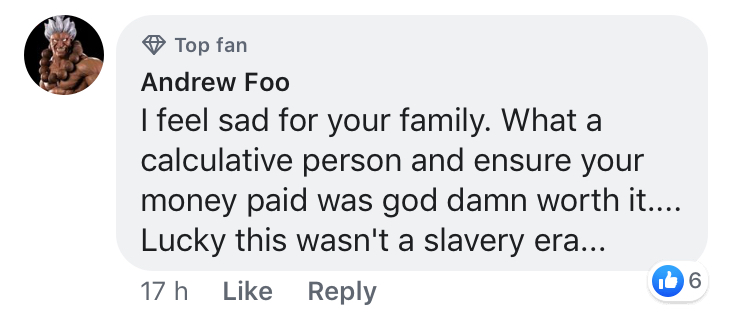 Some Facebook users said that if classes ended beyond the stipulated time of 2:30pm, then the teachers should be compensated for that extra time as well.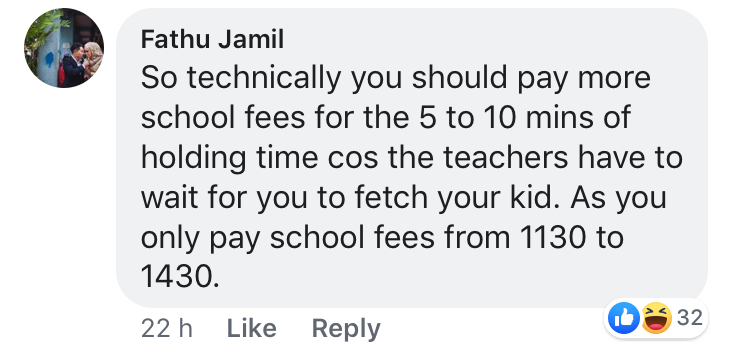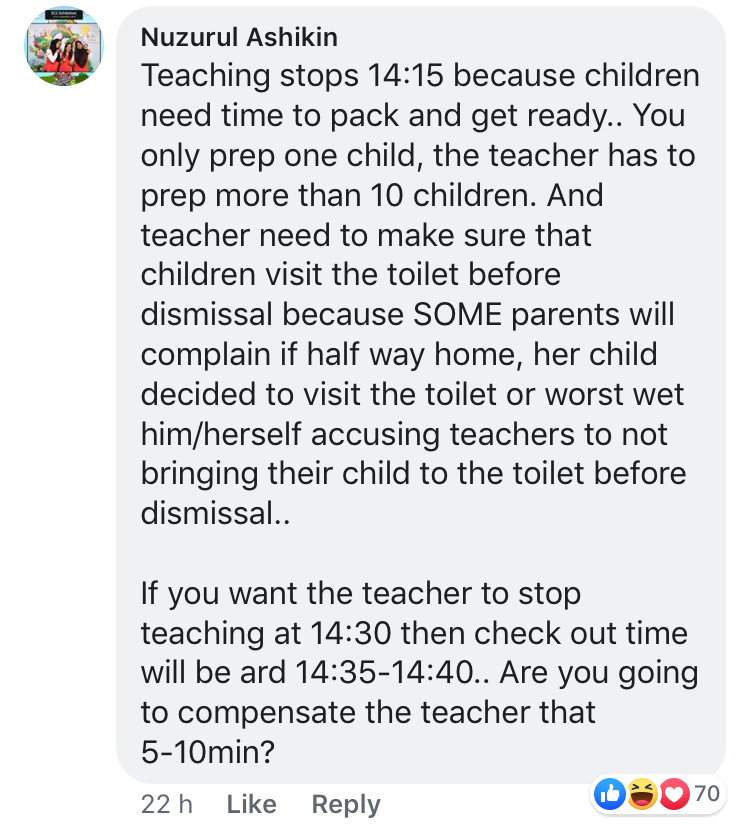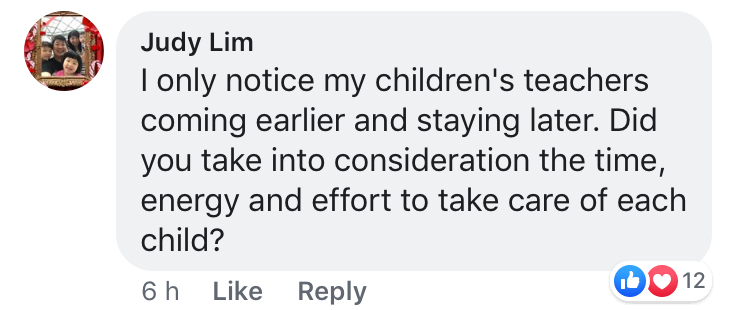 Hmmm.

Mothership has reached out to Adventist Schoolhouse for comment and will update this article when they reply.
Top photo from All Singapore Stuff / FB 
Content that keeps Mothership.sg going
---
❌?
Are young Singaporeans really lazy and pathetic?
??️
Do you agree that FOMO really isn't a thing?
??
Do yourself a favour and have a quickie please.
?✈️
Hell is an actual place on earth, and it's only a flight away.
If you like what you read, follow us on Facebook, Instagram, Twitter and Telegram to get the latest updates.