Millennials are lazy, youths don't know what they want out of life, young Singaporeans don't show enough passion or commitment.
It's a safe bet that you've heard all this before.
But these Singaporeans are proving that these super-generalised notions are completely off the mark. Meet Cho Ming Xiu. He dropped out of school twice and majored in two different fields of study, before finding the one cause he was prepared to devote his life to.
It's easy to dismiss Cho as a flighty millennial who can't make up his mind. But today he runs Campus PSY (Peer Support for Youths), a peer support group for mental health on campuses.
Cho's journey to social work took a few twists and turns. After dropping out of Temasek Junior College and attending Ngee Ann Polytechnic, Cho studied linguistics at Nanyang Technological University.
Unfortunately, he struggled with the course.
"It was very difficult for me. I decided to take a leap of faith and go out into the sector to see what social services had for me."
He started volunteering at Muhammadiyah Association by tutoring three youths. When he first met them, the youths were despondent about their chances in their upcoming N-Level exams.
But Cho didn't give up. He told the youths that they were still young, and had plenty of time to study and succeed.
He made the lesson enjoyable by sharing his life experiences, and helped youths pass their N-Levels. It made him realise that this is the path he wanted to take.
"After one year, they received their N-Level results and told me that they managed to get into the courses they wanted in ITE. I felt like a proud father."
Campus PSY
Cho had found his calling. He knew that whatever he did next had to involve social work. But how viable was it as a career?
He left NTU and worked with a volunteer organisation called Trybe for a year, helping first-time drug offenders. Then a new programme focusing on social work started at the Singapore University of Social Sciences.
Cho managed to earn a scholarship, but his volunteering days were not over. He began spending time at the Institute of Mental Health, working with elderly schizophrenic patients.
That's where he met another group of like-minded youths who were volunteers as well.
While hanging out with them, he discovered that they had similar concerns. According to a study conducted by IMH, and mentioned by Nominated Member of Parliament Anthea Ong during debates in Parliament on Budget 2019, one in seven Singaporeans has experienced a mental health condition in his or her lifetime.
Three quarters of those affected are afraid to come forward for fear of stigmatisation.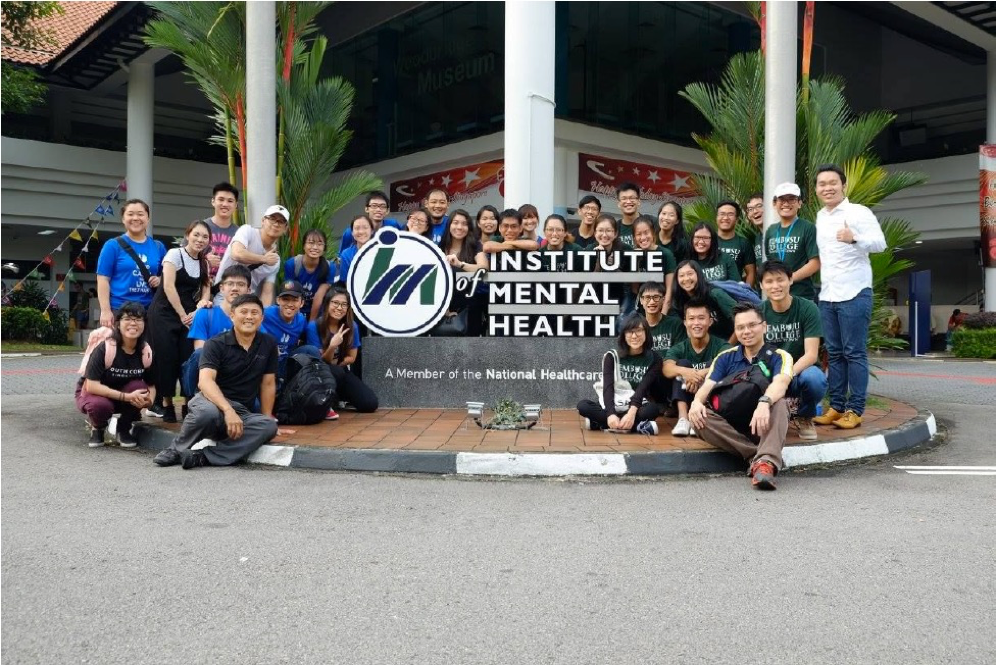 "A lot of our friends and our peers in the universities were struggling with mental health conditions. They were frightened of the stigma and trouble with getting a job."
Cho decided to do something about it.
That was the start of Campus PSY (Peer Support for Youths), an organisation dedicated to help youths gain a better understanding of mental health and peer support skills.
They launched in Oct 2016 with the help of Youth Corps Singapore, part of the National Youth Council (NYC).
Cho expected about 30 people to show up. Instead, 130 people turned up. Cho was blown away, and Campus PSY managed to recruit 50 volunteers to go back to their campuses and help their friends.
Speaking up about, and championing, mental well-being
With Campus PSY thriving, Cho expanded his volunteer efforts.
This year, as part of the SG Youth Action Plan, he plans to lead a Youth Alliance on mental health to further reduce stigma of mental health and provide better peer support to those in need.
The SG Youth Action Plan is a platform for Singapore's youths to shape their vision for the country. Together with community organisations, businesses and the government, youths can develop plans and start projects to realise their vision.
Among youths engaged so far, mental well-being has consistently come up as a key area of concern.
Cho believes that both the government and the youths are aware of the importance of mental health, and the SG Youth Action Plan is an opportunity to rally the different stakeholders together.
"A lot of organisations are doing work, but they work in silos," said Cho, who appreciated the effort to unite disparate efforts. He added that the opportunity to involve the views of the youths themselves was important.
Bridge the Gap
Fortunately for Cho, he's not the only guy inspired to work for change.
Take Clarence Ching for example, the founder of Access Singapore, an organisation that provides industry opportunities like workshops and work attachments for secondary school students.
Like Cho, social work is his passion, and he believes that it is a worthwhile endeavour.
"It's true that the pay won't be as competitive and there isn't a fixed career path. However, if a particular social issue keeps you awake every night and you're ready to hit the ground running, do it."
Ching organised Bridge the Gap, a public discourse on social and economic inequality, inspired by his experiences as a Normal (Academic) student, and his own interest in tackling educational inequality.
With support from National Youth Council, a Youth Conversation on Equality was started and sustained.
The session was a success, and the experience enabled Ching to start Access Singapore.
But Ching wants to emphasise that anyone can contribute to social good – it just requires the first step to be taken.
"My volunteering journey began as a bright-eyed 16-year-old with the National Youth Council in 2011, with the 'Be The Change' Project. It focused on what we could do for vulnerable workers in Singapore. I came across it on the newspaper and I signed up for it!

Sign up for a volunteering session at an organisation with a cause you're passionate about and see what it's like. There are many opportunities to volunteer today."
But there's nothing special about Cho and Ching, beyond their hard work and their sense of giving back to the community.
You don't need to have experience. If you are passionate about something – be it a cause or an issue, or have an idea to make our society better, you are wanted and needed.
As part of the SG Youth Action Plan, youths can participate in the Youth Action Challenge to pitch their ideas and receive up to S$50,000 in grants.
Turning our ideas into reality isn't as difficult as we make it seem to be. Find out more on www.sparkthenext.sg.
This article was sponsored by the Ministry of Culture, Community and Youth.
Top image courtesy of Cho Ming Xiu and Clarence Ching
If you like what you read, follow us on Facebook, Instagram, Twitter and Telegram to get the latest updates.