Popular Japanese izakaya (casual pubs) chain Yotteba has released an ad that features a very NSFW Ronald McDonald.
Sexy Ronald
Instead of the typical Ronald that wears a yellow jumpsuit, the ad chose to go along with Sexy Ronald, who is essentially a jacked Ronald McDonald that is naked except for a red-coloured thong.
He appears to tease the audience by pulling it down slightly with his right hand, revealing fries that are meant to resemble his bushy pubic hair.
https://twitter.com/underworldimage/status/1176907948326604800?ref_src=twsrc%5Etfw%7Ctwcamp%5Etweetembed%7Ctwterm%5E1176907948326604800&ref_url=https%3A%2F%2Fsg.style.yahoo.com%2Fronald-mcdonald-mcdonalds-advert-shocking-172254675.html
The ad shocked Internet users enough to elicit pretty strong responses, with a Twitter user saying "I'm haten' it", which is a play on McDonald's tagline "I'm lovin' it".
https://twitter.com/Rreizero/status/1177423389645914112?ref_src=twsrc%5Etfw%7Ctwcamp%5Etweetembed%7Ctwterm%5E1177423389645914112&ref_url=https%3A%2F%2Fnypost.com%2F2019%2F10%2F01%2Fronald-gets-sexy-beefcake-makeover-in-viral-mcdonalds-ad%2F
The packaging for the fries sold at Yotteba features a logo that resembles McDonald's Golden Arches logo, which is the chain izakaya's way of poking fun at the fast food giant McDonald's.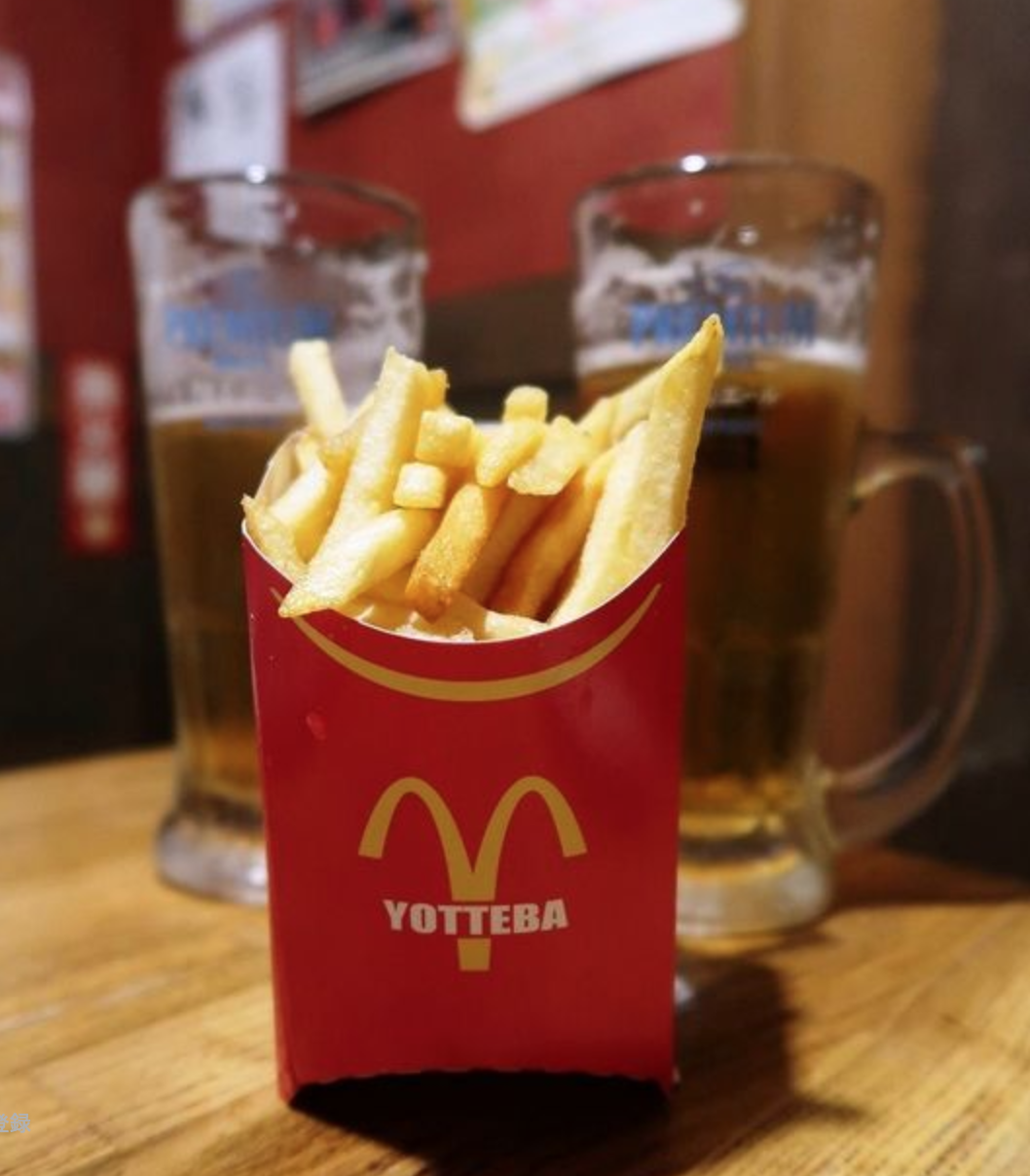 Original Sexy Ronald
The design originated with New York-based artist Wizard Skull.
https://www.instagram.com/p/s2Q-I5rwrS/?utm_source=ig_embed
https://www.instagram.com/p/_nW3UXrwuc/?utm_source=ig_embed
Image reported as real ad
The ad was first reported by media site Delish as one released by Japan's McDonald's.
However, other media outlets subsequently rectified the misinformation, with New York Post confirming with a McDonald's spokesperson that it was not related in any way to the company.
Vancouver Sun, Daily Mail and Yahoo Style UK all reported the ad as being released by Yotteba.
Raunchy McDonald's ad
In an unrelated incident, Japan's McDonald's released a real product with designs that were suggestive enough to set tongues wagging.
Their summer drink cups, which probably are not meant to imply anything more than just young, innocent love, seemingly turned to smut in a split second when the perspective was changed.
Top image adapted via @Rreizero & Wizard Skull/IG
Content that keeps Mothership.sg going
---
??
Do you remember the last time you used a passbook?
??
What's it like to be a 22-year-old with depression and anxiety?
??️
Limited 40% off vouchers for fine dining here!!! Don't say we bojio.
✈️?️
Click here for one-for-one travel deals!
??
Quick atas tips to impress your date.
If you like what you read, follow us on Facebook, Instagram, Twitter and Telegram to get the latest updates.