Winning an award should be a happy thing for most people.
But it was not so for local actress Joanne Peh, who won two Best Actress awards in her career.
The 36-year-old actress won her first Best Actress award in the 2009 Star Awards for her most famous role to date: Huang Yuzhu, the ill-fated Nyonya with a heart of gold in the 2008 blockbuster "The Little Nyonya".
That year, she beat out her Little Nyonya co-star and hot favourite Jeanette Aw, as well as Chen Liping (who was up for a double nomination), Fann Wong, and Felicia Chin for the coveted prize.
"Winning Best Actress was one of the hardest things for me. Everyone had something to say. All the times I've won, it's never a happy thing."
What was supposed to be an acknowledgement of her talent and hard work became besmirched with rumours that Peh, a relatively new actress, was not deserving of the accolade, especially so when there were more experienced veterans in the running.
"The first time I won, I got so much sh*t, that I shouldn't have won, that someone else should have won," she says, shaking her head.
For the then-newbie who had not much experience dealing with the limelight, the hurtful rumours and chatter cut deep.
"I felt really attacked back then because it's not my choice right? I didn't give this award to myself," she says, adding that her only escape was throwing herself back into her work.
Unfortunately, history repeated itself three years later at the 2012 Star Awards.
This time, the self-professed underdog trumped veterans like Zoe Tay, Ann Kok, and Fann Wong for the Best Actress award.
"I remembered after winning it, the reporters came to ask me how does it feel to beat Fann Wong and Zoe Tay."
She pauses with an incredulous look.
"Like, how do I even answer this question? I wanted to be politically correct....but I didn't know how to answer that question without worrying about the headlines the next day!"
It was a dilemma for her.
Acknowledging her win would be to acknowledge that she beat out veterans much more experienced than her. Downplaying it might reek of false humility.
"I'm very surprised. I don't know what to say and my mind is empty. I feel guilty and I'm worried people will say I'm fake, but I really didn't expect to win," she later told The New Paper.
Still, the stress of navigating this minefield was overwhelming. When everything was over, Peh just sat there in her dress, clutched her trophy, and cried.
That, she says, was the turning point, when she learned that awards don't and shouldn't matter to her because she didn't want to be crushed.
An easygoing personality
Today, Peh is a far cry from the green actress who was once intimidated by the media.
Turning up alone (more significantly, without minders) for our interview, the star apologises for being late (her previous event overran, she says) and promises to give us her undivided attention for the next two hours.
And she kept her word and gave so much more.
Up-close, she glows with such an uncommon beauty and glamour that for a moment I am, for want of a better word, starstruck.
But what strikes me more is Peh's easygoing personality that makes you feel at home.
Throughout our conversation, the star laughs, cracks jokes, and whispers conspiratorially with an ease that is usually reserved for friends.
This easygoing personality couldn't be more different from Peh's latest character Fung Lan, a seductive and crafty brothel owner in "The Last Madame".
You might be sick of hearing about the show by now, but hear us out for a bit.
Peh exploits her character, Fung Lan, to the fullest to demonstrate her range, from compassionate mama-san to vengeful feminist to heartbroken lover, all while spouting memorable lines like:
"To be born a woman is to be born a slave to your husband, your mother in law, your children, and your pimp."
Aside from being the first Toggle Original to have aired with an M18 rating (thanks to its very risqué sex scenes), "The Last Madame" is currently the Toggle Original with the highest number of first-week views.
Clearly, viewers are riveted.
"Honestly we didn't expect it, but it's a very good surprise for all of us because the people are saying that you can go on Netflix which is big right?" Peh says, clearly thrilled.
Disappointed that full nude scene was not shown
Despite the show's success, Peh says that she is a little disappointed that a large part of her nude scenes did not make it into the final cut. The inclusion of the scenes would have brought the story to the next level.
"It made sense for a show like that to use visuals in that way to convey the story and after seeing the [uncensored cut], it really made me aware that you can actually use your body to express a certain kind of emotion with more impact than facial expressions."
A film, Peh shares, is more than its plot and characters. It's an emotional experience that should make you, the viewer, feel things.
"I felt that was missing with the [censored cut]," she says. "And that was what's so disappointing. That emotional experience that could have been for the audience was no longer there."
Growing comfortable in her own sexuality
Baring it all is something that Peh would have never done early on in her career. Even she admits that she can be quite critical about her appearance:
"There are insecurities that you need to overcome. People will say, 'Eh you look so skinny, you look so beautiful' but nah, I think my tummy can be flatter, I can have nicer arms or perkier butt. You always find fault with yourself. There's always something to nitpick."
"I think I also grew comfortable in my own sexuality and being a woman in the recent years," she adds.
Peh also credits her husband, fellow actor Qi Yuwu, for his support in pursuing her craft.
"I have to give it to him for allowing me, and being so encouraging about it," she says, "Because I don't think I could have been able to do it so uninhibitedly if he was concerned in any way."
From Miss Singapore Universe to Mediacorp
Older readers might remember the time Peh burst into our consciousness as a fresh contestant in the 2002 Miss Singapore Universe pageant.
The then-A Level graduate initially thought of modelling while waiting to enter university. It was a good way to kill time and earn some money at the same time, she admitted.
"I never thought of entering showbiz or anything like that. It was really just to kill time then I'd go back to school," she says with smile.
However, her mother wasn't so keen on the idea of her daughter modelling. Instead, she suggested Peh join the Miss Singapore Universe pageant.
"By the closing date, I still didn't have the guts to submit my entry. And then it was on TV and it said that [the deadline] had been extended, and suddenly that was a sign," Peh laughs.
It was a sign indeed.
Peh did not win the crown, but she took home the twin titles of Miss Elegant and Miss Personality.
More importantly, she was scouted to audition at Mediacorp.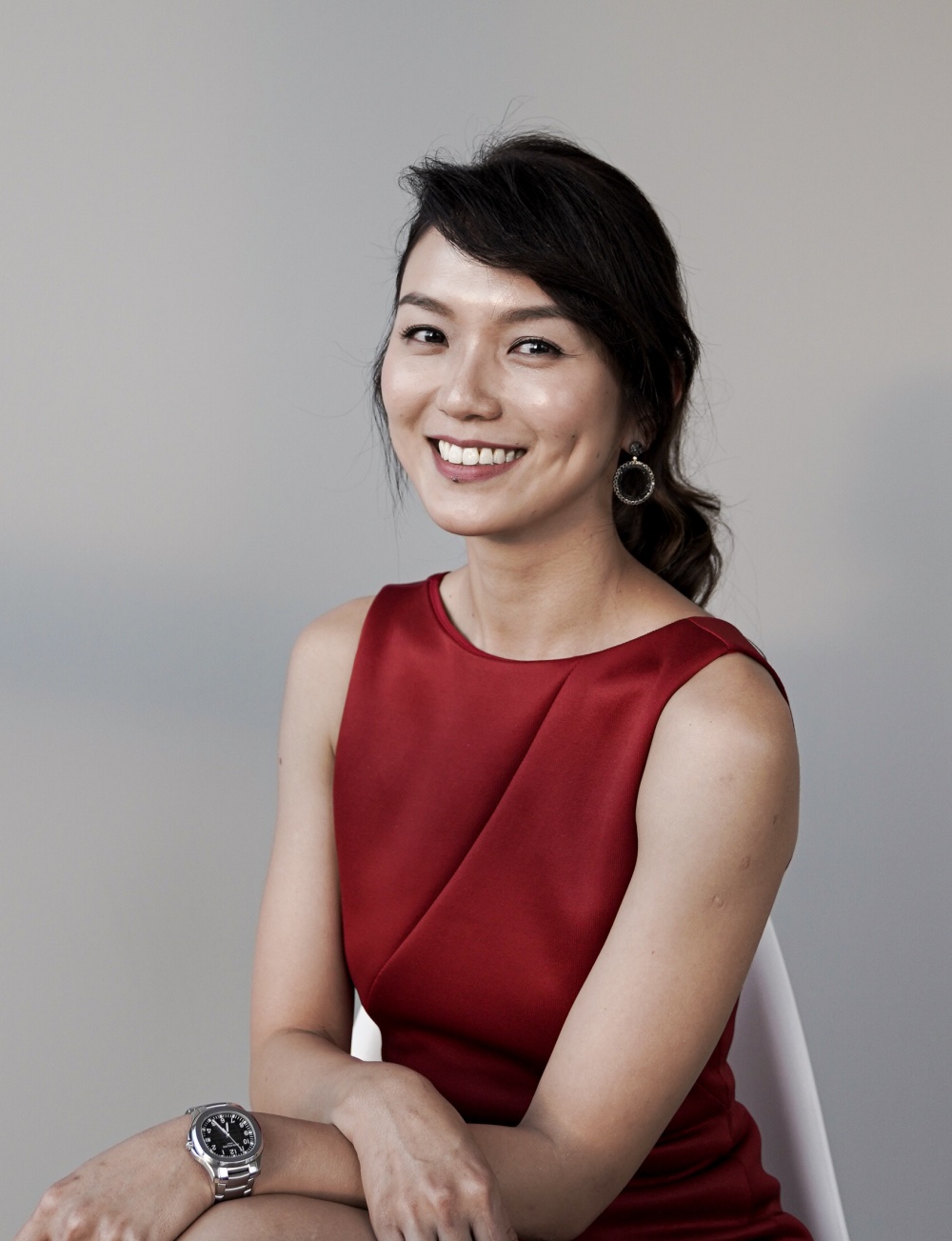 "I went there with no expectations. I didn't think anyone would pick me," she says.
So imagine her surprise when she scored her first drama she auditioned for, "Beautiful Connection" (九层糕) in 2002.
For the Mass Communications undergraduate from Nanyang Technological University, acting was just a part-time job.
Her studies, on the other hand, took strict priority.
"That was a difficult period -- I didn't realise this then -- but it pissed people lah," she says sheepishly.
"With production, as you know, sometimes you cannot control. When you have all these conditions, it can make it very difficult for people."
But still, Peh says she was lucky.
Mediacorp agreed to give her a full-time contract with the flexibility of shooting only during term breaks.
"Unnerving" as a young actress
As someone who wasn't trained formally as an actor, Peh found herself tensing up in front of the camera whenever the director shouted, "Rolling!"
The inexperienced actress struggled with getting into her character and emotions on set.
She describes the experience of trying to deliver her lines in the silence of each recording, with everyone's eyes on her, as incredibly stressful.
"The cameras are there kinda right in your face, to get a close up, then you get nervous, and you get very self-conscious as anybody would," she says with a laugh.
"That's when you start to get very tense and that's when you start to 'perform'," says Peh, who shares that her first few acting jobs were literally "memorising and spewing lines".
It's definitely not easy, but over time, she has learned to use meditation to be in the moment and get into character.
She does this by focusing on the set and its sounds in the moments before the camera starts rolling.
This is the reason why, Peh says, she doesn't socialise on set.
"I don't like to sit down and chit-chat. If we're standing in position, I don't like to chat about other things. During the time the camera is being set up, while the lights are going on, and make-up is fiddling with your hair, I am taking that moment to forget that all these is there, and be in the moment so that I'm ready."
Didn't quite ascend Caldecott Hill
It's not an understatement to say that Peh's acting improved from the time she joined Mediacorp in 2002.
In her second year of acting, Peh won the Best Newcomer award at the 2004 Star Awards.
The Best Newcomer award precipitated a deluge of lead roles. Peh's star was well and truly on the rise.
In 2006, iWeekly, a Chinese entertainment magazine, crowned Peh and six other fresh faces the "Seven Princesses of Caldecott Hill".
It seemed then that she had been earmarked by Mediacorp to be groomed as one of Caldecott Hill's next Ah Jies.
But 13 years later, Peh does not become an Ah Jie, like Zoe Tay or Fann Wong. In fact, none of the seven managed to reach the upper echelon of Caldecott.
Peh has this to say:
"What I've come to realise during that period is that all of us, we have our ups and downs. In our line of career, there's no 'always up'. When you're going up, everything is great. But you will come down and it can be really hard for some people to accept and get over because you just came from a high."
More than just an actress
But Peh is more than just an actress. Besides contributing regular commentaries on Chinese daily Lianhe Zaobao, Peh has also tried her hand at directing.
Earlier this year, Peh scripted and directed a short film "Under The Tree" under Mediacorp's Fresh Takes! incubator programme.
"I think it was very challenging. It was indeed one of the hardest things I had to do this year," she says.
"Defeated" and "breaking" is how Peh describes her directing stint which overran the scheduled timeline.
Being totally new to directing, Peh had to figure things out on her own without mentorship.
As if that wasn't daunting enough, she also faced added pressure from the top.
To really top things off, Peh received backlash online, where she was accused of cyberbullying her child actors.
Despite that, Peh found the angels who helped her make her project possible.
One of these was her editor, who returned on her day off to spend more time working on the footage. Her sound editor, meanwhile, worked through the night with Peh to drill down the film's sound mix.
"These people make up for it. Sometimes life gives us crap, but somebody will be there to hold your hand," she laughs.
Outside of acting, Peh is also juggling her duties as a mother of two.
"You can never achieve a balance. That's something you have to accept," she says with a knowing smile.
Admittedly, there are busy periods when she has to be away from her family for a long time -- working on "The Last Madame", for example, took her away for 16 to 20 hours a day.
In times like these, she falls back on meditation to help her be fully in the moment, in order to really make her time with her children count.
"I do a lot of art stuff with them, we read and we draw. They go downstairs to play. I try to keep it simple," says Peh, who does not believe in over-planning her children' schedules.
This creative endeavour also extends to another of Peh's projects, The Dimple Loft, an art programme for children which uses storytelling and crafts to teach.
She admits that she has absolutely no idea how to get this business off the ground, but what she has is a lot of passion for mentoring.
"The whole idea is to hopefully make an impact in this group of children who will grow up to become the pillars of our society. I hope that they will be resilient, creative and risk-taking."
It's the same approach she brings to mentoring new actors — sorely needed in an industry that in her view, isn't diverse enough.
"The actors and actresses are always from a certain mould and I struggle with that. Why does the male lead have to look that way. Why don't we have different representations of people in our society? I feel that is missing in our industry."
Mission to mentor and develop actors
So it should come as no surprise that Peh sees it as her own mission to mentor and develop actors of all shapes and sizes.
"That's what makes me excited. That's what I feel I need to do because I've gone through this whole journey. I've fallen, I've picked myself up, I've learned all these lessons," she says, adding that it's important for her to pass it all down to new actors, and subsequently keep the industry going.
Peh may not be the queen of Caldecott now or even in the future, but that hardly seems like a failure on her part today — especially when sticking to that restricts her to quite a narrow definition of success.
But I thought I'd ask anyway, for the heck of it: would you say you are successful right now?
She pauses before giving me a simple, "Ya."
"I think I'm happy with where I am right now, and doing what I'm doing. That's my meaning of success."
Here's how Qi Yuwu responded to Peh's sex scene in "The Last Madame":
Top image by Kane Goh. 
Content that keeps Mothership.sg going
---
❌?
Are young Singaporeans really lazy and pathetic?
??️
Do you agree that FOMO really isn't a thing?
??
Do yourself a favour and have a quickie please.
?✈️
Hell is an actual place on earth, and it's only a flight away.
If you like what you read, follow us on Facebook, Instagram, Twitter and Telegram to get the latest updates.