A Chinese essay that was uploaded three years ago is going viral again.
To date, the post has gathered about 12,000 shares.
According to its writer, Jewell Dalina, the essay scored four out of 20.
She had written all about "delicious rice" and used every Chinese word she could think of.
Dalina also said that she cannot read Chinese.
Here's her essay, in case you can't see: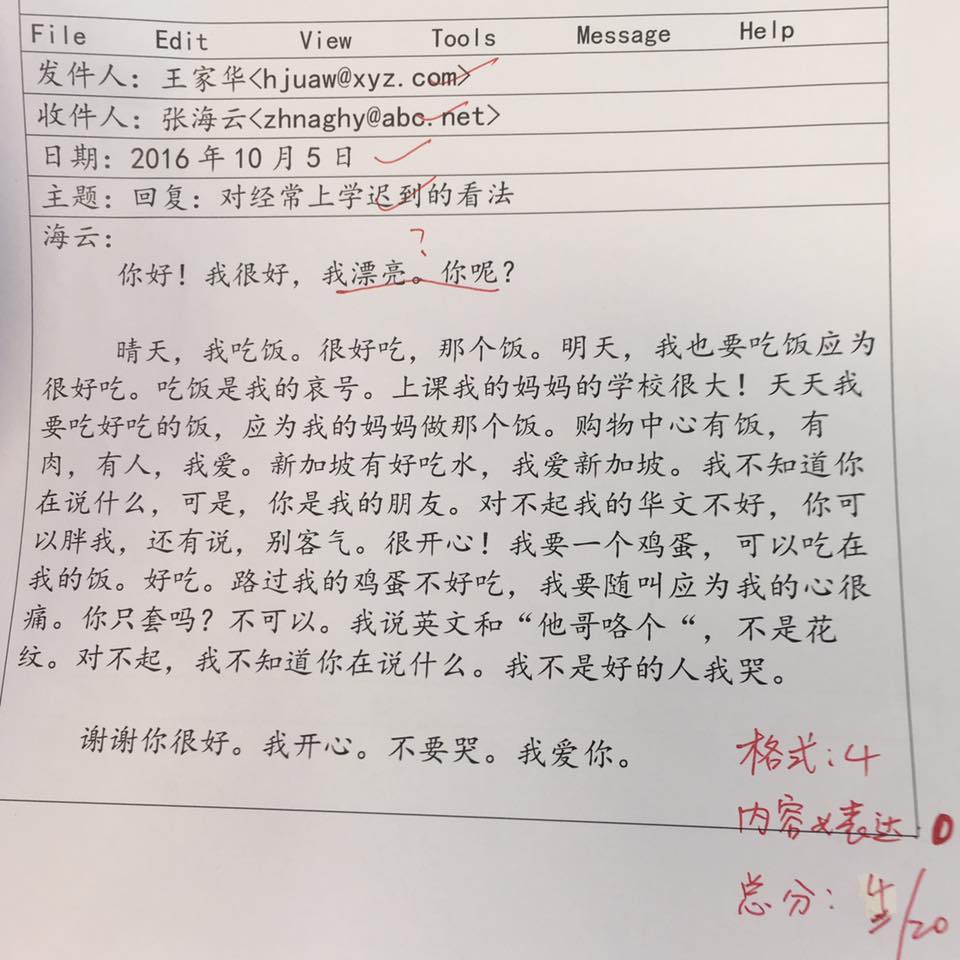 Despite its repeated mentions of rice and Singapore, the essay got really deep, too.
Here's a translation:
"Hi! How are you? I am good, I am pretty, what about you?

A fine day, I eat rice. Delicious, the rice. Tomorrow, I want to eat rice too, because it is delicious. Eating rice is my hobby (sic).

Going for lessons my mother's school is huge! I want to eat delicious rice everyday, because my mother made that rice.

In the shopping mall there is rice, there is meat, there are people, I love.

Singapore has tasty water, I love Singapore.

I don't know what you are saying, but, you are my friend.

Sorry my Chinese is not good, you can fat (sic — author likely means "help") me, and say, "You're welcome".

Very happy!

I want an egg, I can eat on my rice. Delicious.

The passing egg was not delicious, I want to sleep (sic) as my heart hurts.

Do you know protection? (sic — author likely means "do you know?")

Cannot. I speak English and "Ta Ge Luo Ge" (likely "Tagalog"), not markings (sic — likely "not Chinese").

Sorry, I do not know what you are saying. I am not a good person, I cry.

Thank you you are very good.  I'm happy. Don't cry, I love you."
Despite the poetic, sensitive prose, however, the only two ticks in the essay were directed at the email address and the date.
The four marks were awarded for formatting, while the writer got nothing for "content/expression".
Sad.
Top image via Jewell Dalina/Facebook 
Content that keeps Mothership.sg going
---
❌?
Are young Singaporeans really lazy and apathetic?
??️
Do you agree that FOMO really isn't a thing?
??
Do yourself a favour and have a quickie please.
?✈️
Hell is an actual place on earth, and it's only a flight away.
If you like what you read, follow us on Facebook, Instagram, Twitter and Telegram to get the latest updates.