A 23-year-old National University of Singapore undergraduate, Terence Siow Kai Yuan, was sentenced on Sep. 25 to 21 months of supervised probation and given 150 hours of community service for molesting a 28-year-old woman on Sep. 12, 2018, on the North East Line MRT.
Additionally, his parents are bonded for S$5,000 to ensure his good behaviour.
Outrage unfolds
The lack of a jail term imposed on Siow led to widespread outrage in Singapore.
An online petition was started on Sep. 27 to express displeasure and disappointment at his sentence.
District Judge Jasvender Kaur had rejected calls from the prosecution for Siow to be handed a jail term.
Justifying her decision, the judge on multiple occasions described Siow's three instances of touching his victim — twice on her thigh and once at her private parts – as "minor intrusions".
The judge also cited a probation report that deemed Siow suitable for probation because his academic results showed he had the "potential to excel in life".
This was despite Siow having molested other women before.
It was revealed in court that Siow admitted to having previously committed similar acts since his enrolment in NUS in 2016, and he could not recall the number of times he had done so as a result of this "deep-seated habit" of his.
Minister for Law responds
In response to the widespread outrage, Minister for Law and Home Affairs K Shanmugam also expressed his surprise at the case and its outcome.
In a Facebook post on Friday, Shanmugam revealed that the father of the victim, who is unnamed due to a gag order imposed by the court, wrote to him in the wake of the case.
Shamugam said he empathised with the victim's family.
He also shared that the Attorney-General's Chambers, which prosecuted the case, has said it has submitted an appeal against the sentence imposed.
Singaporeans make memes
In response to the entire hullabaloo, Singaporeans then took matters into their own hands the only way they know best: They made some dank memes to deal with the frustration and pain.
Here are the best dank memes on the Internet in Singapore right now addressing the NUS molester who has a bright future and does not have to go to jail: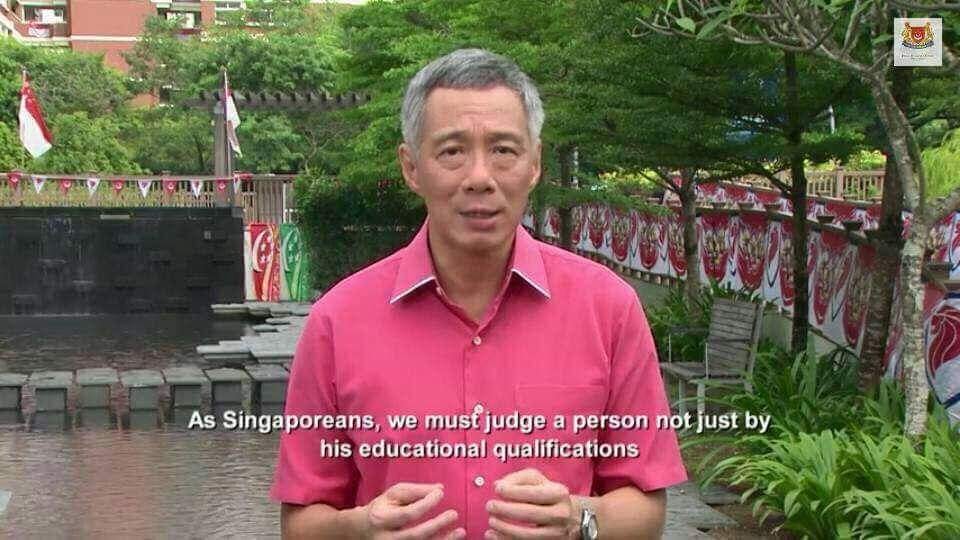 ---
so THIS is why people always tell me to study hard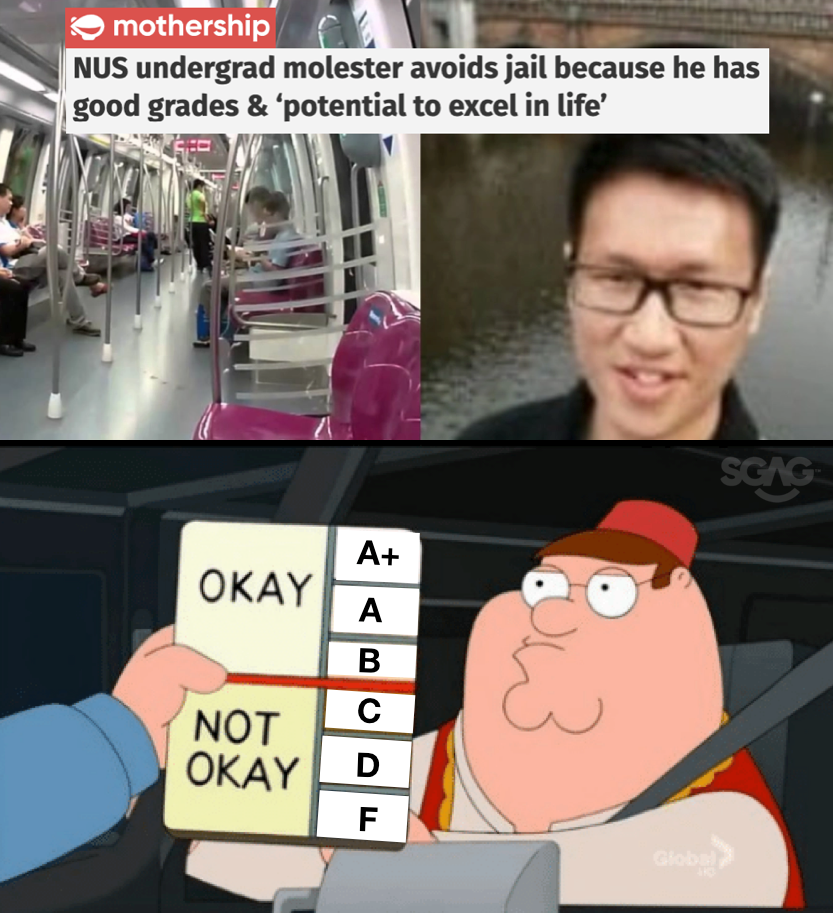 It appears we have learnt nothing from the Monica Baey saga.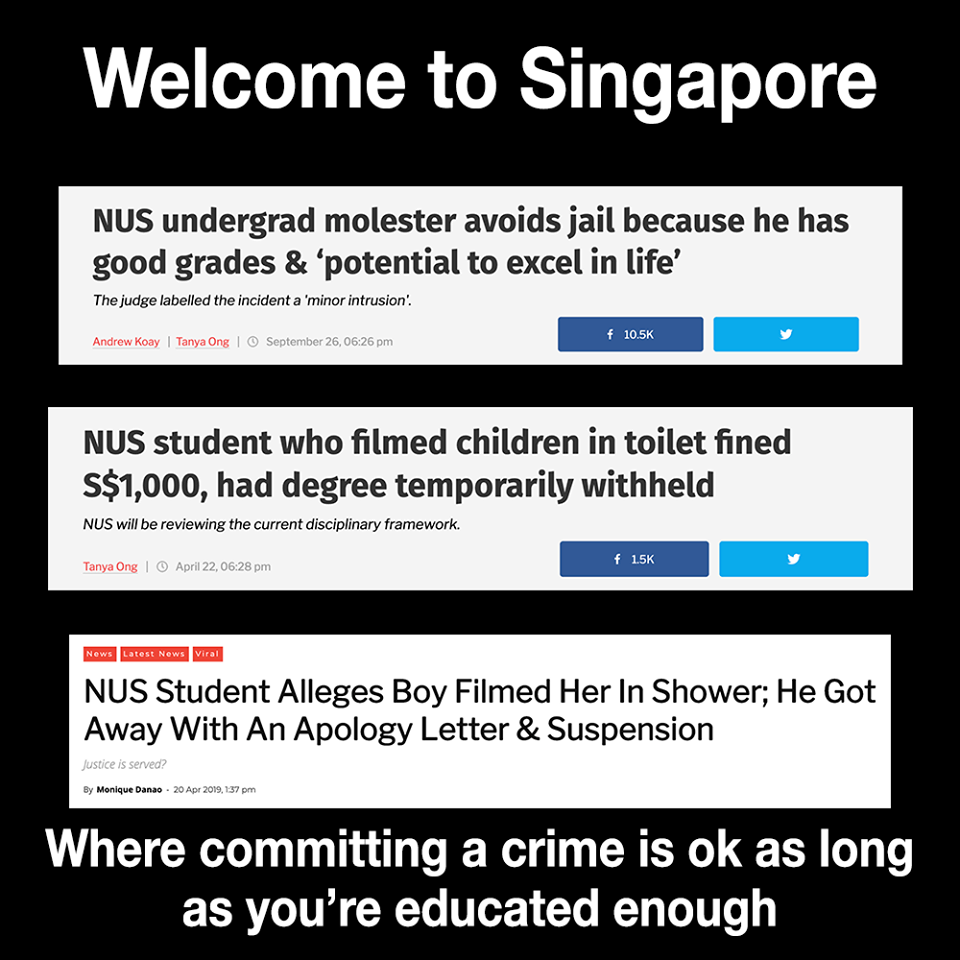 ---
If I spoke to my mother like this as a kid, confirm kena 1 tight slap.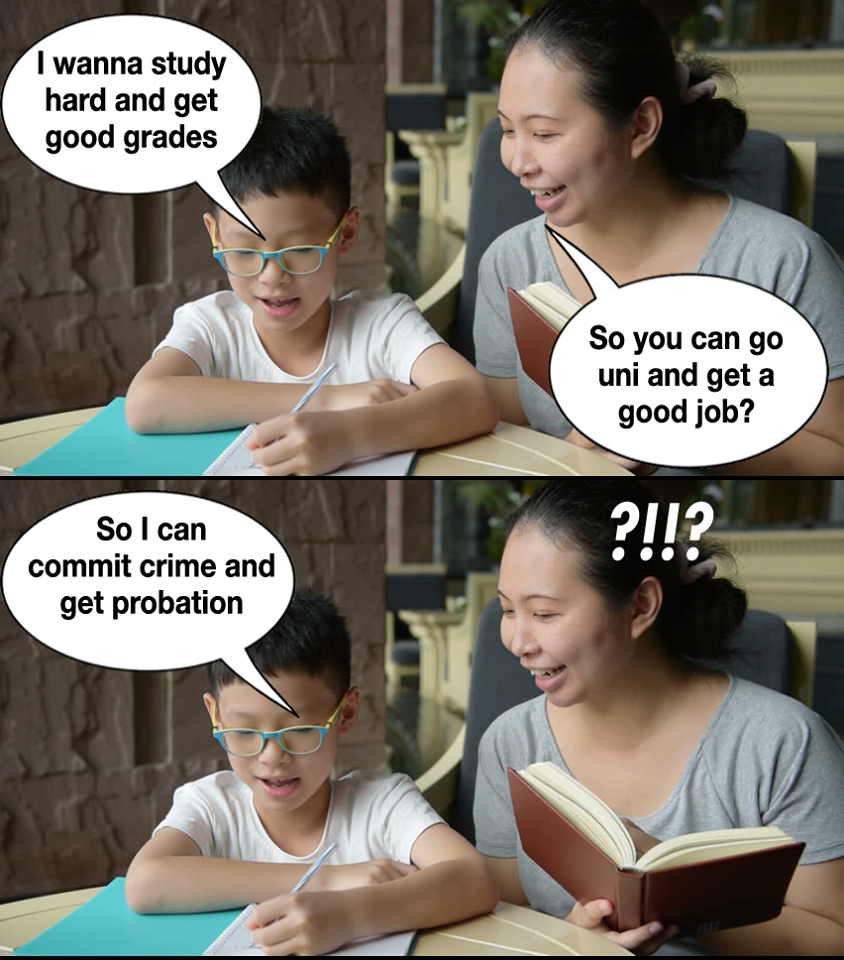 ---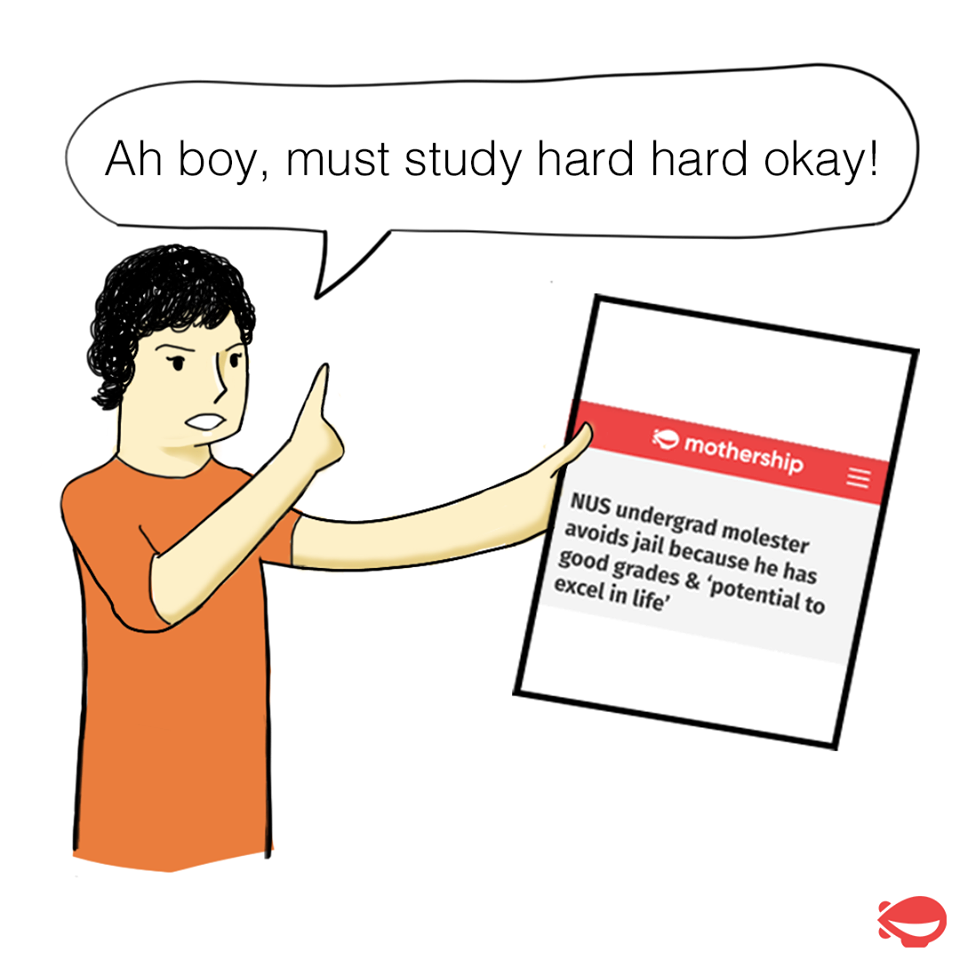 ---
GPA is important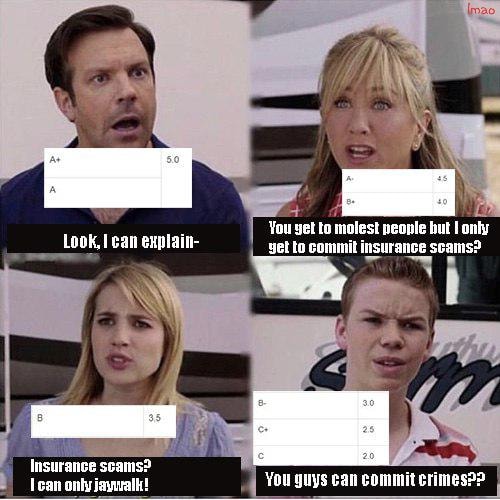 Don't be a victim of crime, stay away from people with a good education!
Remember low crime doesn't mean no crime unless you know you will have a good future don't molest people.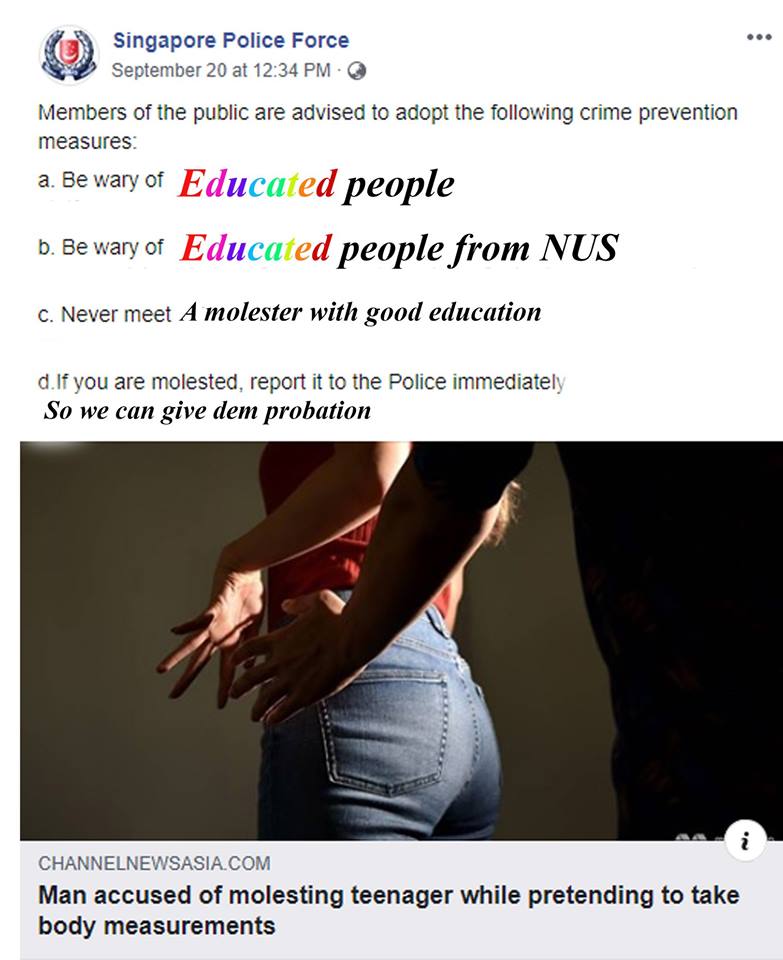 Original: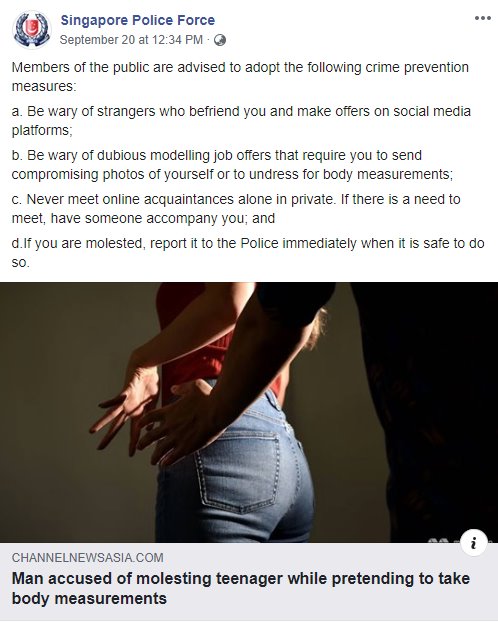 ---
now you REALLY have reason to stay in school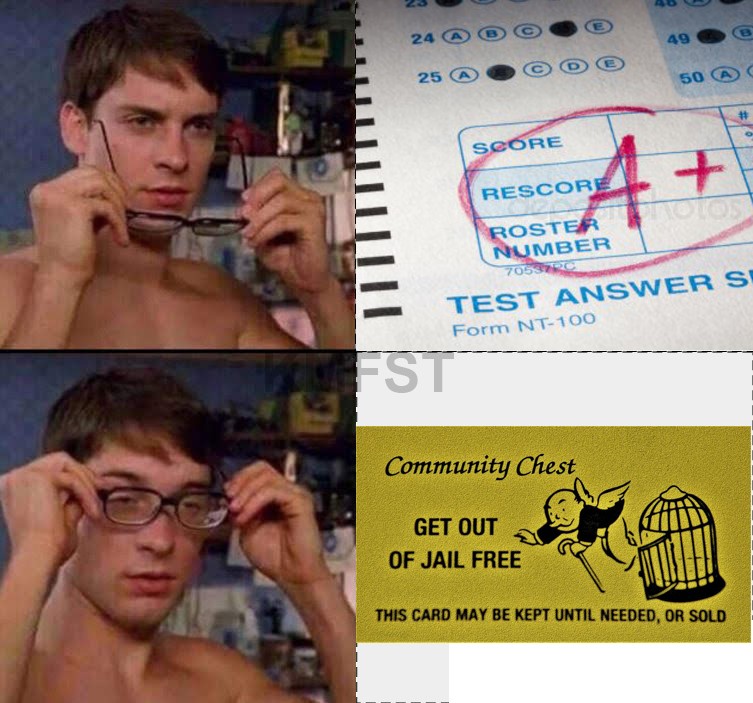 Our parents are right. If you study hard and get good grades, you will not only have the 'potential to excel in life' but even get away with molesting someone else.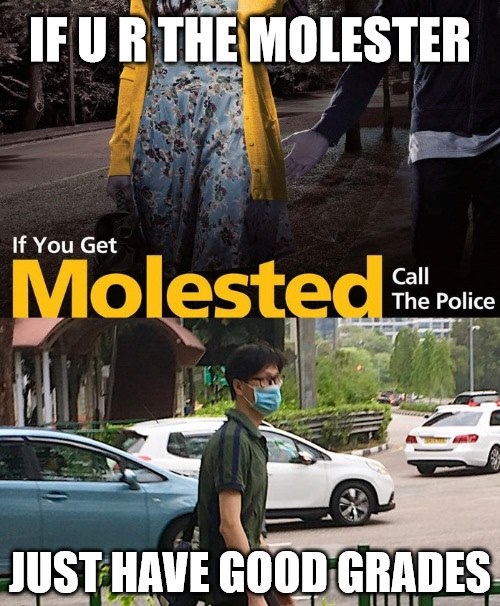 ---
this fella must be got low GPA
---
"I am inevitable"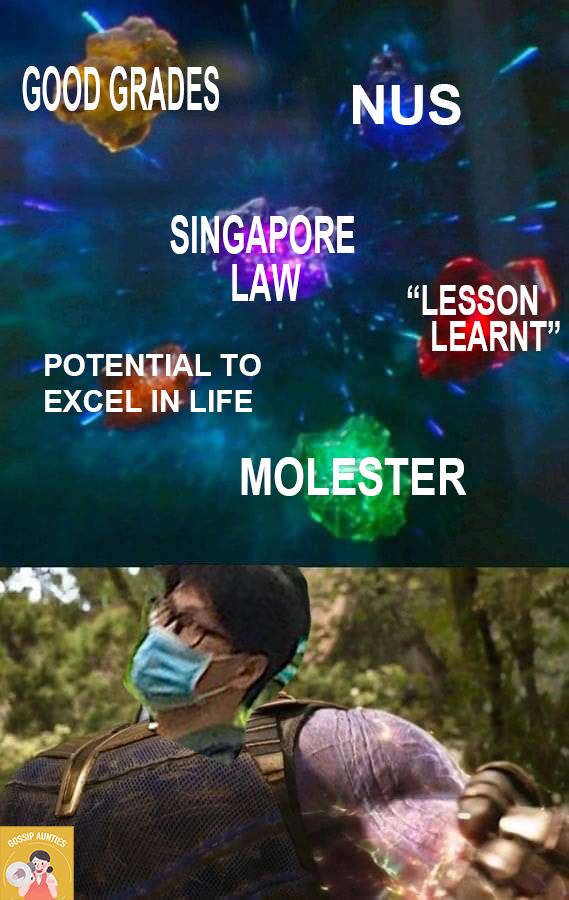 ---
If you see any more dank memes, comment with meme or link:
https://mothership.sg/2019/09/singapore-news-nus-molester/
Content that keeps Mothership.sg going
---
??
Do you remember the last time you used a passbook?
??
What's it like to be a 22-year-old with depression and anxiety?
??️
Limited 40% off vouchers for fine dining here!!! Don't say we bojio.
If you like what you read, follow us on Facebook, Instagram, Twitter and Telegram to get the latest updates.