An online petition has been started in response to the news that a National University of Singapore undergraduate has avoided going to jail after he repeatedly molested a woman on the North East Line MRT.
The reasons?
The judge rejected calls from the prosecution for 23-year-old Terence Siow Kai Yuan to be handed a jail term.
The perpetrator's actions were deemed by the presiding judge as "minor intrusions", and he has an extremely strong propensity for reform.
2,800 people signed in 10 hours
More than 2,800 people signed the petition within 10 hours it was started.
The petition did not say to whom it will be addressed to.
It only provided its stance, which is to "stand against favoritism for sex offenders" who use their educational background as a form of defence:
It is time to take a stand against favoritism for sex offenders, just because their educational background suggests they have a bright future.
However, the online petition appears to be an outlet for the public to vent their frustrations.
This is evident based on the comments the petition attracted, which expressed disagreement with the punishment meted out on the perpetrator.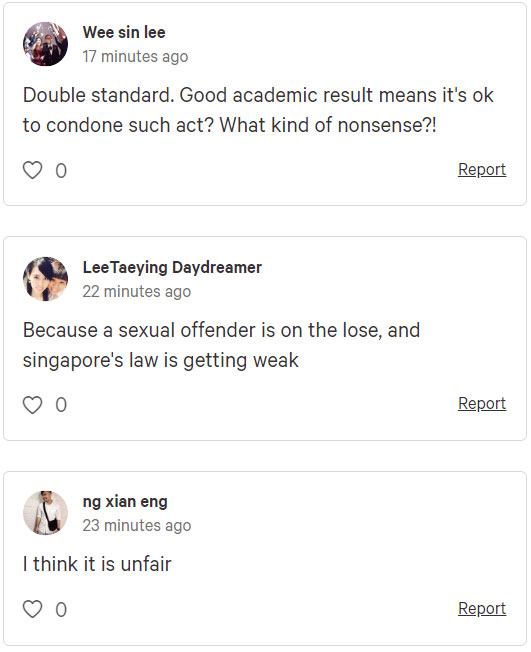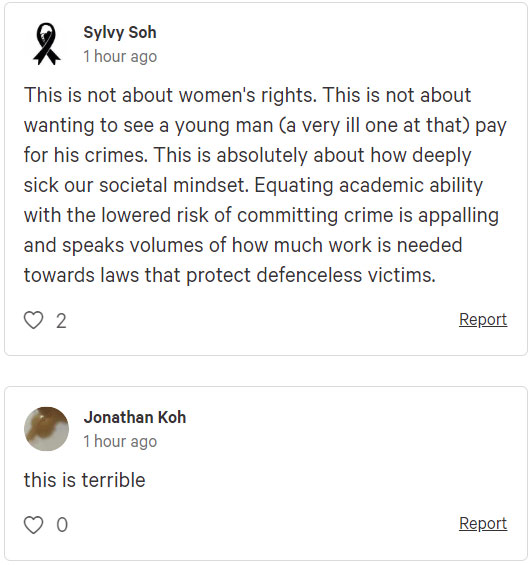 Public sentiment about the case was also evident based on the comments left on Facebook in reaction to the case:
Full details of case:
Summary of case
District Judge Jasvender Kaur had on multiple occasions described Siow's three instances of touching his victim — twice on her thigh and once at her private parts – as "minor intrusions".
She rejected calls from the prosecution for 23-year-old Terence Siow Kai Yuan to be handed a jail term.
Moreover, a probation report had deemed Siow suitable for probation because his academic results showed he had the "potential to excel in life".
Siow had pleaded guilty to one charge of outraging the modesty of a 28-year-old woman, while two other similar charges were taken into consideration in sentencing him to 21 months of supervised probation.
His crime was not considered egregious enough to warrant a jail term.
However, Deputy Public Prosecutor Benedict Chan objected to probation for Siow, calling instead for a sentence of six weeks' jail.
It was revealed in court that Siow admitted to having previously committed similar acts since his enrolment in NUS in 2016.
The prosecutor said it was troubling that Siow could not recall the number of times he had committed such acts, which then developed into a "deep-seated habit".
For the crime Siow was charged with, Chan pointed out that the first two acts involved skin-to-skin contact, but the judge responded by saying "(it was) just a brief touch on the thigh".
Along with his sentence of 21 months supervised probation, Siow will also have to perform 150 hours of community service.
Additionally, his parents are bonded for S$5,000 to ensure his good behaviour.
Content that keeps Mothership.sg going
---
??
Do you remember the last time you used a passbook?
??
What's it like to be a 22-year-old with depression and anxiety?
??️
Limited 40% off vouchers for fine dining here!!! Don't say we bojio.
If you like what you read, follow us on Facebook, Instagram, Twitter and Telegram to get the latest updates.